Spring and summer are all about the remodel. Homeowners are looking for affordable and modern ways to upgrade their homes. From those just wanting a fresh look to those looking to improve their resale value updating the flooring is one of the number one things they're choosing. There are a lot of options when it comes to flooring these days, from tiles and vinyl to hardwood and sleek. There are more options than ever before. But increasingly, homeowners are turning to engineered hardwood flooring to meet their remodeling needs. 
Engineered Hardwood Is Affordable 
source: techforintegritychallenge.com
Traditional hardwood floors are, as most homeowners know, costly. On the other hand, engineered hardwood flooring can range from eight to fifteen dollars per square foot, significant savings. With the current state of the economy, it's not surprising that more homeowners are choosing the less expensive of the two options. Cutting cost doesn't always mean cutting quality. 
High-Quality Alternative
Engineered wood flooring has been around since the sixties. It's made vast improvements from the original concept and is now being chosen over the complete hardwood flooring. 
Don't mix up engineered hardwood with wood-style laminates. Laminates are crafted from fiberboard and are fused together in a lamination process that involves things like heat and glue. Laminates also only have an image of natural wood on the top layer. If that image is damaged like with a scratch, it can't be repaired, only replaced
It's Still Real Wood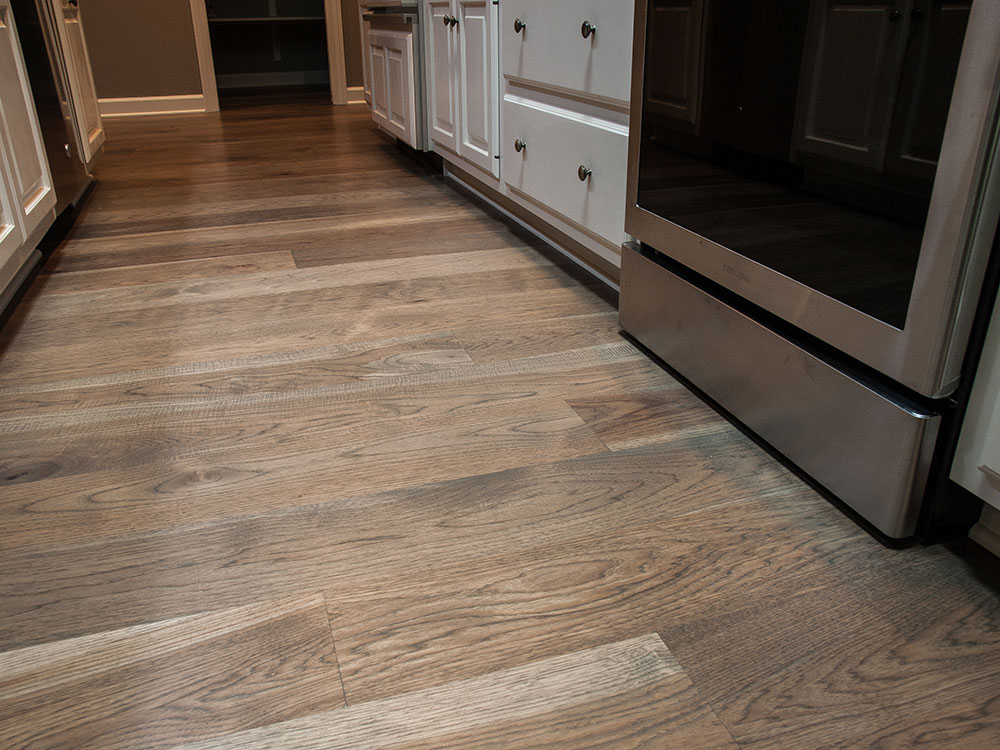 source: rwfloors.com
Engineered wood flooring is made with a layer of natural wood on the top, unlike the laminate flooring that looks like wood but is made of vinyl. You're still going to have the option of choosing from a variety of wood types and looks when you select engineered wood flooring instead of traditional hardwood. 
The top layer of engineered wood flooring is made from the highest quality of hardwood, just a thinner amount. It's then coated with multiple layers of polyurethane to ensure that the hardwood is protected. It's typically about five coats of protestant. 
Under the hardwood layer, multiple layers of plywood are set at different angles to increase the strength. 
Nearly Identical to Classic Hardwood
Once the engineered wood flooring is installed, it's almost impossible to tell the difference between it and hardwood. That's because, as we explained, it does use a thin layer of real wood on the top. You're still going to get that beautiful warm addition to your home and possibly even increase your resale value. 
Aesthetically there really isn't a difference. Once the engineered wood floor is installed, it's nearly impossible to differentiate between all wood floor panels. If your main concern with your home renovation is choosing a look, you'll be happy with; you can't go wrong with engineered wood flooring. 
Wide Variety of Styles and Shades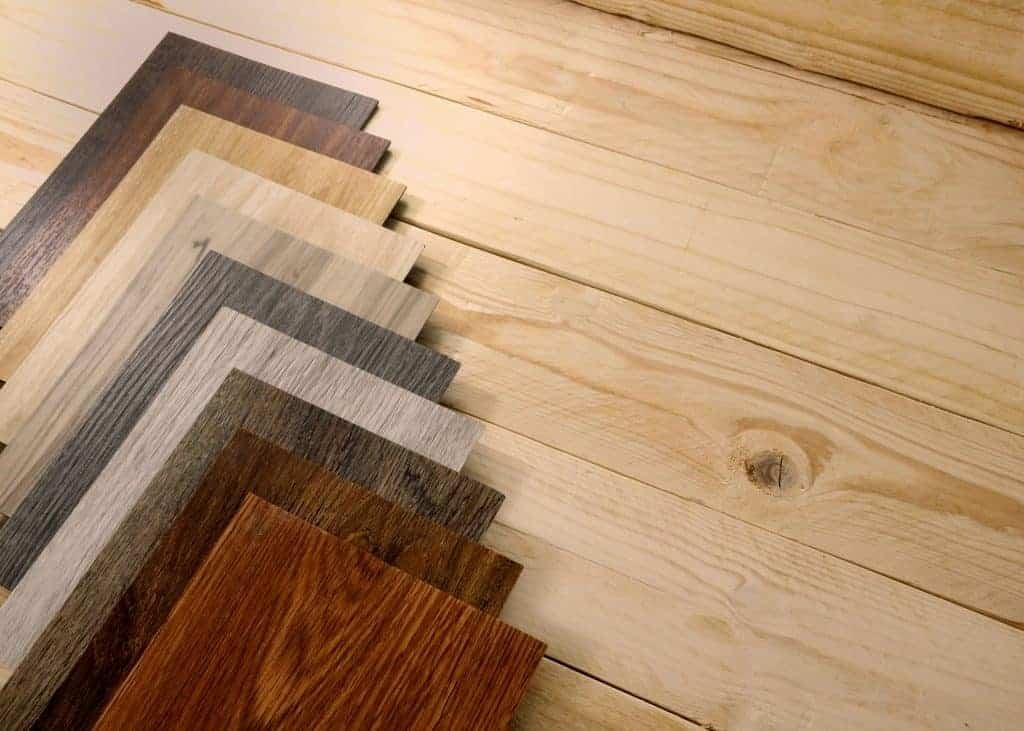 source: cleantechloops.com
Love the look of bamboo? Or are you more a traditionalist and want your room in classic oak. Either way, you're in luck because engineered wood flooring now comes in nearly every style on the market. 
You can find the same trendy whitewashed look popular with the cottage core or farmhouse style. You'll also find flooring appropriate for installing in a chevron pattern that is both a classic and trendy look. 
By choosing engineered wood flooring, you won't have to sacrifice style. 
When you're picking a fresh look for your home, remember to keep in mind what other people may be looking for if you intend to sell. Often real estate agents will recommend picking something classic and neutral. 
Engineered Wood Flooring Is a Better Option for Some Rooms
Wood flooring for the kitchen has started to trend over the last few years. But something they won't tell you when you're talking about installing traditional hardwood flooring in the kitchen is because it's a horrible idea. 
Traditional hardwood is especially susceptible to water damage. There's often water spilled or even leaks in the kitchen that can damage a standard hardwood floor even if managed quickly. 
Engineered hardwood flooring is designed to be more durable. It isn't as susceptible to the warping and buckling that a moist environment can cause on all hardwood flooring. The heavy coating covering the thin hardwood locks out water and slows the likelihood of damage. 
Another advantage of engineered hardwood flooring is that it can be installed in areas where it needs to be thin or match the height of an existing floor. 
Overall Engineered Hardwood Flooring is More Durable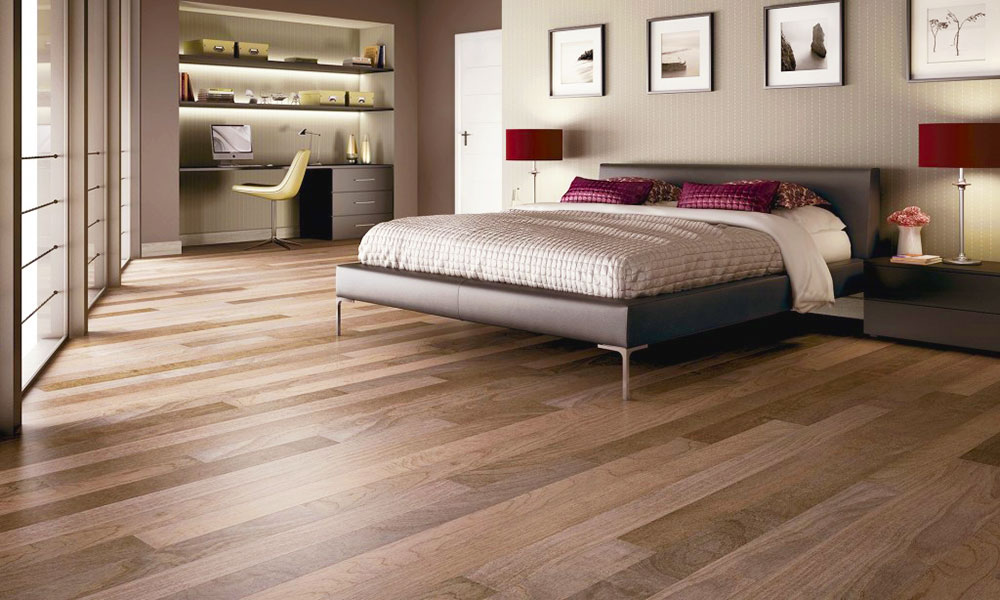 source: polarishomedesign.com
Aside from its resistance to water damage, engineered hardwood flooring is significantly more durable than standard hardwood floors. The heavy polyurethane coating placed on engineered hardwood flooring is designed to outlast any finish on a typical hardwood floor. 
These floors have been tested and shown to last. They're resistant to typical scratching and damage that hardwood floors are particularly sensitive to. So those of you who want the beautiful look of natural wood but don't want it destroyed in a year may want to seriously consider engineered hardwood flooring as the better alternative. 
Pet owners, for example, will almost certainly benefit from choosing engineered wood flooring over standard hardwood. You still have all the connivance of easier cleaning for pet hair and dander. Still, they're not likely to be destroyed by the occasional accident or a pet running across the floor. 
Overall, if you're looking to save a little money on your kitchen update or home remodel and have your heart set on wood flooring, then engineered hardwood floors may be the perfect fit.