Italy is a country which requires no introduction. It practically defines the south of Europe, oozing history and culture via monuments, areas of undeniable natural beauty and myriad exports in the form of food, clothing and even vehicles. Essentially, there is a reason Italy is the fifth most popular destination for international travel globally. Here, we'll run down some must-visit places in Italy, from the top of the country right down to the tip of the boot.
Florence
source: theculturetrip.com
Florence, or Firenze, is arguably the cultural centre of Italy; the birthplace of the modern Italian language, the birthplace of the Renaissance period and the regional birthplace of cultural greats Leonardo da Vinci, Michelangelo and more. Come for the medieval city centre and Palazzo Vecchio, and stay for the prestigious vineyards of the surrounding Tuscany region.
Venice
Venice precedes itself. An inimitable city, a warren of waterways and feats of engineering and an incredibly popular tourist destination to boot. There is so much more to Venice than the Piazza San Marco; the city deserves guided exploration to discover its secrets. Taking an escorted tour of Italy would expose you to the hidden wonders in Italy's many tourist destinations, and Venice is no different.
Milan 
source: pinterest.com
Milan represents the possibilities of a modern Italy, being the second-largest city after historic Rome and the centre of Italy's financial system. It effortlessly combines its history as a Roman capital with its present as a seat at the forefront of Europe's growth. Anachronisms are a specialty here – live luxuriously in contemporary accommodation while enjoying historical monuments and galleries like La Scala.
Rome
The Italian capital is one of the world's most popular tourist destinations. It has an outsized cultural and historical significance, making it a top destination for travelers from all over the world. From the Colosseum to the Trevi Fountain, a visit to Rome is a journey through thousands of years of human history. But an epic journey doesn't mean you need to miss all the fun.
Amalfi Coast 
The Amalfi Coast sits on Italy's southern shores, opposed to previous entries on our list in its complete change of pace. Far from the bustling crowds of major cultural and financial centres, Amalfi is a quiet and picturesque coastal town known for little more than its stunning beauty and limoncello production. The mountains are breath-taking, and the Tyrrhenian Sea sublime.
Italian Lakes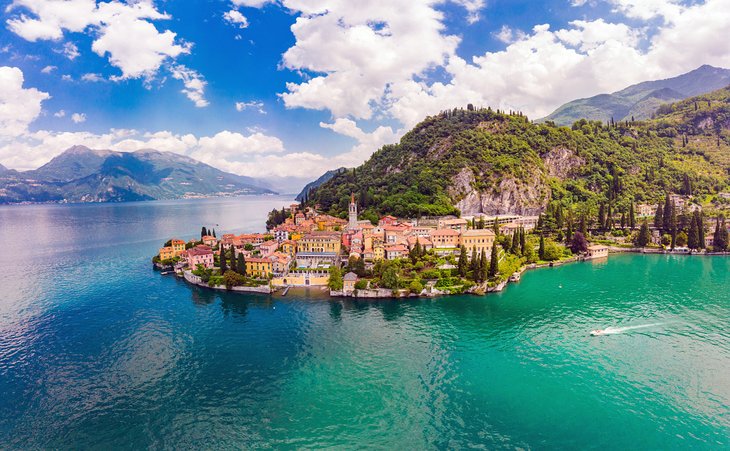 source: planetware.com
The Great Pre-Alpine Lakes line the southern foot of the Alps at Italy's northern border, and span across four regions of the country. Perhaps most famous amongst these likes is Lake Como in Lombardy, a gorgeous spidery lake that touches numerous mountain towns and settlements. The view alone is to die for, if not the Roman villas.
Sicily
Sicily is one of the fabulous places to visit in Italy. It's a small island but it has so much to offer. The people are friendly and welcoming and the food is absolutely incredible. Don't believe us? Explore yourself!
Verona 
"In fair Verona, where we lay our scene…" Verona is, of course, perhaps best known for being the setting of two of William Shakespeare's plays – most notably Romeo and Juliet. True to its reputation, Verona is a city of great art and culture, and home to an unmissable 1st century Roman amphitheatre as will as a Medieval home known as "Juliet's Home", replete with balcony.
Pompei
source: getyourguide.com
Pompei is a must-visit on the southern coast for at least one reason – and that reason is its namesake Pompeii, the world-famous ancient city that succumbed to active volcano Vesuvius in 79AD. The remains of the city and its residents, perfectly preserved in ash from the pyroclastic flow, make for a fascinating way to experience and engage with Italy's history.
Take Away
Italy is known for its stunning landscapes, pristine beaches, delicious cuisine, and world-class wine. It's a destination that has something for everyone, whether you're looking for a relaxing beach getaway, an action-packed adventure, or something in between. One of the best things about Italy is that no matter where you go, you'll find plenty of beautiful spots to take in the breathtaking views. Explore Italy with this guide at Live Enhanced and enjoy your journey.