Your living room is one of the most important rooms in the home. This is the spot for relaxing, for conversing, for sharing hot cocoa and cocktails. 
Whether you are playing a board game around the coffee table or snuggled up on the couch watching your favorite television show, a good rug will only make the entire experience much more enjoyable.
Here Live Enhanced explore a list of seven rugs that make your living room as comfortable as possible:
1. Polyester Floral Rugs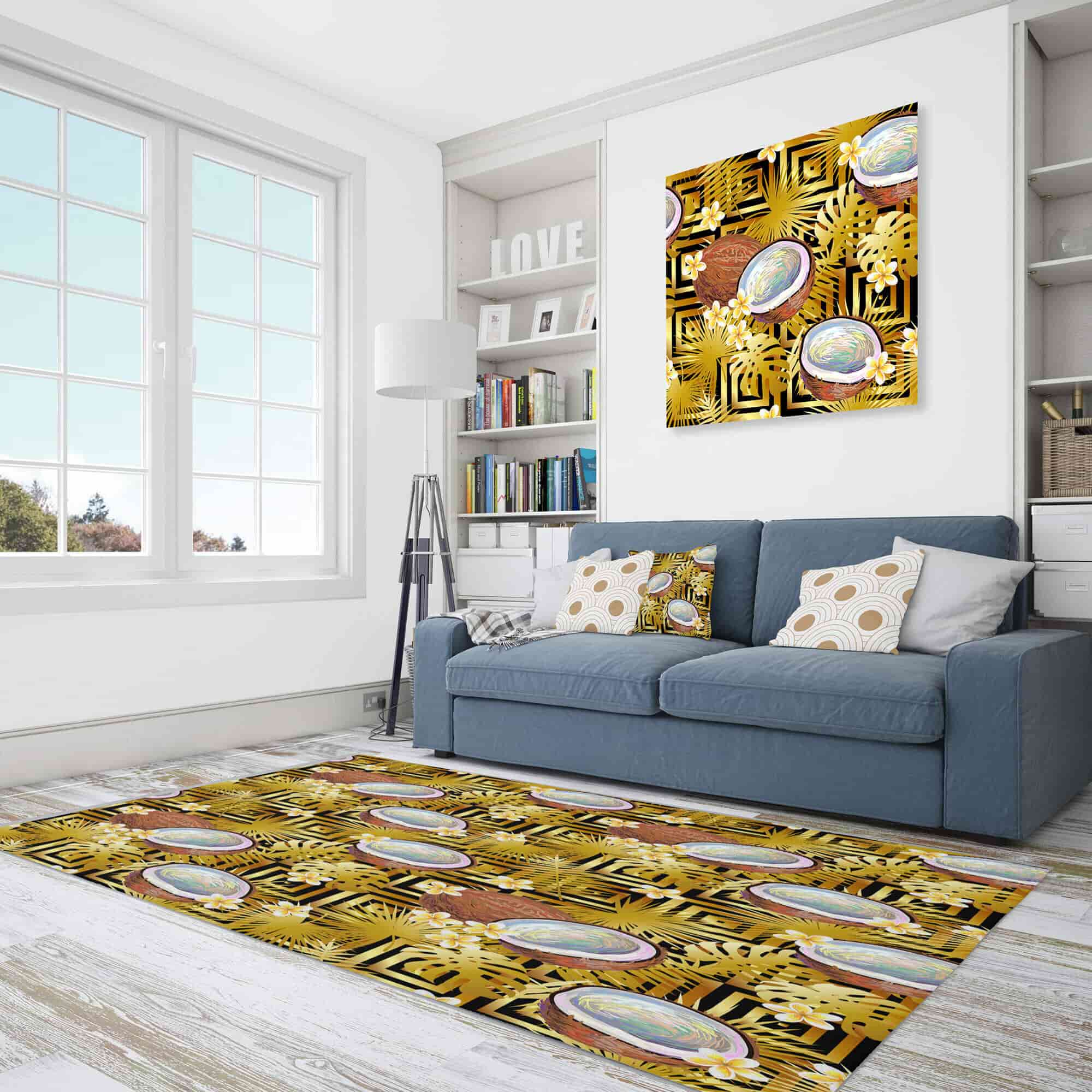 source: pinterest.com
Polyester is a synthetic material that is durable and can handle most traffic. It is water-resistant and stain-resistant so it's perfect for a family with little ones or just those prone to spills. 
The floral design not only makes the room look more lovely but the design also helps to hide any dirt spots or stains that do get stuck.
This is the closest fiber to wool you can get without paying the high price. 
2. Jute Rugs
Jute is a natural fiber that has a rustic appeal to it. It is the softest of all natural fibers so it isn't as scratchy to the bottom of your feet but it is also one of the most affordable which is a win-win for you.
If you opt for a jute rug for your living room, check out this buyer's guide for jute rugs. 
Although most jute rugs are naturally brown in color, you can find some that have more color and texture to them. You can even opt for a circular jute rug if it works for your floor space. 
3. Plush Shag Rugs
source: amazon.com
If you spend a lot of time at floor level, or just appreciate a bouncier step, the shag rug is the right choice for you.
This thick rug may be difficult to maintain if you have kids or pets, it is a great addition for comfort.
Shag rugs tend to get matted and dull if you don't care for them properly. To keep your shag rug nice and fluffy, follow this how-to guide.
4. Neutral Flat Weave Rugs
For those who like to keep things monochromatic or neutral in color, a neutral flatweave rug would be a perfect addition to your living room.
These flatweave rugs are super easy to care for and are durable under heavy foot traffic. They have a natural feel and if the coloring is neutral will help to bring an airy style to your space.
This type of rug would look great with a living room with natural light and plenty of indoor plants. Rattan furniture and couches with exposed frames would also match this rug well.
5. Abstract Geometric Rugs
source: amazon.com
An eclectic living room would do well with an abstract geometric rug since this would match just about any style. These versatile rugs are extremely popular and can be found in a variety of materials and sizes.
You can choose to purchase a neutral, bold, or colorful geometric rug and still get a pleasing decor. It is the pattern that makes the magic.
Humans feel calmed by a repetitive pattern. Add this to your living room floor and you'll feel right at home. 
6. Cowhide
Most cowhide rugs are just big enough to fit snugly under a coffee table. 
If you don't need an area rug and would prefer something small but eye-catching, a cowhide would fit this description. 
You can choose between a tan and white, dark brown mottled, or even a black cowhide. The asymmetrical shape brings even more interest to the middle of your living room and is a great statement piece.
Of course, you will need to ensure that you style the rest of your living room to complement the cowhide. This can be harder than it seems.
Read about five different ways to style a cowhide rug in your living room. 
7. Berber Moroccan Rug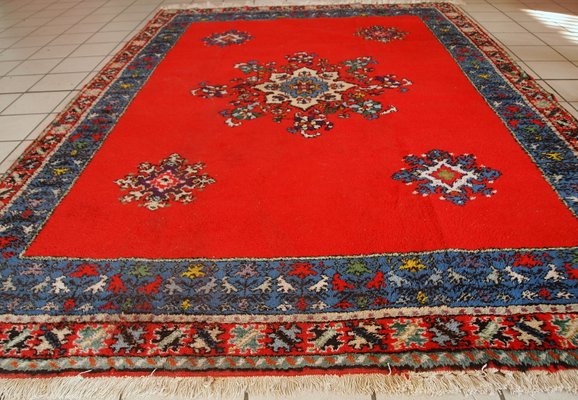 source: pamono.com
Berber rugs come in all shapes and designs. These Moroccan rugs are well known for their exquisite artisan and eco-friendliness. 
Berbers are sheepherders made up of hundreds of different tribes in the Atlas Mountains. The indigenous women fabricate these luxurious rugs from their sheep's wool and add color to them using natural dyes from plants and berries. 
They feel fantastic and each is a unique piece of art. Adding a Berber rug to your living room floor will certainly bring in a special touch and homey atmosphere.
Conclusion
When choosing a living room rug, it is important that you consider five things. First of all, you should decide how big you want your rug to be. Next, choose a color that will match your present living room furniture.
You will also need to consider the ease of care for your rug and then also how comfortable it feels underfoot. Lastly, you'll want to be sure that your rug of choice is stylish and pleasing to look at. 
Whatever your flooring needs, these seven rugs are certainly major contenders.