How do you decorate a dog house and why should you do it? Well, it may not always be possible to be by your mutt's side. Maybe you are working, perhaps attending phone calls, making a list of groceries, or doing something else that may require your attention. A bored dog may push their snout in and paw you, making simple day-to-day activities way harder than they actually are. Giving them a welcoming and comfortable dog house may keep their mind off you and help them relax as you get on with your day.

Choose a design that is easy to clean and maintain. A healthy and hygienic environment is key to a happy pet.
Hopefully, this article gives you the answer to your question: How do you decorate a dog house? It could certainly be among the Best Birthday Gifts For Your Dog.
Creative Ideas To Decorate Your Dog House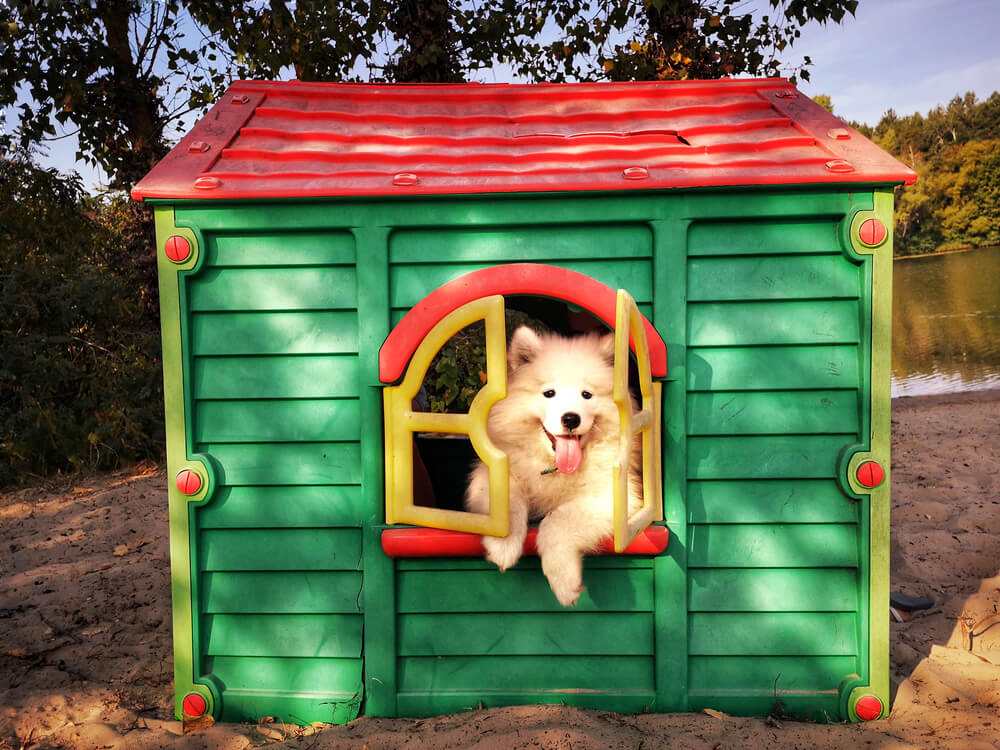 Once you figure out where to fit in your dog house, you'll definitely want to decorate it. Here are some fabulous ideas to make your dog house unique and appealing.
Include A Roof Deck
A dog house that you purchase from the market can often be a den-like structure. While snug, it can be claustrophobic, especially if you have a big dog. Adding a viewing deck easily accessible from the side may provide your mutt with a commanding position to play guard and, perhaps more importantly, give you those crucial minutes to finish yesterday's backlog, or call that aunt you have been meaning to but haven't got down to doing. 
You may need to hire a carpenter as most dog houses do not come with roof decks as standard attachments. A few readymade options are available too.

Add A Rooftop Garden
This is a more extravagant offering and one that may call for a little more maintenance. While this feature may not provide a platform to climb onto, it will give your pup a patch of grass and maybe a whiff of flowers as they wait for you at their beautiful dog house. It may even be a great spot to have a miniature garden!
Use Crate Furniture 
So all you have is a crate-like kennel structure to keep your dog in at times when they cannot be let out—maybe when guests are over or the walls at home are being painted. Get some crate furniture, maybe a snug basket, and make the place more comfortable. Maybe you could throw in a soft pillow too. This would give the added advantage of keeping your dog from barking as you attend to other things happening at home that require your attention.
Soft Interior Material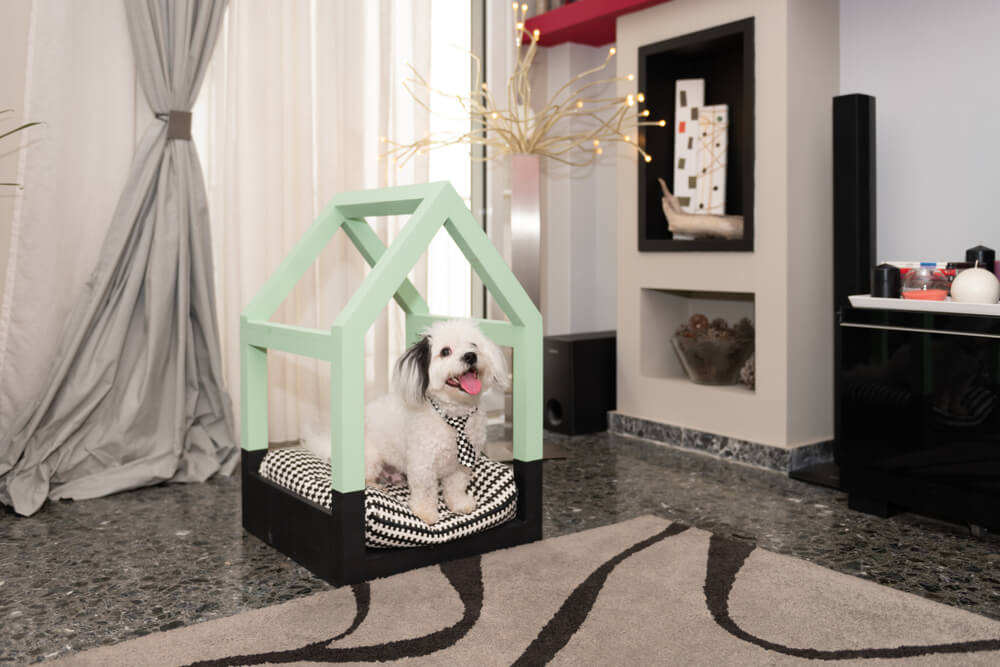 How do you make a dog house cozy? Having the dog house lined with a soft yet durable interior material is key if your pet is to find it comfortable and adopt it as a home. It will also encourage them to sleep in it. When making a selection, bear in mind that the material has to be hardy enough to withstand some scratching. Chew-proof dog beds are a great choice. 
Have A Puppy Patio
 When making or selecting a doghouse, try one that has an attached sit-out. Your pet should not feel locked into where they are. Having some space adjacent to their den to stretch will invite them to use the doghouse more. It may also be a great place to leave their bowl and feed them.
Paint The Dog House
What is the best color for a dog house? Perhaps the simplest consideration when thinking about how to decorate the shelter. Paint it in colors that match your home! 
Perhaps a more aesthetic consideration, a doghouse painted like your own will appeal to the eye. It may also make the setup look more in place and less like an afterthought. Can you spray paint a dog house? Absolutely, but a can and brush may do the job just fine too. 
Decorative Accessories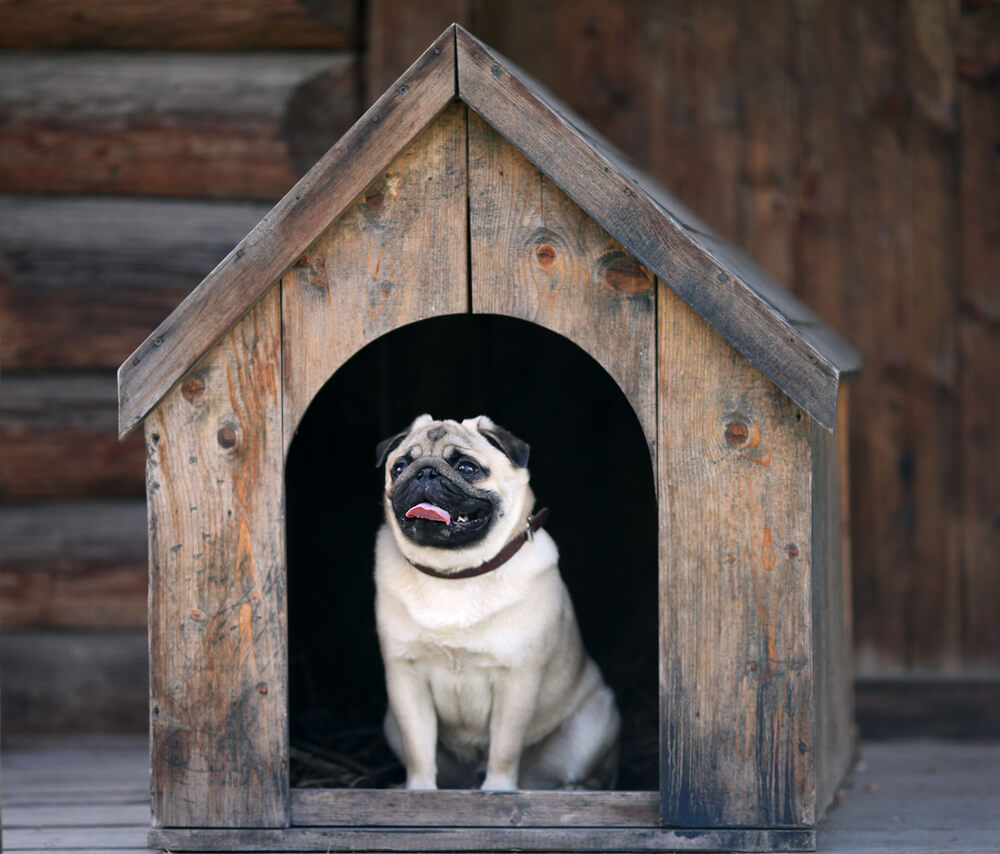 So how do you decorate a dog house? Once the main setup is in place, you can go to town with how you would like to decorate it. Stick some dog house accessories to make it funky. Maybe attach some wooden paw prints on the side, tie or bolt a rubber dog bone to the floor, or paint some hearts on the walls. These faux design elements would level up your dog house instantly.
Personalized Stenciling
Another low-cost, decorative option is to use stencils to paint or draw in shapes on the walls of the dog house. They could complement the design of the structure. Even simple polka dots on a glossy wall would make the whole setup a lot brighter and more fun than a blank wall.

Faux Windows
Another extravagant option, but one that is sure to catch the eye is a doghouse with a faux window. These look beautiful, yet, they are sturdy as they don't open. Your pet can't tamper with them either. You could buy one separately or make one and have it nailed onto the kennel.
A fun family activity—decking up the doghouse would symbolically remind your family that they have a pet who depends on them and brings everyone together.
Add A Hammock Next To The Dog House
So you have laid out a place for your dog to chill, made it homely, decked it out, and perhaps accessorized it. Why not reward yourself with a lazy sit-out hammock nearby where you can lay back and admire your work from? 
Things To Keep In Mind When Setting Up The Dog House
Location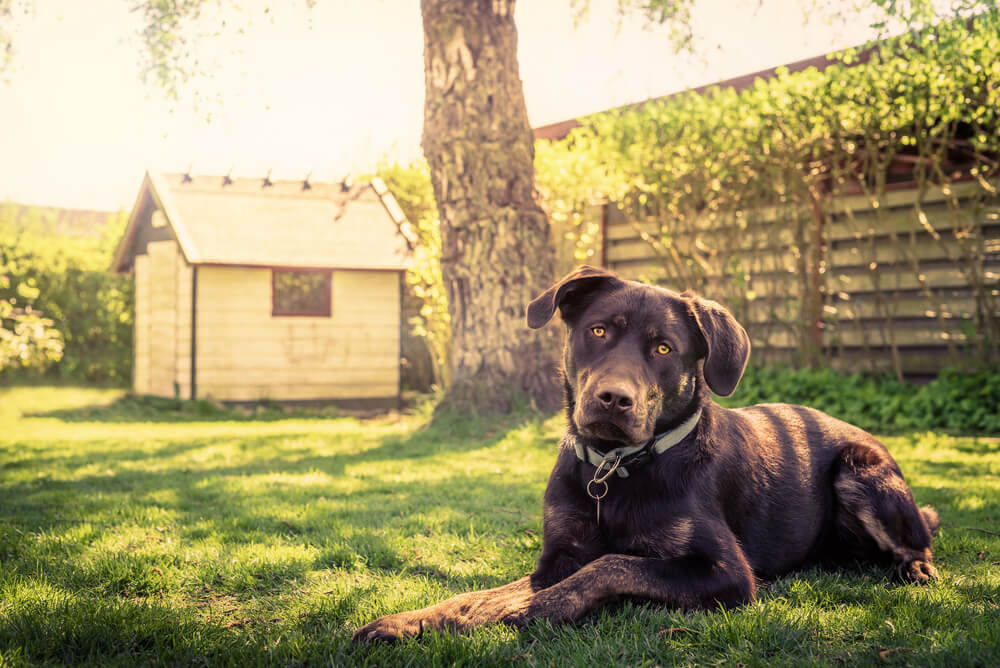 Placing your doghouse in the right place is key to your pet's comfort. An airy location like a balcony, garden, or terrace is best as it will prevent any unnecessary stuffiness. Picking a well-ventilated area for your mutt will keep them sprightly.
The Right Materials
Choose the materials for your dog house according to its location. If the doghouse is outdoors, you should ensure that the roof is waterproof and that the floor is raised high enough to prevent any seepage of water. 
Food and Water Bowl Should Be Nearby And Easily Accessible
What should I put in my dog's house? If that's your question, this is a great place to keep your dog's food and water bowls. An accessible water bowl is a must at all times. Besides, this will get them into the habit of eating in one place and will save you the trouble of cleaning their scraps around the house later. 
Regular Cleaning Is A Must
Most importantly, you need to care for this place, just like your own home. A well kept and neat home will keep your dog hale and healthy.
Your dog will shed hair, at the very least, and may even be inclined to mark territory here. Changing and washing the rugs, if any, and vacuuming the floor every fortnight or so are useful practices to incorporate. Change their bedding every two weeks. You must clean their bowls and accessories too.
Maybe adding a removable roof would help!
Ensure you see to any repairs in a timely fashion, so there are no protruding nails and sharp materials jutting out, that could possibly hurt your dog.
Final Thoughts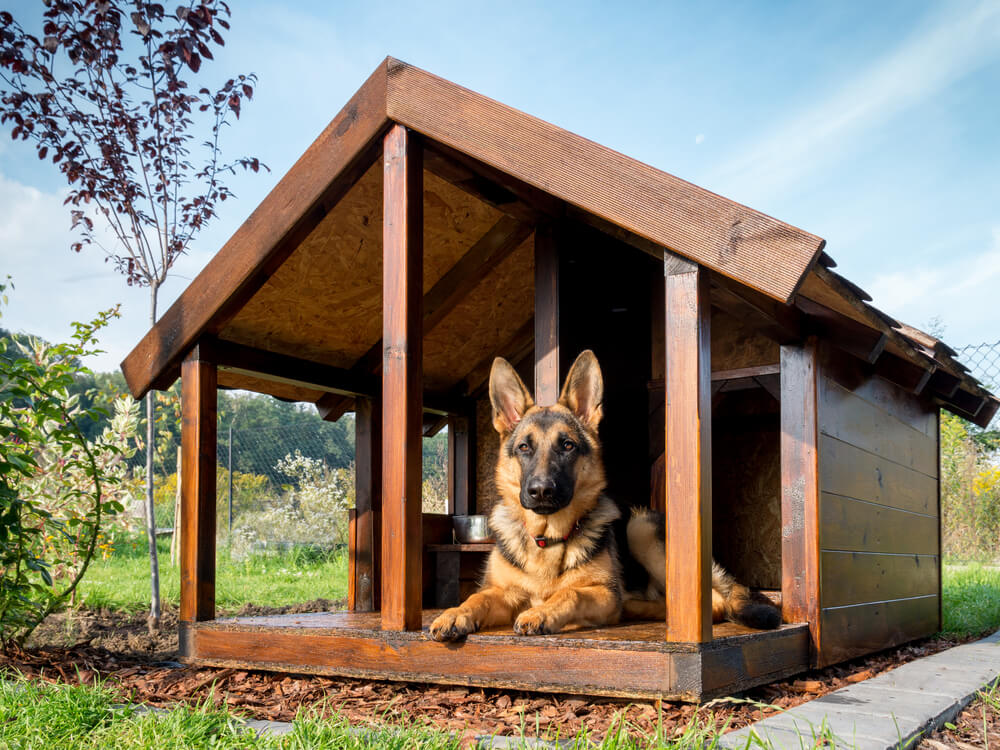 The pleasures of a living, breathing pet to share your home with are bountiful, but you can't always be with them. That said, owning a pet comes with a host of responsibilities.
Having a place that your dog can call home will keep them feeling at ease even when you aren't around to supervise. It can help them acquire good habits like using a designated place to sleep, play, or eat.