Consider that you have just enthusiastically purchased the most excellent Christmas tree the town offers. But because of the unbalance, it does not stand correctly when you go to install it. Poorly made Christmas tree stands can instantly destroy your festive spirit.
Realizing that the decor pieces you purchased are worthless and could ruin the complete decor setup is the most stressful experience you can have. Therefore, always buy decor pieces after doing a thorough quality inspection and following your needs.
Christmas tree stands are as significant to the tree itself because they will determine how the tree is decorated in its entirety. Pick one that will work with your design's dimensions, weight, and other requirements. What about
Best Christmas Tree Stands For 2023
Best Overall – Krinner Tree Genie XXL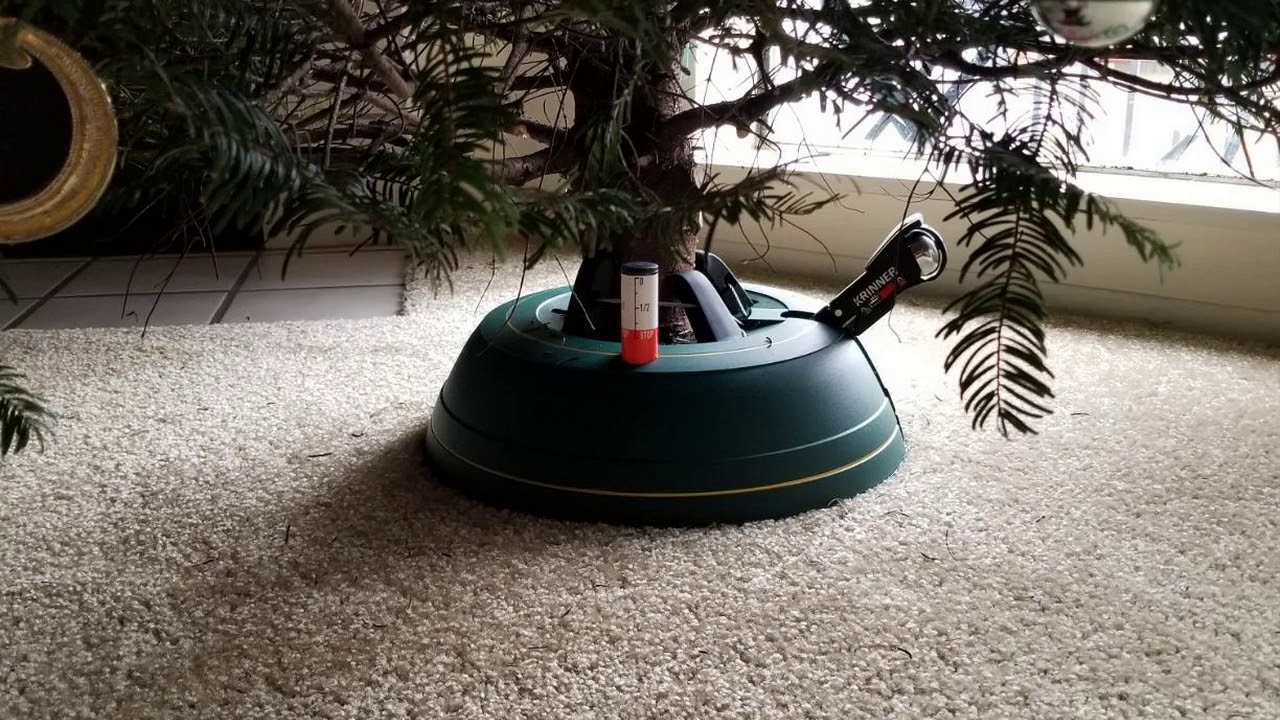 source: pinterest.com
Unlike any other kind of stand on the market, the Krinner's unique design makes fastening a tree much simpler. Instead of screwing a set of bolts into the base of the tree trunk like almost every other tree stand, the Krinner has five claws that hold the tree trunk that you may tighten by stepping on a ratcheting foot pedal. 
In other words, a single person may easily set up an average-sized and smaller Christmas tree, which is roughly 6 to 7 feet tall. The Krinner is very elegant, incredibly stable, and can accommodate a wide range of trunk diameters. An indicator shows the water level in the enclosed 212-gallon reservoir. The Krinner is not a cheap product, costing roughly $100, but it is so much better than the alternatives.
Best Rotating – National Tree Company Rolling And Folding Tree Stand
You may utilize any ornament you own with this tiny beauty, and you can gently rotate your tree 360 degrees to display every single branch. Your artificial Christmas tree will remain upright and safe on the folding Christmas tree stand. The stand has moving wheels that make it simple to transport your tree from one place to another. 
A thumb screw is used to fasten the stand to the tree pole and locks are included on each of the four wheels to prevent unintentional rolling. This Christmas tree stand has robust steel-built legs that may be folded flat for storage. With a pole diameter of up to 1.25 inches, it can support trees that are 7.5 to 8 feet tall.
Best Budget – Cinco C-148 Classic Tree Stand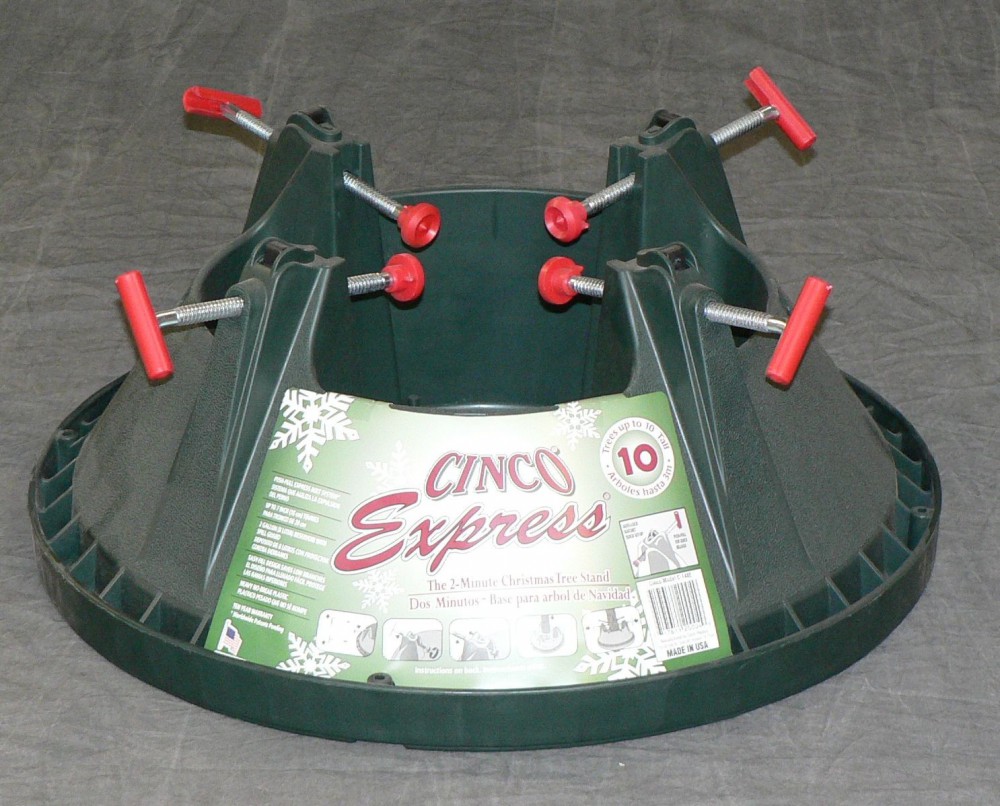 source: pinterest.com
Even if you closely monitor your expenditures, our Good Tidings stand makes sure you don't miss out. A capable, sturdy plastic stand with a sizable water reservoir and the construction to remain new and functional for more than one holiday season may be had for only a few dollars.
It can support actual trees that are up to 10 feet (3.05 meters) tall. Setup and takedown are now even simpler thanks to the push-pull ratchet system. Before final adjustment, the tree is locked and centered using three powerful galvanized pins located in the stand's base. On the Express stands, a deep spill guard, strengthened screw holes, and a clean leather cloth finish is all utilized.
Best Stand For Big Trees- Jack Post Steel Christmas Tree Stand
You will take care of the holder when you have a larger-than-life Christmas tree. For any grand spruce up to 12 feet tall and 6.5 inches in diameter, this strong, welded steel stand will work perfectly. In addition to its solid design, the stand boasts four dependable eye bolts that lock enormous tree trunks into place and a wide base that adds further stability. 
This eliminates any worry about the stand moving throughout the season. You won't have to crouch under the tree as long to replenish the basin because the stand has additional convenience features like a 1.7-gallon water reservoir. The foundation is strengthened with zinc-dichromate hardware to avoid early deterioration, so there's no need to worry about rusting either. It may cost you around 99 dollars.
Best Decorative Stand – L.L.Bean Heirloom Cast Iron Christmas Tree Stand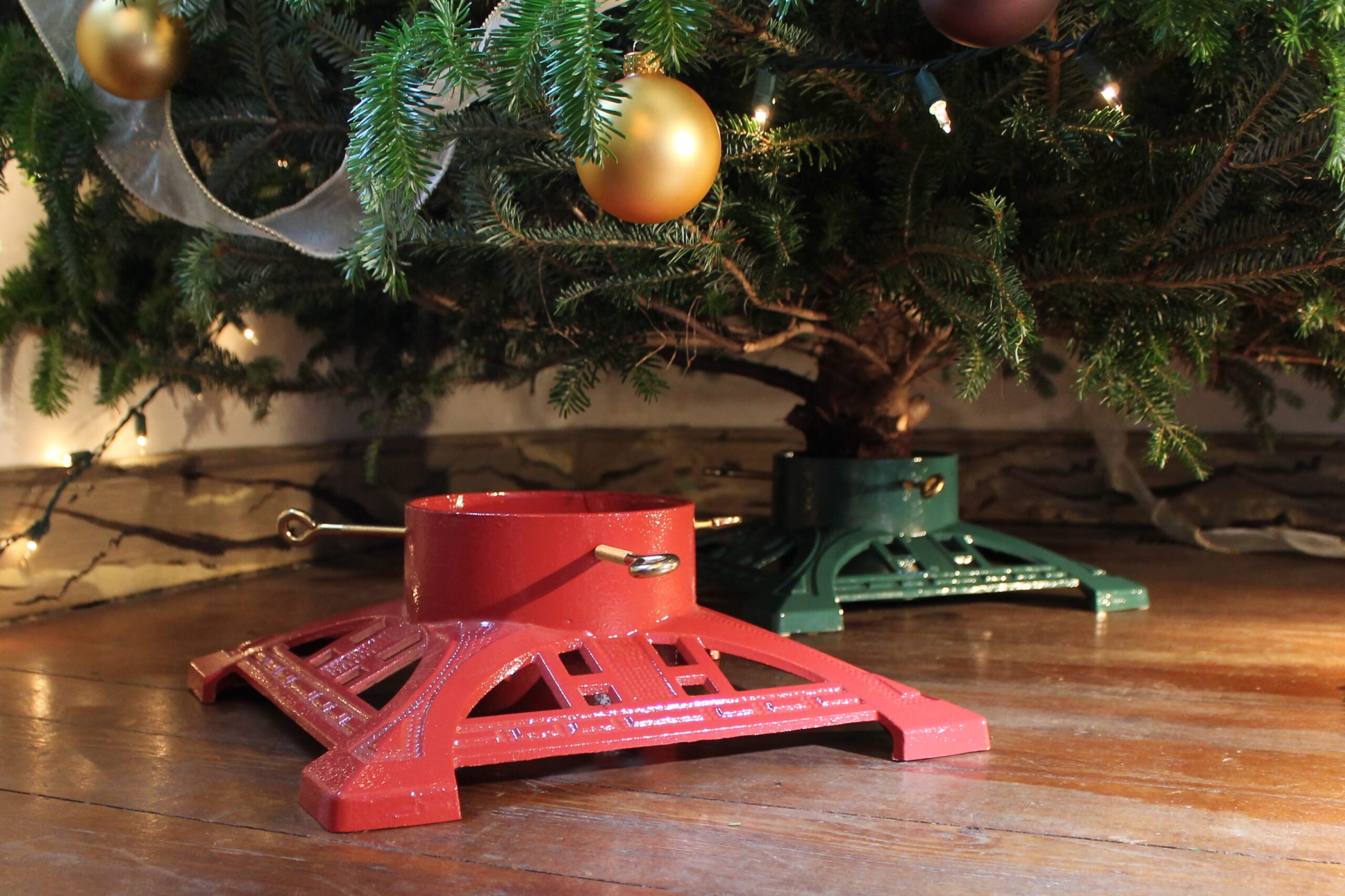 source: pinterest.com
With a stand straight out of your favorite vintage Christmas film, add a touch of nostalgia to your tree this year. The retro-patterned cast-iron stand is created by hand by artisans utilizing ball-type milling and hammering.
But here, it's not all about fashion. This stand has unrivaled longevity because of the sturdy material and the wide set base. Make sure live trees up to 8 feet tall and 5 inches in diameter stay put throughout the season by using the integrated center spike. 
The stand features a baked-on urethane coating that prevents rusting and chipping in addition to having brass-plated hardware and protective foot pads, so you don't have to worry about it marring your hardwood floors or corroding them.
Easy To Setup Stand – St. Nick's Choice Christmas Tree Stand
With its practical design, this swivel Christmas tree stand from St. Nick's Choice takes the hassle out of putting up the tree. Simply use the stand's heavy-duty bolts to secure the trunk to the container, raise it to its locked upright position with the foot pedal, and swivel it straight. 
It can support trees with trunk diameters up to 4.75 inches and heights up to 10 feet. And while nobody like taking down their Christmas tree, this stand makes it easier for you to clean up at the end of the holiday season with its clever water reservoir, which has drain slots to reduce spills and messes. Customers at Walmart have given the St. Nick's Choice Christmas Tree Stand an amazing 4.9-star rating on average.
Final Lookout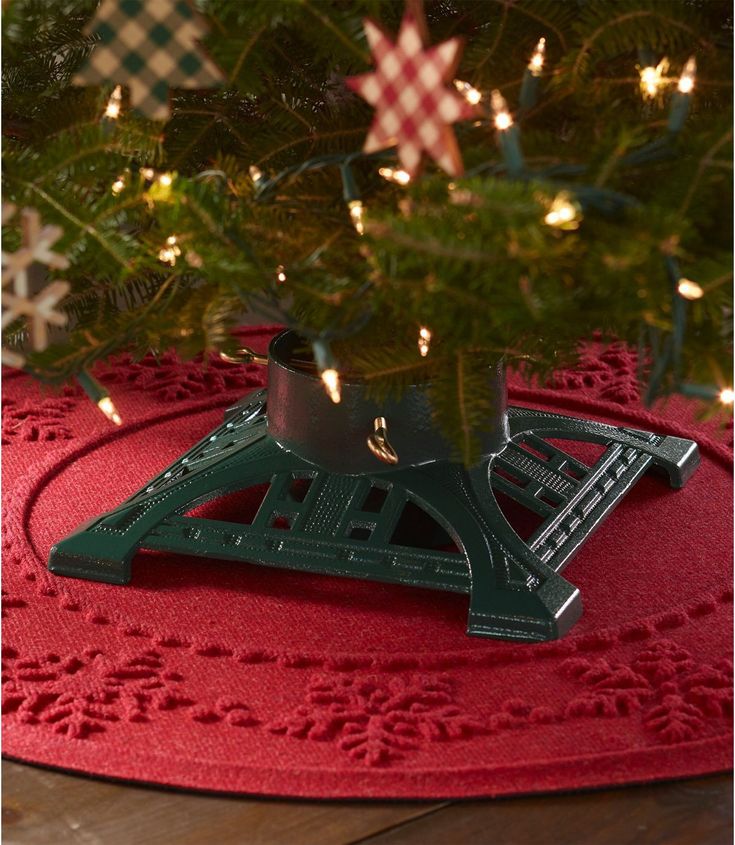 source: pinterest.com
Tree stands are as important as ornaments for decorating a Christmas tree. It is very exciting to get the details and check each and every product before purchase. However, this time-consuming process may take your valuable time that you can invest in other important Christmas preparations. 
So pick the best-suited from the above-mentioned list and start collecting other decor items for the festivities. Happy Christmas Folks!