As we all know, Christmas 2023 is soon to be reaching, so you've started looking for home decoration ideas for Christmas because you don't want to rely on last-minute, overrated ideas like hooking colorful lights all over your patio, hanging a "merry Christmas" banner on the wall of your living room, or baking holiday treats. To be honest, this is such a bland and soulless way to greet partygoers and Santa.
Christmas decorations are no longer solely for the home or garden; instead, people from the outside enjoy wandering through the streets, rating other houses, and debating who has the best decorations. But what about insiders; do you want them to spread rumors about your holiday décor? Don't confine the holiday mood to your living room this year; instead, go for kitchen decor ideas for Christmas 2023.
Here are some of the best Christmas kitchen decor ideas to explore. Read on Live Enhanced to find inspiration!
Innovative Christmas Kitchen Decor Ideas: Bring Christmas Spirit in Your Kitchen!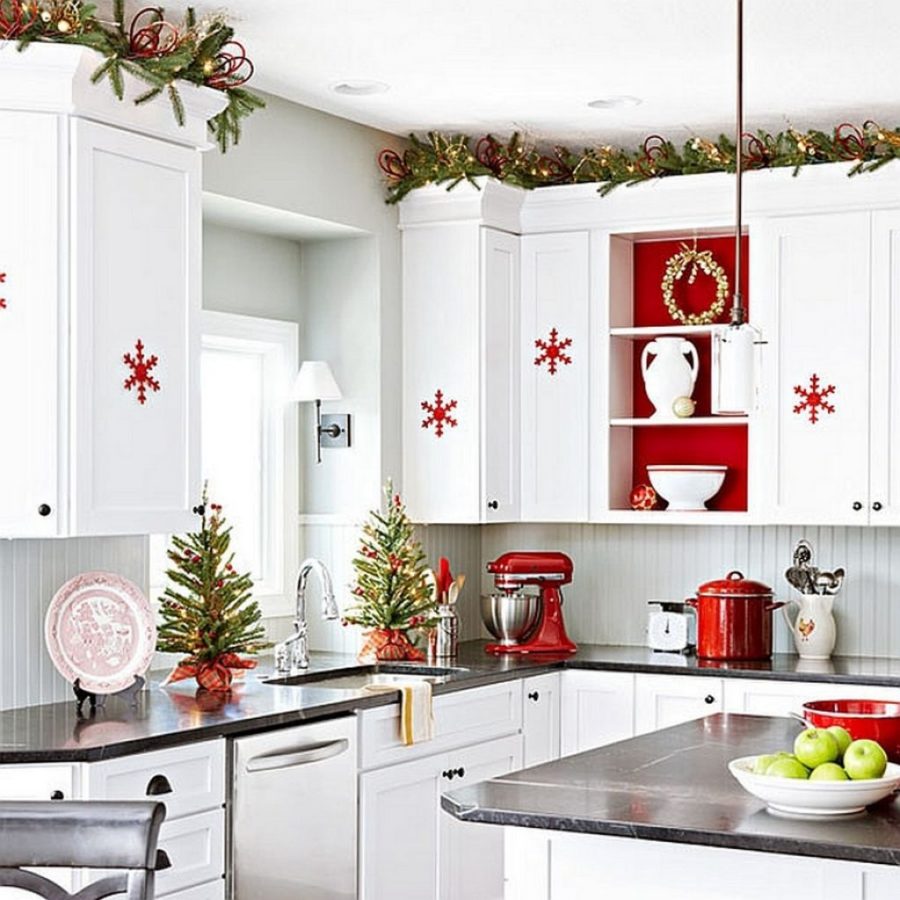 source: pinterest.com
Here are some of the best Christmas kitchen decor ideas to explore. Read on to find inspiration:
Decorate Holiday Cookie Jar with Cute Bow
A holiday cookie jar is a great way to store cookies throughout the year. You can use any type of container you want, whether it's glass, ceramic, plastic, or metal. If you're looking for something unique, consider making a custom-made cookie jar that features a design of your choice & don't forget to tie a cute Christmassy bow.
Create a Winter Wonderland on a Shelf
In addition to showing off your favorite serve-ware or keeping your day-to-day plates handy, open shelving can also be used to display a Christmas collection. You can create a winter wonderland in your kitchen using greenery, pinecones, and twigs. Add some Christmas candles and lights around the kitchen to make it even cozier.
Hang Snowflakes Anywhere You Want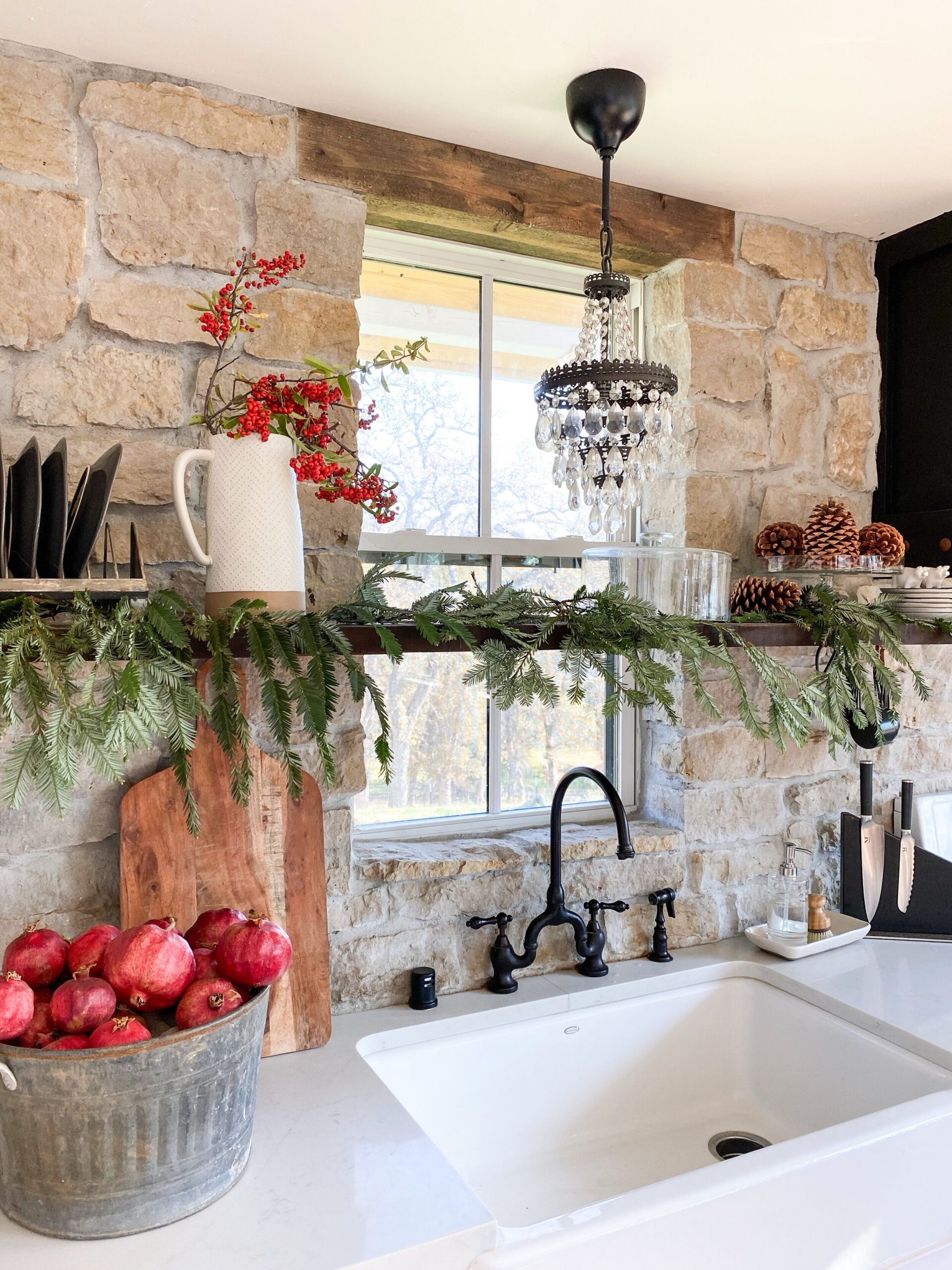 source: pinterest.com
Hang snowflakes in your kitchen window to bring a bit of winter cheer indoors. You can hang them over the stove, refrigerator, or anywhere else that catches your eye. Snowflakes are one the best Christmas ornaments to use for kitchen decoration ideas for Christmas. So within a short period of time decorate your kitchen this Christmas 2023 with the so-called snowflake garland or you can opt for snowflake style light. 
Ginger Bread on Tree
Although we can all agree that a Christmas tree is a necessary component of any kitchen decoration, a lack of space need not prevent you from bringing the holiday spirit inside. Placing a small-medium Christmas tree on the kitchen countertop near the window will obviously going to grab the attention of your guests. Additionally, you can add a unique touch to your Christmas kitchen decorations by hanging gingerbread, chocolates, and other sweet treats on the tree this Christmas 2023. Warning; your kitchen may turn into kids room!
Turn Boring Kitchen Cabinets into Christmas Presents
What would Christmas be like without presents? Why not make your kitchen into Christmas presents this year? When you have cabinets with two doors, you can wrap it like a giant gift with a bow in the center, or you can use ribbon and wrap it anywhere. You can even gift wrap a refrigerator and oven if you want to turn the entire kitchen into a Santa gift house. 
Kitchen Decoration Ideas for Christmas: Main Factors to Consider!
Adding some festive touches to your kitchen for Christmas is an easy way to get the look you want. Here are quick tips on how to decorate your kitchen the Christmas 2023 to get you started:
Start with the Centrepiece: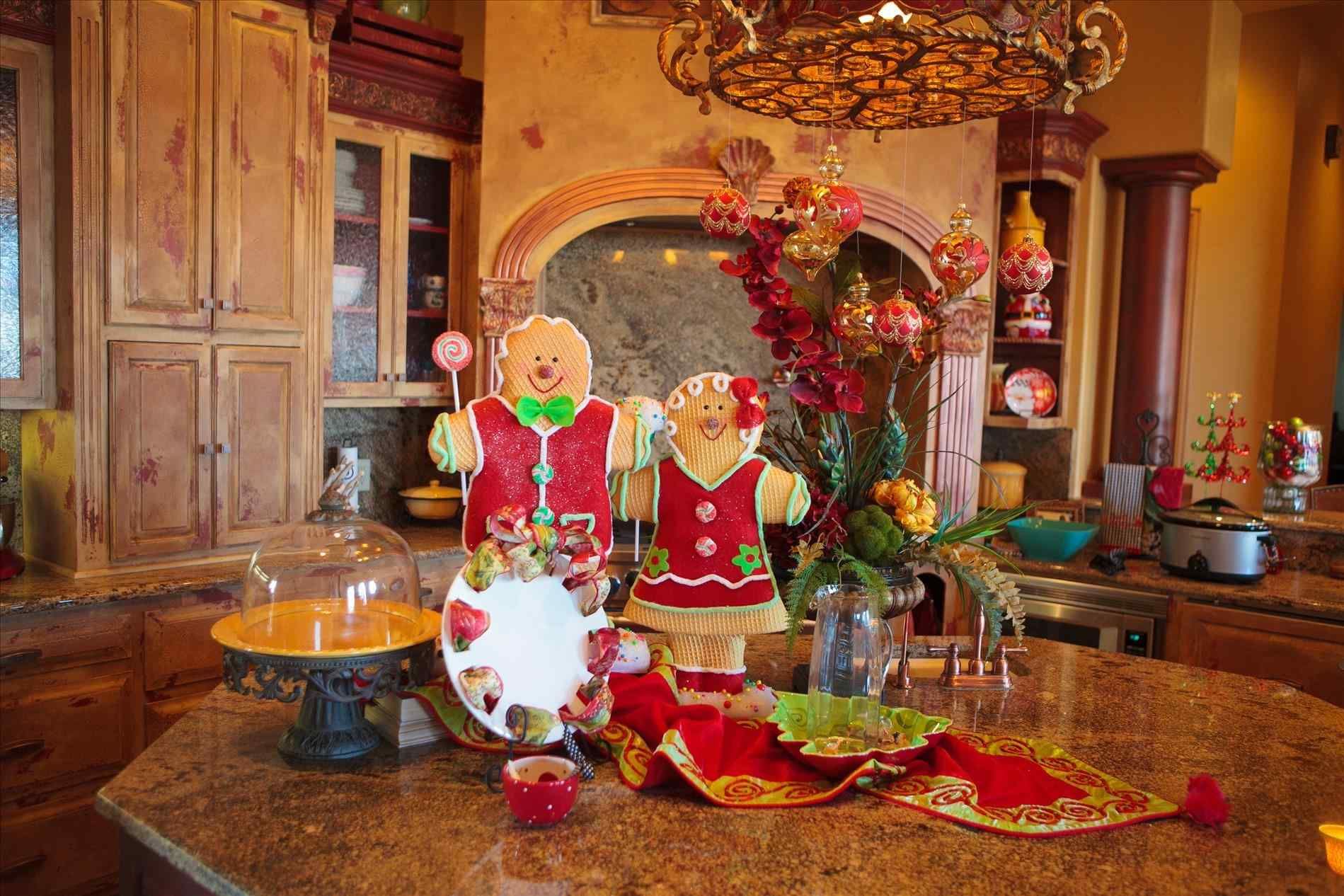 source: pinterest.com
Make sure your kitchen looks good because this is typically the most noticeable area. Use fresh flowers or greenery in a vase, ornaments made of vibrant wire balls, or straightforward pine trees, and if you have the space, a lit Christmas tree.
Christmas Tree
A Christmas tree is a great way to bring the spirit of Christmas into your Kitchen. You can decorate your kitchen with beautiful lights and decorations around your tree. A Christmas tree is a great centerpiece for your holiday table. If you have a small space, consider using a fake tree instead of a live one. Fake trees are easier to maintain and clean than real ones.
Candy Canes
Candy canes are a traditional Christmas decoration. You can buy them at any store that sells candy or even make your own for budget-friendly Christmas kitchen decor ideas. To make your own candy cane, take a piece of red licorice and cut off about 1/4 inch of each end. Twist the ends together and then twist the rest of the licorice until you get a long shape. Wrap the candy cane in foil and tie it with a ribbon.
Gingerbread Men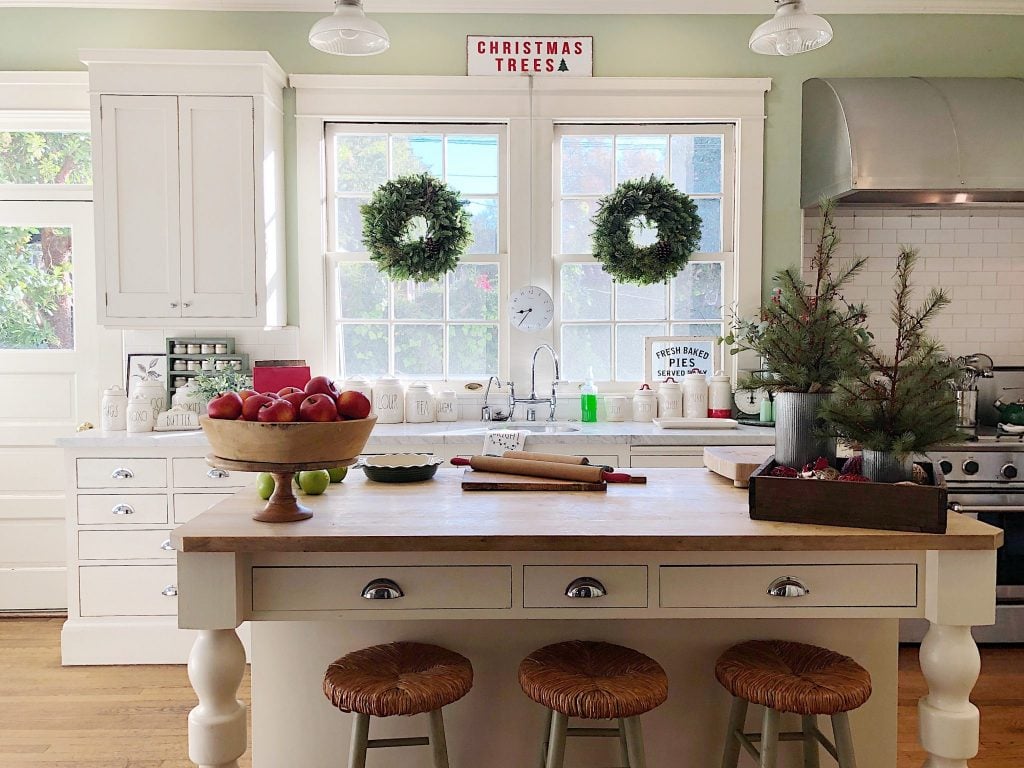 source: pinterest.com
Gingerbread men are fun to make and they look delicious! You can decorate these guys with icing and sprinkles. You can also make them out of sugar dough. Bake the gingerbread men and let them cool completely before placing them on a cookie sheet. Once cooled, you can frost them with icing.
Christmas Ornaments
You can hang Christmas ornaments throughout your kitchen. Hang a star over the stove, a wreath above the refrigerator, and a few stockings on the wall. You can also hang a garland across the doorway leading to the kitchen.
Add Some Other Holiday Accents: 
Don't be afraid to sprinkle some red and green into your décor. Try hanging garlands or tinsel from the ceiling to the floor to decorate the space.
Last but Not Least, Keep it Clean and Tidy: 
Ensure that all the decorations are tucked away safely until the 25th of December, and then take them down once you are done with them. It is not only going to make your kitchen look nicer, but it will also help keep it cleaner at the same time.
Final Look:
Christmas countdown has already begun, so without further getting delay follow the abovementioned Christmas kitchen decor ideas, and erase the myth of Christmas decoration ideas are just for the garden & home, this Christmas 2023 spruce up your kitchen too with Christmas decoration ideas for Christmas.