Concrete gets a bad rap. To some extent, we have to admit that's deserved. It looks plain and feels cold. It can serve a purpose but it isn't what most people think of when they really want to beautify their property.
But in reality, concrete can be beautiful and not merely functional. You don't have to be stuck with just a plain grey slab; there's a lot more that can be done with this material. You can add great-looking features to your home or business that will make it really stand out. Of course, the fact that it can be done at a reasonable price compared to many alternatives makes it even more attractive.
Let's have a look at just two of the great options you can choose in decorative concrete.
Exposed Aggregate – the Grandfather of Decorative Concrete Options
One of the earliest forms of decorative concrete dates back at least to the 1930s with the work of James Earley, who saw it as an art form.  
Exposed aggregate is often seen and has regained some of its earlier popularity. It has small pebbles or other materials sticking out of the surface. Usually, the placement is random although there is another level to this work where they can be placed in patterns.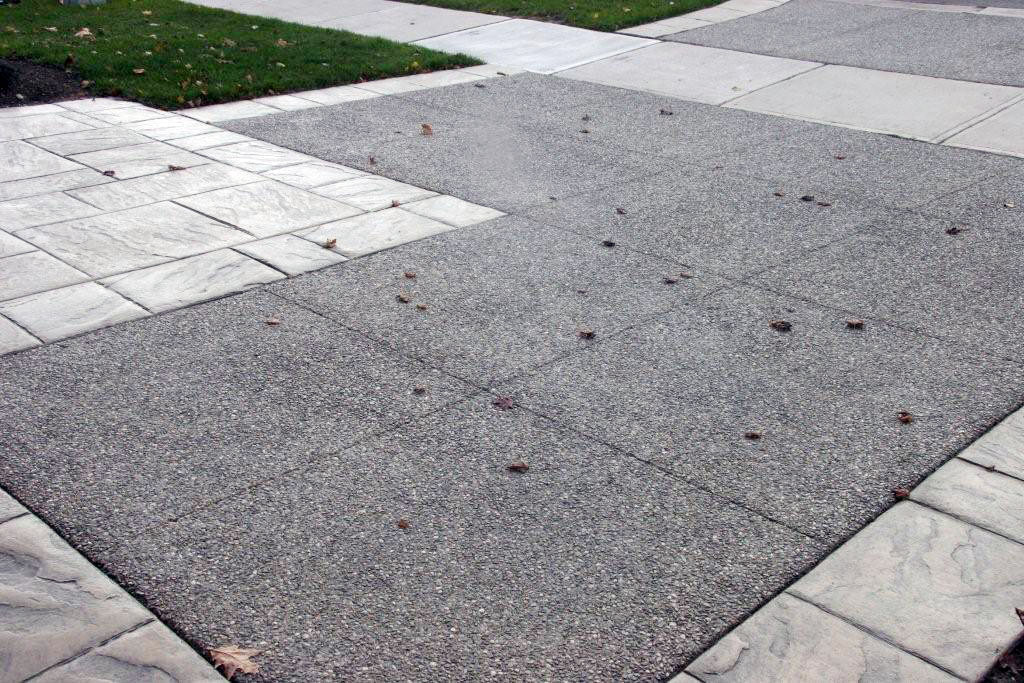 This surface can add a great classic look while also appear to come straight from nature. The small, smooth stones make it appear as if it comes right from a stream bed.
The truth is, this aggregate is always present in concrete. It helps to strengthen the surface. Exposed aggregate means that the top layer of concrete is removed, allowing the aggregate to protrude. This is done, of course, before the concrete has hardened completely. While it's still in its semi-liquid state, the top layer of concrete is hosed off, revealing the aggregate.
Different sizes and colors create a variety of effects. There are even glass aggregates for a unique appearance!
Stamped Concrete – the Next Generation
Since the early 1970s, a new type of decorative concrete has grown in popularity. Stamped concrete offers more varieties of beautiful surfaces while maintaining the competitive pricing that comes with concrete products.
Stamped concrete is exactly what it sounds like – concrete that is stamped with a design. The concrete is mixed as usual. But then, either in the mixing process or when it's poured, color is added to create the main color of the chosen pattern. Stamps are then pressed firmly into the drying surface to create the pattern itself. Trim colors then complete the project.
There are a huge variety of patterns available, and more being developed all the time. You can choose one that will go with your architecture and taste.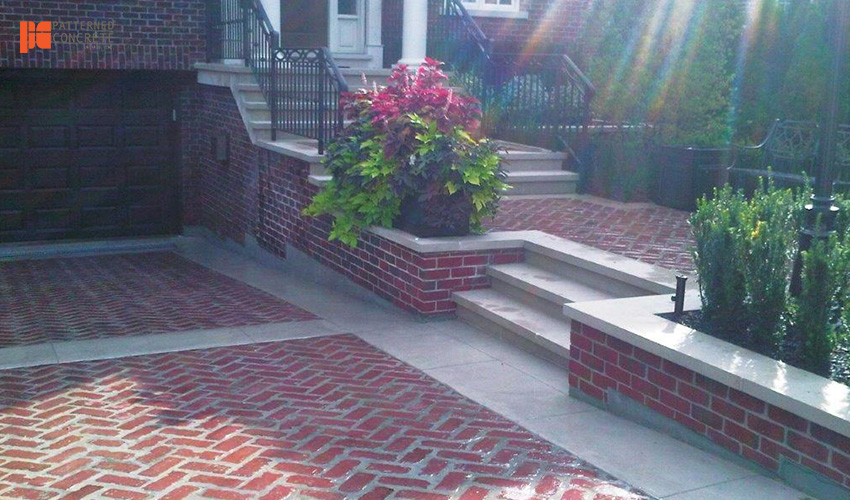 You may elect brick and choose a shade that will go with the facade of your home. If you live in a more historic area, a cobblestone style for your driveway may go great.
Going for a more rustic look? Have your pathways and walkways look like quarried stone with all its uneven edges and rough face. But a more modern look isn't out of the question, either. Something like a running bond or stacked bond will match up well with the crisp straight lines of modern architecture.
Here's one that might surprise you as well – you can elect to have your stamped concrete look like wood! Yes, as unlikely as it seems, you can have all the advantages of concrete but with the traditional appearance of a wood surface. Just imagine it around your swimming pool or on your patio or porch!
Advantages of Decorative Concrete Surfaces
The first positive quality of concrete that you may think of is its strength and durability. That's not lessened in any way when it's got a decorative purpose. You'll get a long-lasting surface that can take a beating, whether from pedestrians or vehicles. As long as it's installed correctly, it will remain useful and intact for years.
Concrete – including these "fancy" surfaces – requires a minimum of maintenance. Simple cleaning with a broom or mop usually suffices. If necessary, you can use a mild detergent and even power wash it. Other than that, all you have to worry about is resealing the concrete every two years or so. This helps prevent water from being absorbed into the surface. In the case of stamped concrete, it also helps protect the coloring and pattern.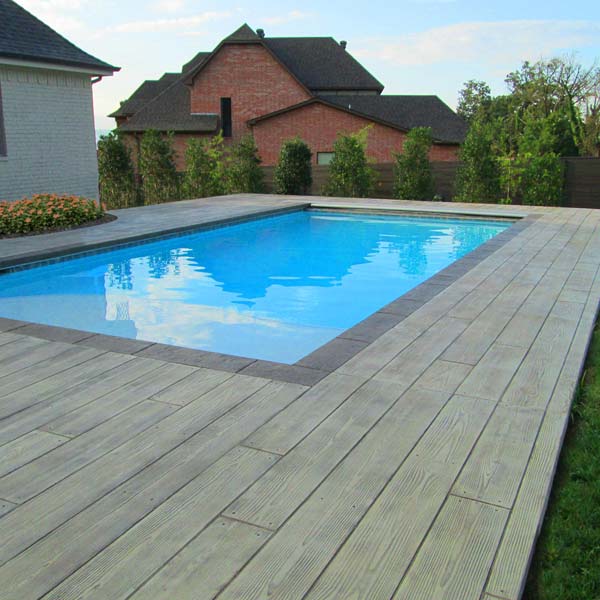 The price doesn't hurt either. You would pay much more if you elected to use real stone hewn from a quarry, cobblestone, or even brick. These are all expensive materials, while concrete – even with the design features we've talked about in this article – is almost always at the lower end of the cost spectrum.
Concrete – including both exposed aggregate and stamped concrete – is also highly versatile. It can be used for driveways, sidewalks or walkways, of course. But it can also be used for building facades, pool decks, and porches. Exposed aggregate is often used for sound barriers along highways. On a larger scale, it's great for mall entrances or courtyards and plazas around business campuses.
Finally and perhaps most importantly is the variety and beauty of the designs you can choose. Whether it's the size and depth of exposure in aggregate concrete or the colors and patterns in stamped concrete, there is something available that will suit your taste and highlight the beauty of your property.
Conclusion
When you're looking for a beautiful surface for your patio, driveway, walkway or more, decorative concrete should be at the top of your list. Not only is it tough and long-lasting, but it's cost-effective. And of course, it provides a fantastic appearance that can blend incredibly with the rest of the environment to give you just the look you want.
About the Author
Bill Michaels works for Patterned Concrete as a digital outreach specialist. The company is an expert and pioneer in stamped concrete since 1972. It has grown from its Toronto-area roots to have franchises across North America. If you're a concrete mason and interested in stamped concrete work, get in touch for info on how to become a part of the family!