Father's Day was created to express our love and gratitude to the important men in our lives. It is also an opportunity for those with grandfathers to show appreciation and make them feel special with a thoughtful gift. But sometimes finding the perfect present can be tricky. To help you, here are 16 of the best Father's Day gifts for grandpa.
1. Personalized Wallet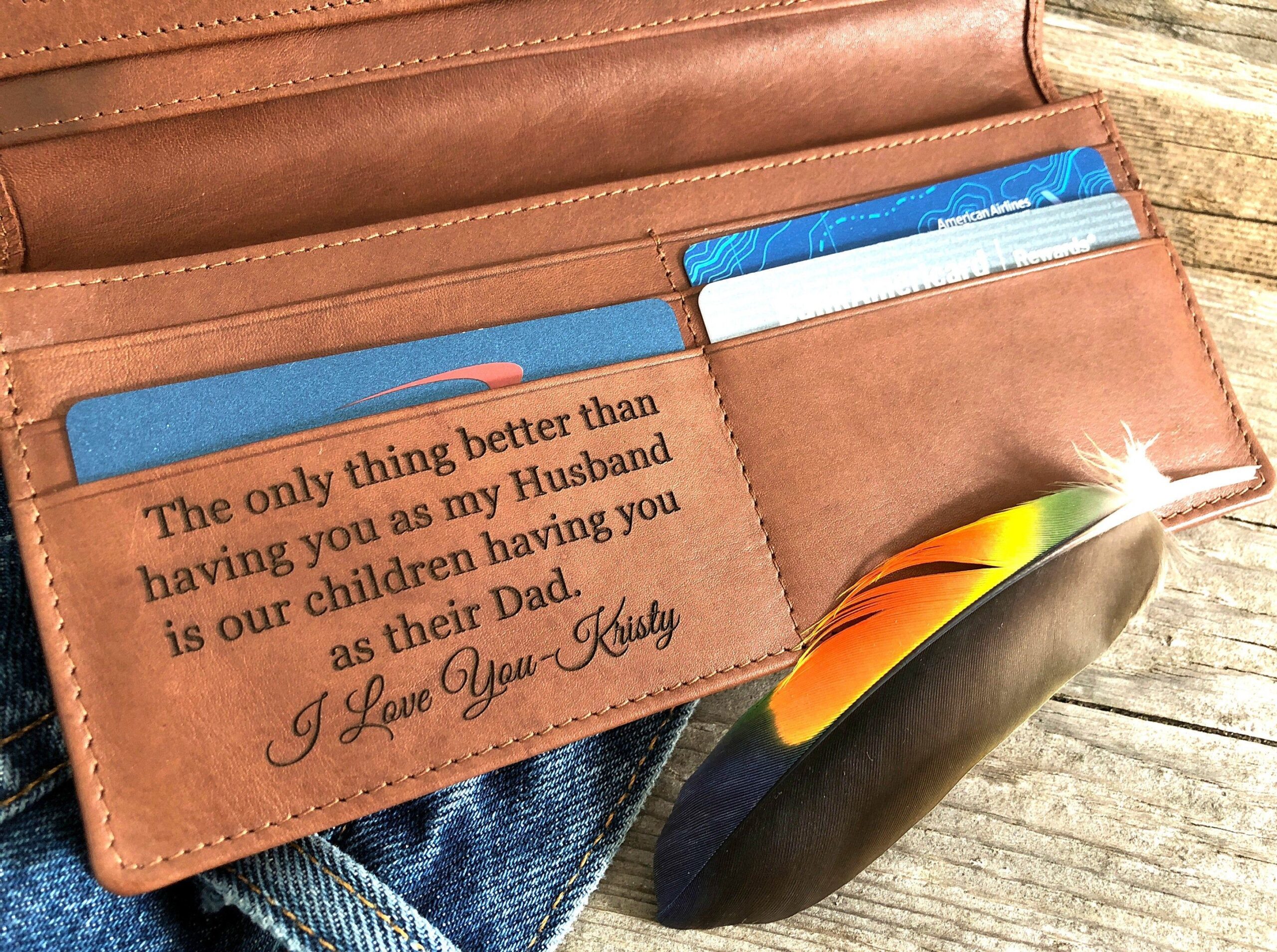 source: pinterest.com
Nothing says "I love you" like personalized Father's Day gifts with their name and your meaningful message. A personalized wallet is a classic Father's Day gift that your grandpa will love. You can emboss his name or initials onto the leather, and he can use it to store his cards, cash and other essentials. This practical and thoughtful gift will remind him of you whenever he uses it.
2. Personalized Photo Frame
A personalized photo frame is a nice way to showcase your favorite moments with your grandpa. This gift will make him smile every time he sees it, and it's an excellent way to show him how much you care. You can customize the frame with names, birthdates or a special message.
3. Personalized Golf Balls
Personalized golf balls will make a perfect Father's Day gift if your grandpa is an avid golfer. These golf balls can be customized with his name or a message, making them unique and special. He will appreciate your thoughtfulness in finding a gift tailored to his hobby.
4. Personalized Coffee Mug
source: pinterest.com
A personalized coffee mug is an excellent choice for the grandpa who loves his cup of joe. You can customize the mug with his name, a funny phrase or a photo of his grandkids. This gift is practical and sentimental; he will think of you whenever he has his morning coffee.
5. Personalized Apron
For the grandpa who loves to cook, consider finding a fun personalized apron to gift him. Just like with the personalized coffee mug, you can customize the apron with his name, a funny phrase or a photo of his grandkids. Spend the holiday cooking one of grandpa's favorite dishes so he can use his brand-new apron! 
6. Personalized Pen Set
If your grandpa loves to write or needs to write a lot for his job, a personalized pen set is a perfect Father's Day gift. This gift is practical as well as sentimental, and he will love using it to write letters or jot down notes. A personalized pen set is also a great way to show your grandpa how much you value his wisdom and advice.
7. Books
source: pinterest.com
You could go the classic route and buy him a print book or physical magazine subscription, but why not think outside the box and get him an eBook reader? That way, he'll never run out of reading material again. Popular models offer access to thousands of titles in various genres. Be available to show him how it works, so there aren't any frustrations on Father's Day.
8. Customized T-Shirt
For the grandpa who loves to wear comfortable clothing, a personalized dad shirt is an excellent choice. You can go the funny route and add a joke, or you can take the sentimental road and add a family photo to the shirt. This personalized gift is practical and thoughtful and will be cherished for years. 
9. Gift Cards
Everyone loves gift cards because they allow recipients to choose their presents. This is perfect if you're unsure what hobbies your grandpa currently enjoys. You can let him pick something out himself without breaking the bank. Or you can buy a gift card to your grandpa's favorite restaurant and pick a day to take him out. There are endless possibilities when it comes to options with gift cards! 
10. Tech Gadgets
source: pinterest.com
Whether your grandpa loves tech gadgets or needs an upgrade on some old devices, something new might be what he needs this Father's Day. You can find everything from wearable fitness trackers to digital picture frames. You could sneak some tech talk into a conversation ahead of time to see what strikes his fancy.
11. Tools
Does grandpa have a workshop? If so, he'll appreciate a useful toolset this Father's Day. Fill his gift with basic tool upgrades like new hammers, pliers and screwdrivers or power tools like drills, saws and sanders. This is especially perfect for those who consider themselves handymen.
12. Games and Puzzles
Keep grandpa entertained with some old-school board games or puzzles. Whether it's a classic game of chess or something more modern like Settlers of Catan, there's no shortage of fun activities to keep hobbyists busy this Father's Day.
13. Comfy Slippers and Sneakers
Everyone loves being comfortable around the house or going out for a stroll in style, so gifting grandpa comfy sneakers or slippers will definitely be a hit. You'll find many options, from casual slip-on shoes to full-on outdoorsy boots. Whatever fits your grandfather's lifestyle will make him happy this Father's Day.
14. Outdoor Furniture
source: pinterest.com
Let your grandpa comfortably enjoy the summer sun with stylish outdoor furniture, such as chairs, tables or lounge cushions. You can even find complete sets with matching accessories, making it easy for your granddad to have his oasis outside their front door.
15. Bluetooth Speaker
If your grandpa loves to listen to music or podcasts, a Bluetooth speaker is a practical and enjoyable gift. Look for a high-quality speaker that has good sound quality and is easy to use. This gift will make his listening experience much more enjoyable and convenient.
16. Golf Club Headcovers
If your grandfather is a golf enthusiast, a set of personalized golf club headcovers is a great Father's Day gift. You can choose from various colors and designs and add his initials or name for an extra special touch. These headcovers will help protect his clubs and add a stylish touch to his golf bag.
Make It Personal, Not Pricey
No matter how big or small your budget may be, finding the perfect gift for grandpa doesn't have to be difficult. With any of the 16 thoughtful options above, you'll make his Father's Day extra special by showing him how much he means to you.
Remember, it's not the price tag that matters — it's the thought and effort you put into finding the perfect personalized gifts for your grandpa.