Buying a house is a huge decision involving a sizeable investment, so it's only right that you find a house that suits you and your lifestyle the best.
After all, there's no point in buying an 18th-century farmhouse if you're not a fan of period features or have to travel a tiring two hours each way to get to work. 
How do you find a home that suits your lifestyle, though?
While your budget definitely plays a critical role, several other factors will also help you narrow down the options.
Here's how you can find a home that suits your lifestyle, short of building it—that dream house needn't remain a dream!
Factors Influencing House-Buying
source: pinterest.com
While love, at first sight, can be beautiful, it can also lead to quite a mismatch, especially with something that drains so much of your finances! Asking yourself how you live and how that influences the home you need will go a long way in finding a house that's the perfect combination of practicality and desirability.
Here are some things to keep in mind when picking a home that suits your lifestyle.
Outdoor Space
If you've got children (of the four-legged variety, as well!), enjoy outdoor games and activities like gardening and woodwork, or often host outdoor events and Sunday barbecues, sufficient outdoor space or a yard is something you'll appreciate in a home.
This automatically makes condos and apartment complexes unideal options. However, if a private home is beyond your budget, a condo could still work if you choose a building that's within walking distance of green spaces and parks, or has its own community garden.
However, know that having a yard comes with its own responsibilities—you'll have to invest in its upkeep, which means trimming shears and lawnmowers. Additionally, if you or someone in the family suffers from allergies, private outdoor space may be counterproductive.
The Locality / Neighborhood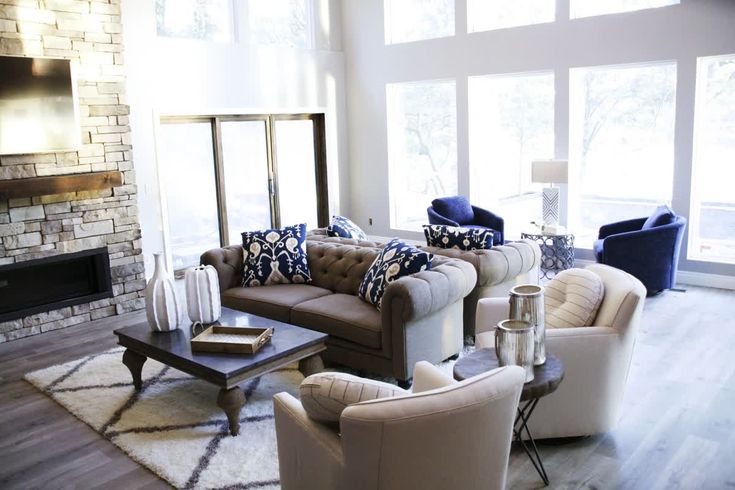 source: pinterest.com
What sort of neighborhood would you like to live in? Do you have the budget for an upscale area? Do you prefer quiet, residential neighborhoods or commercial ones with the sounds and sights of the city in the immediate backdrop?
Some other questions to consider:
What sort of weather are you happy in? Do you need four distinct seasons?

Would you prefer a house that's close to nature, with wooded areas and glorious natural views?

What conveniences do you need close by?
Based on these answers, you can zero in on the geography of the house. However, there will always be trade offs. For example, a quiet neighborhood is peaceful and relaxed but may be far away from active nightlife.
Additionally, such neighborhoods may typically be inhabited by older folks or families, so if you're still enjoying the delights of a "young life" (read loves throwing ragers and having friends over!), this may not be an ideal spot for you to live in, regardless of how beautiful or cheap the house you're looking at here is.
Your house should allow you access to the things you enjoy and need, inside and out, such as your health needs and recreational activities, down to the kind of views and vibes you enjoy.
This means that if you want to live in a sunny beach mansion, go ahead and look for houses in such an area, even if that means moving countries (of course, this is provided your lifestyle allows it)! There are plenty of new model homes for sale if you know where to look.
The Country and the City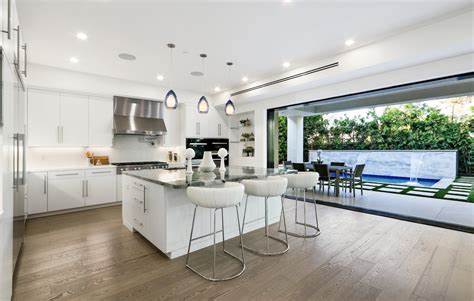 source: pinterest.com
Residential neighborhoods away from the city are beautiful and often luxurious; however, these are far from the comforts and conveniences of the city.
While the absence of a cityscape affords peace, this could mean long hours of commuting to and from work, limited or difficult educational options for the kids, and even the lack of shopping malls, watering holes, and fine-dining restaurants, if you ever want to indulge.
Explore the region your potential house sits in so you know what you're getting and what you're giving up.
Your Personality and the Future
Your new house is something you're ideally going to live in for years, which means that it's going to bear witness to several phases of your life. If you're going to have children or adopt pets in the near future, you'll need to take this into consideration and invest in a house that is sufficiently large and has the relevant facilities.
Similarly, consider your personality. Are you a social person who loves cooking for parties and hosting large groups? Do you need a room to yourself as your office or activity space? If yes, a large, independent house that doesn't share walls is a better option than condos, townhouses, or buildings that are attached.
However, while such houses provide great opportunities for personalization and customization, they require more upkeep; the personalization and customization may also turn out to be expensive.
If you've got a busy life where you spend more hours in the office than at home, go out and eat out often, and just want a space for yourself on your days off, a palatial mansion with a state-of-the-art kitchen and ten rooms isn't going to make much sense.
In such a case, it's better to invest in a small space, like a condo, that won't cost much, requires less effort to maintain (and probably has facilities like a maintenance crew), and is conveniently generic.
A Quick Summary of the Different Housing Options
source: pinterest.com
Here's a quick summary of what different types of housing options can offer you:
Condos
Your own space




No outdoor space




Lesser maintenance




An attached community and shared common areas




Often conveniently located




Facilities like a maintenance crew, a managing association, and a say, as a house owner, in decisions concerning the building
Suburban Homes
Less expensive compared to the city




Bigger and independent houses




Possibility of customizing




Quiet neighborhoods




Families and older folks in the neighborhood

Far from city comforts
Urban Houses
Close to city comforts, such as shopping outlets, cafes, schools, etc.




May need to be renovated as most urban houses are old buildings




Can be expensive
Rural Houses
source: pinterest.com
Quiet and peaceful




A slow pace of life




Far from city comforts




Big houses




More maintenance and related expenses
The Final Word
Your home is often a reflection of your personality and lifestyle and can be a source of pride and a sense of achievement. Understandably so—owning a house is no small achievement.
Keeping the above factors in mind will help you find the option that works best for you and your family.