There's nothing better than chowing down on some tasty barbecue in the backyard. For some reason, everything just tastes better when you eat outside! But while the food is the star of the show at this type of event, it's also a good idea to have some fun activities for your guests to enjoy. Whether hosting an adults-only BBQ or a kid-friendly event, keeping everyone busy prevents boredom and makes any cookout a lot more fun. 
Outdoor games are always a big hit, but you could also incorporate crafts and other unique activities. From providing diamond painting kits for guests to work on during the party to playing a giant game of Jenga, keep reading to discover a few fun ideas to keep your guests busy at a BBQ.
Diamond Painting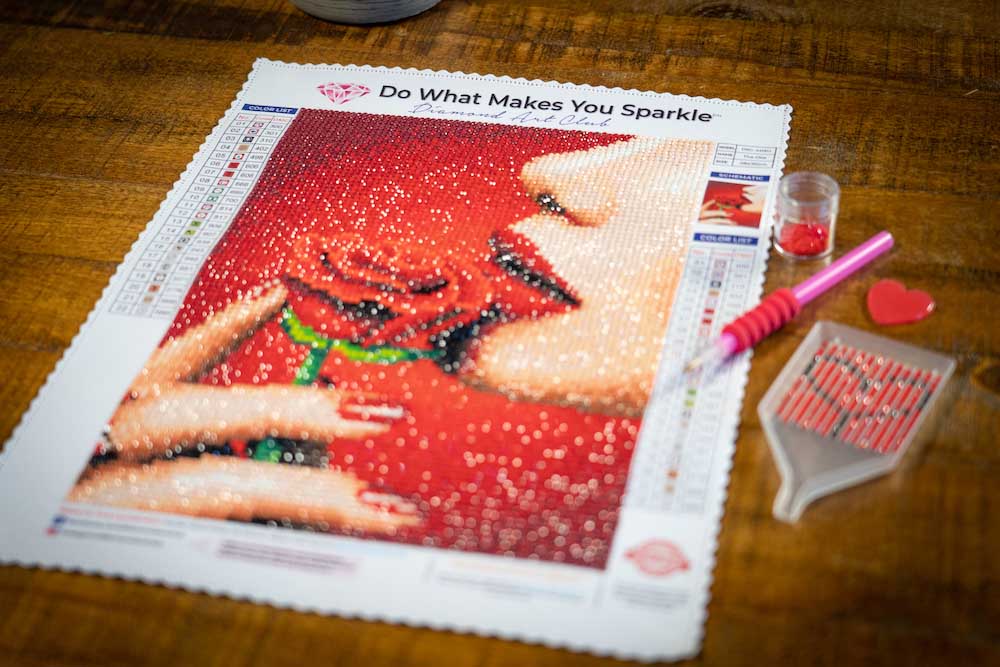 Source: shopify.com
Arts and crafts projects are common components of kids' parties, but they may not immediately come to mind for adult events. They should, though! Crafting is a lot of fun, and when you choose a project that doesn't require skill or previous experience, your guests can have a blast creating their own masterpieces. Diamond painting takes literally seconds to learn, and anyone can make beautiful art when you incorporate this activity into your next barbecue. 
Diamond painting involves creating sparkly mosaic images by placing colorful, faceted "diamonds" in the appropriate places on a self-adhesive canvas. Made of differently colored resin, the diamonds shimmer in the sunlight enticing you to find their corresponding symbol on the canvas. Using a placer-pen to put each one in the right spot, you and your guests willeventuallyhave a gorgeous, shimmering mosaic to enjoy. 
Unlike many other activities, diamond painting for beginners is easy. It's similar to painting by numbers and it's appropriate for kids and adults alike. Diamond painting is easy to work on outdoors, too, because it doesn't require many supplies. The kits come in a variety of designs, so you can stock up on several different options and let your guests choose their favorites or find a design that matches your BBQ's theme. Either way, your friends and loved ones will have a blast learning a new hobby and get to leave with a fun project to continue working on throughout the summer.
Scavenger Hunt
source: rei.com
Like arts and crafts, scavenger hunts are fun for kids and adults alike. Provide clues and send your guests hunting for items around your property. When hosting a BBQ in a public space, come up with natural things for guests to find and photograph rather than hiding objects or having them take things from the surroundings. You might require a photograph of three different types of rocks or have your guests take pictures of specific plants or animals. Keep things simple for younger attendees. Put together a modified version of the adult scavenger hunt to make it easier and appropriate for kids. 
No matter what your hunt looks like, be sure to offer up some fun prizes for the winners. You don't need to spend a ton of money, but offering a prize makes this activity a lot more fun. Scavenger hunts bring friends closer together and can help your guests form new friendships. They also promote healthy competition and can bring even the most introverted of guests out of their shells.
Giant Jenga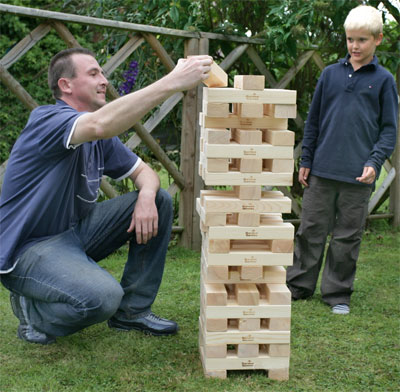 Source: carnivalsatheart.com
If your family loves gathering around the dining room table to play Jenga, you have to give giant Jenga a try! It's a fun and easy game for guests of all ages, and you can make it yourself using some basic materials and tools. 
To make a DIY giant Jenga game, you'll need seven, eight-foot two-by-fours, a saw, an electric sander and sandpaper and personal protective equipment, including a dust mask and ear protection. You might want to give the blocks a coat of polyacrylic for protection, but this is optional. Cut your boards into 10 ½" Jenga blocks. You should get nine pieces from each board. You need 54 blocks in total, which you should be able to obtain from just six boards. However, we recommend buying seven in case you need to cut around damaged areas, knots, etc. 
Next, sand each block. Start with 60-grit sandpaper and then move on to 120-grit. Make sure each piece is nice and smooth so that it will slide out easily during gameplay. You may want to consider giving the pieces a pass with 220-grit sandpaper just to be on the safe side. If you'd like to add a protective coating to make the pieces last longer, apply a thin layer of polyacrylic. You can also stain the blocks or paint their ends to customize your game. 
When you're ready to play, just stack the blocks the same way you'd stack up regular-sized Jenga blocks. Just be sure to keep the stack as straight as possible to prevent premature toppling.
Human Pinata Chase
source: pinterest.com
Before we dive into the details — no, this activity doesn't involve beating your party-goers with sticks! Instead, the key to getting the candy is snatching it off the "pinata's" shirt. This game is absolutely hilarious and is sure to have everyone laughing. 
Start by attaching snack-sized candy to the outside of a few old t-shirts or aprons using a hot glue gun. When party time rolls around, ask a few of your guests to don these shirts and become human pinatas. Then, turn your pinatas loose and have other attendees chase them to snatch the candy. The candy reward is enough to get all of your guests up and running. To make the game even more enticing (and hilarious), add a few dollar bills or a gift card to each shirt. Your guests will really love to snatch up those prizes! 
Conclusion
These are just a few of the many ways to keep your guests busy at your next BBQ. Give them a try, or get creative and come up with your own activities. Whatever you do, incorporating activities is the best way to ensure that your guests have a blast and will be talking about your barbecue for years to come.