You may be unsure of how to choose the perfect outdoor rug for your patio. You can do a lot of research online. You can filter by size, pattern, pile height, and construction style. However, be sure to check return policies, since some merchants have different policies. Another option is to head to the store. Home Depot carries several different brands and styles. On its website, you can browse rugs based on price buckets, materials, weave styles, pile height, and construction style. If you want to pick up your purchase in person, you can take advantage of Home Depot's free shipping and in-store pick-up.
Why Use Outdoor Rugs?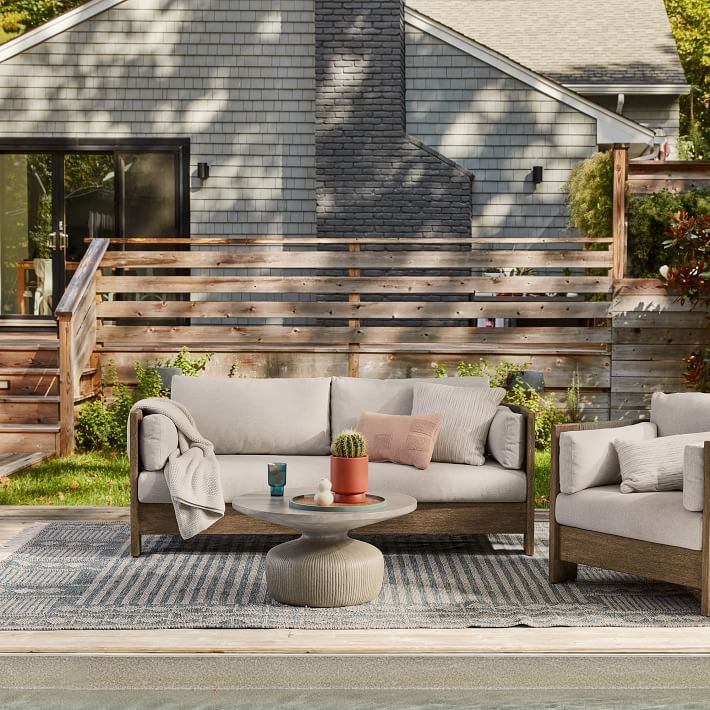 source: pinterest.com
If you want to create a comfortable, stylish living space outside, an outdoor rug can help you achieve your goals. It can define zones and add spatial depth. This creates a cozy, inviting feeling in the main sitting area. In addition, it helps protect hardwood floors from natural fading and mold and water damage.
The majority of outdoor rugs are made from a material that resists mold and mildew. However, they must be air-dried after washing. This is important, especially after heavy rains. This is because water can combine with trapped dirt and lead to mold growth. Luckily, most outdoor rugs can be cleaned with a vinegar-water solution. When it is time to use your rug outside, be sure to shake it vigorously before placing it back on the floor.
Another benefit of indoor-outdoor rugs is their low maintenance. They can handle spills and food crumbs. While you can still use your outdoor rug to lounge around on, remember to leave at least six inches of space around it to move comfortably. A rug can be an excellent way to protect floors and add an attractive element to your space. If you have a pet or children, consider purchasing a soft rug that can handle the responsibilities of a toddler.
Nature Resistant
source: pinterest.com
When choosing a new outdoor rug, you may be wondering what material is best. While many synthetic outdoor rugs are made from plastic, polypropylene and olefin are both great choices for outdoor use. They are both UV resistant and stain resistant and offer low maintenance. Natural fiber rugs like jute and seagrass are good choices as well, but tend to fade quickly when exposed to the elements. Jute may also absorb water, so it is not ideal for areas with high humidity.
For high-traffic areas, sisal fibers are excellent choices. These rugs are inexpensive and eco-friendly. However, they are not the most comfortable choice for bare feet. If you are concerned about mildew, you should purchase a synthetic option. Additionally, these natural fibers tend to break down faster than synthetic rugs. Regardless of their natural microfiber sheet content, you'll have to be careful to avoid prolonged exposure to moisture to make sure they are weather-resistant.
Indoor Size Rules Apply
source: pinterest.com
In the same way that you would select an indoor rug, the same rules apply when choosing an outdoor rug for your patio. It should be larger than the floor space in the area where it will be placed. However, there are some exceptions. If you're using an outdoor rug for dining tables, you should pick one that's large enough for the chairs' feet to rest on. Similarly, you should choose a rug large enough for the front legs of a sectional sofa.
You can use an accent rug if your patio is relatively small. If you'd like to brighten the area around your outdoor rug, use bright colors for your bedroom.. Try a 5×7 rectangle rug under a round dining table, or a circular rug under a rectangular outdoor sofa. Alternatively, you can use a narrow indoor/outdoor runner as a pathway between your patio furniture and the rug.
Keep Your Style Consistent
source: hearstapps.com
When selecting a new rug for your patio, make sure to consider the overall look of the space. The design and style of your outdoor space should reflect your interior decor. If you have a bohemian-themed home, choose a rug with a woven pattern or a soft, bordered sisal material. If you live in a more traditional home, you can find a rug with a geometric pattern that will go well with your existing outdoor furniture.
Consider the weather in your area when choosing a pink rug. If you live in a humid climate, look for one with UV resistance to help keep the colors from fading. If your home is in an area with heavy rainfall, choose a rug that is water-resistant, as water is very damaging to many materials. When purchasing an outdoor rug, keep in mind that it will also need to be wiped down regularly – even with mild detergents.
Conclusion
Purchasing the right outdoor rug is essential for a variety of reasons. Not only do they protect surfaces from slips and falls, but they can also add a stylish element to a space. Before choosing your new patio rug, however, consider its longevity. High-traffic areas and exposure to the elements will require a durable outdoor rug. While some materials are easy to clean, others will require professional care to maintain their appearance.