It is difficult for travelers to find something that can recharge their minds and bodies amidst the hustle of traveling and the pressure of reaching the destination. One needs a Spa Staycations that can rejuvenate them and infuse new power. While many hotels provide this facility some take this to a different level. Take a look at some of the best Spa Staycations in the USA at Live Enhanced.
Hyatt Regency Scottsdale Resort & Spa at Gainey Ranch – Scottsdale, Arizona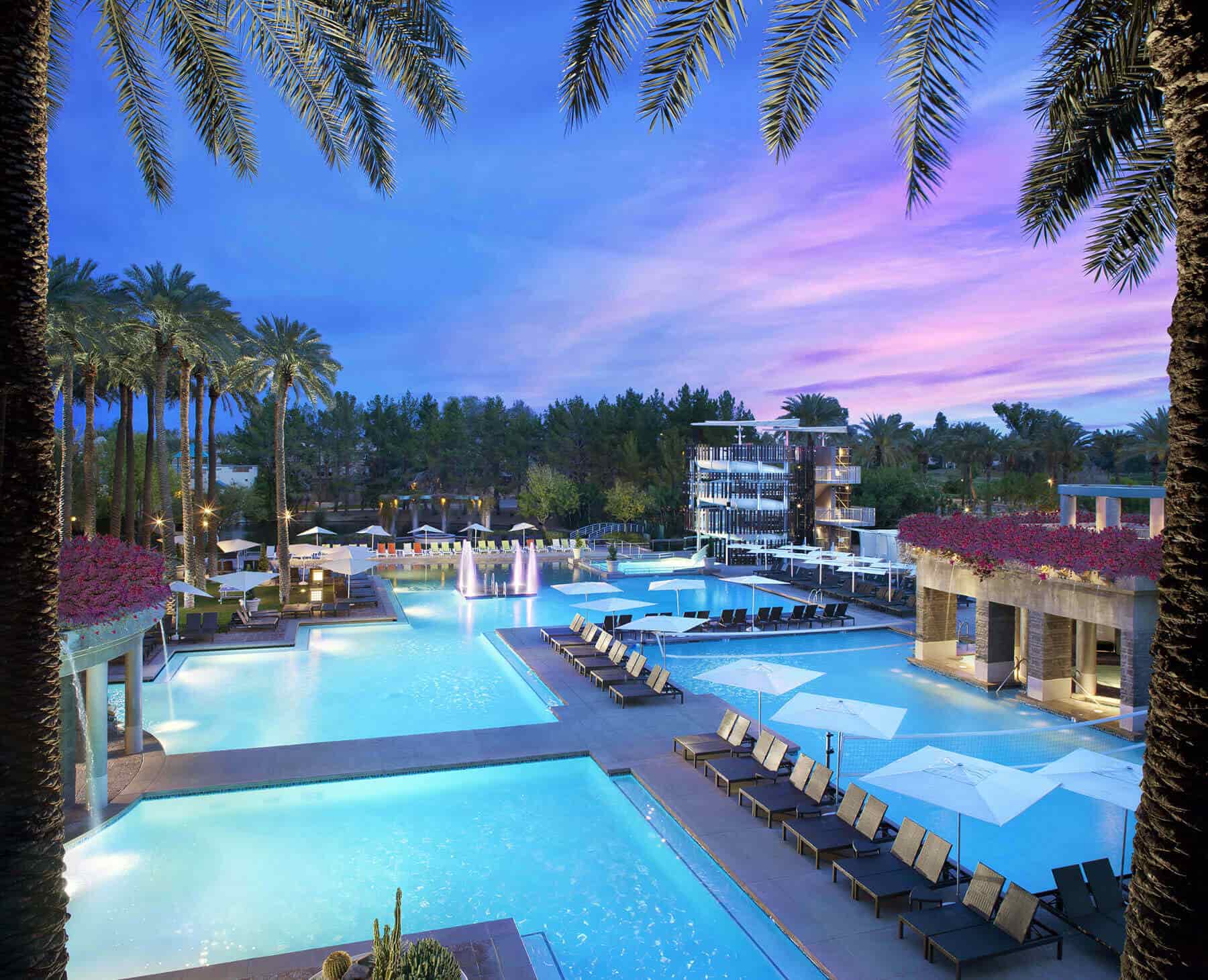 source:  scottsdaleregency.e-hyatt.com
Hyatt Regency Scottsdale Resort & Spa has a lot more to offer to make your day and make you feel the rejoicing power. The resort offers a refreshing atmosphere with swimming pools, poolside café, waterfalls, fountains, and a lot more. More than the spa this place provides many recreational activities alongside huge rooms and private patios to make your stay more exciting and soothing.
Lake Austin Spa Resort – Austin, Texas
source:  pinterest.com
This huge 25000 sq. ft. spa resort is a perfect getaway for the ones who are in the search of a calm and serene atmosphere. This place contains over 100 treatments and couples can choose any treatment they think fit. They also have a full-day or half-day options available in addition to the Austin 360 spa and some special treatments for the special occasion.
Mandarin Oriental Miami – Miami, Florida
source: meeting-conventions.com
Mandarin Oriental Miami provides a beautiful view of stunning water and the city skyline. The hotel offers luxurious suites including a private spa room in addition to the dining room, living room, kitchen, and master bedroom. The spa menu provides the visitor with the Asian-inspired spa along with Chinese, Thai, and Balinese traditions. The place also offers some healthy and delicious cuisines and music experience.      
Miraval Arizona Resort & Spa – Tucson, Arizona
source:  pinterest.com
Miraval Arizona Resorts and spa provides a soothing approach to cure the mind, body, and soul and enhances physical immunity and inner strength. They have a fully customized approach with all-inclusive facilities and a variety of world-class options of a spa, workshops, exercise, body scrubs, and various other therapies. The place also facilitates lavish rooms with a patio and nutritious meals.  
Shutters on the Beach – Santa Monica, California
source:  travallermade.com
Apart from all the spa and retreat, the place provides high-end amenities with the beach access. The spa treatments here help in healing the body and mind and also swimming in the ocean-facing pool is the treat to experience. The rooms here have the soothing and warm natural décor with soaking tub and ocean-view balconies.
The Ballantyne, A Luxury Collection Hotel – Charlotte, North Carolina
source:  marriott.com
This place provides a serene getaway with a newly designed spa set in the rolling hills of North Carolina. This upscale hotel facilitates the visitor with an indoor pool, whirlpool, fitness center, and some customizable spa treatment with beauty and saloon providing full service. Not only is this hotel famous for spa treatments but also the local and delicious cuisine.  
The Langham, New York, Fifth Avenue – New York City, New York
source:  pinterest.com
The Langham Fifth Avenue is the destination that provides serene Oasis amidst the busiest place Manhattan. The Spa treatment provided here is inspired by Chinese therapy and includes Chuan Body + Soul Spa. Space provides customers with private exposure and makes them feel special and private. The place provides a sauna as well as Water, Earth, and Fire spa rooms.  
The Oxford Hotel – Denver, Colorado
source:  theoxfordhotel.com
Impressing guests from 1891, the Oxford Hotel has some home away from home feeling because of its wood-burning fireplace and other Victorian features. The place provides a calm and serene atmosphere by its newly renovated rooms with a gray, white, and emerald green colors for a soothing experience. The place provides an exclusive spa experience with a perfect combination of old and new treatment backed with exotic food and drink.     
The Rittenhouse Hotel – Philadelphia, Pennsylvania
source:  pinterest.com
 Located in Philadelphia's historic square, The Rittenhouse Hotel provides the Oasis of calmness amidst the busiest and always bustling city. They provide customized stay and recharge the body with the exclusive spa treatment in your private space including a special 120-minute sequence of a spa. This sequence facilitates full-body exfoliation, therapies like qi grounding, body wrap, hot oil manicure pedicure, and much more.