Fitness always seems to find itself at the top of the list when it comes to new year's resolutions, as people seek to make quantitative improvements to their lifestyle. Going to the gym is the more popular ways for people to engage with fitness, representing a £2 billion industry. But from the outside looking in, starting a gym routine can be terrifying – which is why the following tips are here to help you make your first steps to routine fitness.
When Best to Go?
source: crunch.com.au
The vast majority of gyms will experience busy and quiet times like with any shop or venue. Peak times will tend to be early morning and early evening on weeknights, as full-time workers squeeze in a pre- or post-work session as part of their daily routine. Mid-afternoon and late evening might be considered "off-peak", with less people attending due to being at work or resting up. Which time is best for you to go is ultimately up to you and your schedule: busier peak times might be more fun, but you might also find it frustrating waiting for a turn on equipment; off-peak times can give you ample time and space to learn how to use equipment, at the potential expense of your energy levels.
What to Take?
source: lifehack.org
You will need appropriate gym-wear for your workout, such as loose-fitting tops and joggers or sweatpants. Good footwear and sports socks can make all the difference comfort-wise for cardio and other legwork, and a phone-holder armband, while certainly not necessary, will make it much easier for you to listen to your own music while you work out. A change of clothes might be a good idea to take if the gym has shower facilities, and bottled water is a must for staying hydrated.
Equipment
Each gym will have a different range of equipment for its visitors to try. Weights and cardio equipment such as treadmills and rowing machines speak for themselves, but more complicated pulley machines will require induction with a gym supervisor. Don't touch a piece of equipment unless you're confident you can use it correctly!
A Note on Accidents
source: onecms.io
As supremely unlikely as they are to occur, accidents can happen. After all, the gym is home to heavy weights and potentially dangerous equipment, and even if you get safely inducted into using said equipment, things can go wrong. Poor maintenance could lead to equipment breakage while you're using it, or improper management of the gym floor could lead to a no-fault slip or trip injury – both of which could well be grounds for a personal injury claim. Make sure you understand your statutory rights before you sign up for a gym, and always try to have a tour of a gym before you sign up!
In Conclusion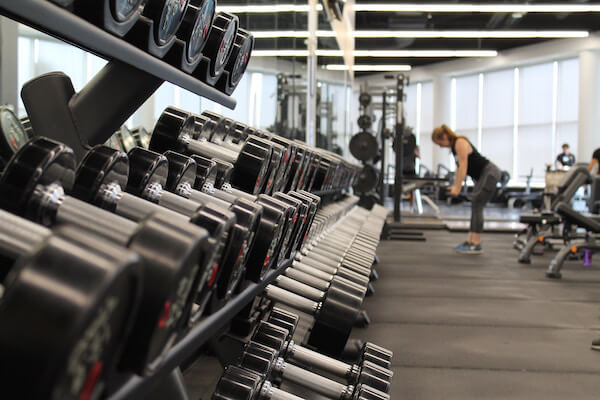 source: trustyspotter.com
Starting a gym routine for the first time can initially seem intimidating, especially if you find yourself sharing the gym floor with well-built exercise experts. But you'll soon learn that the gym is a friendly and welcoming environment, and after a week or two of regular visits you'll feel right at home in the gym and in your routine.