When it comes to investing, few options offer a better return than improving your home. Whether you're looking to increase the value of your property or just want to make some simple enhancements to improve your quality of life, there are plenty of cost-effective and easy renovations that can add significant value.
From repainting walls and updating fixtures, to landscaping the yard and adding new appliances, these small improvements will help you get the most out of your home—without breaking the bank. In this article, we'll discuss some simple ways you can upgrade your space for less!
1. Repaint walls with a neutral color to give your home a fresh look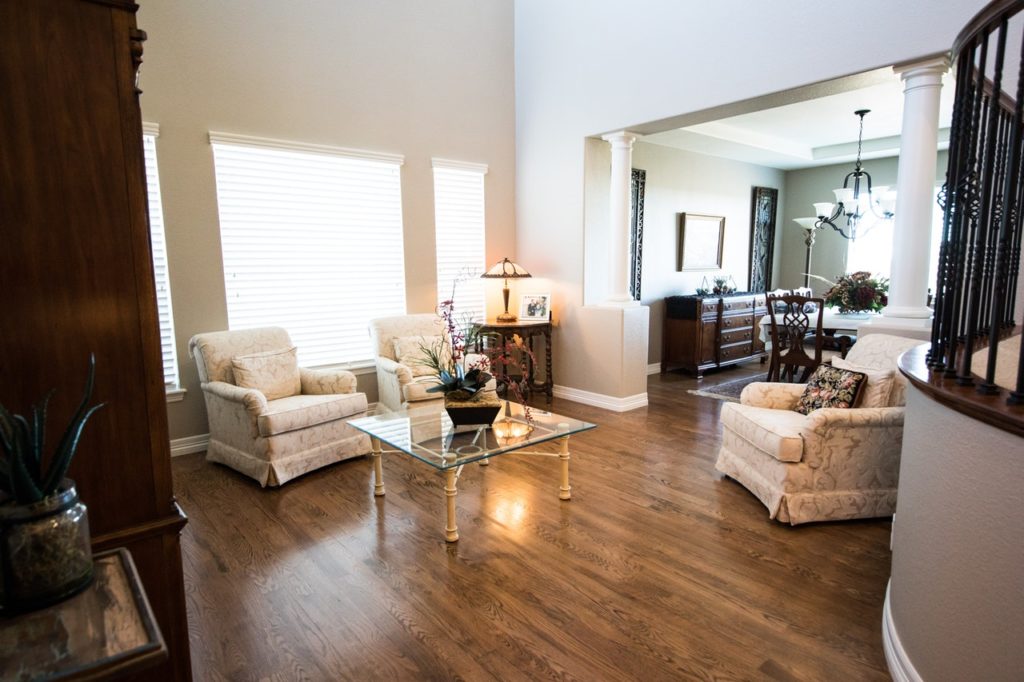 source: pinterest.com
Repainting walls is one of the simplest and most cost-effective ways to give your home a fresh look. While it's easy to update furniture or accessories, painting an entire wall can have a dramatic effect on the overall feel of the room. Not only will it make the space look brighter and more inviting, but you can also use color to create different moods in each room.
When picking out paint colors, opt for neutrals that can work with any decor style. Neutrals provide a calming backdrop for other accents, as well as a classic look that never goes out of style. Popular shades include soft grays, warm taupes, creamy whites and light beiges. If you want to add some character, you can always accessorize with bolder colors like blues and greens.
It's also important to consider how much light the room receives before deciding on a color. Rooms with plenty of natural light can handle richer hues such as reds and oranges, while darker rooms should stick with lighter shades for a more soothing atmosphere.
No matter what color you choose, repainting your walls is one of the best investments you can make when improving your home—just be sure to do your research before getting started!
Cost: $50-100/room
2. Replace outdated fixtures and appliances for an updated feel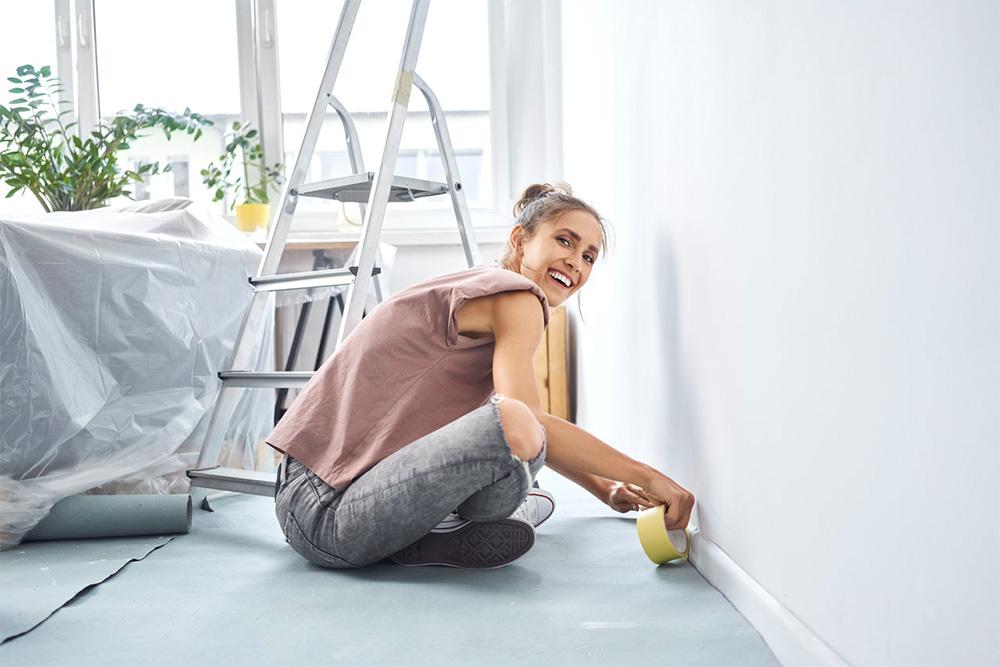 source: pinterest.com
Replacing outdated fixtures and appliances is another great option for improving the value of your home. Whether you're looking to update a single room or give your entire house a makeover, installing new fixtures and appliances can add both aesthetic and functional value.
The kitchen is one area where this kind of renovation can pay off big!
Installing energy-efficient appliances such as ovens, dishwashers, refrigerators, microwaves and stoves will not only save you money on utilities but also give your kitchen an updated look that potential buyers will appreciate.
If you're looking for more subtle changes, replacing old cabinets with more modern styles and changing out tired countertops for granite or quartz will also make a big impact. Painting older cabinets is also a great way to update your kitchen on a budget.
The bathroom is another important space to consider when planning renovations. Replacing faucets, toilets and showerheads with energy-efficient models—as well as swapping out dated light fixtures and vanity mirrors—will give the room a contemporary feel without costing an arm and a leg.
When it comes to lighting, there are plenty of options to choose from depending on your budget. Consider installing LED lights throughout the house for more efficient illumination that won't break the bank. If you have the money to splurge, high-end light fixtures like chandeliers can really elevate any space—just be sure to get them professionally installed!
In addition to these updates, installing automated systems such as smart thermostats can add even more value to your home while also making it easier (and more enjoyable) to live in. These kinds of luxuries may not seem necessary at first glance, but they can offer great returns when it comes time to sell.
No matter what kind of renovations you decide on, replacing outdated fixtures and appliances is one of the best investments you can make in your home. Not only will these improvements increase the value of your property, but they'll also make it look brighter and feel more up-to-date—which is always attractive in today's market!
Cost: typically a few hundred dollars per room
3. Install new lighting fixtures to brighten up the space
source: pinterest.com
Installing new lighting fixtures is one of the simplest and most cost-effective ways to brighten up a space. Whether you're looking for soft illumination to set a cozy ambiance in your living room or want a fixture to make an impactful statement in your entryway, lighting can be a great way to add value to your home.
When it comes to selecting light fixtures, start by considering the purpose and scale of the space.
For large areas such as foyers, hallways, and open-plan rooms, layered lighting with recessed cans, pendants, and wall sconces can help create a dynamic look that will draw the eye.
For smaller spaces like bedrooms and bathrooms, consider accent lighting such as table lamps or sconces that can highlight specific features or provide an overall warm glow.
In addition to creating atmosphere, task lighting is also important for completing activities like cooking and reading. When selecting task lights for these areas, be sure to choose bulbs with appropriate brightness levels. LED bulbs are an energy-efficient option that won't overheat—perfect for kitchens where long hours of cooking occur!
Choosing the right finish is also essential when it comes to selecting light fixtures. Brushed brass or chrome fixtures will give your space a modern touch while natural wood tones offer more warmth and coziness. If you're looking for something more dramatic, black and deep bronze finishes are also popular choices that can add depth and character to any room.
No matter what style you choose, investing in quality lighting fixtures is one of the best investments you can make when improving your home—not only will they increase the value of your property but they'll also help make any space feel more inviting and comfortable. 
Cost: typically $300-$1,500 per room
4. Add decorative touches like curtains, rugs, and wall art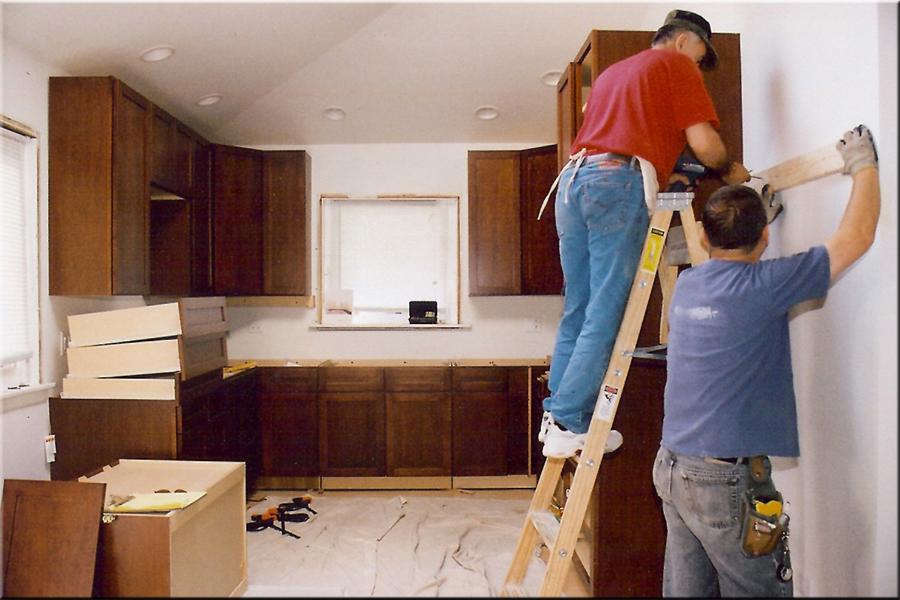 source: pinterest.com
Adding the right decor to your home can make all the difference in terms of creating a warm and inviting atmosphere. Whether it's a living room, bedroom, or bathroom—the right decorative touches can help tie any space together while also adding value to your property.
When selecting items to decorate with, try to choose pieces that will fit the existing style of your home—whether that be modern, contemporary, or traditional.
For example, if you have a more modern home you may want to consider a modern art deco wall mirror; for a traditional look, opt for timeless antiques or classic wood furniture; and for a more contemporary feel, experiment with bold colors and textures like velvet, suede, and faux fur.
In addition to furniture pieces such as sofas and armchairs, there are plenty of other ways you can add extra touches of decoration around your home. Rugs are an excellent way to soften hard flooring as well as define different areas within an open-plan space. Curtains are also great for adding texture and warmth to any room—just remember to hang them high enough so they don't block natural light from entering the room.
Wall art is another great way to spruce up any space. Choose pieces that reflect your personal style while also tying into the overall design scheme of the room.
If you're feeling creative, why not create some art yourself? Painting isn't just a fun activity—it's also an excellent way to add unique character while expressing yourself through color and composition! You can even find ready-made canvas prints online if you don't have time (or inclination) to make something from scratch.
Take the time to curate meaningful elements that fit with your home—you won't regret it!
Cost: $100-$1,000
5. Landscape the yard for curb appeal and added value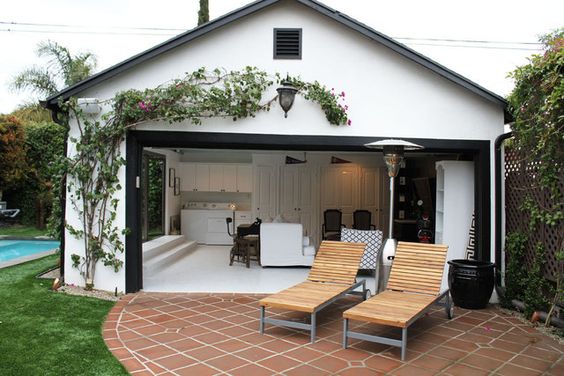 source: pinterest.com
One of the most effective and budget-friendly ways to increase your property value is by updating your landscaping. A well-landscaped yard can not only make your home look more inviting and attractive but it can also add a significant amount of value to your property.
Whether you're adding new plants, replacing worn-down grass, or completely revamping your outdoor space—there are a variety of ways you can spruce up the exterior of your home and create a beautiful landscape that will add value for years to come.
Start off by assessing what kind of landscaping style works best for both the climate and environment where you live, as well as the architecture of your home. If you live in a warmer climate, consider incorporating drought-resistant plants such as succulents and cacti into your design. For cooler climates, evergreens are an excellent choice since they're able to retain their color throughout all four seasons.
Once you've chosen the right plants for your garden, there are plenty of other ways to enhance its overall appearance. Adding hardscapes such as pathways, patios, and retaining walls can help define different areas within the exterior space while also providing extra seating or entertaining areas for guests. 
Additionally, it's important to take into consideration both the shapes and colors that appear in the garden; having an organized layout with complementary colors creates a pleasant visual experience when looking at the yard from afar.
Finally, don't forget about lighting! Installing low voltage LED lights along walkways and around plant beds not only adds a soft ambient light that enhances nighttime views but it also helps improve visibility and safety when walking around in the dark.
Cost: varies. Plants are affordable, typically $10-50/each. Hardscapes get expensive quickly!
6. Update windows and doors with energy-efficient models
source: pinterest.com
Updating doors and windows is one of the most important and cost-effective renovations that you can make to your home. Not only will it improve the overall look and feel of your property, but it can also lead to improved energy efficiency and lower heating/cooling costs.
When choosing new doors and windows, there are a few key factors to consider beyond simple aesthetics.
Firstly, you'll want to think about how much natural light enters the room when selecting window styles. Installing larger windows or installing skylights could make a big difference in terms of the amount of sunlight coming in.
Secondly, if you're looking to save money on energy bills then installing Energy Star-rated products is essential since these have higher standards for insulation which helps keep cool air inside during summer months and warm air inside during winter months.
You'll also want to invest in materials that are durable enough to last over time while keeping maintenance costs low.
For example, wooden frames age beautifully but require regular painting or staining while aluminum frames are more resistant to weathering and won't need as much upkeep over time—making them a great option for coastal homes! 
Additionally, if you live in an area with extreme temperature swings then selecting dual pane windows is highly recommended since these offer extra insulation against hot or cold climates outside.
By taking into account all of these factors when upgrading your doors and windows—from style choices to energy efficiency—you'll not only reap immediate benefits from added beauty but you'll also save yourself from costly repairs down the road due to improved durability.
Cost: $10,000+ depending on the size of your home
7. Spruce up outdoor areas such as patios or decks with furniture and accessories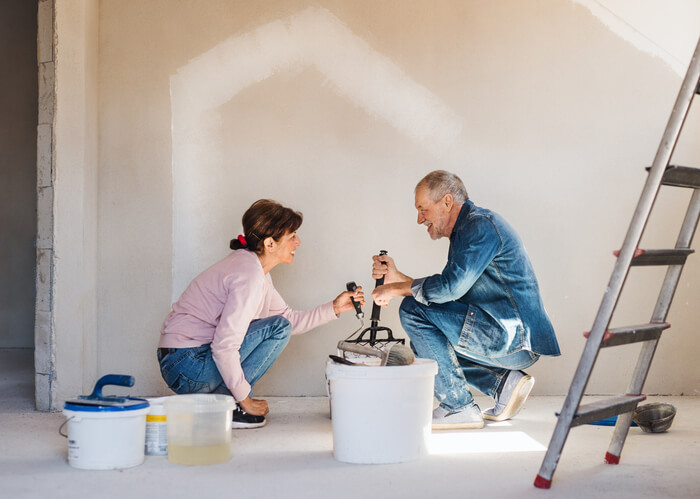 source: pinterest.com
Sprucing up your outdoor areas is a great way to add value and personality to your home. Whether it's a patio, deck, or even just a small garden area, there are plenty of ways to make outdoor spaces more inviting while adding aesthetic appeal.
For starters, you can invest in quality furniture that matches the style of your home and provides comfortable seating for guests or family members. For instance, if you're looking for something more modern, then aluminum chairs or benches with sleek lines may be a good option—whereas wooden Adirondack chairs are perfect for a rustic vibe.  Additionally, adding an outdoor rug will bring warmth and texture to any space while also creating an inviting atmosphere.
When it comes to accessories such as planters or decorative pieces, consider choosing items that reflect the overall color palette of your home—but don't be afraid to try something unique as well!
Brightly colored pots can help brighten up dark spaces while also drawing attention to certain features of the area; meanwhile wind chimes or bird baths can provide added charm and sound effects depending on their location.
When selecting plants for landscaping projects, choose ones that will thrive in the climate they'll be exposed to (i.e., hot sun vs cold winters) so they don't require too much maintenance over time. 
Finally, you should also think about adding in some lighting elements around your outdoor space. String lights hung across decks or patios create a beautiful ambience at night while solar-powered lamps help illuminate pathways without requiring electricity or cords! Installing fixtures near entrances or steps not only adds a soft ambient light that enhances nighttime views but it also helps improve visibility and safety when walking around in the dark.
No matter how big or small your landscaping project may be—from creating flower beds to building patio decks—making sure everything is done correctly will drastically improve both curb appeal and property value over time. So take some time to plan out exactly what type of design works best for both aesthetic appeal and practicality.
Cost: $5,000+ depending on your projects
8. Make small repairs around the house to ensure everything is in working order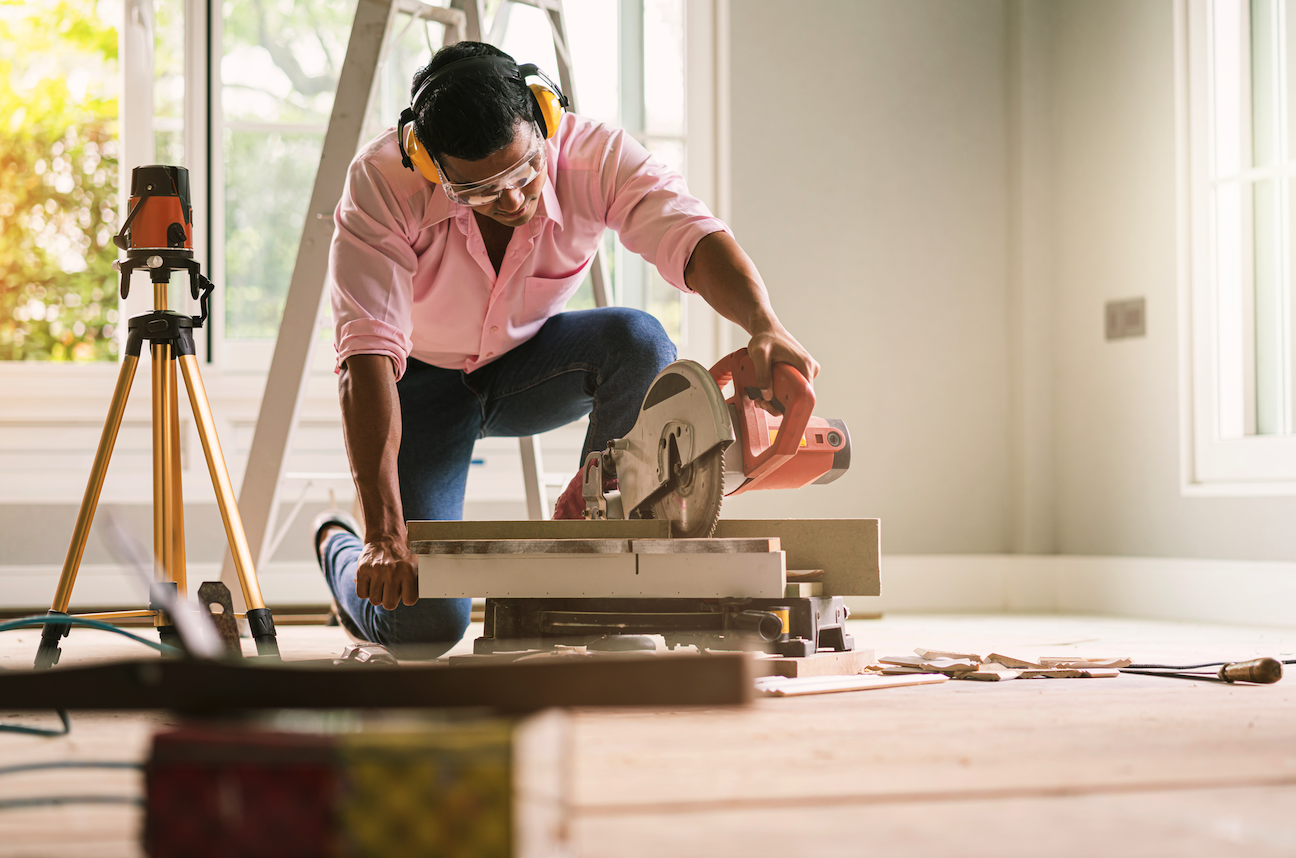 source: pinterest.com
Making small repairs around the home is one of the most cost-effective investments you can make. It's easy to diagnose minor issues such as a leaky faucet or a broken switch, but they can turn into huge expenses quickly if left unchecked. Not only do these repairs increase comfort and convenience in your home, but they also help ensure safety and prevent any major damage that may occur over time.
Create an annual checklist of maintenance items on your home, and set a recurring event in your calendar to knock out the list!
In terms of materials, it's important to choose higher-quality items as they tend to last longer and require fewer repairs in the long run. For example, when buying light fixtures, opt for ones with metal frames that are either rust-proof or corrosion resistant—as these will stand up better against wear and tear from outdoor elements.
Similarly, select durable tiles for bathroom walls and floors so they don't crack or chip easily.  Also look for products that are energy efficient since these typically cost less to operate over their lifetime compared to older models. 
Additionally, it's essential to hire reliable professionals who have experience dealing with various repairs. While DIY projects often seem like a great way to save money, tackling complex jobs without the proper tools or knowledge can lead to costly accidents or subpar results. So do some research and ask for recommendations from friends/family if you're looking for qualified contractors in your area!
Ultimately, taking care of minor issues around your home not only improves comfort but also increases property value over time—so don't let those pesky little issues go unnoticed!
Conclusion
Improving your home is one of the best investments you can make. From repainting to updating fixtures and appliances, landscaping and more, there are plenty of cost-effective renovations that can add value to your property. 
Furthermore, making small repairs around the house such as plumbing systems, lighting fixtures or electrical wiring helps identify potential problems before they worsen—which ultimately saves time and money down the line.
Ultimately, making small, consistent investments in your home not only improves comfort but increases your property value over time!