Ever wished you could live in a Minecraft universe? If you enjoy playing this well known sandbox game, you may have fantasized about designing your Minecraft bedroom interior. It's a great feeling to build something on your own. Isn't it?
You may show off your individuality, ingenuity, and love for the game by decorating your bedroom in Minecraft. It may also provide coziness, warmth, and enjoyment to your bedroom. We'll provide you with some exciting interior design Minecraft ideas in this post, suitable for any taste and price range.
We have everything you need, whether your goal is to produce a pixel art masterpiece, replicate a Minecraft environment, or add some accessories with a Minecraft theme. Continue reading to learn how to create extraordinary Minecraft bedroom designs.
1. Minecraft Bedroom Interior With Aquarium Bliss
Light spruce and dark oak logs are alternately stacked in a striped pattern to form the floor. It features a lovely bed with a shelf, a personal touch, and an aquarium with an ocean motif. ideal for unwinding and reflecting your flair.
Step by Step Video Tutorials
2. Modern White Stylish Bedroom With Closet
Making this Minecraft room into a comfortable, fashionable bedroom with a sleek dresser, cool closet, comfortable sofa, and other features. It's the ideal place to de stress and rest. Have fun on your virtual getaway!
Step by Step Video Tutorials
3. Serene White Haven Minecraft Bedroom Interior
In this Minecraft dream room, it's all about the love for white! This bedroom is a neat, tasteful room. It has a homely touch because it has lighting on the terrace.
Discover the Best Bedroom Wall Colors in Real Life for Inspiring Minecraft Designs. Elevate your Minecraft Experience with these Real-Life Color Combinations.
4. Cool Pink Bed Designs Minecraft
Cozy Minecraft bedroom adorned with vibrant pink walls and lush green plants. It creates a serene and playful ambiance.
5. Green Oasis Interior Minecraft Bedroom
This Minecraft bedroom has vibrant flooring and greenery all around the walls. The wooden accent bed adds the charm of a pixelated world of luxury.
Step by Step Video Tutorials
6. Pink Bedroom Decorations Minecraft
A cute little Minecraft bedroom including white lamps, a wooden cabinet, a shelf holding decorations, and a pink bed. Increased the brightness with off white walls.
7. Cottage style Minecraft Bedroom Interior Design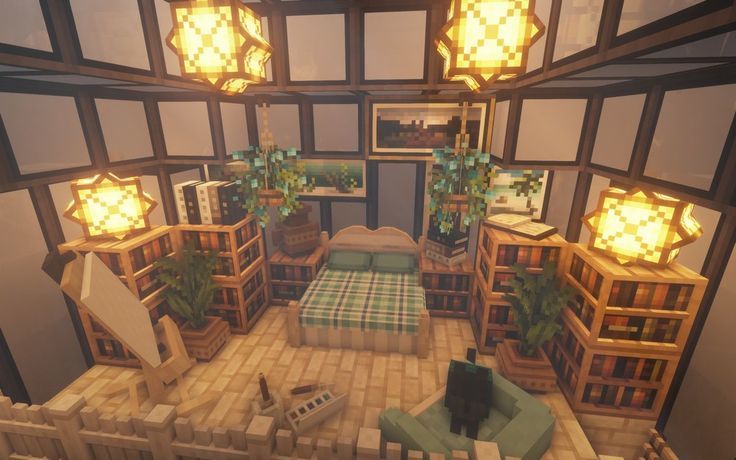 A bright, airy, cottage-style bedroom including a green sofa and bed. Warmth and charm are brought together by the bookshelves and golden chandeliers. If you are searching for Minecraft room decoration ideas for cottage style interiors, it's best for your inspiration.
8. Teenage Bedroom Minecraft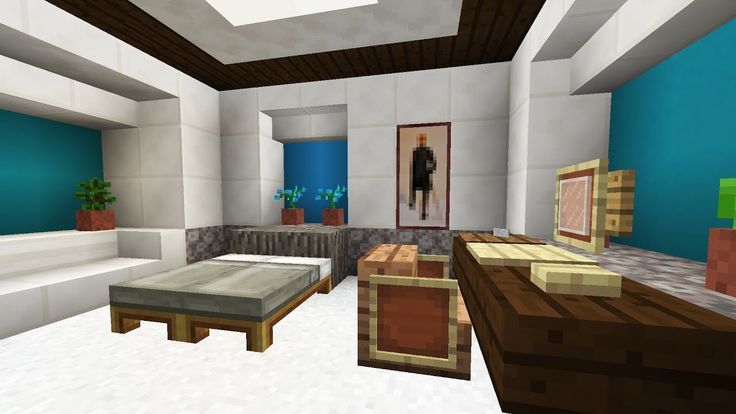 The Minecraft interior design bedroom here has white walls with dark turquoise color sections in which you can keep plants. As a decor piece, you can see a photo on the wall and a very comfortable grey bed with some furniture.
9. Warm And Cozy Minecraft Bedroom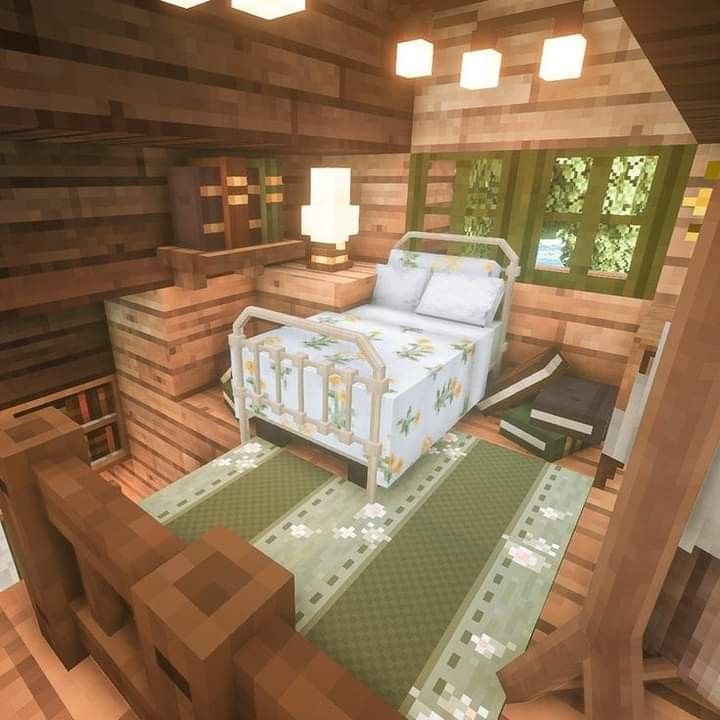 Green-trimmed windows in this quaint Minecraft enchanting room design provide a natural element to the warm interior design. Together with inviting lamps, a stack of books, and the welcoming loft bed, the vibrant rug gives a pop of color to create a fun and cozy haven.
10. Skull Themed Decor Minecraft Bedroom
The combination of brick walls, lush vegetation, and a fascinating skull-themed décor creates a charming and enigmatic atmosphere for exploration in this snug yet adventurous Minecraft bedroom. Get the spooky vibe inspiration from this bedroom Minecraft interior design.
11. Airy And Bright Minecraft Bedroom
Imagine yourself in a comfortable, summer retreat-style Minecraft bedroom. Bright greens, a study corner, a convenient closet, and a comfy bed. It's all about that carefree, airy atmosphere.
Step by Step Video Tutorials
Conclusion
You have explored 11 awesome Minecraft bedroom interior ideas to suit your style. Get creative, personalize your space, and let these ideas inspire your perfect in-game haven.