Decorating and designing a cottage is all about appreciating the personality of a home that has been used frequently without obsessing over fussy modern elements (or dust bunnies). The cottage kitchen gives you a naturally airy and light feeling. This will balance the busy chores that the kitchen endures. There are different design ideas you can experiment with to make your kitchen an inspiring one. 
Get started with subtle colors like beige and blue. Add some vintage features too. Bead boards or plank woods will always transit the classic cottage feel. But if you don't want the hassle of home renovation, these vintage-style ideas will do that job. If you are confused about where to begin, we hope these cottage kitchen ideas will help you to kickstart the task.
Lakehouse Kitchen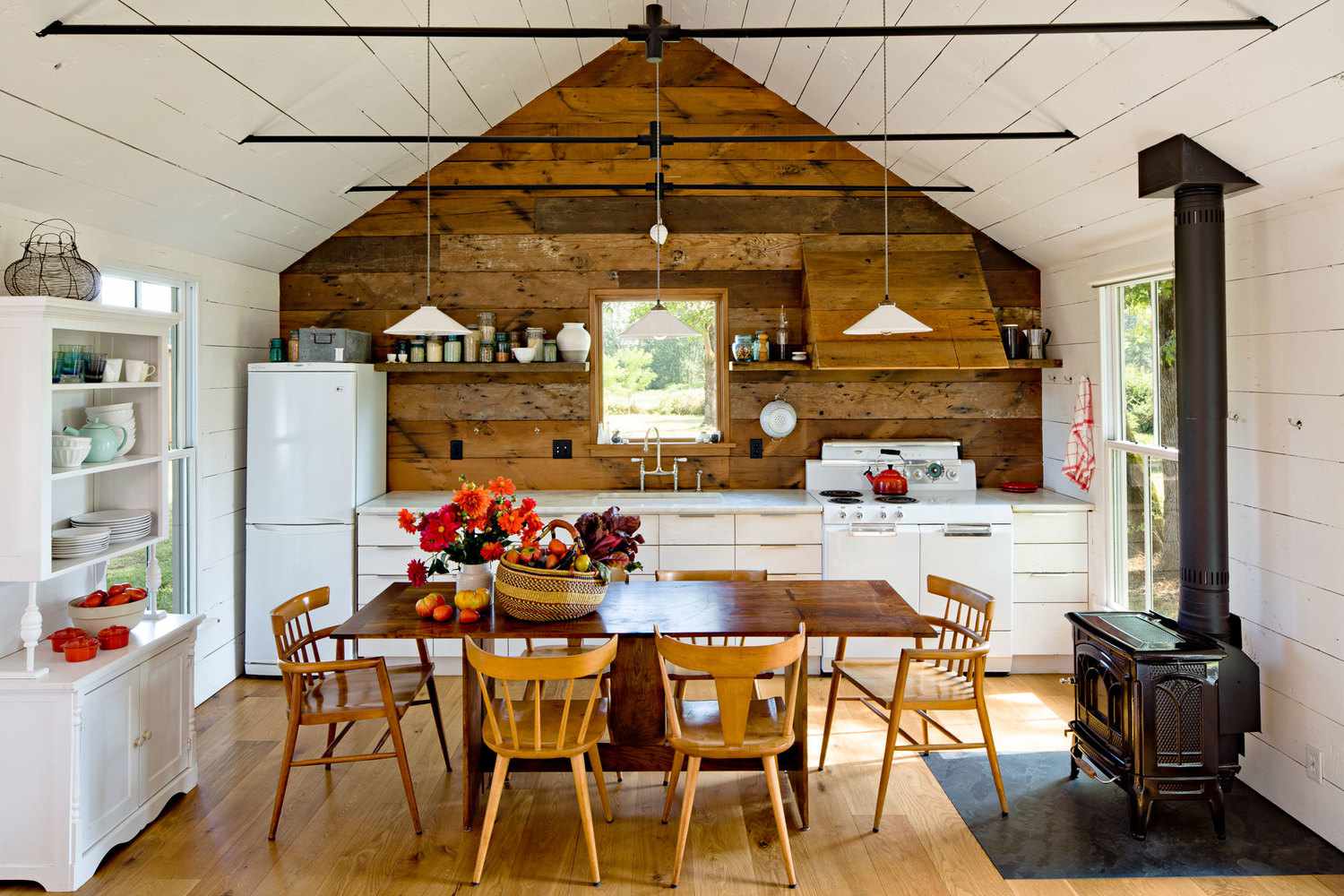 source: thespruce.com
These kitchens were eccentric spaces that were full of personality and frequently mixed antiques from many eras. Likewise, the look of an English country kitchen is nicely encapsulated by dark-painted wood cabinets, wood paneling, and an antique pine console.
Beachy Waterfront Kitchen
This beachy waterfront kitchen's watercolored tones, handcrafted zellige tiles, and open shelves all contribute to the space's laid-back, coastal vibe. The tiles in this stunning, spacious, and light kitchen shimmer like seashells. One of the best styles for a modern cottage-style kitchen.
California Cottage Kitchen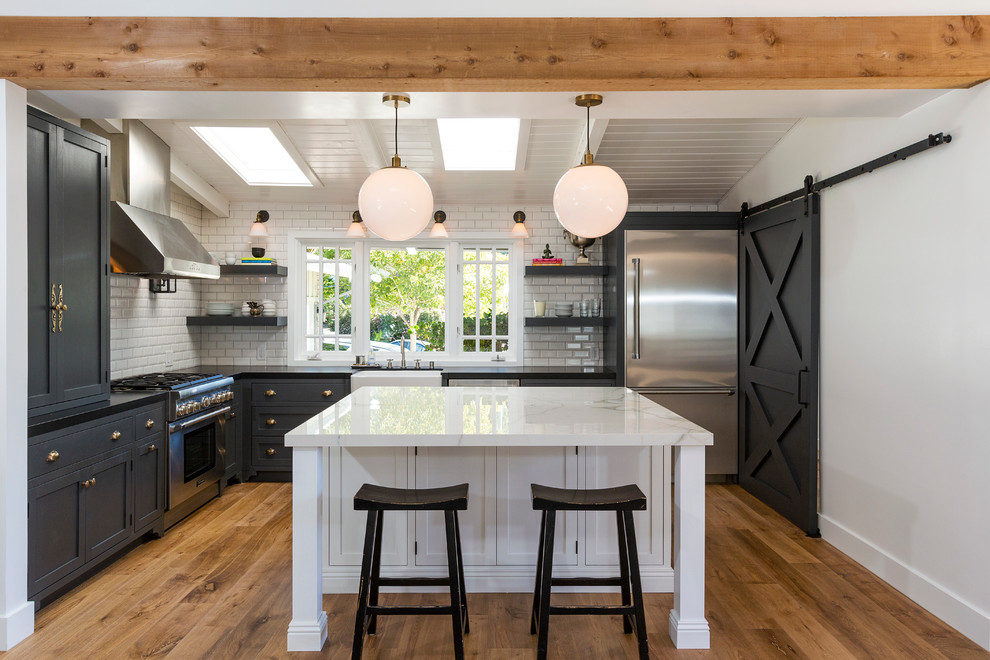 source: houzz.com
The kitchen in this contemporary cottage design is chic. It draws inspiration from West Coast architectural designs. The objective is to adopt a natural strategy. It is drawn to the carefree beach attitude that is so characteristic of California, which serves as the inspiration for most of our furniture design. The relaxed Californian vibe is accentuated by an enormous vent hood and an oak-paneled ceiling.
Industrial Style Cabin Kitchen
Even if you don't like rooftops, you may add some appealing design elements to your cabin kitchen to make it more intriguing. You may blend rustic and rugged metal to create an excellent design. Make a wood base will of stainless steel, as well as stools and kitchen cabinetry.
Kitchen Cottage With Bright Colors
Bright colors instantly improve your mood. The color lemon yellow is a prominent theme in this design. The bright base cabinets are offset by the pastel wood plank wall. On open shelves, a utilitarian white enamelware set is a good choice. Add the butcher block top table with stools in the front; it doubles as a kitchen island, which we love.
Pink Theme Cottage Kitchen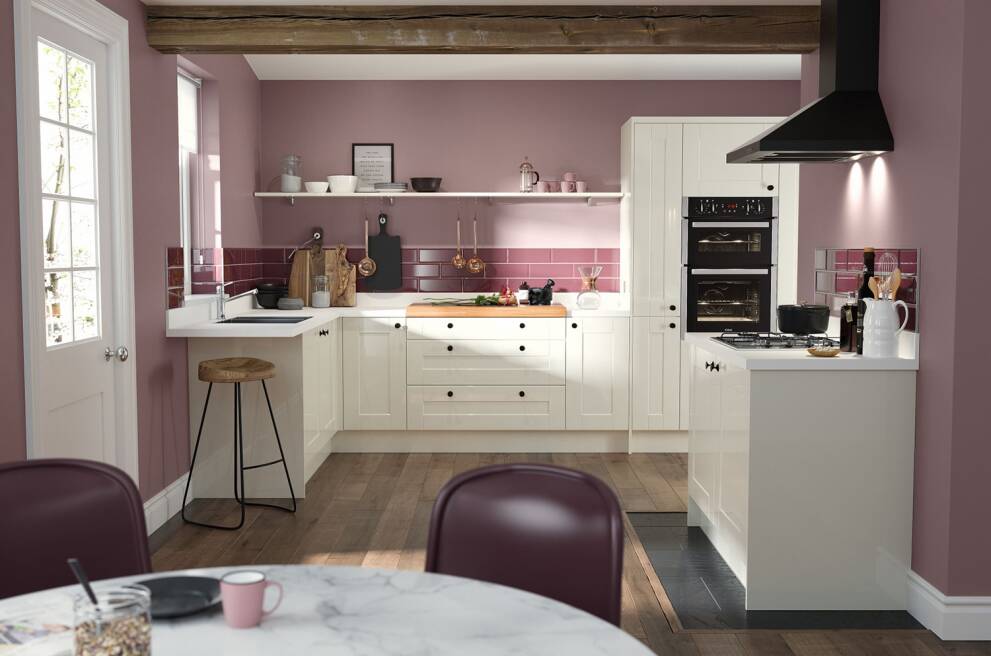 source: wrenkitchens.com
Consider painting all of your walls a soft, blush pink if you want to bring a lot of color to your kitchen without overpowering the senses. The color is strong enough to make the room feel lively but delicate enough to avoid feeling crowded. As you can see in this kitchen, a blush pink adds the ideal pop of color to a room, especially when combined with all-white cabinetry.
Austere Cottage Kitchen
Modern cottage kitchens often feature a nostalgic atmosphere tailored to the homeowner's preferences. To make the retro-inspired backsplash, use wood boards. You can find that behind the original drywall. Many of the charming details in this kitchen are vintage. The yellow cabinets were originally untreated oak and were purchased at a local salvage store for a modest price. The old industrial light over the sink has been repaired. The retro-inspired pink fridge, on the other hand, is a brand-new Smeg. We like how it complements the plank wall.
Blend of Vintage And Modern Cottage Kitchen
Maintain a fresh coat of paint on the ancient cabinetry. Rustic wood shelves increase storage space while also allowing you to display a few beautiful items. A red apple sign adds a fun touch that personalizes the place. Keep the new tile backsplash and slate flooring—both are modern additions that do not detract from the classic cottage beauty of this modern cottage-style kitchen.
Modern Cottage Style Kitchen With Signature Grey Cabinet
source: pinterest.com
The kitchen appears to go on forever when it has a wonderful farmhouse and cottage touches, such as a grey china cabinet and an island with beautiful carvings in wood legs. The ceiling is crisscrossed by exposed wood beams. This modern cabin kitchen has white glossy kitchen drawers which contrast with the grey cabinet. The Kitchen Island has antique beams in white color. This theme blends well in moa dern cottage-style kitchen.
Add Kitchen Art Pieces To Cottage Kitchen
This is how you create a modern cottage kitchen with all the freshness you need to start the day. The blemish-free white set provides a clean, expansive, and peaceful tranquillity to the room. Additionally, the cheapest method to transform a room is to paint it white. However, adding kitchen decor and wall art makes it merrier, trendy, and classy. Trendy Kitchen signs with metal and woodworks create curb appeal to the whole kitchen. Modern Cabin Kitchen is incomplete without these funky artworks.
Freestanding Kitchen Units
Freestanding pieces give more relaxation when compare to a space that is fully fit in cabinetry. They are also a terrific way to add flexibility to your kitchen layout because you can quickly adjust it to create extra space. Freestanding items range from islands, vegetable trolleys, and butcher blocks to sink units and larders. You can free up the space in your modern cottage-style kitchen by freestanding stuff.
Utility Area Decor With Paneling And Open Shelves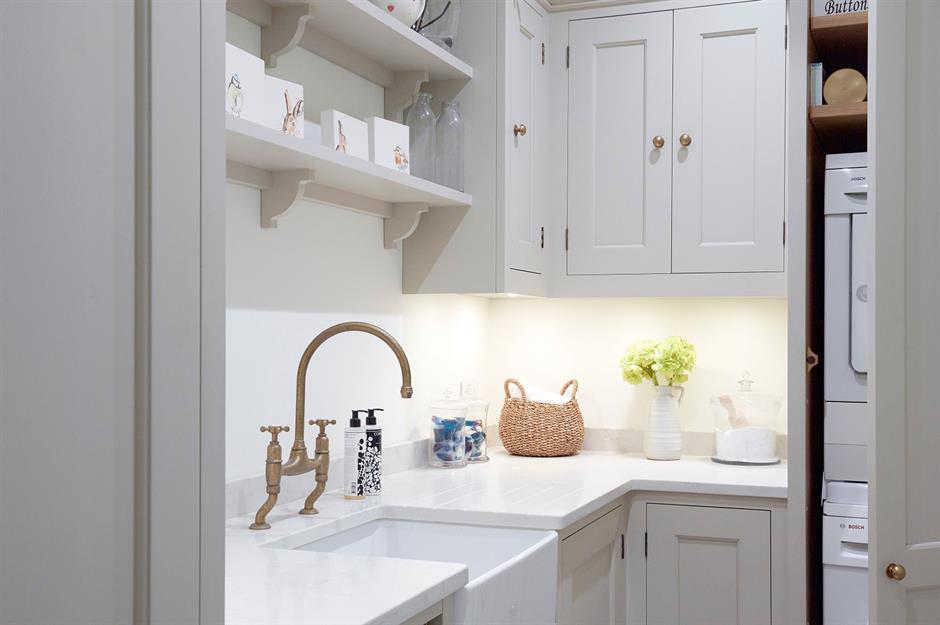 source: pinterest.com
Any cottage kitchen or utility room will benefit from open shelving and white-painted wood paneling. Install both of them easily by a skillful do-it-yourselfer. Try Georgian-style paneling, and why not add some flair with some specialty floor tiles? Make the floor area interesting by using beautiful floor tiles. Keep classic tableware and serveware on the shelves. Items for summer tables are also a good choice for shelves. Keep it straightforward and stylish. 
Conclusion
We simply adore traditional cottage kitchens because they have a certain irresistibly nostalgic and cozy quality.  Moreover, they often make up for what they may lack in size and amenities in character and friendliness. Here are some ideas for your motivation dose. Whether you live in a modern home and adore the cottage style, or you own a period cottage and are wondering how to design a classic kitchen that complements its character.
Every time, a cottage kitchen elicits a comfortable and comforting impression. It's bright and airy, with a few wooden touches here and there. Peeling paintwork or damaged furnishings accentuate the vintage look. These beautiful interiors are so timeless that they appear to bring you back to those hectic mornings in your mother's kitchen. We hope these beautiful cottage kitchen ideas can help you obtain a bright, natural, and laid-back kitchen.