Christmas tree is the center around which the whole Christmas decoration revolves and one needs to get this part right. Every year decorating Christmas tree is a challenging task to do as every year one has to come up with something new and to assist this challenge here are some decorating ideas for Christmas tree.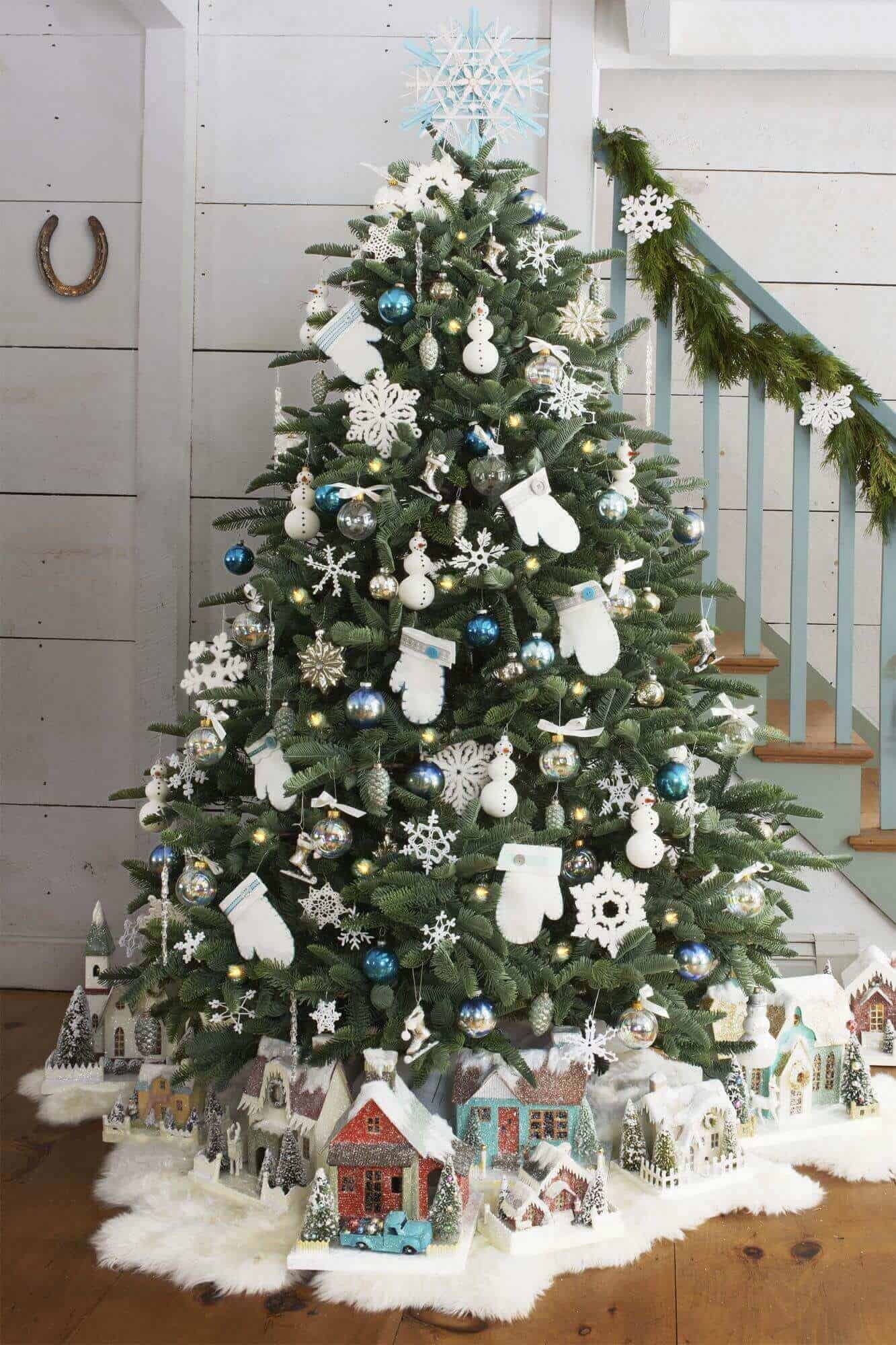 source: goodhousekeeping.com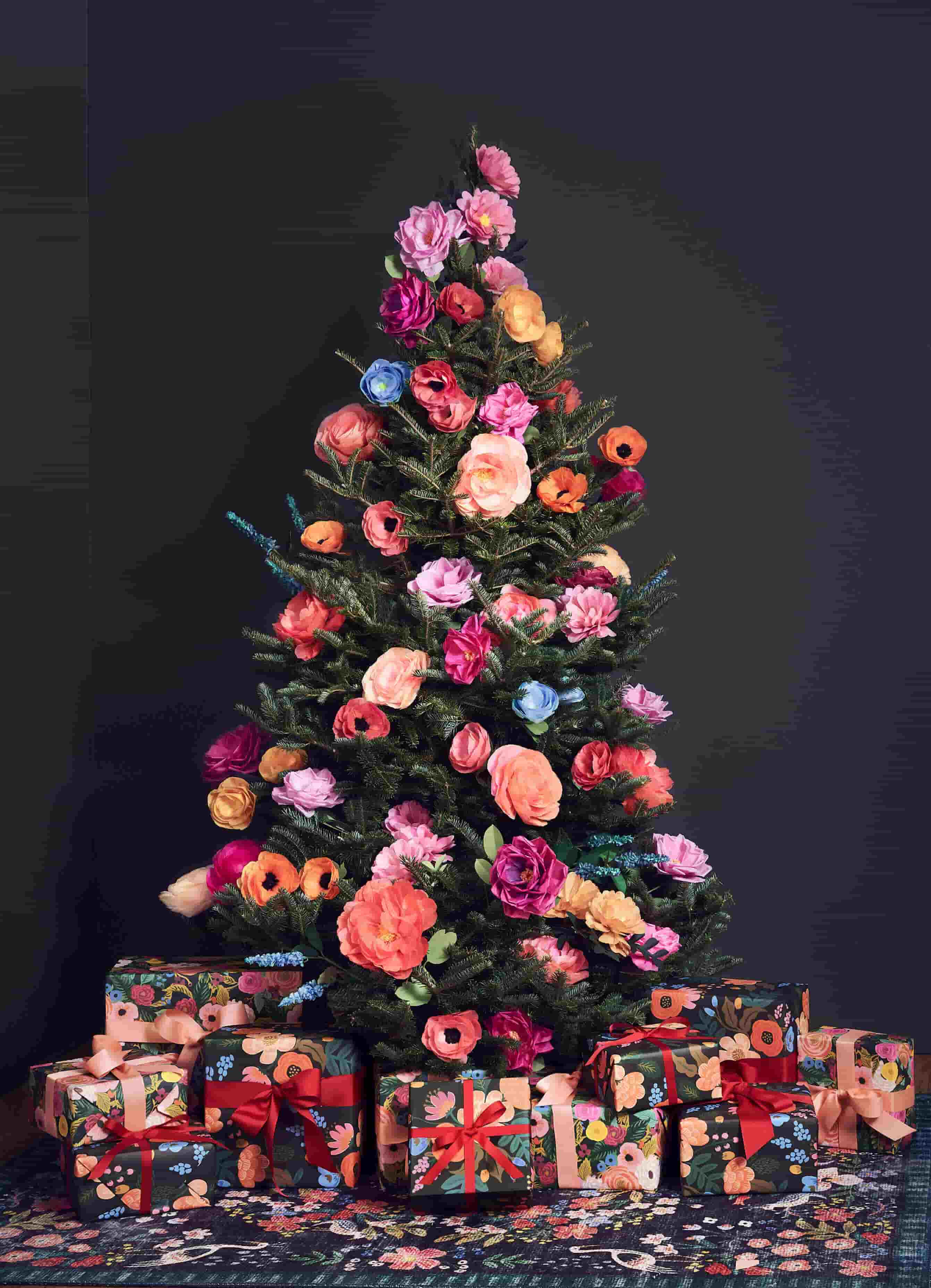 source: bhg.com
Why not start with the seasonal theme? Let's give the Christmas tree a wintry glow with going all snowy and cozy. Decorate the Christmas tree based on green and white theme and give it a snowy winter look by decorating with soft white cotton and various Christmas ornaments. Include small snowman, metallic balls of blue and silver color, snowflakes and some small winter clothes. White fairy light can also be added to this to give a monochromatic look at night.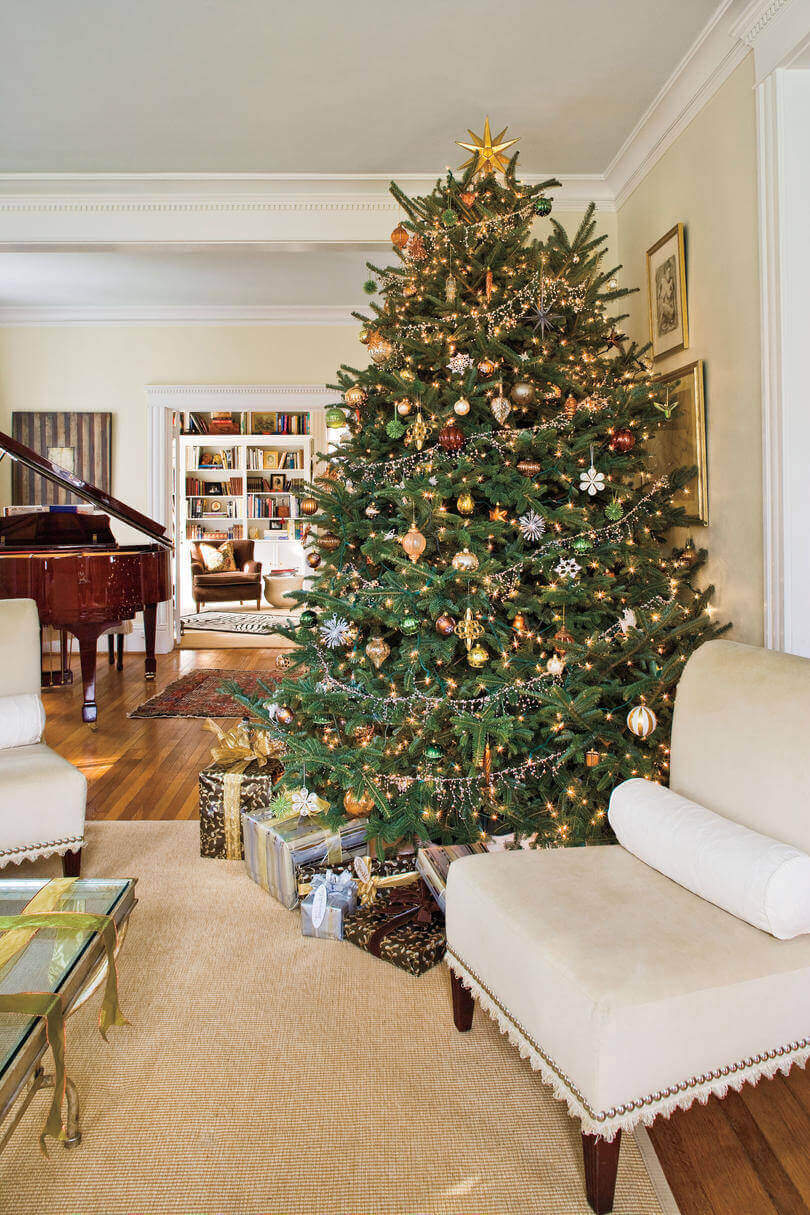 source: southernliving.com
source: hgtv.com
To have the decoration more iconic and have some natural elements, try decorating based on a floral theme. This setup will make your Christmas tree more natural and the colorful flowers will add to the festivity of the place. Make it exciting with the rainbow array. Try to mix and match colors and you can use fresh floras or artificial ones. Keep some gifts lying around wrapped in floral papers to complete the look.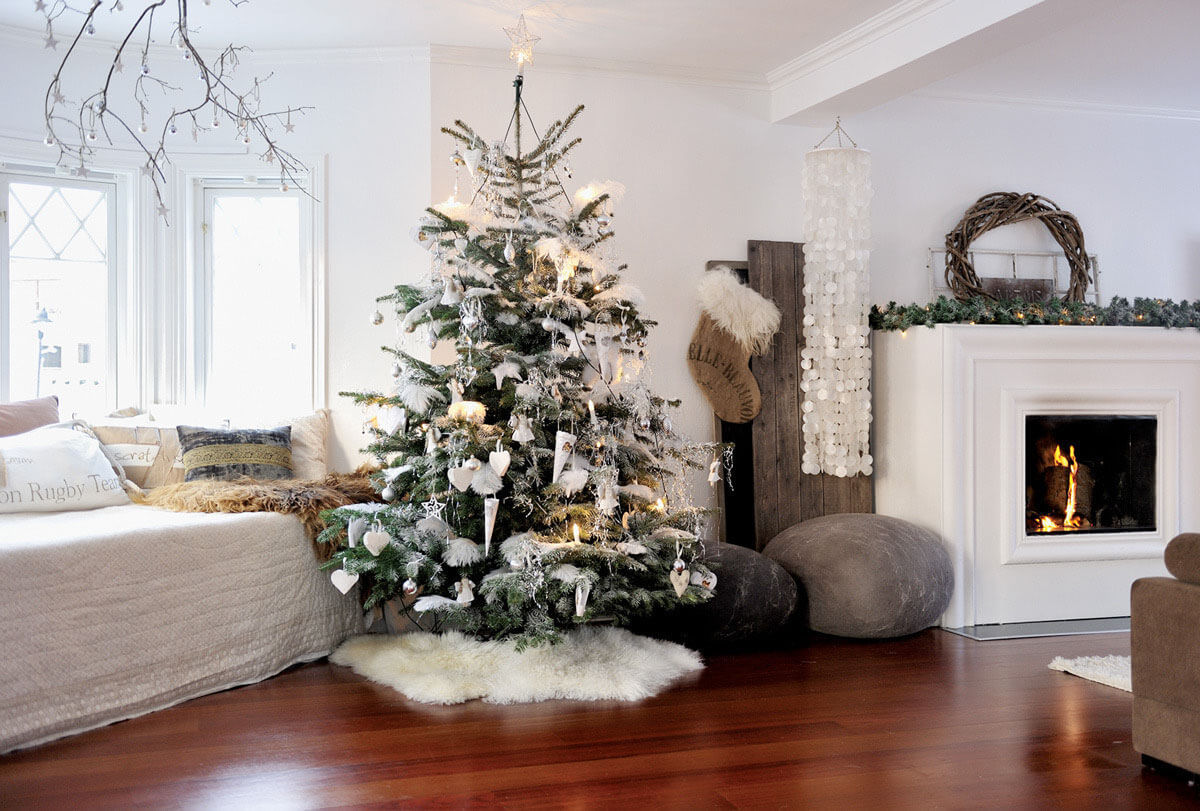 source: custombuildhomes.co.uk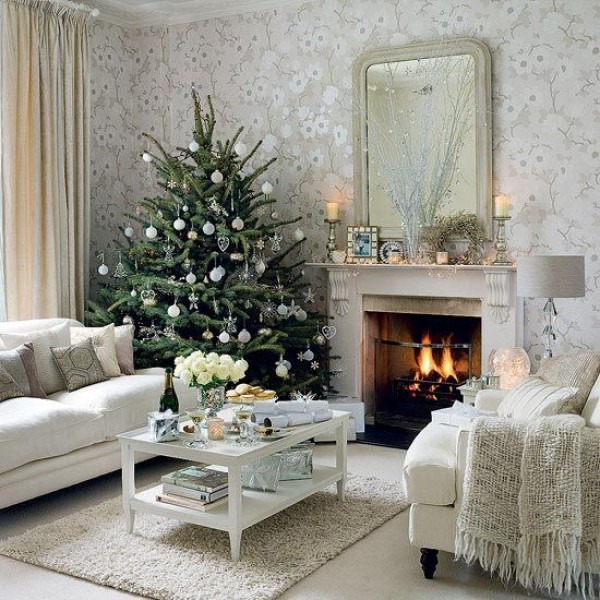 source: freshome.com
There is nothing more attractive than the tree full of fun colors and bright lights. Lighting up your tree will not only give the festival vibes but will also help to get the attention of your guests. Bright twinkling lights or simple string lights paired with lone star topper and colorful shining balls with lights will make it look traditional as well as very Christmas appropriate.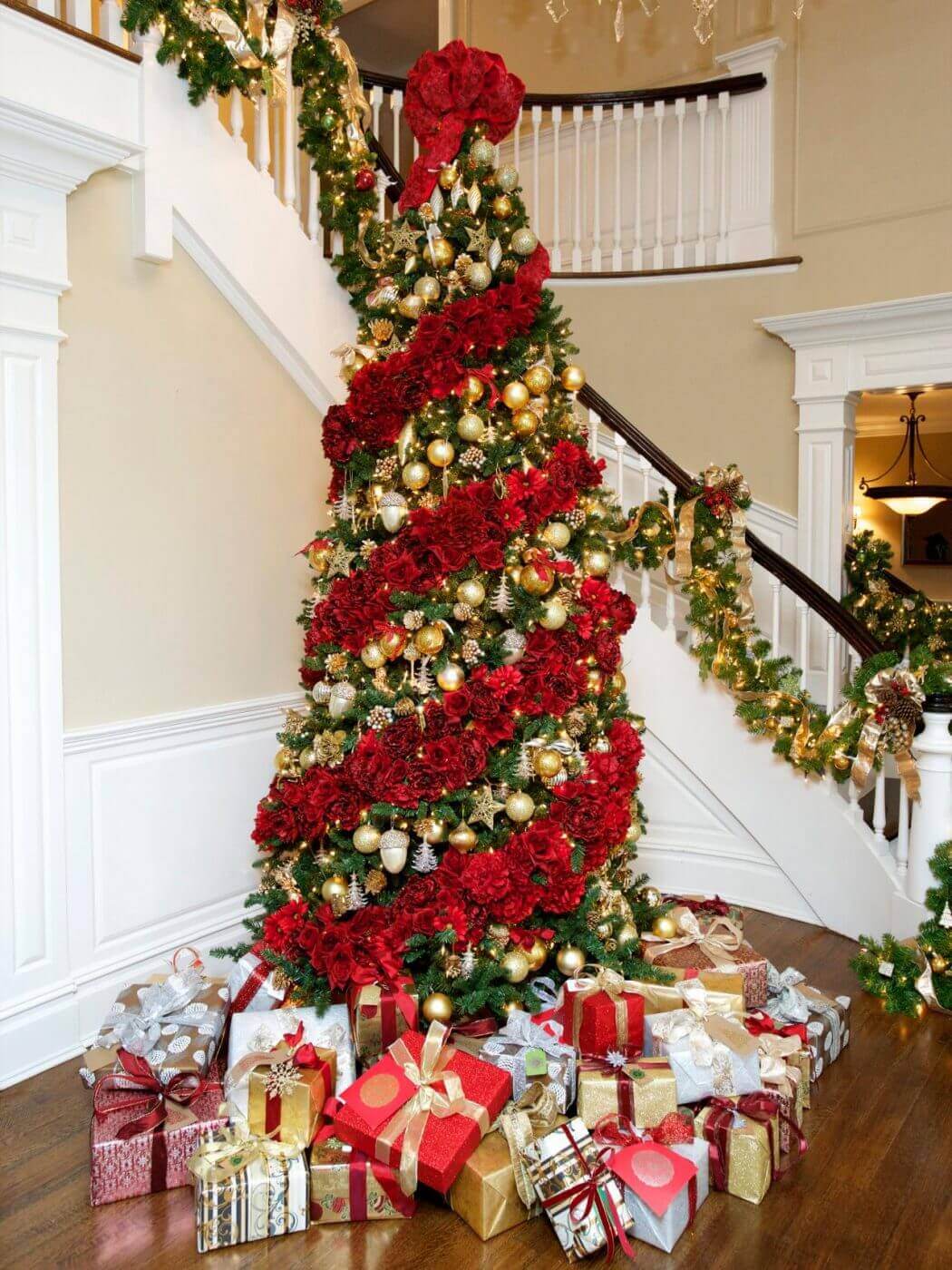 source: pouted.com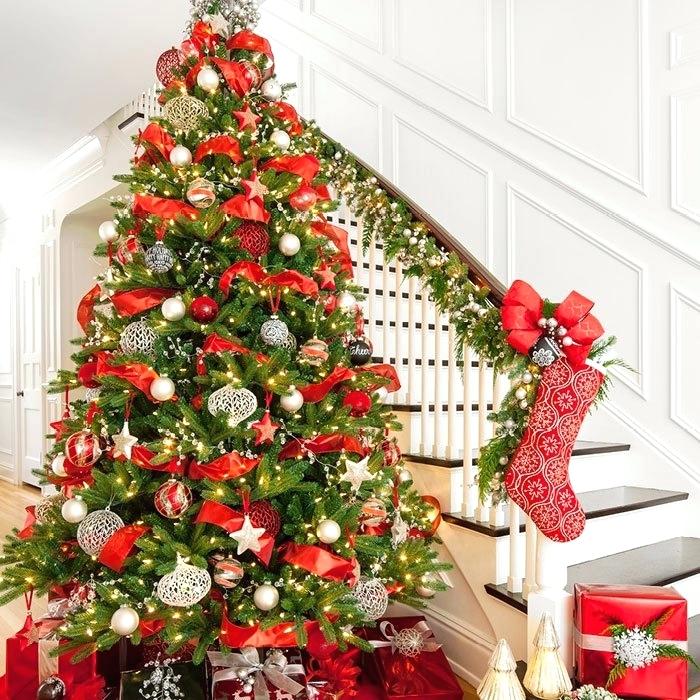 source: suidouya.co
Christmas is all about joy and fun and not to forget gifts from Santa. So why not to decorate the Christmas tree that has all the elements of Santa and some traditional touch. Decorate the Christmas tree with stockings hanging beside the tree, gifts lying around, snowflakes, red and a white ball hung on the tree, with colorful ribbons and on top of it is the Santa hat.
source: hearstapps.com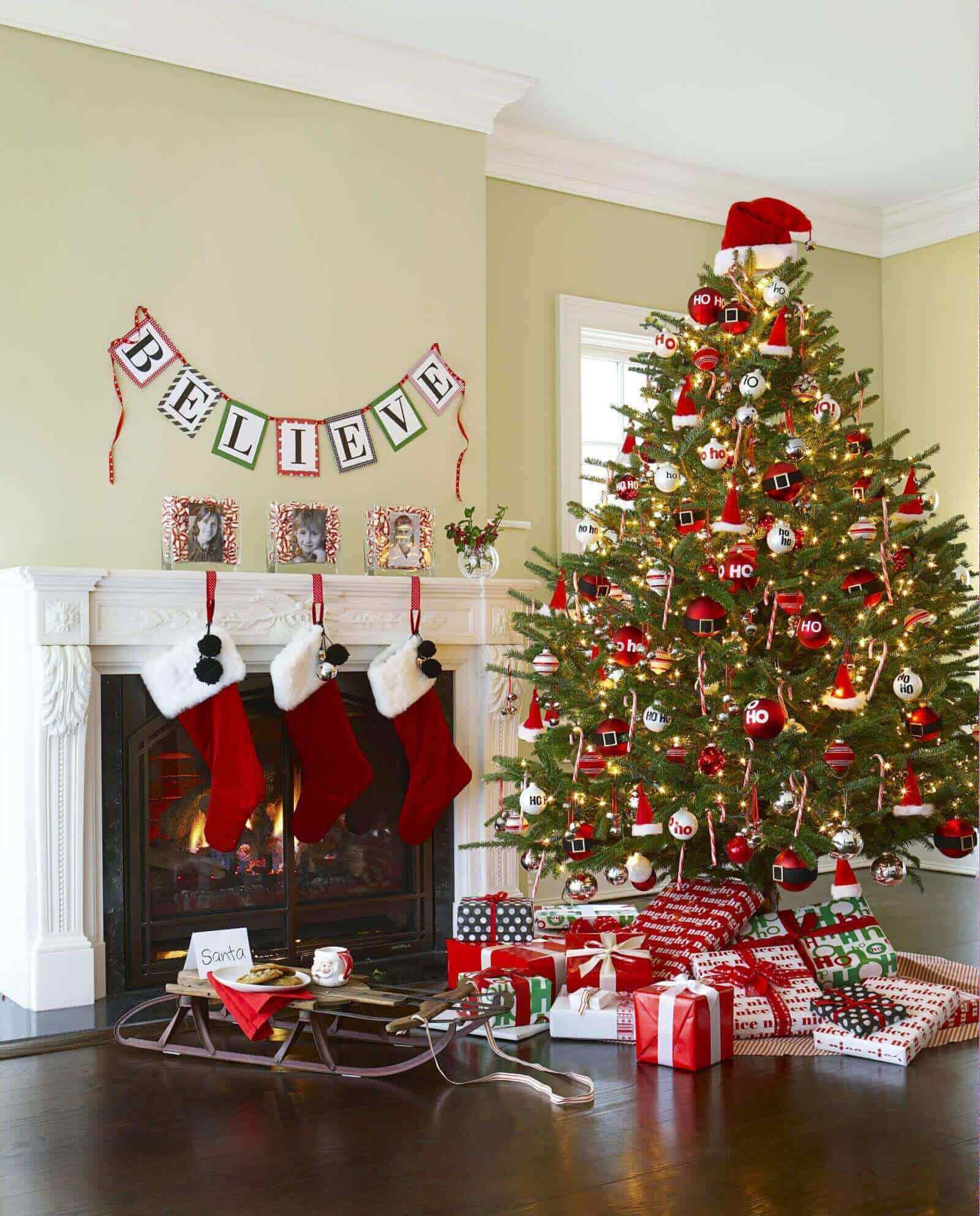 source: hearstapps.com
Halloween is not complete without pumpkins and in the same way Christmas is not complete without candies. Decorate the tree with white and red-colored balls and oversized plastic canes. Sweeten up the whole candy galore by garnishing the tree with gingerbread ornaments, lollipop ornaments, peppermint baubles and again on the top of it settle a Santa cap. If you have a small tree you can also do this using a vintage candy box or antique cookie tin. 
source: pinterest.com
source: timeout.com
Go classic with mixing red and green and going traditional as there is nothing wrong in following the classic trend and decorating in a style that is prevalent for years. These colors can be easily matched with almost everything and red plaid is the theme that never goes out of trend. Instead, a red and white theme can also be adapted in order to match the living room decor. And to go more classic go for gingerbread house like a tree topper.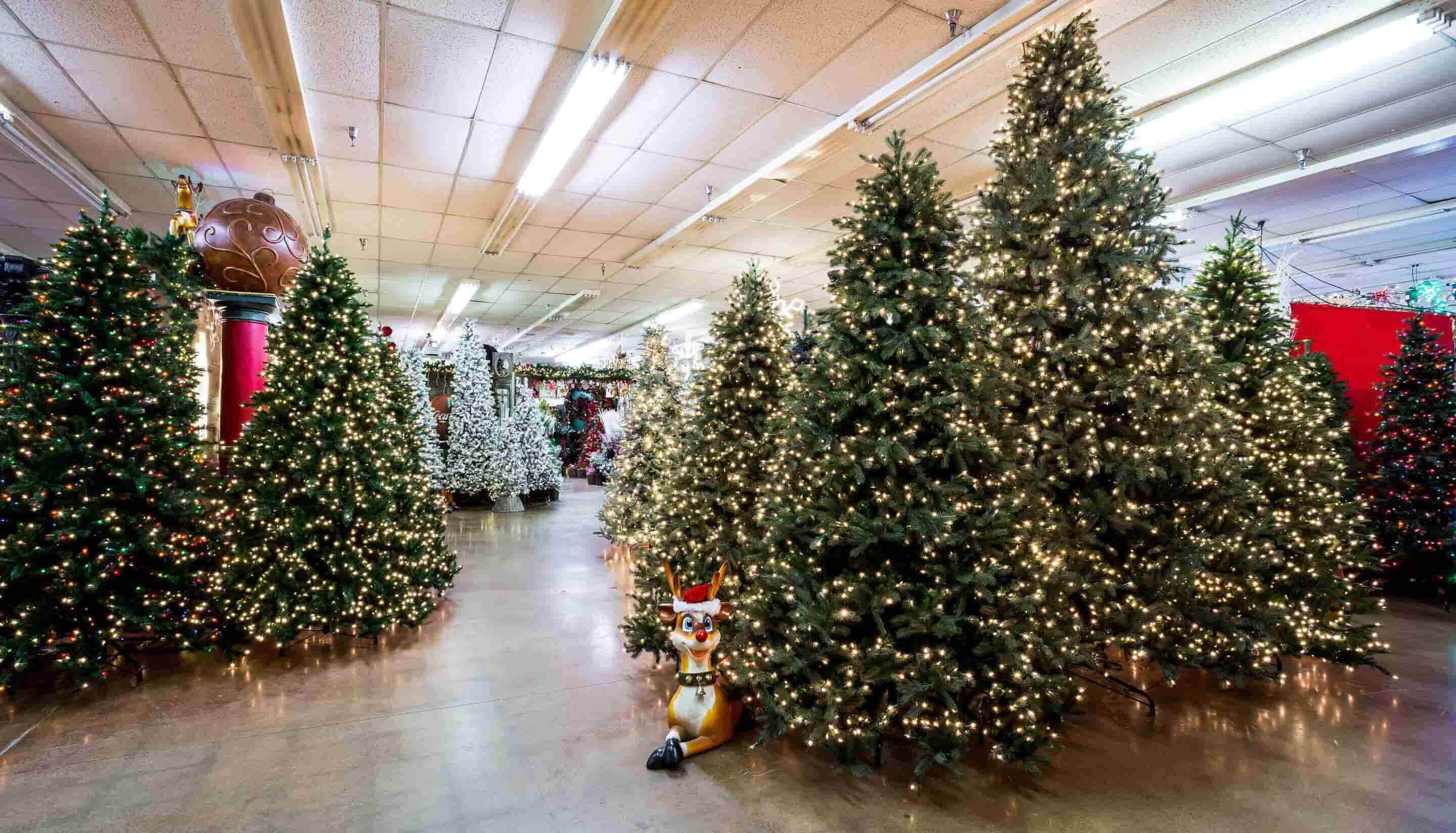 source: fodors.com
source: familyhandyman.com
Adopt a monochromatic look by going all white and matching the interior with the Christmas décor. Go for natural and calm texture with cool elements like pine cones and pieces of cotton. An all-white look serves whole cool look backed with snowflakes, a sweet ice-skate topper, and pastel baubles.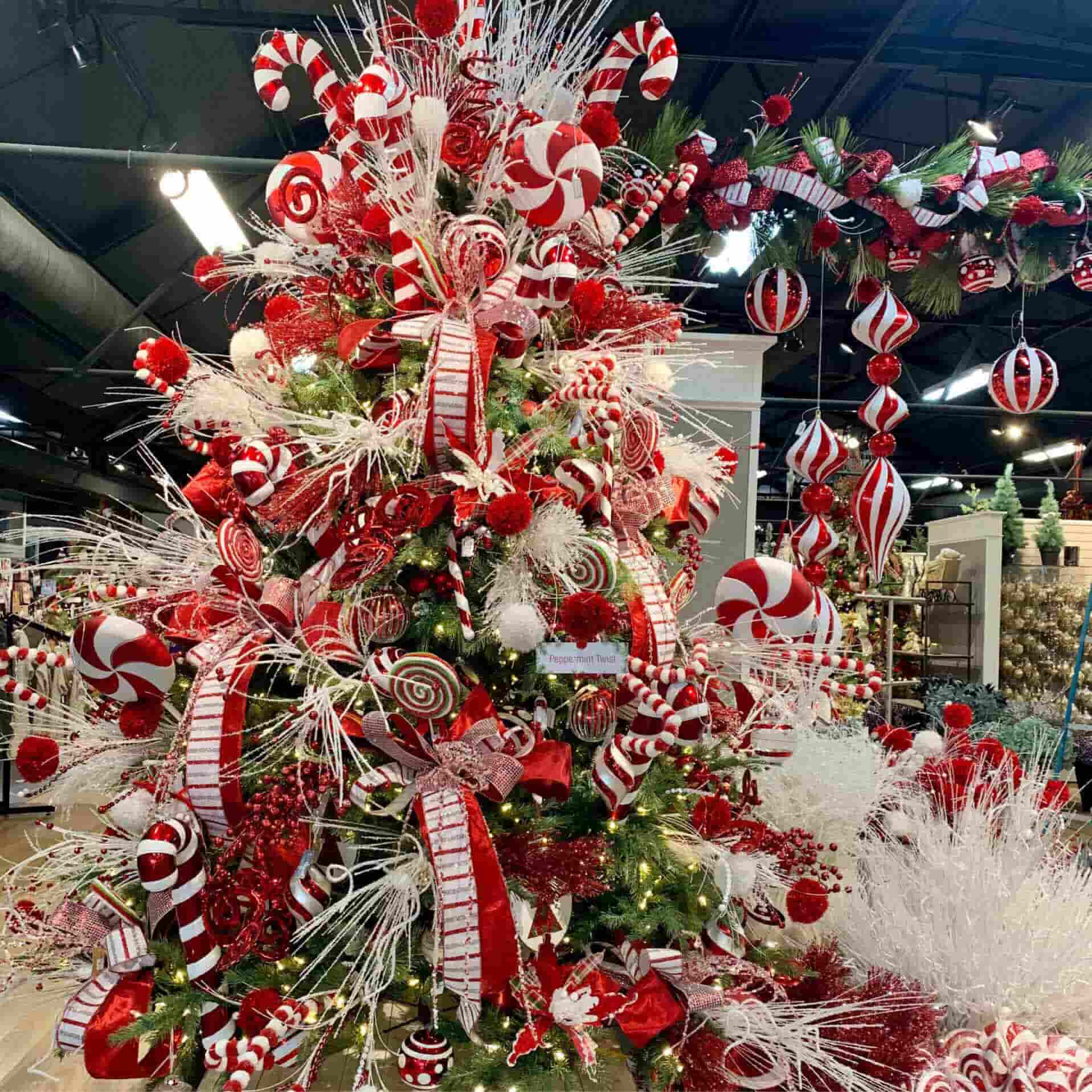 source: bordines.com
You may also like to know about  12 Best Christmas Tree Farms In USA For Perfect Christmas Trees
source: pinterest.com
Also, a simple rusty look is also adopted by people willing to go to keep it simple and muted. For this theme, the Christmas tree can be placed near the fireplace and can be decorated with glittered acorns and birch sticks with handmade wreath and adding some natural elements to it.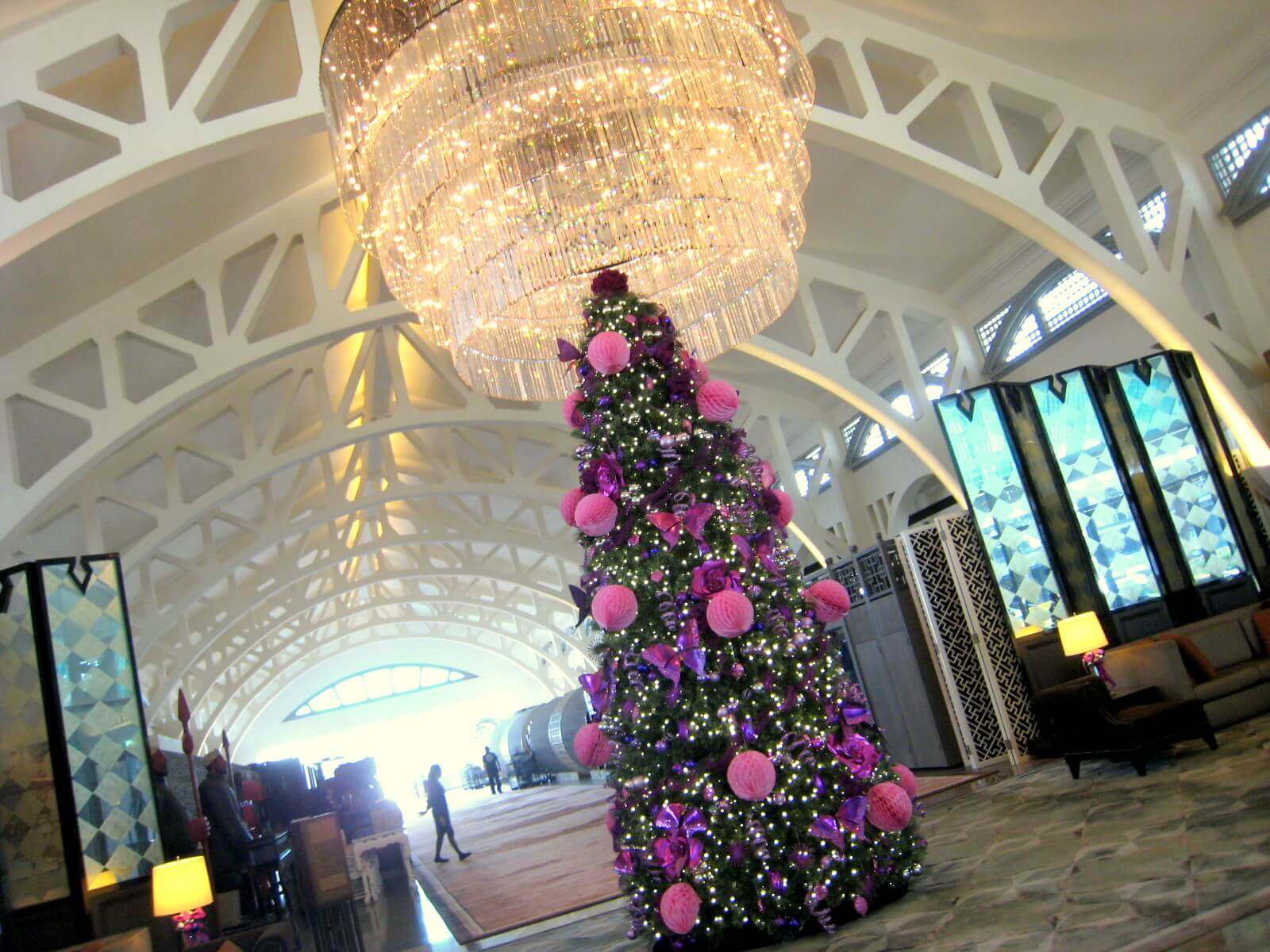 source: pinterest.com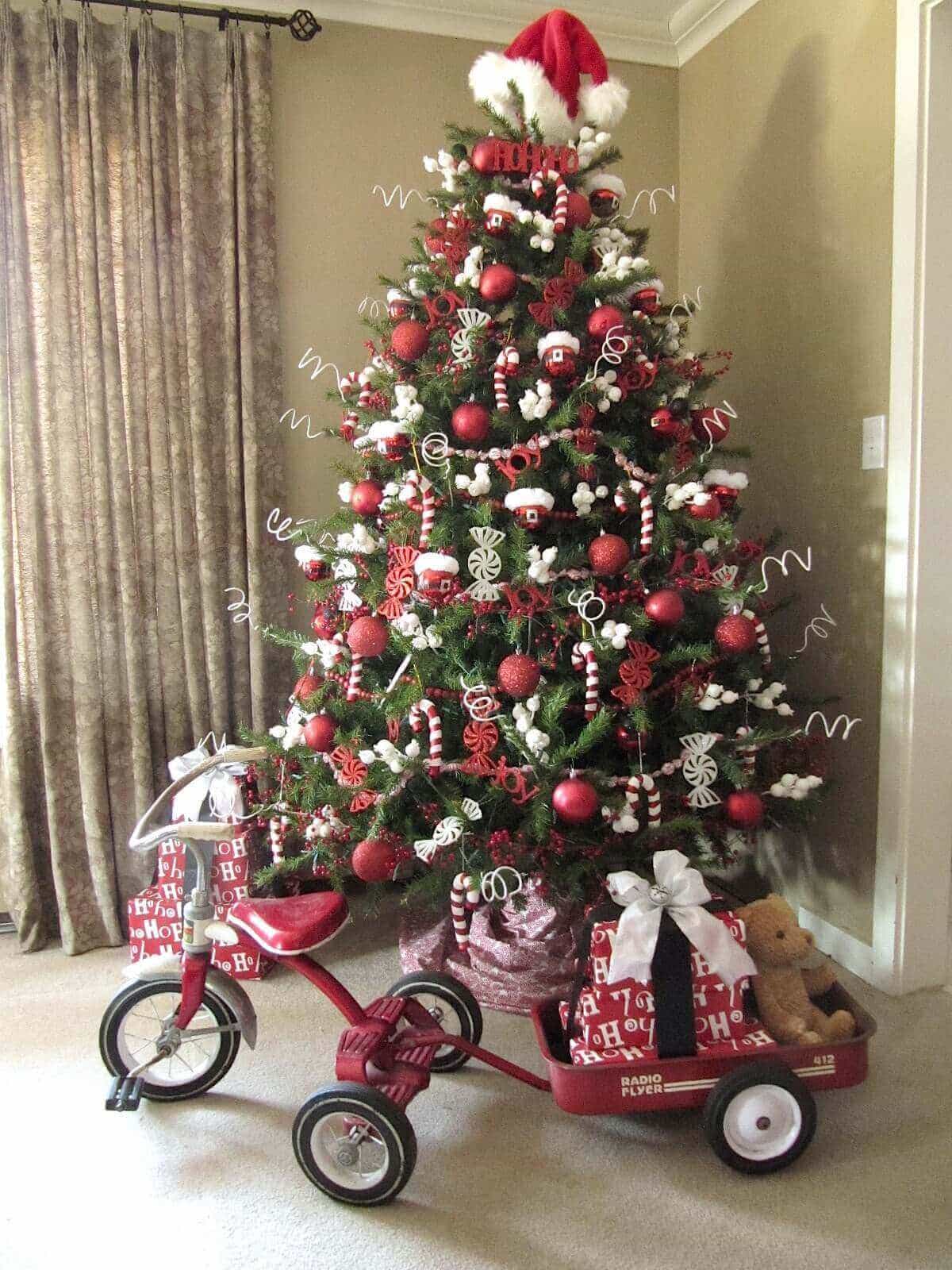 source: stumblinstyle.com
Give golden look to your tree by matching it with modern colors such as navy, pink, Icy blue, white, green and so on. You can also adopt a gold and white farmhouse tree. Golden touch is ideal when you want to go big and bold with the decoration and if you want to make a statement, go for golden and silver decoration it will work wonders and will look super classy and sophisticated. Add a big golden bow made of sparkling ribbon to give the tree a final touch.