Creative outdoor kitchens are an impressive, luxurious addition to any home that brings the functionality of your indoor spaces to your backyard and patio. Custom cabinetry, weather-resistant countertops, and a full range of appliances are a great place to start when it comes to designing this space. However, to ensure your kitchen is uniquely personalized to your home and your lifestyle, you'll want to consider a range of small details when determining what you want this space to look and feel like. 
In this article, we'll review a handful of essential design considerations you'll want to review before committing to a specific design for your outdoor space. The right luxurious outdoor kitchen for your home brings all the practical features of your indoor kitchen outdoors while making the gap between your indoor and outdoor spaces more of a seamless experience. You'll also need to consider your local climate before selecting building materials because certain materials or textures may be better suited to handle the rain, snow, or heat that's common in your region.
Light Fixtures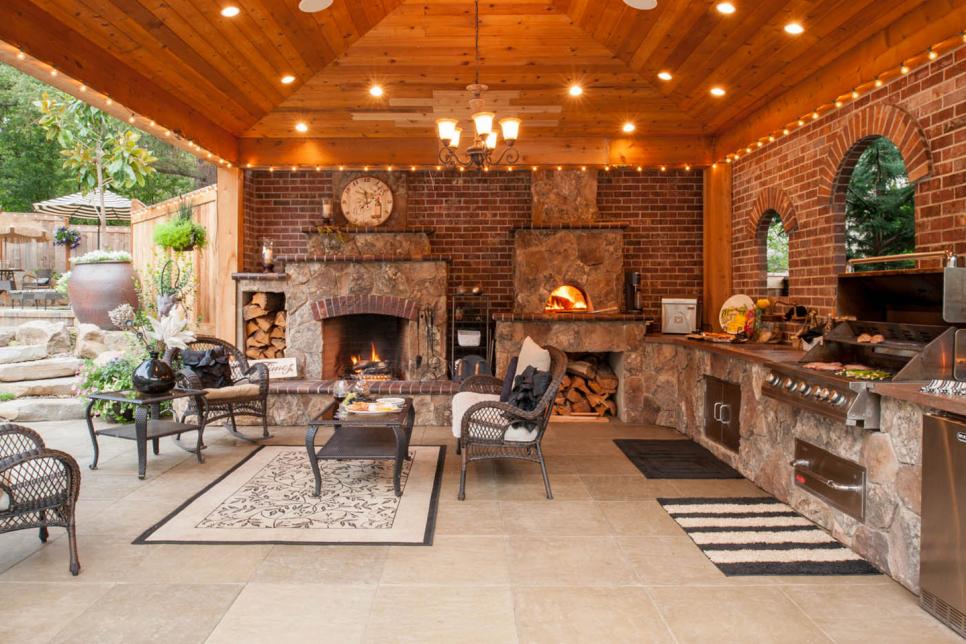 source: hgtv.com
Your outdoor kitchen's light fixtures are important to get right. Not only do they help establish the comforts of the space, but they are also essential for a practical purpose as well. To ensure that your outdoor kitchen offers all of the same flexibility and functionality as your indoor space, you'll need to make sure you have proper task lighting installed. If you're planning an outdoor kitchen without a covered section, there are still several exterior wall-mounted options to choose from when setting up your outdoor lighting. While it might sound nice to have string light bulbs for this space, they are usually better suited for your outdoor seating areas instead. 
Kegerators 
Kegerators are a fantastic option for making your outdoor kitchen more inviting for guests. If you enjoy putting together a get-together and entertaining friends and family, this extra appliance is a must. Most kegerators are about the size of a mini-fridge, but their storage options are highly customizable. Many of these products have different sections designed for different types of beverages, which means they're an all-in-one beer cooler and wine cellar.  
Flooring and Tiling
source: granitebusters.com
Choosing the right flooring and tiling for your outdoor kitchen is an important step in making your new outdoor space as high-functioning as possible. Elegant stonework and tiles are also a fantastic opportunity to spruce up the overall visual appearance of the kitchen. Colors and textures should be easy to clean but also complement your cabinetry and countertops. 
Bar Seating
Kitchens (especially outdoor kitchens) can be so much more than a workspace. They are also an essential living space as well, where it's easy for people to connect and collaborate with friends and family. One of the easiest ways to make your outdoor kitchen look and feel more like a living space is by adding seating. Bar stools are one of the most popular choices for outdoor kitchen arrangements because they convert a portion of the countertops into a dining space and typically look inwards so that the living space and workspace portions of the kitchen are adequately connected. 
Roofing
source: synergyoutdoorliving.com
If you're planning to build a covered outdoor kitchen, you'll need to think carefully about sections that need to be covered and what areas are better to leave as open-air environments. Your range, appliances, and sink should be within a covered area, while your grill, pizza oven, and seating areas should be well equipped to handle the elements. Roofing for outdoor kitchens is typically constructed in a similar fashion to your home's roof, using the same colors and materials so that the designs for both are connected seamlessly. 
A Pizza Oven
Pizza ovens are popular choices for outdoor kitchens and give homeowners the opportunity to create an authentic wood-fired dish from home. You won't have to worry about turning on your oven and heating up your house. You'll need to choose between a wood-burning oven and a gas-powered installation and decide whether you want a contemporary or classical design. You can also use your pizza oven to bake bread during the summer, roast vegetables, and grill or sear a perfect steak. 
Multi-Functional Sinks
source: pinterest.com
Double basin sinks are a must-have for any kitchen because they allow this central component of the kitchen to become so much more than a clean-up area. Sliding panels for your sink can easily convert one of the basins into a drying rack, food prep board, or pasta strainer. Galley sinks are generally the most popular choice for upgrading the functionality of this fixture.    
A Grill
While your grill might seem like an obvious component of your outdoor kitchen, it's one that homeowners often overlook. Remodeling your outdoor living spaces is a fantastic opportunity to upgrade your grill. You might also want to consider purchasing a flat top grill, which is an excellent tool for everything from seafood and meat to veggies and eggs. If you're integrating your grill with your new countertops, you'll need to leave plenty of space for a propane tank cabinet.
Backsplash Tiling
source: coloradohomesmag.com
Backsplash tiling might seem like a small detail in the grand scope of the installation and design process, but it's an essential part of your kitchen's aesthetic appeal. Colorful choices can help to establish a comfortable, contemporary look, while ornate detailing can help to set up the perfect classical outdoor kitchen design. 
Conclusion- Design Considerations for Your Outdoor Kitchen
Outdoor kitchens are one of the most luxurious additions to your backyard, making it easier than ever to bridge the gap between your indoor and outdoor areas to create a seamless living experience. They're sure to inspire you to spend more time outdoors entertaining guests, cooking great food, and simply enjoying the fresh air and sun.