El Kabron is a hidden gem on the spectacular cliffs of Uluwatu in Bali, offering breathtaking views of the Indian Ocean, excellent cuisine, and a vibrant ambiance. El Kabron has become a must-visit place for residents and tourists looking for an unforgettable experience in Bali, thanks to its spectacular cliffside location. In this post, we'll travel to El Kabron to see what all the fuss is about and learn why it's one of the island's hottest real estate markets.
Awe-Inspiring Location 
El Kabron, perched on the cliffs of Uluwatu in Bali, has an awe-inspiring site that distinguishes it from other restaurants on the island. The venue's cliff-edge location provides guests with unrivaled panoramic views of the Indian Ocean, offering a genuinely fascinating experience.
Spectacular Ocean Views:
source: elkabron.com
The first thing guests notice when arriving at El Kabron is the spectacular vista that opens before them. The Indian Ocean spreads as far as the eye can view, with waves pounding against the cliffs below. The unrestricted views provide a sense of calm and tranquility, allowing guests to immerse themselves in nature's magnificence.
Sunset Delights: 
As the sun sets, El Kabron transforms into a front-row seat to one of nature's most awe-inspiring shows – the sunset. The sky morphs into a colorful canvas, with orange, pink, and purple colors reflecting on the calm waters below. This amazing color show creates a romantic and charming ambiance, ideal for couples or anybody seeking a moment of pure happiness.
Cliffside Dining: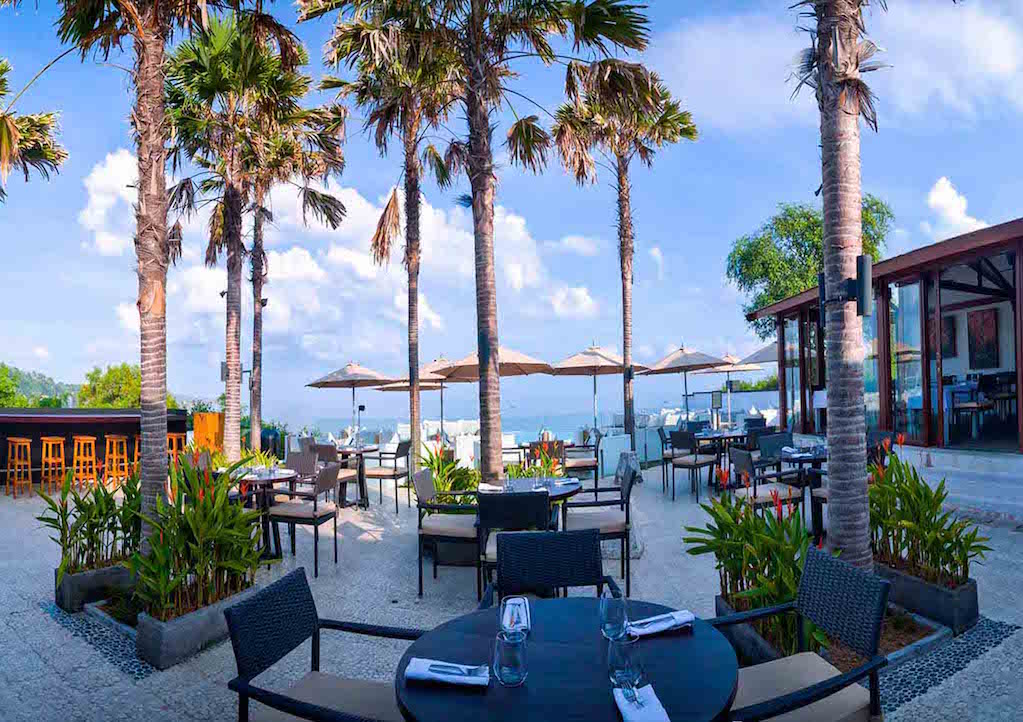 source: pinterest.com
Because of El Kabron's strategic location, guests can dine while admiring the spectacular views from the cliffside. The restaurant's outside patio is an exceptional setting for a meal, with tables strategically placed to take advantage of the stunning backdrop. Guests may relish their culinary pleasures while being charmed by the magnificent settings, whether enjoying a leisurely brunch or a candlelit night.
Picturesque Infinity Pool:
El Kabron also has a beautiful infinity pool that merges effortlessly with the ocean. The pool's edge creates the illusion of floating above the water, providing visitors with a dreamlike experience. Whether relaxing on the sunbeds by the pool or swimming, guests may take in the breathtaking views while basking in the warm Bali sun.
Cliffside Lounging: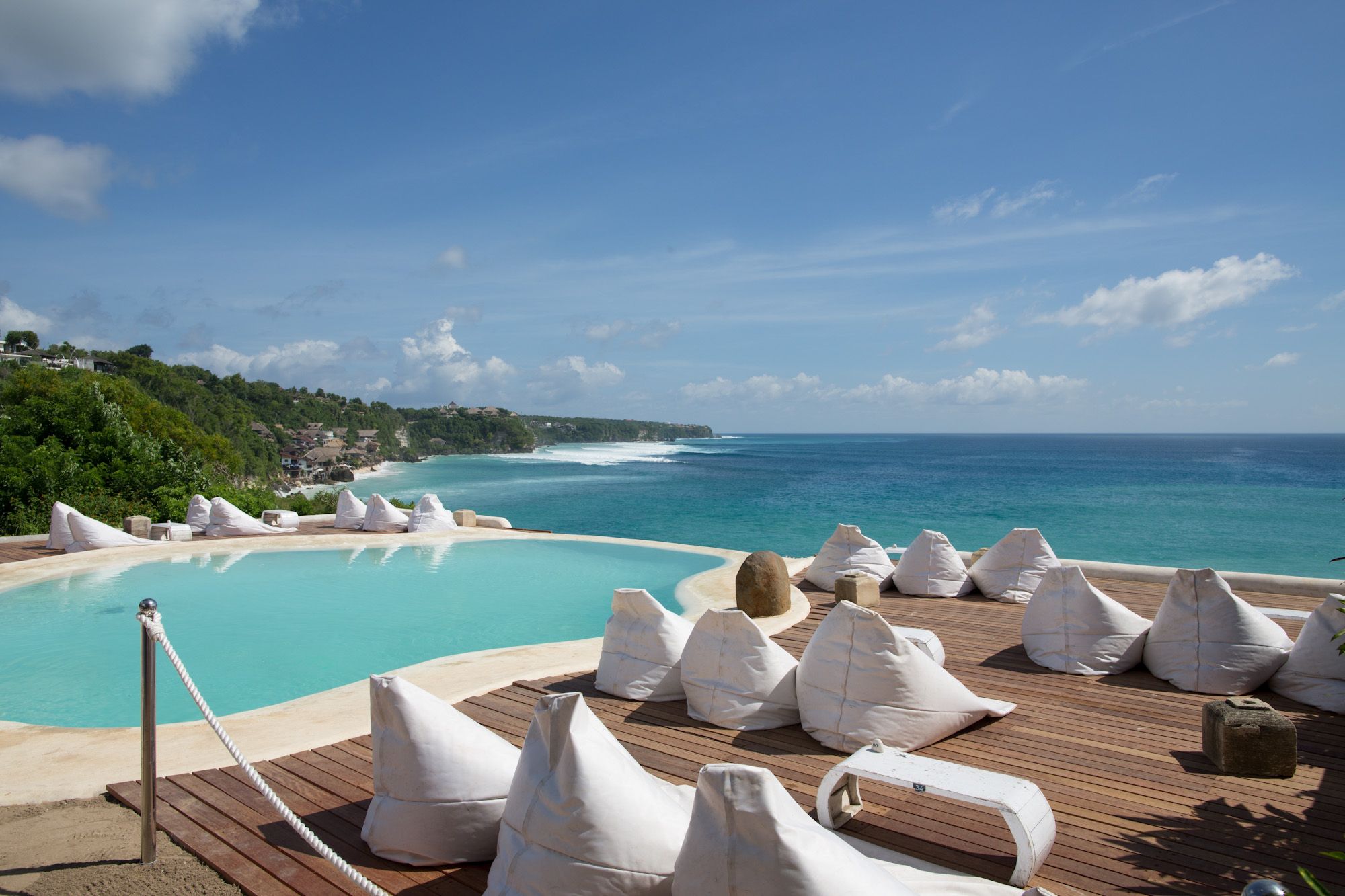 source: pinterest.com
For those who just want to relax and take in the scenery, El Kabron has comfy lounging spaces strategically located along the cliffside. Guests can relax in these small locations while listening to breaking waves and enjoying the pleasant ocean breeze. It's the ideal place to read a book, sip a glass, or have meaningful conversations amidst the tranquil surroundings.
Exquisite Culinary Delights 
El Kabron is known for its superb gastronomy, which includes various culinary delicacies. The food is a mash-up of Mediterranean and Spanish cuisines with a hint of Indonesian influence. El Kabron provides guests with a wide range of tastes, from delicious fish to tender meats and vegetarian options.
To offer a genuine and outstanding dining experience, the restaurant's experienced chefs employ only the freshest ingredients produced locally. A vast collection of wines, cocktails, and spirits complements the wonderful food, allowing diners to combine their meals with the appropriate libation.
Unforgettable Events and Celebrations 
El Kabron is more than just a restaurant; it is also a sought-after location for special gatherings and celebrations. The stunning environment and superb service at El Kabron make an amazing experience for all participants, whether it's a romantic wedding, a milestone birthday, or a corporate meeting.
The cliffside deck, swimming area, and private dining rooms are among the event facilities available for various events. Each area can be customized to match the event's needs, resulting in a unique and memorable celebration.
The Vibrant Ambiance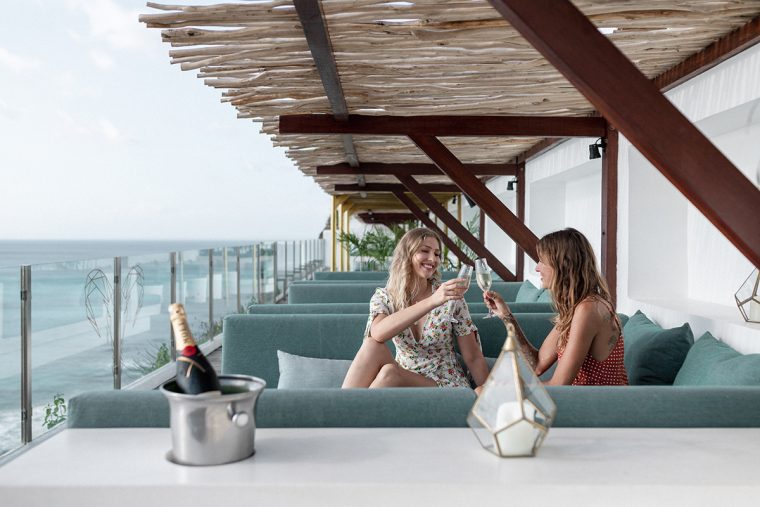 source: pinterest.com
El Kabron not only has breathtaking vistas and delectable cuisine but also a dynamic and active atmosphere that adds to the whole experience. With thrilling events, live music, and renowned DJs, the venue comes alive with a dynamic environment. Here's a closer look at El Kabron's lively atmosphere:
Lively Parties and Events
El Kabron is well-known for holding colorful parties and events that attract a diverse clientele. The facility generates an energetic atmosphere that keeps people delighted and involved, from sunset parties to themed nights. El Kabron's events bring people together for an incredible night of fun and enjoyment, whether it's a beach-inspired party, a salsa night, or a celebration of local culture.
Renowned DJs and Live Music Performances 
Music is an important component of the lively atmosphere of El Kabron. The venue has excellent DJs, and live music acts, creating an exciting evening of dancing and merriment. El Kabron's music selection ranges from exciting electronic beats to soulful tunes, guaranteeing that there is something for everyone to groove to.
Dancing under the Stars
El Kabron's cliffside deck offers an open-air area for visitors to dance beneath the stars. The combination of energetic music, ocean views, and a bustling crowd produces an enchanting ambiance that is difficult to match. El Kabron's bright environment sets the stage for a great night of dancing and celebration, whether you're an experienced dancer or simply want to let loose and have a good time.
Attentive and Friendly Staff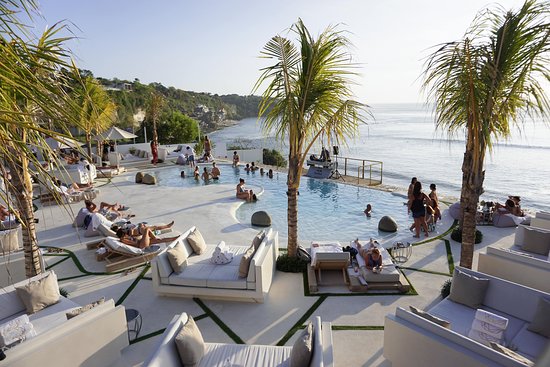 source: pinterest.com
With their warm hospitality and cheerful manner, the personnel of El Kabron contributes to the overall dynamic ambiance. You'll be greeted with genuine smiles and a welcoming atmosphere when you enter the venue. The attentive service ensures that guests feel well taken care of, which improves the whole experience and contributes to the great vibe that permeates the venue.
Special Events and Performances
El Kabron frequently presents special events and performances that add excitement to the vibrant environment. Fire dancers, acrobatic displays, and other entertaining acts that fascinate and please guests are examples of this. These distinctive features create a lively atmosphere and make each El Kabron visit a unique and memorable experience.
Final Thoughts
El Kabron in Uluwatu, Bali, captivates guests with its breathtaking location, superb cuisine, spectacular events, and energetic environment. El Kabron guarantees an outstanding experience whether you are looking for a romantic evening, a memorable event, or simply a place to unwind and soak in the beauty of Bali. So, when visiting Bali, be sure to put El Kabron on your schedule and immerse yourself in the wonderful world of this hidden jewel on the Uluwatu cliffside.