Halloween is a great time of year since there are so many costumes! Try some of these fantastic costume suggestions if you're thinking about dressing up with a senior loved one this year! They will make older family members happy and enjoy the holiday season. You don't need to seek any further since we can assist you in finding the greatest Halloween attire for older adults.
It's up to you to make Halloween bash a fun experience for older adults. How daredevil are you? Get some amusing companions, and get ready for the frightening occasion. Who do you know who would wear each of these outfits? Seem to be You? So have fun by enjoying Halloween with extraordinary costumes. However, when you find senior citizen Halloween costume ideas, you may have lesser choices. 
Halloween Costumes For Senior Citizens
Senior citizen Halloween costume ideas are simple to find. Take a decent sense of humor and your imagination, and get ready to have a wonderful time all day! Remark by special characters from the past or surprise everyone with different looks and makeup. Your imagination rules when you select the Halloween costume for senior citizens.
Swap Roles With Younger Generations
source: pinterest.com
Kids dressed as elders in costumes are a common sight. Let your senior now dress like a youngster! To choose a costume that represents the younger generation, invite them. You can choose to dress like a stereotyped millennial with stylish clothes and headphones or choose an outfit from your grandchild's closet. If you want to go all out, you may dress as a baby or a toddler.
Crazy Cat Lady Look
Do you know a senior who adores her cats? Pick up a sack loaded with cats. Then use safety pins to attach them to a bathrobe for a crazy cat woman appearance that will make everyone laugh all night. If you already own a bathrobe and a few toy cats, this Halloween costume idea might be rather affordable.
Have A Wheel-Chair As A Part Of The Costume
Does a senior family member who uses a wheelchair for transportation spend Halloween with you? Make the chair a costume accessory. Here are a few concepts: Allow your loved one to drive a wheelchair that has been decorated to resemble a go-kart. They might be dressed like a favorite NASCAR driver or a Mario Kart character. 
Transform the chair into the Game of Thrones Iron Throne from the Red Keep. As a DJ table, use a cardboard box. For a killer DJ costume, decorate it with some records and spray paint. Using some cardboard boxes and paint, transform the wheelchair into the Tardis from Doctor Who.
Charlie Chaplin Costume
source: pinterest.com
Do you feel like being quiet on Halloween? Do you also wish to demonstrate your odd acting, dancing, and humorous abilities? With this Charlie Chaplin costume, you can become the silent film icon, Charlie Chaplin, from the 1920s.
Pick The Costume Idea From The Famous Figures
The monarch of England William White? Captain Sanders? Halloween costumes based on famous people are endlessly possible. Pick a costume that reflects your senior loved one's personality and sense of humor while also speaking to them. The perfect clothing may already be hanging in the back of their closet frequently!
Dress Like A Super-Hero
Everyone can like superheroes! Allow your elderly loved one to choose a superhero. Then costume them in that outfit. An inexpensive costume is available on Amazon or at your neighborhood store. However, you may easily create your own with items you already have at home. A sheet can be made into a cape. Fake muscles are necessary, but underwear on the outside of the pants is optional!
Be A Ghostbuster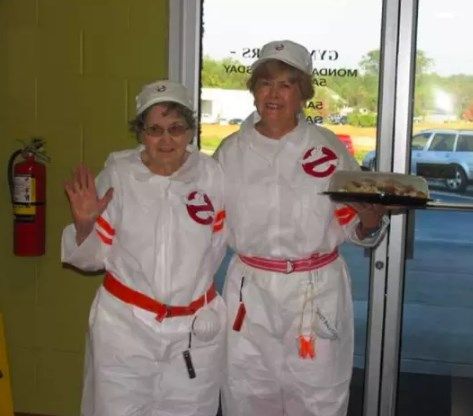 source: pinterest.com
Take a few buddies, and for the Halloween party, dress up as the Ghostbusters. Why not rewatch the film to be in the right frame of mind to embody your role? To sound like a seasoned ghostbuster, look up some memorable Ghostbusters phrases on Google and remember a couple.
Mermaid Ursula Costume
One day a year at Halloweenween party, you want to be scary or naughty. It is fine. When you dress as Ursula, you may be cruel without suffering the repercussions. the antagonist of Little Mermaid, a well-known Disney film. Halloween revelers will undoubtedly take notice of this exquisitely constructed Ursula Costume, which is an octopus. This is one of your finest chances to win the prize for best costume.
Couple Costumes – Mary Poppins And The Chimney Sweep
Adorable outfits for a couple; dress up as Bert the chimney sweep and Mary Poppins. These outfits are simple to put on, and you know you can pull off the character with ease. How often have you watched the movie? This is a sweet illustration of a grandparent's Halloween outfit.
Wear TuTu At Haloween
source: pinterest.com
Why not wear a tutu as you've always wanted to? No time has passed yet. Dressing up like ballerinas might be a lot of fun for you and your companion. Naturally, you'll chuckle nonstop. You will look gorgeous, though, if you wear tights or pants, a cute blouse, and some wonderful accessories. Enjoy yourself by assuming your dream of being a dancer!
German Bear Girl Costume
Choose this German Beer Girl costume if you're looking for a Halloween party justification to consume copious amounts of beer. You will have a great time dressing up as an Oktoberfest girl who can re-fill beer glasses from her breasts and no one will interrogate you about it.
Final Thoughts
The holidays are a lovely time filled with family, friends, and memories for the majority of us. When we speak about elders at home, they also have their way to enjoy parties. It's crucial to make an effort to involve elders in events to make them feel loved and valued. Halloween is a great way to make them happier and the costumes they wore to play a vital role in it. You have to add some creativity while designing Halloween costumes for senior citizens.