With these creative Halloween party ideas, you can throw a spectacular Halloween party this year. We're talking about a devilish fantastic get-together. This collection includes incredibly fun Halloween decoration ideas, insanely delicious Halloween sweets, and Halloween party activities that both you and your guests will enjoy. Whether you're throwing a kid-friendly or adult-only Halloween party, these colorful, simple Halloween themes are guaranteed to get the party started.
So, what are you looking out for? There's a bunch of Halloween party ideas waiting for you. Explore our best Halloween party themes of all time, grab on pumpkin pies, and get ready to party!
BYOP (Bring Your Own Pumpkin Decor)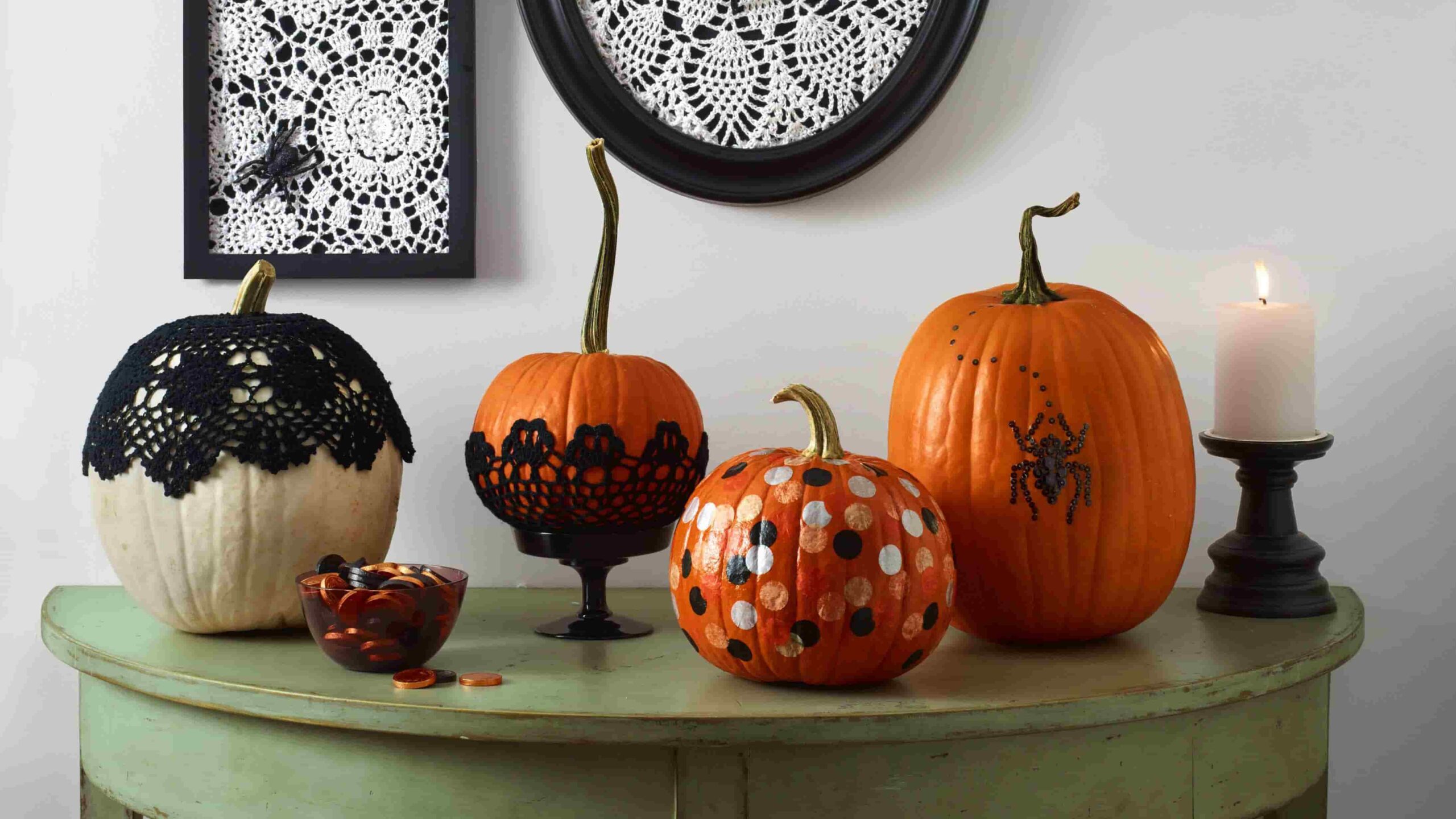 source: hearstapps.com
It's time to knock out the hot glue guns and wipe up your craft closet, it's time to create beautiful craft-o'-lanterns! BYOP (Bring Your Own Pumpkin) with your buddies and get ready for some friendly competition. When the no-carve sculptures are finished, arrange them on a huge table and start voting. May the greatest gourd come out on top!
Caramel & Apple!
source: aheadofthyme.com
Greet the season's fruits, apples in particular, by hosting a caramel apple dip-athon! Your visitors will be unable to resist this delicious Halloween party theme, regardless of their age. By bobbing for apples, you can create some friendly rivalry. Give out takeout boxes so people may take their masterpieces home with them after the event (assuming they haven't already consumed them!).
Glow Bash
Would you like to watch your child's face glow up in more ways than one? This Halloween, throw a glow party! Simply place luminescent elements wherever possible (cups, pumpkins, straws), then switch off the lights and watch for the smiles.
This fascinating party idea is suitable for both children and adults. Glow-in-the-dark details may be added to anything at your party. Allow visitors to construct glow necklaces and bracelets, and if you dare, have some fun with glow body paint!
Witches Dine-In
source: thegirlinspired.com
To go in the opposite direction, if you're searching for a sophisticated Halloween dinner party idea, I absolutely love this witches dinner party from my buddy.  If you've outgrown your boisterous party days but still want to organize a Halloween get-together, this dinner party concept is ideal.
Trick or Treat
We all know that trick-or-treating is enjoyable for children. However, grownups must also rejoice! Throw a trick-or-treat time-out party by welcoming your neighbors and their children to trick-or-treat in your neighborhood; allow a few adults at a time to take the kids door-to-door, while the other grownups sit back and enjoy refreshments, pretzels. The parents may take turns supervising the kids until they've visited every house in the neighborhood and their pumpkin baskets are brimming with candy. It's a win-win situation for everyone!
Halloween Picnic
source: southernlysplendid.com
A garden party is an excellent Halloween party theme. Halloween checkered tablecloths, black-and-white dinnerware, and whirly black chargers will add a festive touch to your table. A spider and pumpkin centerpiece provides just the proper amount of fall flavor, and a witch's hat centerpiece completes the look. Because forecasting the weather around Halloween may be difficult, a wise Halloween party organizer should have an inside plan B. Carry in blankets if required for your visitors to sit and eat on. Even if it's an indoor picnic, it's still a Halloween picnic!
Classic Black & White 
The best Halloween color scheme and party theme is black and white with bursts of orange! Make an effortless wreath, colored pumpkins, and pumpkin taupe for your doorway as DIY outdoor Halloween decorations. Glasses, coasters, and dishes in black and white are readily available. Add black bats and white pumpkins to your black and white Halloween party theme.
Halloween Costume Contest
source: familyfuninomaha.com
It's joyful to dress up for Halloween at any age, and having a Halloween costume contest is a terrific way to encourage your visitors to dress up. You can choose a winner by having everyone vote on pieces of paper, or you can have a panel of judges determine a winner at the final moment of the night.
Divide the contest into categories if you're throwing a big party so there are numerous winners. You can create categories based on your own imagination or a pre-existing party theme.
Make It Insta-Friendly
Add a childlike activity to your adult Halloween party to make it even more enjoyable. Although there is no age limit for photo booths, adding ridiculous props, hats, and masks will provide a sense of childish joy.
Set up props like goofy spectacles, false mustaches on sticks, large floppy hats, amusing signs, and ridiculous jackets if you want your photo booth to have a comical vibe. Choose witch hats, Halloween masks, fake chainsaws, eerie dolls, and horror-themed backgrounds for a more spooky photo booth.
Scary Movie Night
source: tasteofhome.com
A scary horror movie night can be a terrific alternative for a smaller and more comfortable party.
Turn out the lights, fire a few candles, and show some lit Halloween decorations to create a frightening atmosphere. Distribute blankets, pillows, and other comfortable materials to ensure that everyone stays warm and snug while viewing movies.
Set up a delightful popcorn bar, complete with freshly popped seeds, popcorn toppings, treat bowls, and cocktails. You can also serve finger sandwiches as well as other effortless snacks while relaxing on the couch or lawn.
Halloween Potluck
source: meredithcorp.io
Food preparation for a large gathering can be frightening and demanding. Make your Halloween gathering a potluck to make things easier. Make it a requirement that all guests bring Halloween-themed meals or foods that match your party theme for a more enjoyable and unique celebration.
Maintain organization by delegating who should bring certain types of stuff. You'll want to make sure there are enough appetizers, snacks, main entrees, side dishes, and desserts for everyone.
You can even conduct a competition for the most inventive food. Allow your party-goers to vote on their favorite themed creation throughout the night and award a prize to the winners. This will encourage people to genuinely adhere to the theme, resulting in a smarter party encounter.