Introduction
Halloween is celebrated every year on October 31, and people enjoy this festival by decorating their homes in the terrific style, which includes gathering of many party freaks. But this year, due to the pandemic situation, every festival is celebrated in a different style and, so does this one. 
So, we have to celebrate the festivals according to government guidelines. Social gatherings are at high risk, so the party should be organized so that social distance must be maintained and a corona conscious celebration is possible.  But, we should try something different every year, and this quarantine party sounds extraordinary and fun. 
Let's look into some exciting ideas for this Halloween 2020 and how you can make this more fun to enjoy with your family and friends. 
Escape room adventures
source: thesun.co.uk
This is a virtual game, known as an escape room, which is played in different styles. IT is a paid game with high-end sounds, the background which will give you real experience. You have to use your brain to decode the answer to open the room's door or say place. The different styles of this game differ according to age. It means this is designed both for kids and adults; you can play this game with your kids and friends too. 
Decoration
It would help if you did the decoration with the things available at your home like crafts, best out of waste, fun and scary drawings, lights, and much more. Clip arts, templates will make this quarantine festive  party more sinister, safe, and fun. You can even host a virtual meeting with your friends and relatives. Decorate something spooky and enjoy your festival. There are many props to prep for a typical quarantine party. Also, we have listed some decoration ideas for your convenience.  
Baking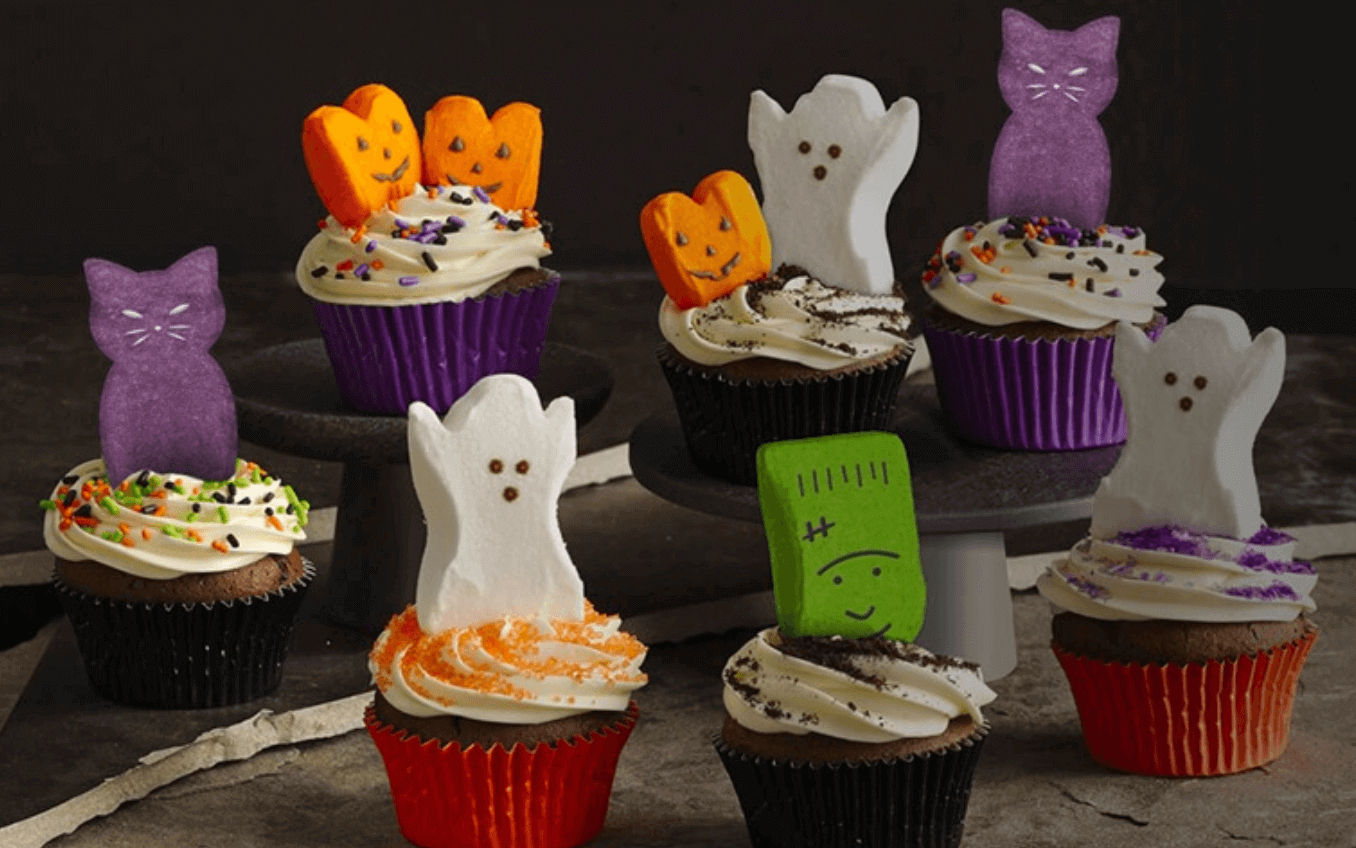 source: yahoo.com
Baking is a fun activity for many of us. So what are you waiting for? Wear your chef cap and make your ovens ready and start baking your favorite flavored cakes with a scary garnishing on it. Draw a graveyard, strange faces, bones, skeleton to make the cake more horrifying. However, the desert is essential for every party. 
Trunk or treat
If you know about Halloween, then you are also aware of the truck & treat. For your knowledge, let me give you some ideas on this topic. This truck or treat is when some people join hands together and decorate their cars and share wishes and candies to celebrate. Make sure to plan this social distance party with your family or pod. This is one of the best ideas to observe this quarantine party and fun safely. 
Prep up for dinner
After decorating and baking for the Halloween celebrations, all the party individuals must be hungry and seek cocktails to enjoy it to the fullest. Fetch the dry ice and snatch the tequila-time to make some drinks and for the tiny sizes? It is likely to arouse a mocktail. Make up the list of your choice regarding the best cocktails and dishes to prepare for the cozy, tasty festive season. There are many non-veg dishes to enjoy, and if you are vegetarian, then cookies, cupcakes will make your day. After prepping up for dinner, eat your heart out and forget all diet charts and workouts. 
Costumes
source: jconline.com
Whether you are enjoying your party socially or virtually, costumes are entirely vital and will give you the vibe of the party, without costumes all this is not so fun. You can wear costumes to entertain or say to scare your kids, friends, and family. You can even host a virtual gathering online, with a particular theme, which makes the occasion more lively. 
Party with the pod
If you have your own pod family and away from your family, then you can host a party at your office with proper costumes. You can plan and play games, have food and cocktails, and enjoy a spooky party at the office.. Please be careful and make sure that you are following all the government guidelines accordingly, and also maintain social distance, get your face covered so that safety at the workplace can be maintained. 
Keep up with your kids
Kids got so bored in lockdown and this pandemic situation, and they always wanted to go out and explore fun things. But, their parents have to keep their kids safe and at home. So, we need to keep them busy by doing the things they enjoy. So, playing games and doing crafts are some of the work they enjoy doing. Be ready with material for the art like papers, scissors, and some creative craft ideas. You can make scary pumpkins, bats, and witches to keep your kids busy and enjoy doing these things with party game for children. 
Games
source: kidspot.co.nz
Games are the one which is enjoyed by kids and adults as well. So, these games are vital to the party. You can even play virtual games in this quarantine period, but if you are socially together in one place, then there are quite a few games you can play. 
Pop goes the pumpkin
Are you looking for a bang to kick Halloween off, not a boo? In this party game, this version of a traditional carnival game also creates a festive wall decoration, and exploding the confetti-and-candy-filled balloons will make everyone rupture with laughter.
Blackout, ghost story prank
No crowd is better prepared for a good prank than one in the dark listening to a ghost tale. A perfect stunt for storytelling requires hiding a compatriot outside the house; she clutches at the window panes as soon as the story reaches a crucial, scary section. Consider adding this trick to the same story session for maximum chills: Candles are placed around the room. They mysteriously go out as the narrative nears its climax, one by one, until the room is dark. Cut the candles in two, remove a small piece of the wick from the core, then join the details back together by heating the cut ends to achieve the effect. When a candle burns down to the wick section that is missing, it dies.
 Witch's hat ring toss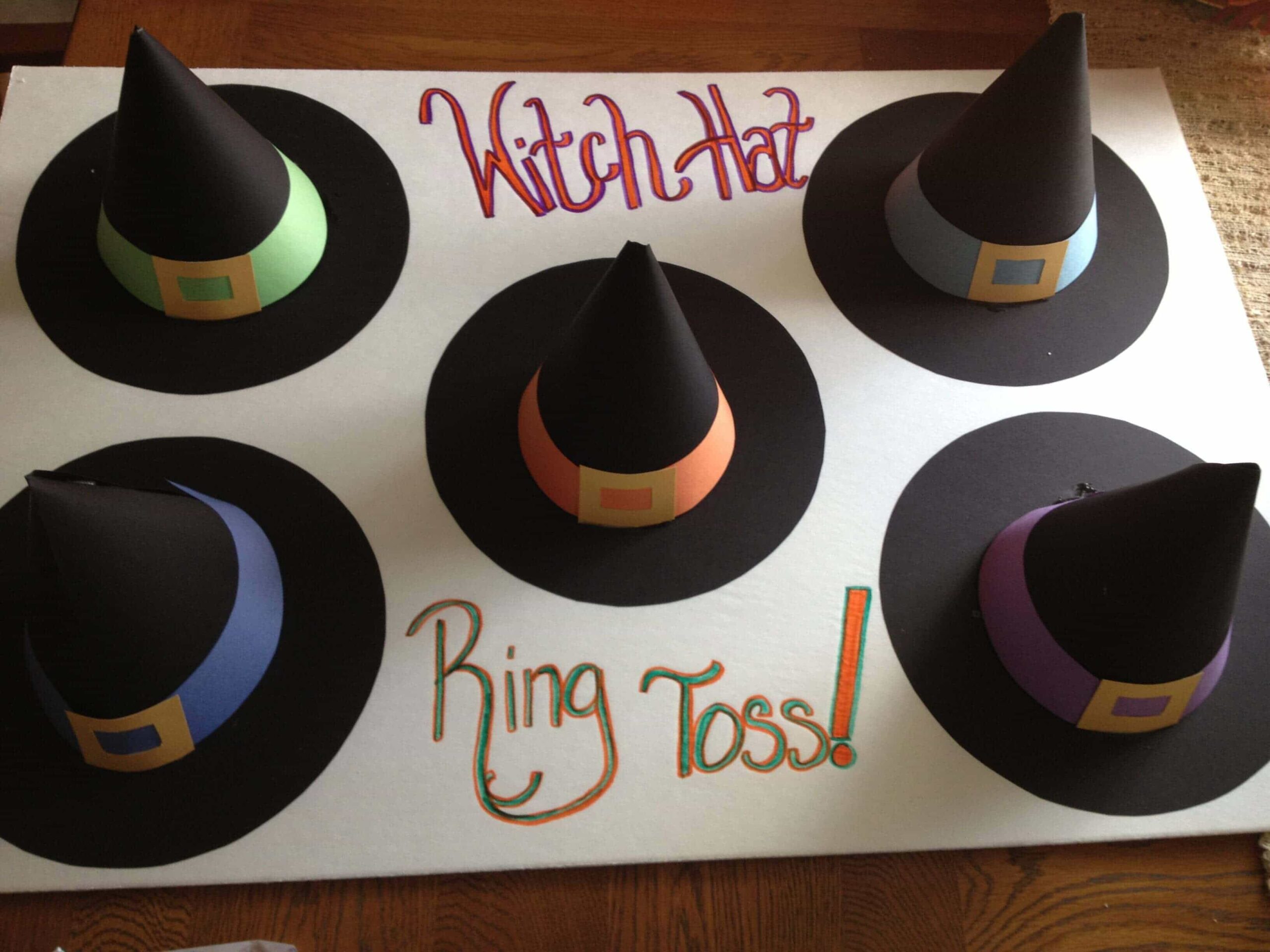 source: pinterest.com
Challenge your little ones to a carnival-inspired ring toss game, the target being a witch's big black hat. Use black spray paint for the rings to cover easy-to-grip flying discs. Download and print our witch's hat top and brim templates to create a hat; tape them together and cut them out. Cut pieces from the black card stock using the templates. Roll the top into a cone and use double-sided tape to secure it. Fold the brim tabs and tape them to the inside of the cone. The hatband clip-art is downloaded, printed, and cut out. Wrap and affix with double-sided tape around the hat. Use rolled pieces of painter's tape to secure the hat brim to the floor.
Social- distance parties
If you are hosting a trick- treating event for your neighbors to celebrate with them or your neighbors are doing it for you. Then You can, according to all the norms and guidelines. Decoration, games, food, and drinks should be corona conscious. Also, there is another way to celebrate this quarantine Halloween by standing in the balcony. This means all the bystanders have to stand in the balcony with their costumes, appropriate decoration, and cocktails with a spark of the horrific scene in the background. 
Horror movies
Are you still wondering how to celebrate Halloween party at home in this pandemic situation? Don't worry; let us suggest some other scary ideas for you and your loved ones to celebrate. All you have to do is switch on your T.V set or say a laptop and binge-watch horror movies with your love to spend your with, whether they'd be your friends, family, relatives, wife, or kids. Make a playlist of your favorite movies, with food and drinks, to rejoice this occasion. 
Pumpkin carving
source: onekindesign.com
Carving pumpkins is another fun activity to do this quarantine season. All you have to do is pick pumpkins and apples from orchards and patches to carve. Also, they have a particular Protocol for visitors for virus prevention. Then do pumpkin carving at home with your kids. There are varied kinds of designs you can carve on it. 
Go for a long drive or hiking
To maintain distance from social gatherings and spend time with your specific people, log drive to mountains or beaches, or even hiking would be a great option to spend your holiday and relax. For celebration, you can opt for a bit of a haunted place to give you a feel of this festival. Ensure all the protocols from state or country government to for virus and even penalty prevention. 
Halloween masks
source: geektyrant.com
Masks are quite an in trend right now, as everyone has to wear them. Also, if you are hosting a Halloween party or have plans for outings, then you can design and stitch your masks matched according to your theme to make it more exciting and something unique. In this pandemic, everything which we are doing is not normal and different from previous activities. 
Conclusion 
We have listed out some of the most trending, exciting Halloween party proposals. This list includes ideas for all kinds of parties, even for individuals of every age. Even if you don't want to party with many people out there, there are also some suggestions to celebrate this festival with your people on your terms. That doesn't matter who you are celebrating with; the thing that matters most is you enjoy partying with them. They can be your friends, family, relatives, or colleagues.