A trip to the pumpkin patch is a must during the fall season! This is a fantastic photo opportunity, and you'll want to dress up in some adorable pumpkin patch outfits.
It's quite tough to decide what to wear to the pumpkin farm, as you want to look good while also feeling comfortable. Every year, I put together a lovely outfit to wear for a fall photoshoot at the pumpkin farm. And I figured you did as well! This fall, I scoured the internet for the best pumpkin patch outfit ideas for you. Let's get started!
How To Pick Ideal Outfit?
source: cloudfront.net
The weather is the most important factor in deciding what to wear to the pumpkin farm. Depending on whether it is hot or chilly, you will wear different clothing. Of course, the weather will decide whether or not you need a rain jacket and waterproofs.
You may also need to dress for changeable weather, especially if you want to spend the full day there. It may be cold and cloudy in the morning and sunny and bright in the afternoon!!
Sunglasses and hats are essential on sunny days! Nothing is worse than getting sunburned when harvesting pumpkins!
You should always think about what shoes to wear to the pumpkin patch. In general, anything matters as long as you can walk over rough terrain. The good news is that you can still look trendy in boots.
Trending 2021 Pumpkin Patch Outfit Ideas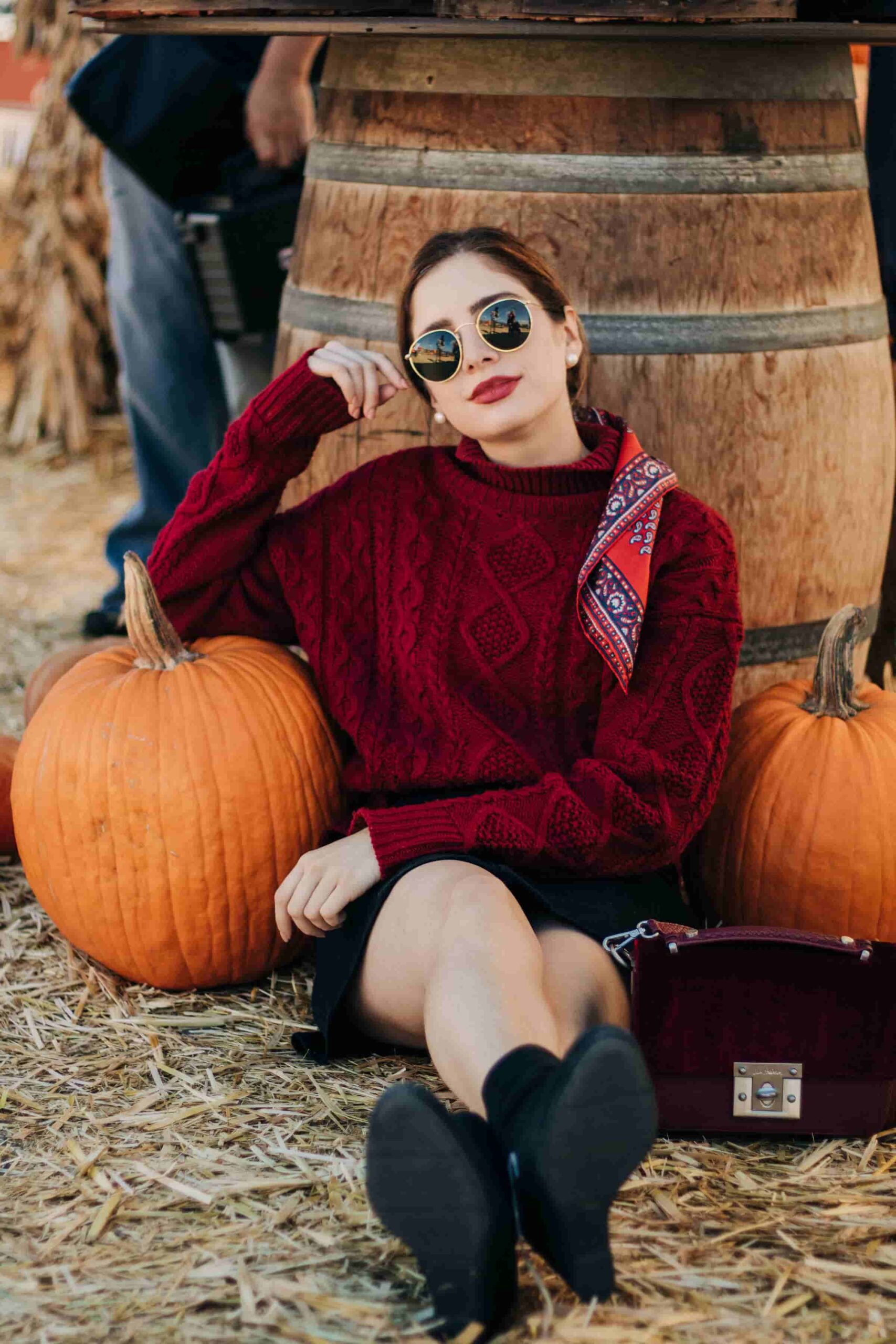 source: imgur.com
Take a closer look around you. The fall season is brimming with vibrant, eye-catching colors. Allow the season to serve as your color palette!
Choose earthy tones and deep hues of orange, olive green, scarlet, grey, and creamy. Denim or black jeans are a great go-to for the autumn season, and they look great with any fall color you select for your top.
Angel White
For a fascinating pumpkin patch photoshoot, would like to stand out from the gaze orange patch? Put on a white outfit. While white isn't a traditional fall hue like brown or beige, it does add a touch of refinement to your ensemble. If a white monochrome outfit isn't your thing, switch to a cream shirt for a more versatile mix and match option.
With a sophisticated beige felt hat and white ruffle shirt, you can't go wrong. It just appears to be feminine and elegant. Just like dream!
Cozy Poncho
source: momgenerations.com
Looking for a last-minute pumpkin-picking look? A poncho can come in handy. What could be more fall tastic than donning a warm poncho and feeling like a cuddling bear to welcome the start of autumn?
Naturally, the poncho looks stunning with tight leggings and ankle boots. Wear animal print if you want to apply a little edge to your look. Believe it or not, you could find yourself wearing it more than you thought!
Quirky Overall Look
To be honest, I'm not a huge lover of overalls. Yet, there are always exceptions, and sure, we can be especially funky and lively on pumpkin patch day! Is this just me, or overalls are such a sensible and comfortable option, imagine we'll stroll and might hop around the vast field to choose your perfect pumpkin. Throw a sleek black turtleneck shirt beneath to make you appear like the most elegant country girl in the patch for a less childish grown person look. Triumph.
I feel like a child again whenever I put on the overalls. If you're looking for a true mood enhancer to welcome the arrival of the fall season, this is it!
Go Retro
source: pinterest.com
To those fashionista A-listers out there! If you're tired of the same old pumpkin patch outfit, it's time to step up your game with some striking throwback styles! That being said, it's time to dig out your grandmother's large collar flowery tea dress and polka dot black tights to turn this year's pumpkin patch day more memorable.
Orange Pumpkin
Would you like to know what color matches with the pumpkin patch? So, let's have an orange monochromatic outfit that expresses your fervent love for pumpkin? But, seriously, an orange minimalistic look isn't as frightening as you may think! You'll be alright if you experiment with different textures and colors to generate dimensions.
Floral Fall!
source: whimsysoul.com
When I guess of fall, I think of strong mustard shades like sunflowers and the beautiful orange tone of a Halloween pumpkin. I wanted to include all of those fall elements into my ensemble, but in a way that is useful despite the weather. By incorporating fall colors into your wardrobe, you can give a snapshot of fall while wearing an outfit that fits the scope of scenarios.
Same-Pitch BAE
Why not go matchy matchy with your loved ones if you wish double excitement? You can find a plethora of fantastic designs for customized shirts on websites or the nearest store. The Halloween 2021 theme tee shirt is a great idea, and it's so flipping cute.
Alternatively, work up a clothing code with your gal buddies. You don't have to go overboard with your outfit; a pristine white turtleneck shirt and a matching beanie will be enough to turn heads. You won't be sorry if you undertake these pumpkin patch photoshoots. After all, girls just want to have a good time!
Take Away Treat
source: inspired-beauty.com
So, ladies, now you have it! Best pumpkin patch outfit ideas that are as comfortable as they are beautiful and fashionable! I know I'm theatrical, but I believe dressing up for the pumpkin picking is a lot of fun. After all, remembering to enjoy simple things is a way of life.