Australia is blessed with golden sandy beaches and there are many beach towns that are dotted along the east coast of the country. Australia is not particularly known for mountains but it does possess a large number of bushy mountain areas that are also national parks and provide some wonderful scenic views to enjoy. 
It is hard to enjoy both beach and bush on a single holiday, but a road trip visiting multiple towns and national parks will give the average traveller some time in both. A campervan hire from Sydney is the perfect way to explore on a road trip as you get both accommodation and transport all together while only having to unpack once. 
Blue Mountains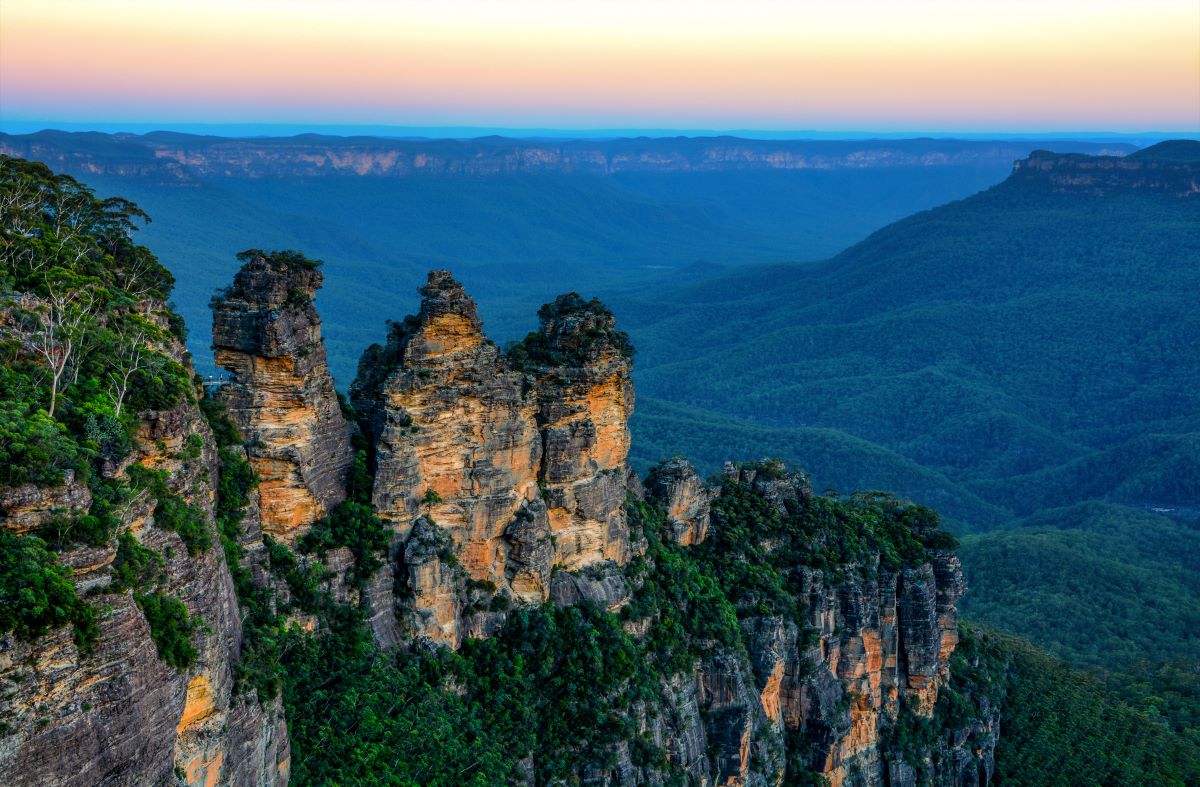 Start by heading west of Sydney to the small town of Katoomba in the centre of the Blue Mountains. This is the perfect base to explore the area, see some great scenery and do some of the bushwalks in order to get a feel for the land. 
 Katoomba is home to the Echo Point Lookout from which you can view the three sisters, the ruined castle, Mount Solitary and the Jamison valley.  It is also home to the Scenic Skyway which is a cable car that runs over the Jamison valley and offers views of Katoomba falls and valley below through its glass floor. There is also the Scenic Railway which is an incline railway that runs to the valley floor below along one of the steepest rail lines in the world. 
The entire Blue Mountains National Park is full of bushwalks to explore, but from Katoomba there is a selection that is easy to do that take the traveller through the local bush area. These walks include: 
Scenic Railway to Ruined Castle – 12km 

Prince Henry Cliff walk – 7km

Dardanelles Pass – 5.3km

Katoomba Falls – 2km

Federal Pass walking track – 7kms

The broad walk from Scenic Railway – 2.4kms
There are several caravan parks in Katoomba along with many restaurants and cafes to enjoy, so staying a few nights is quite easy.
Jenolan Caves 
By road Jenolan caves are some 74kms away from Katoomba. The caves are the largest and best known limestone cave system in Australia. This cave system was carved out by flowing water through the soft limestone rock and there are multiple show caves with walk ways that are setup for people to view in comfort. You can also view non show caves on a cave adventure tour where a guide takes you through the caves with only headlight or torch to show the way. Cave tours book up fast so be sure to book in advance. 
At Jenolan you can also do the river walk which has views of the river, lake, waterfalls and suspension bridge. You can also swim in water holes along the walk if the temperature is warm enough for you.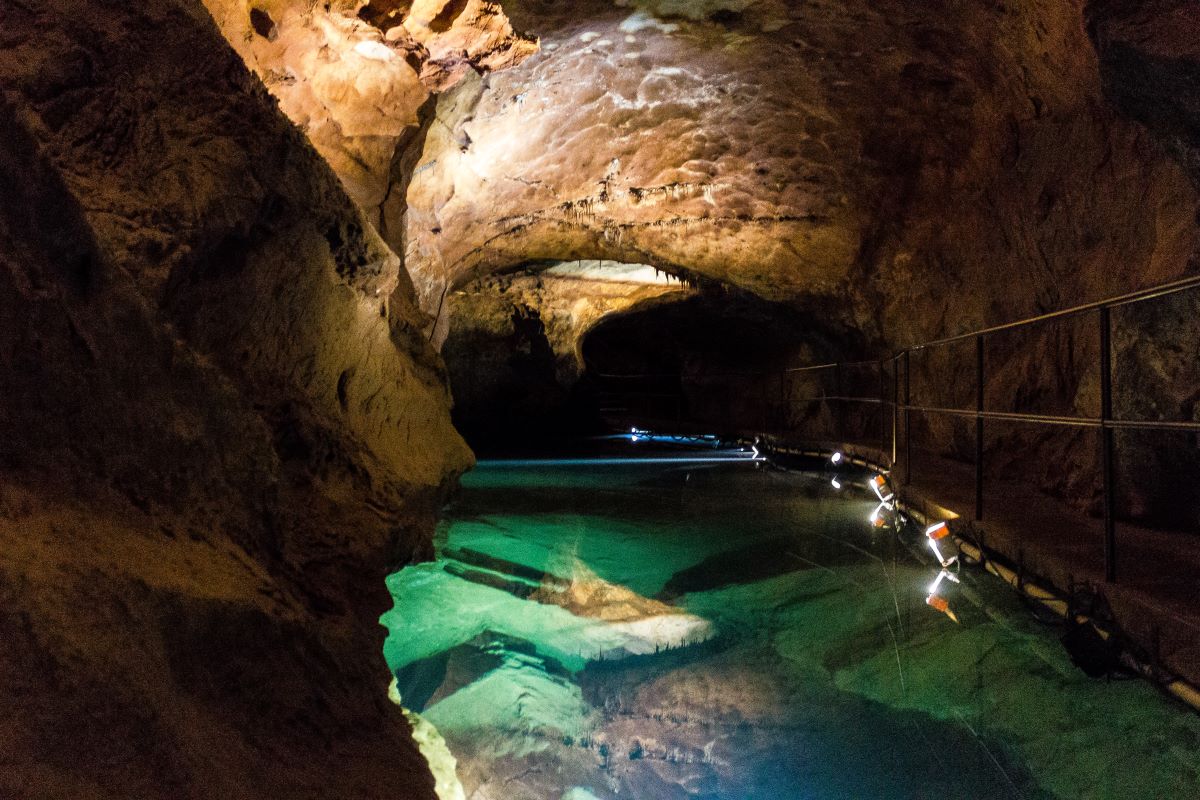 Wombeyan Caves
Heading towards the south coast of New South Wales you can also stop at the Wombeyan Karst Conservation Reserve. There are multiple limestone show caves to visit at Wombeyan and a few bushwalks to enjoy. The caves can be enjoyed as self tour caves or on a guided tour and are also considered some of the best in the state. 
Wombeyan also provides camping for those wishing to stay the night. 
Jervis Bay 
It is a 3 hour drive down to the Jervis Bay on the coast from Wombeyan.  Jervis Bay is a great spot to experience beautiful beaches and water activities. Jervis Bay has some 16 white sand beaches for the holiday maker to enjoy with the best well known being Hymas Beach.  With so many beaches it is possible to find a quiet beach with perfect white sand to enjoy some time on with just you and your family. 
The Bay itself is a marine park which is home to dolphins, seals, fairy penguins and passing whales. Jervis Bay provides for plenty of marine activities including kayaking, stand-up paddle boarding, swimming, surfing, diving and sailing. You can take whale & dolphin watching cruises, sunset cruises or a passenger tour around the bay. 
Jervis Bay is also surrounded with National Parks so there is plenty of bushwalking to enjoy and some great coastal scenery to explore. The township has multiple caravan parks to choose from and plenty of cafes and restaurants to sample.  Jervis Bay is a good spot to spend a few days at the beach.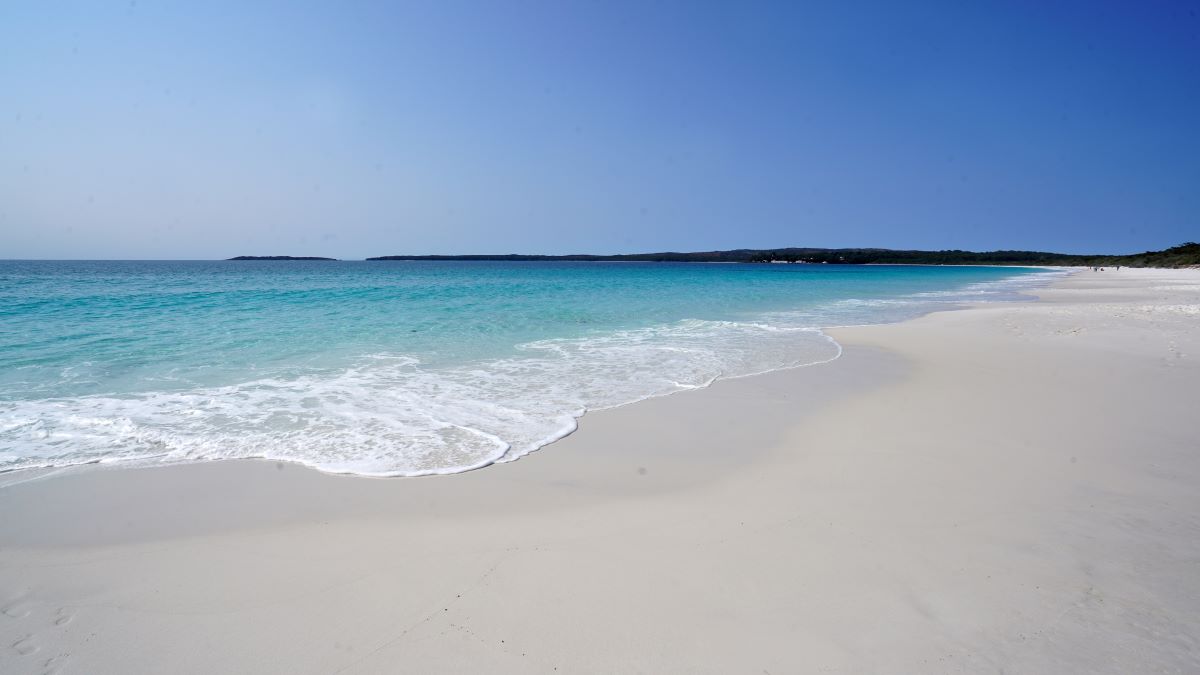 Eden
Travelling south down through the Sapphire Coast region there are many little towns to visit and explore. Lots of these towns offer great beaches and experiences to enjoy. The town of Eden is the last town on the Sapphire Coast and offers a rich whaling history, a deep water port, and great beaches to enjoy. 
As a deep water port Eden is home to a commercial fishing fleet as well as being a destination for cruise ships to visit when passing. The port was also home for a whaling fleet in the past with up to 30 whaling boats having worked from Eden at one time. To learn more about the whaling history in Eden visit the killer whale museum. 
Eden has a several beaches that you can enjoy, Cocora & Bungo beaches are south of the headlands and have quieter waters which are more family oriented. North of the Headlands is Aslings beach which is more exposed to the open ocean and a more popular surf type beach. There are also some very good walks around Eden including the headland walk from the Claw to the Rotary Park and also Story Trail from Cocora Beach to Brierly lookout. 
The town of Eden is surrounded by Ben Boyd National Park to both the north and south of town. The national park offers plenty of bushwalking and amazing coastal scenery. You can also visit Cape Green Lighthouse for views both north and south along the coast. 
Kosciuszko 
Some 2.5 hours west of Eden we arrive at Jindabyne the heart of the snowy mountains. The Snowy Mountains with Kosciuszko National Park is a great tourist destination year round. During the winter season there is plenty of skiing to be had and one of the many ski fields including Perisher, Thredbo, Charlotte Pass and Corin Forest. 
During the summer months the cool mountains of the snowy region are a paradise for the adventurism type people. Many of the ski resorts have mountain bike trails and hiking trails to explore and you can also explore the high country. The rivers and creeks are running well proving white water rafting and kayaking opportunities. There is also a great deal of clean water creeks to enjoy and explore across the mountains. The summer is fly fishing season for those who are keen fishers and there is also rock climbing to enjoy for the climbers.  
Summary 
This self drive trip through the Blue Mountains and then down along the Sapphire Coast and back up to the Snowy Mountains offers both some great beach destinations and some wonderful mountain and scenery to enjoy. From the Snowy Mountains you can return back to Sydney. The amount of time you require for this holiday depends on how much time you have. It is not a long road trip but covers some many areas with different scenery that you could spend quite a bit of time exploring. Visit Live Enhanced for more ideas.