The housing market continues to slow down in 2023, but homeowners are still looking at ways to add value to their homes and make them more enjoyable and usable for their families. As people continue to spend more time outside, they are turning to exterior home improvements like decks to create outdoor living spaces, add aesthetic appeal, and create more privacy. Check out these six top home decking trends for 2023.
Decks as Outdoor Living Spaces
The "deck as an outdoor living space" trend has been popular for years and shows no signs of slowing down. Bringing your indoors outside is a fantastic way to spend more time with your family, and it's also the best way to entertain guests at your home.
Professional deck builders can design and build the perfect outdoor space for your family, and you'll be able to have more amenities outside than you ever imagined. Start by visiting a showroom or scheduling an estimate to explore your options. 
Outdoor living rooms with fireplaces, televisions, and comfortable seating are popular, as are outdoor kitchens and grilling areas. Sadly, many people don't use their decks very often because they are poorly designed, so you should contact the pros for assistance. They have the expertise to help you create a living space that your whole family will enjoy.
Mixed Materials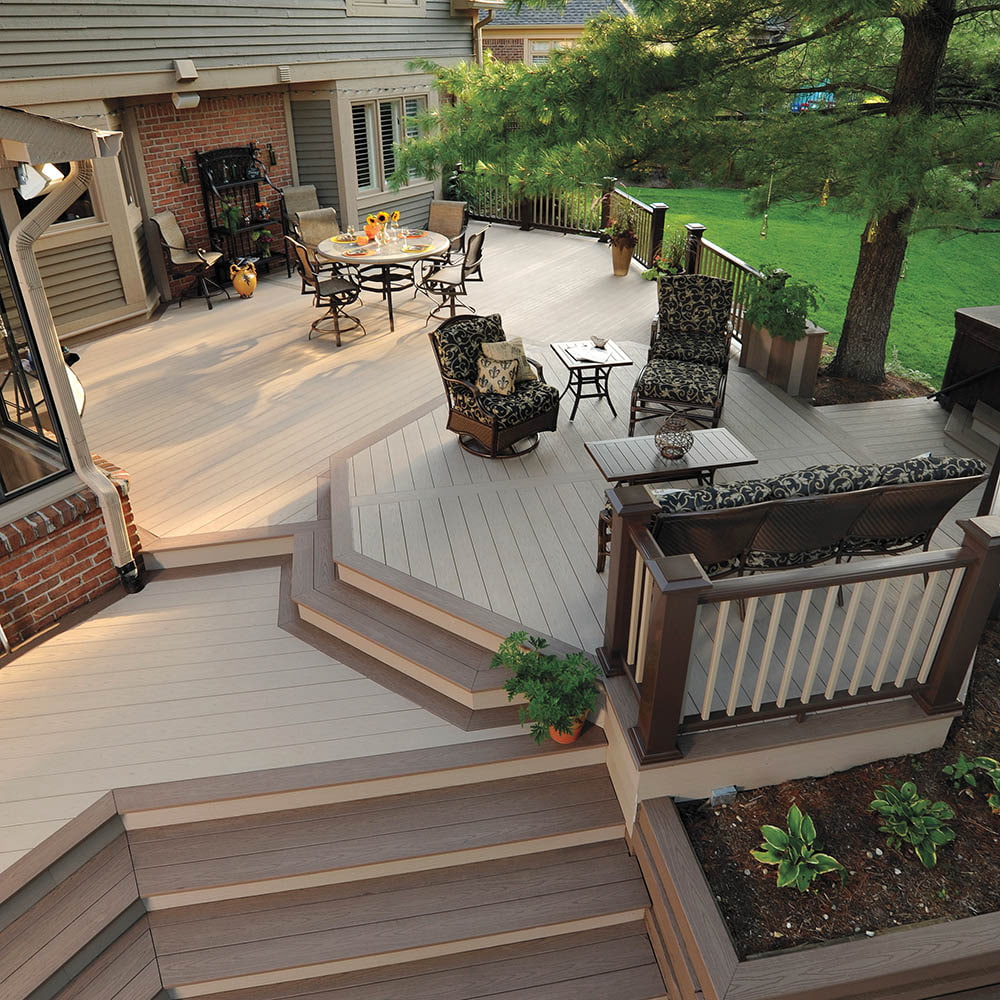 source: pinterest.com
One of the hottest deck trends in 2023 is using mixed materials. Like mixed media art, using two or three different types of materials to build your deck can create stunning visual effects.
There are many ways to combine different types of decking materials. For example, you can combine composite decking, metal, and wood in various ways to create unique designs. For example, add metal railing or winding staircases, use wood for deck seating or pergolas, or combine composite and wood decking to create multi-toned decks. The choices are endless and limited only by your imagination. 
Sleek Railing Designs
Modern minimalist design is popular indoors and out, and sleek railing designs are the perfect way to finish your deck. When you want to keep your deck open and maintain your view, use a minimalist railing style. 
With minimalism, it's all about keeping everything as simple and open as possible. Find the perfect composition of sleek railing by choosing from styles like cable railings with narrow posts or glass railings that provide an uninterrupted view from your deck. Wire mesh railings are another new deck trend, with many choices available. 
Remember that neutral colors, textures, and natural materials will help create an inviting atmosphere when aiming for a minimalist design. You can achieve clean lines by focusing on the open spaces and letting in natural light. Use minimalist-style furniture to complete the look.
Metal Privacy Screens
source: pinterest.com
According to the Nature Conservancy, people are spending more time outside. Today, people feel more comfortable in the seclusion of their backyard than sitting on the front porch waving to their neighbors, like they did in the old days. 
These days, the trend is toward privacy, and metal screens are a great way to retrofit your existing deck to make it feel more private. Metal privacy screens with laser-cut designs come in various colors and styles. You can use free-standing privacy screens with three or four panels or attach them securely to your deck railing. In addition, some ready-made privacy screens come with a stand and can easily be moved to where they are needed most.
Roof Decks
In new construction, architects continue to add roof decks to their designs for buildings with flat or partially flat roofs. Rooftop decks are highly sought after because they add overall visual appeal to a house, and like all decks and porches, they add usable space to your home. Using the roof is an excellent solution when you don't have space in your yard for the deck you want.
Roof decks are excellent for entertaining guests, and they provide a bird's eye view of your neighborhood. Of course, all decks add value to a home, but because rooftop decks are rare, they offer an even bigger return than most, especially when they offer a stunning view.
Contact a professional deck builder if you're considering adding a rooftop deck to an existing building. Roof decks are more complicated to install than other types of decks, and you should rely heavily on the experience of a professional. You also might need a special permit.
Deck Lighting
source: pinterest.com
Over the past few decades, outdoor lighting has taken a front seat in exterior design. Today, there are many types of deck lighting available to create just the right ambiance on your deck. Whether adding lighting to an existing deck or incorporating lighting into a new deck design, you can choose from many types.
Recessed LED lighting has gained popularity in recent years and will continue to be used because it offers many benefits, like putting the light where you need it the most. Plus, it looks great.
Expect new deck lighting trends for 2023, including outdoor wall lights and smart security lighting. Railing lights are another hot trend in deck lighting, offering new ways to enhance the aesthetic appeal of your home at night by illuminating architectural elements like rails and posts.