COVID-19 continues to spread faster than a wildfire and a number of infections and casualties are increasing day-by-day. The only way to tackle this calamity is by becoming socially aware and maintaining a good self and home hygiene. Cleanliness can defeat this strain of virus once and for all, and the only way to contain this virus is by changing our cleaning habits for good. There are many areas in our home where these viruses can rest and stick to our hands and ultimately find their way to our lungs. These viruses are often found in heavy traffic rooms such as bathrooms and frequently used décor elements such as glass shower doors.  
Why is Cleaning Bathrooms So Important?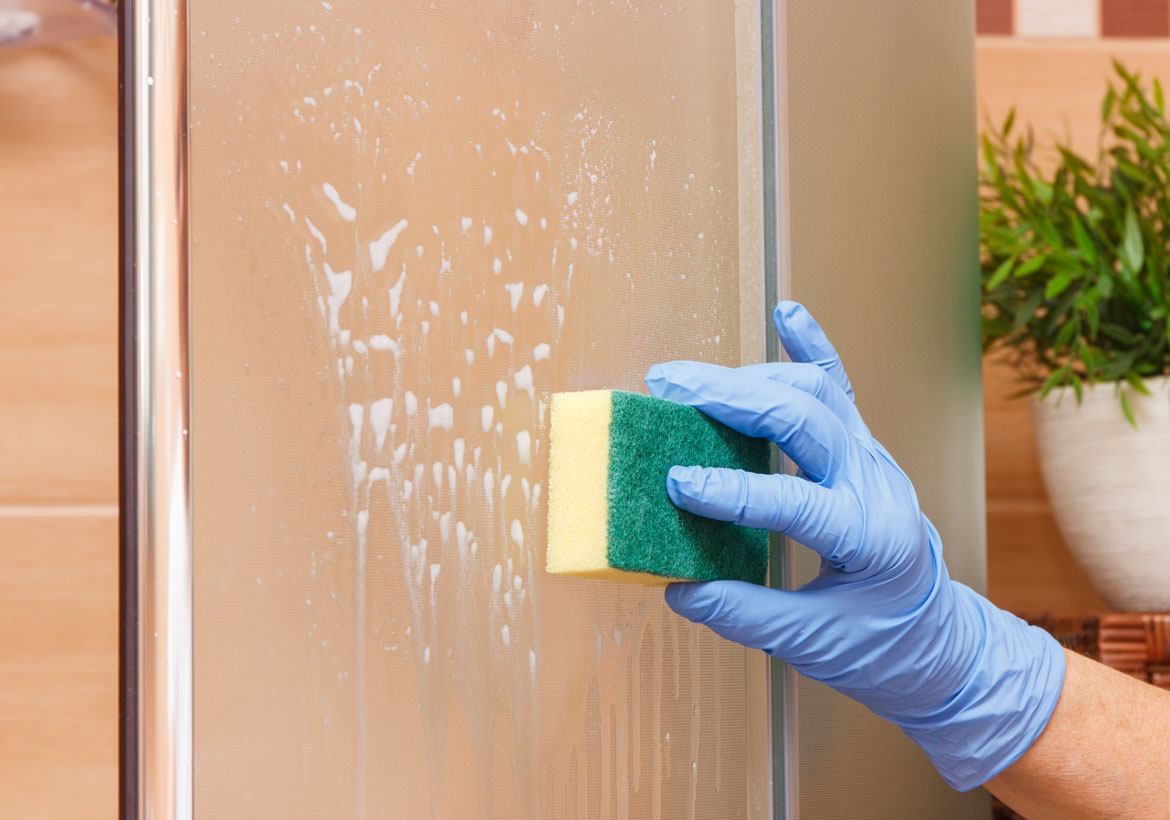 source: sebringdesignbuild.com
The bathroom isn't made for one and is used frequently by several family members and guests. That's the reason why regularly cleaning the bathroom is of utmost importance. Especially during the days of the COVID-19 pandemic, homeowners must clean the bathroom even more frequently. It is our moral obligation to protect and safeguard our loved ones and being socially aware and maintaining good hygiene has become our duty. 
Frequently cleaning bathrooms can help protect our loved ones and play a key role in containing the spread of the virus within the home. The COVID-19 is highly dangerous because it is incredibly infectious and it infects the patient without a warning and remains in the host for several days without showing any critical signs. During these initial days, the virus is spread rapidly among friends and family members of the infected person, and maintaining healthy and clean hygiene is the only way to stop this disease. 
How to Clean Bathroom Floor Tiles?
Regularly cleaning bathroom tile flooring can help maintain its beauty and lustrous appeal for long. Grout and bacteria accumulate on the tile surface and it's best to sweep and vacuum bathroom tiles daily. Mopping the floor with warm water and vinegar solution is one of the most popular tile maintenance and cleaning techniques. For stubborn stains, a mixture of warm water and scouring powder in equal amounts can be used to remove the stubborn stains. It's best to leave the solution on the tiles for a good 10-15 minutes before cleaning it with a brush and warm water.  
Similarly, a homemade solution of water and ammonia works the best for cleaning the mildew off bathroom tile flooring. While a kerosene oil damped cloth is perfect for removing the rust stains and maintaining the sparkling beauty of tile flooring. Lastly, it is also essential to clean the small gaps and crevices in tile flooring and it can be done effectively with the help of a baking soda, pencil eraser, and bleach. 
How to Clean Glass Shower Doors?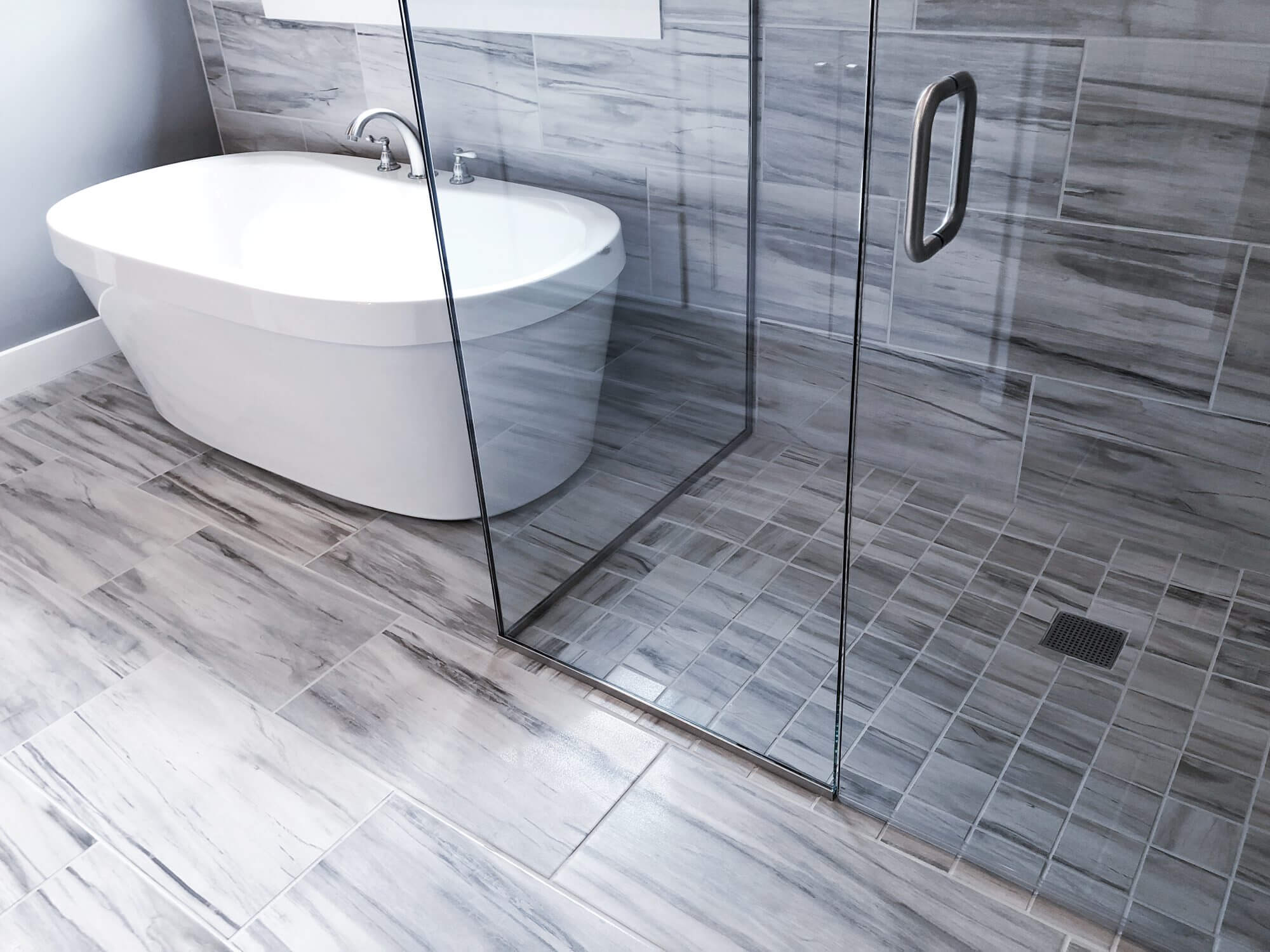 source: meredithcorp.io
The glass shower door is the heart and soul of a contemporary bathroom space and is both a functional and decorative décor element. Cleaning a shower door is immensely important as it's always in plain sight and is used frequently. This makes cleaning these doors crucial as a dirty door could home many bacteria and viruses including the COVID-19. Cleaning shower doors isn't as tricky as it seems and the best way to maintain the beauty of this delicate décor element is to keep it dry. Regular cleaning with a sponge and squeegee and deep cleaning once in a while is all it takes to maintain the sparkling beauty of the shower door.  
Most importantly, you don't have to go out and buy expensive cleaners to maintain a glass shower door. Homemade cleaning solutions work the best for cleaning bathroom glass and effectively removes stubborn stains and soap scums. Commonly, an equal part dish soap and vinegar are used to clean the soap scum, and it is recommended to let the solution sit on the glass surface for 20-30 minutes before cleaning it with a microfiber cloth or paper towel. Ammonia is also used to clean soap scum and a solution made with borax/baking soda and water is also highly effective. 
Importance of Cleaning Hand Washing Basin
In the days of the COVID-19 pandemic, everyone is requested to clean hands frequently with soap or use hand sanitizer.  Everyone in the family now visits the hand washing basin more frequently and uses their hands to turn on and off the faucets. This makes frequently cleaning the hand washing basins more and more important. There's nothing extra you need to clean the hand washing basin and all you need is a soapy water solution and a microfiber cloth or paper towel. For better protection, it is recommended to spray the sink or hand washing basin with a disinfectant and let it air dry for a few minutes. 
How to Clean the Bathtub?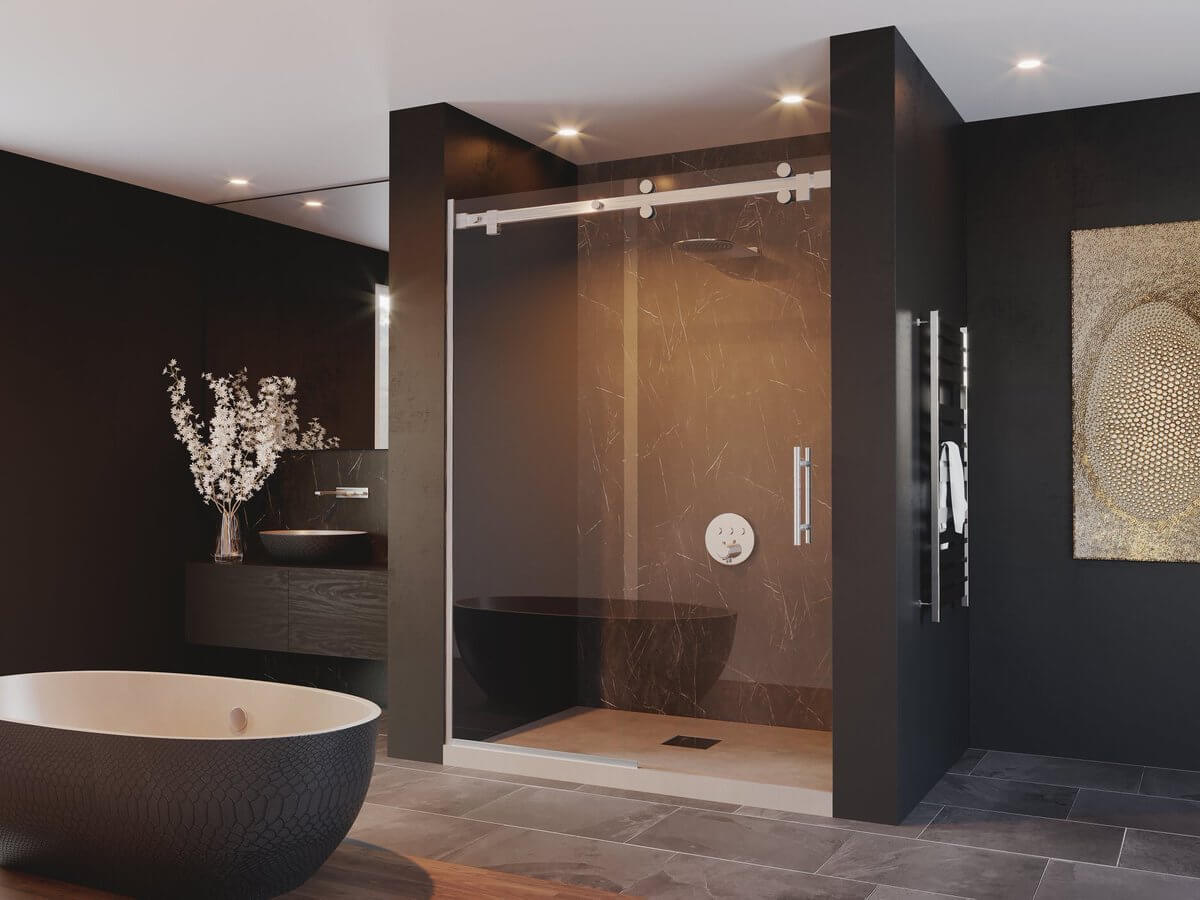 source: pinterest.com
The beauty of the bathtub lies in the whiteness and the sparkling shine of its surface. Besides aesthetics, cleaning the bathtub is also essential for hygiene purposes. Dirt often hides in the whiteness of the bathtub and gradually builds a dark layer over its surface. That's the reason why frequently cleaning the bathtub with water and squeegee is immensely important. All it takes is a few minutes to restore the sparkling shine of a bathtub and all you need is squeegee and dish soap solution. A soft scrub brush or sponge can be used for tougher stains and sprinkling baking soda over the tub surface is also a great way to clean deeper stains.  
Cleaning Bathroom Shelves and Cabinets
Similar to the glass shower door and bathtub, the bathroom shelves and cabinets also need to be cleaned frequently. There is nothing extra you need to clean the bathroom shelves and the same solutions that work on shower doors can be used to clean glass shelves and cabinets. The shelves and cabinets are used countless times daily and to maintain good bathroom hygiene, it is mandatory to clean these shelves frequently. Not to forget, these shelves aren't just functional décor elements and also serve the purpose of a decorative décor element and that's the reason why it is utmost important to maintain its lustrous appeal and sparkling shine.