Marvelous Italy attracts visitors who want to explore its gorgeous scenery, distinct culture, and gastronomical delights. This gorgeous Mediterranean land's diverse gastronomy offers a plethora of famous and traditional must-eat foods.
A myriad of popular Italian delicacies and cuisines, both sweet and savoury, await your discovery during your visits to Italy. These traditional Italian foods are strongly ingrained in Italian culture, and recipes are frequently passed down through generations and treasured for their true roots. Here Live Enhanced explore iconic food to eat in italy.
Lasagne
source: eatsmarter.com
Lasagne is an oven-baked pasta dish made up of layers of sheet-shaped pasta alternating with cheese and/or bechamel sauce, tomato sauce, various meats (typically ground beef or pig, or a combination of the two), and vegetables (zucchini, spinach). The "white" version of lasagne is made without tomato sauce, whereas the vegetarian version is made with zucchini or spinach instead of meat. Lasagne is often a home-cooked dish with countless variations depending on area and local culture.
Pizza
No doubt, Pizza is the most iconic food of italy. Pizza is an oven-baked, flat, usually round-shaped bread topped with tomato sauce, mozzarella, olive oil, and potentially other toppings. In general, there are two types of pizza: Neapolitan pizza, which is somewhat thick on the outside edge and resembles flat bread, and Roman pizza, which is considerably thinner and crispier. Neither of the two resembles the type of pizza often found in the United States.
Risotto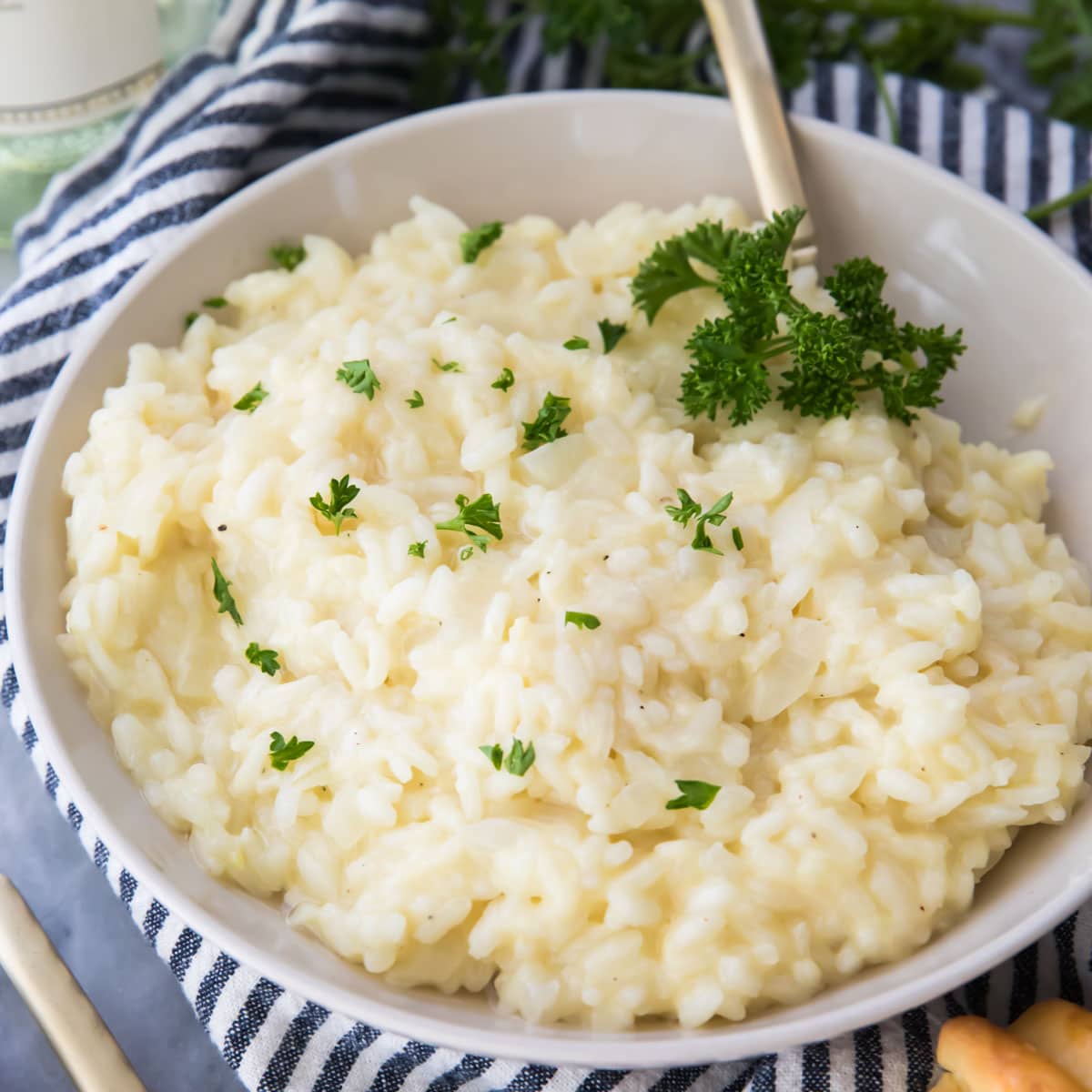 source: sugarspunrun.com
A bowl of creamy risotto topped with the goodness of mushrooms. A nutritious bowl of mushroom risotto has more benefits than you would imagine. It is a high protein source, a potent antioxidant, and even has cancer-fighting abilities. This mushroom risotto recipe is excellent, in addition to being simple and quick to prepare! Excellent for feeding a hungry mob!
Carbonara
It is feasible to visit Italy and eat nothing but pasta. We know because we've done it ourselves. But, if there is one bucket list pasta that everyone should have at least once, it has to be carbonara (we realise this is debatable – feel free to share your desert island pasta in the comments). This recipe appears to be easy – spaghetti, eggs, pecorino cheese, cured guanciale, and black pepper – but mastering it takes a lifetime, and a good one will boost your mood. There are numerous imposters, such as those that thicken their sauces with milk or use bacon instead of guanciale, but there are no replacements because the difference in taste is huge.
Arancini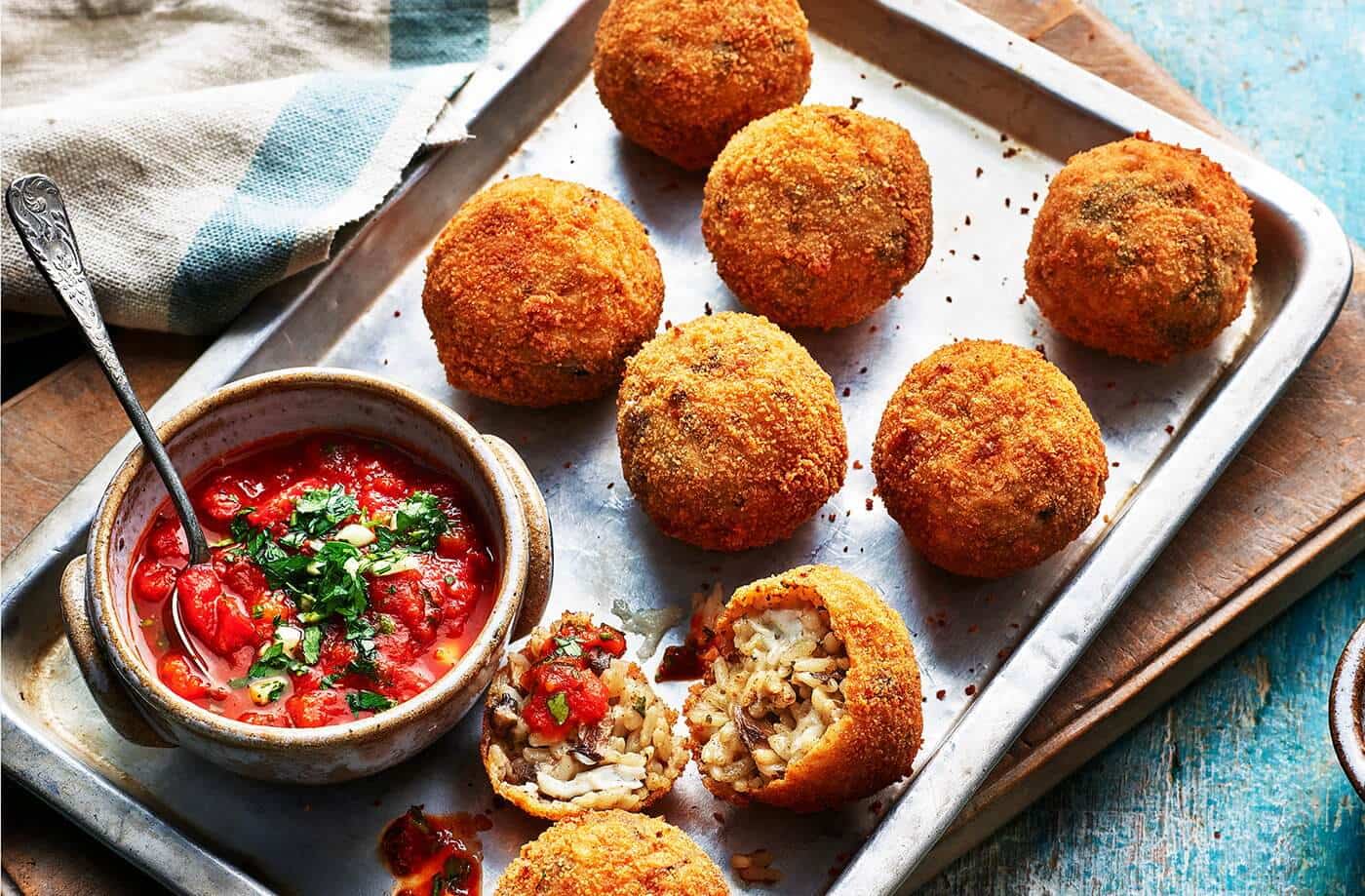 source: realfood.tesco.com
Arancini is a delicacy of packed rice balls that is crisp and golden brown. The rice balls are fried after being dusted with crunchy breadcrumbs.Typically, these rice balls are filled with ragù, tomato sauce, mozzarella, and peas. Arancini, like pasta and pizza dishes in Italy, come in a variety of regional varieties. Depending on where the meal is produced, regional specialties have a variety of fillings and shapes.
Saltimbocca
Thin slices of veal are topped with salty prosciutto and herb leaves in this meal. These ingredients are sautéed in a pan with a toothpick until the meat is done. Different types of meat, including chicken and mutton, are also used to make saltimbocca. A well-prepared saltimbocca dish promises to be a delightful dish that melts away in the mouth. This savoury treat is a must-try for locals and visitors alike in Italy.
Focaccia
source: sugargeekshow.com
In Italy, there are hundreds of different sorts of bread, and the finest one is the one cooked fresh that morning, wherever you chance to be staying. But don't leave without sampling at least a few of the many varieties that Italy's thriving baking culture has evolved over the years.
For example, you may notice that bread tastes different in Tuscany than it does elsewhere. This is due to the fact that it is manufactured without the use of salt. This is a practise that stems from feuds between Tuscany and coastal regions that dominated the salt trade and had no issue cutting off the agricultural region's supply of the once-valuable commodity. To this day, the ideal way to consume Tuscan bread is with a sprinkle of olive oil.
Spaghetti
When it comes to Italian staple meals, iconic Italian pasta is most likely the most popular. Pasta is one of the most popular Italian dishes. Spaghetti is the most popular Italian pasta.
This long and thin pasta is traditionally prepared with only garlic and olive oil (Spaghetti Aglio Olio), tomato sauce and basil (Spaghetti al Pomodoro e Basilico), minced meat sauce (Spaghetti Bolognese), cheese and pepper (Spaghetti Cacio e Pepe), clams (Spaghetti Alle Vongole), or bacon (Spaghetti Carbonara), and usually topped with grated hard Italian However, the preparation of spaghetti varies greatly from place to region in Italy. So, if you want to sample some classic Italian cuisine, go for some classic spaghetti dishes.
Gnocchi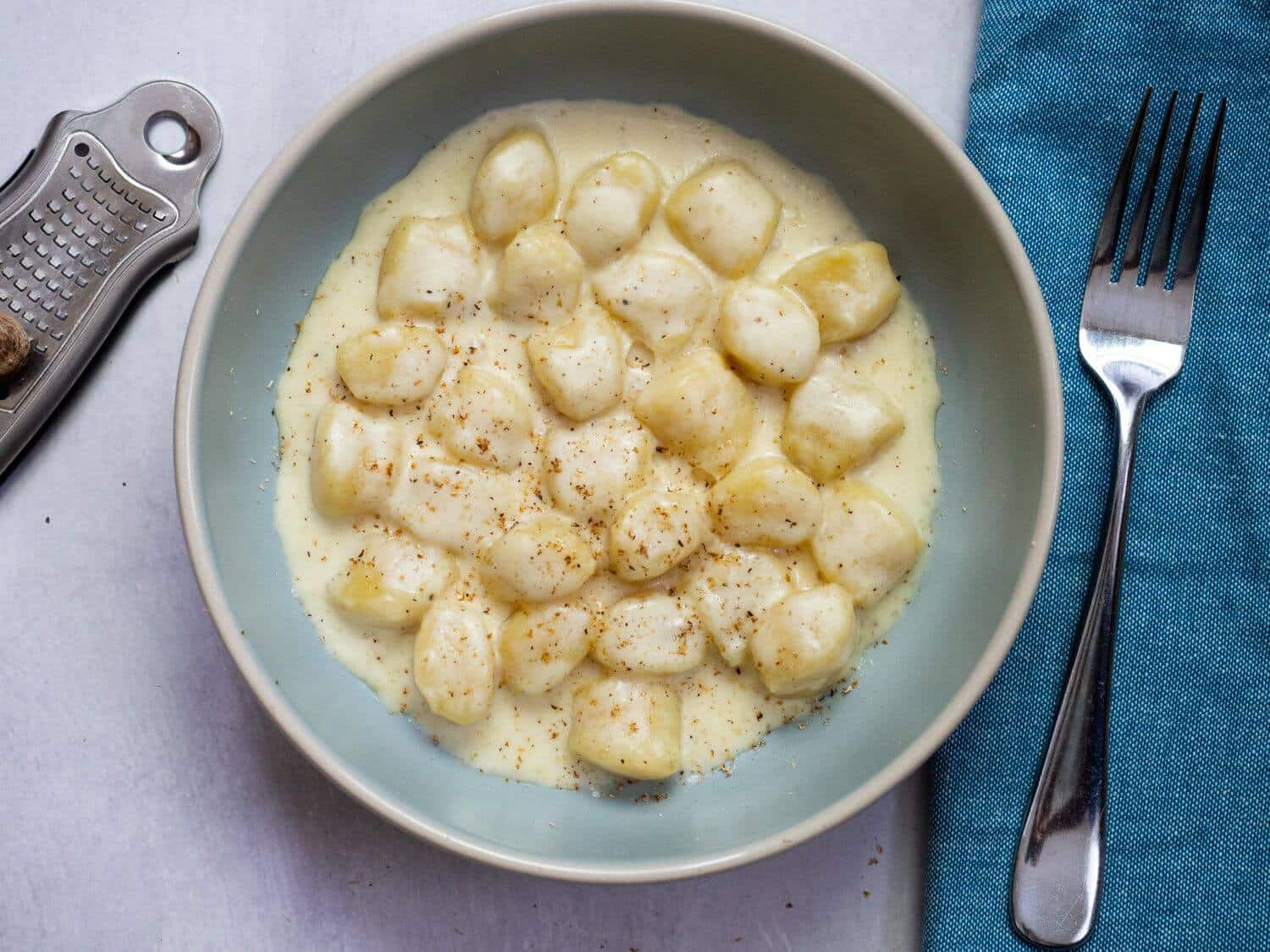 source: seriouseats.com
Gnocchi are little, thick dumplings. However, classic Italian dumplings are prepared from potatoes and cheese. However, depending on the region of Italy, they might be made using semolina, wheat flour, or breadcrumbs instead of potatoes. Gnocchi pasta is cooked in salted water and served with a delectable sauce. If you visit Tuscany or Lombardy, you should have Malfatti Gnocchi with ricotta cheese and spinach. However, if you visit Naples and the Campania region, you must have Strangulaprievete Gnocchi (priest stranglers) with a fresh tomato sauce. If you're in Sardinia, try the Malloreddus Gnocchi alla Campidanese with sausage sauce.
Ravioli
Raviolis are square-shaped pasta with a filling in traditional Italian cuisine. Raviolis are popular in Italy. Nonetheless, ravioli filling varies from place to region in Italy. The filling in Rome and Lazio is made with spinach, ricotta cheese, pepper, and nutmeg, whereas in Sardinia it is created with a cheese and lemon rid.
Bruschetta
Crispy bruschetta is a popular Italian appetiser that refers to grilled bread that has been traditionally scraped with garlic and topped with olive oil and salt.
It is sometimes topped with cheese, tomatoes, prosciutto, various salami, and veggies. The classic Italian bruschetta is made with tomatoes and fresh basil. Bruschetta originated in ancient Rome and is now available throughout Italy. In Italy, bruschette is a popular finger snack.
Minestrone Soup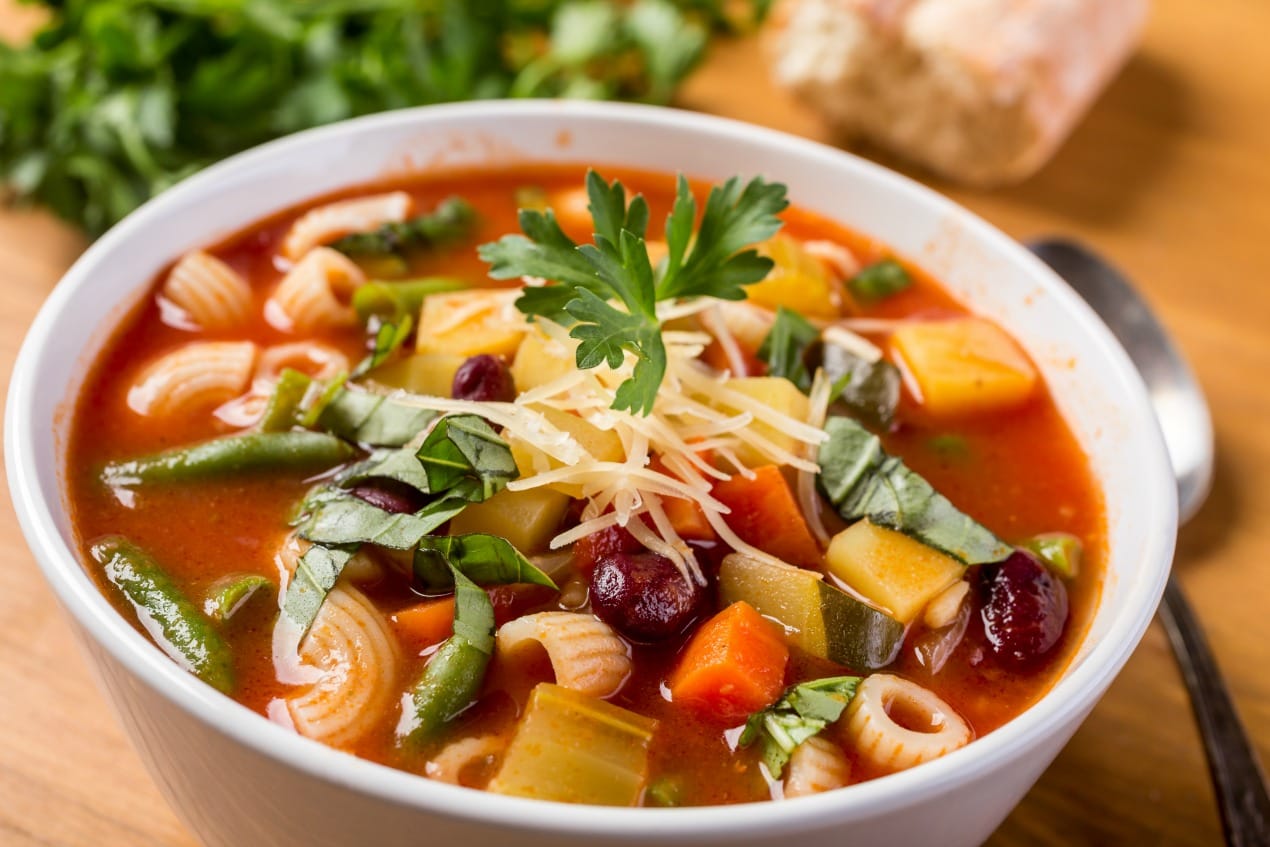 source: veggiefestchicago.org
One of the most popular dishes in Italy is minestrone soup. Minestrone is a hearty vegetable soup cooked with pasta, grains, and a tomato-based broth. Minestrone is often made using hearty vegetables in season, such as beans, potatoes, tomatoes, celery, and carrots. Technically, there is no set recipe for Minestrone soup because it is often made with leftover veggies and may or may not include meat. Classic Italian Minestrone soup, like Pasta e Fagioli and Pasta e Ceci Alla Romana, is a brothy and substantial soup.
Tortellini
Tortellini are popular button-shaped pasta stuffed with meat, cheese, nutmeg, and egg and cooked in water before being stir-fried with sage and butter and served with broth. This well-known pasta is from the Emilia Romagna region. If you visit Modena or Bologna, you should try the original tortellini.
Carciofi Alla Giudia
Carciofi alla Giudea (Jewish Carciofi) Fried artichokes have been a famous meal in Italy for centuries, dating back to the 1555 Jewish ghetto in Rome. They are typically served as a first course (primo piatto). When in Rome, try the fried artichokes in the Jewish Quarter. 
Panna Cotta
source: myfoodstory.com
Finish your meals in the Italian style! Panna cotta is a gelatin-based dessert made with cream and milk. Chilled and garnished with chopped pistachios. Panna Cotta is an Italian word that means "baked cream." This is a simple and quick dessert to make for a house gathering. With just a few ingredients, you can make this Italian delicacy and enjoy it!
Frittelle
Frittelle are typical Italian doughnuts made during Carnival and originally from Venice and the Veneto region. These typical Carnival confections are spherical in shape and packed with raisins and sometimes pine nuts. They are also known as Fritelle Veneziane in Venice. Frittelle Veneziane are commonly filled with raisins and pine nuts, whilst Frittelle con cioccolata are filled with chocolate, Frittelle con zabaione with Marsala wine, and Frittelle con crème chantilly with vanilla.