Introduction 
It's a new year, and it's time for a new bag. Browsing for an accessory that you'll probably wear every day might be daunting, but it can also be quite satisfying. All bag trends for 2022 indicate being big, flashy, and making statements, and an excellent option to shift from day to night to commute to work and anywhere else.
Whether you're a minimalist or an over-the-top fashionista, the current atmosphere of wearing lends itself to striking accessories.
Look very closely at the 2022 designs we've ever seen, from the runways to the in-between seasons, to get a feel of which of them will be popular.
The 90s inspired shoulder bag
source: lifestyleasia.com
In 2022, throwback-inspired purses are here to stay. Shoulder bag types, baguettes, and micro bags, all influenced by the 1990s, will continue to shine in 2022. 
Interesting color combos, accessories like pearls and metal hardware, and of-the-moment fabrics like croc and rattan will all be featured in modern versions of this blog.
Fashion icons, such as Kim Kardashian and Beyoncé, have made statements with their shoulder bags, demonstrating the power of this small yet potent trend.
Ruche bags
source: pinterest.com
Squidgy bags, either folded or puffed, have been popular ever since the start of 2021, and they're expected to continue until 2022. The pattern began in the 1980s, but it will significantly impact our future if runways are taken into account. Many worldwide businesses continue to display stunning ruche arm candy in thier spring/summer collection of 2022!
Sparkle it up! 
We're taking advantage of this once-in-a-lifetime chance to go all-out with our arm candy because bags were completely redundant in lockdown. As a result, statement party bags abound on the runways, exuding glitz and elegance. 
We're enhancing the daily look with these bags, from studded diamonds to metallic finishes, rather than leaving these show-stoppers for special occasions. So for a style clash fit, incorporate your feathers, glitter, or sparkle accent to daily outfits.
ProTip: For brunch, wear the glittery bag with your favorite pair of jeans and tee.
Set your hands free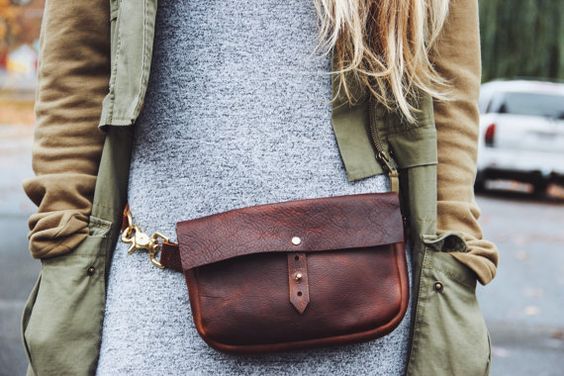 source: pinterest.com
As our lives become busier, an organization becomes even more vital, so purses designed with this in consideration are proving to be extremely popular.
The workaholic bag has a cell phone pocket on the outside and different slots for credit cards, cash, and metro tickets. It's always great to be prepared with a refined and sophisticated handbag.
With so many constraints and changing norms, travel bags will be in high demand in 2022. As the world steadily reopens, more people are travelling and exploring again, and they are seeking seamless practical solutions, large and small. In addition, these bags are fantastic for individuals who like a hands-free look.
Fur bags 
Fur bags are the perfect way to greet the year 2022. The audience likes these patterned and seasonally suitable fur bags, which you can pair with boots and oversized coats to elevate the look.
While fur is to winter what blossoms are to springtime, it appears that designers have put their heads together to reinterpret the iconic material in a way that feels new, modern, and necessary for the colder months this year.
The mixture of leather and fur allows you to use this accessory as a style statement, which shines brightest when paired with a little back dress.
Slouchy clutch 
source: pinterest.com
This new slouchy clutch style will only get bigger and better in 2022! This clutch simply adds to your entire appearance, making you appear more elegant and complete. This effortless look may be worn from day to night, regardless of the legendary fashion style you choose. It is merely a suggestion from our end:- To play up the silhouette, consider neutral tones.
Save the environment 
"I believe there will be a surge in demand for leather-alternative handbags with a lower environmental effect."
As people become more conscious of the importance of environmental preservation, they are more likely to choose environmentally friendly bags. For individuals, sustainability is more important than just a trend.
Mushroom leather, waste plastic, cactus leather, and Junes are some of the fantastic leather substitutes that brands use to produce amazing bags.
Crochet bags will take over 2022 
source: hearstapps.com
Crochet will be a big trend in 2022, so start with a gorgeous knitted purse. This bohemian style has us daydreaming of concerts and beach days, and it's a proven way to add extra summery-ness to your all-over appearance instantly. 
It's vibrant and diverse, with a '70s touch, as shown on the Acne and Chloé catwalks, with rainbow colours and whimsical fringe. Pair it with denim cut-offs or skinny jeans to make the rest of your outfit essential and allow the bag to take center stage.
Gone are the days when you could get by with just one black bag to get you through the year's changes in seasons. So, opt for this new trend and style in your way. 
Cloud chain bags 
One of the most popular bags from the previous year is still on our minds and will continue to be popular in 2022. The chain-handled bags are beautiful and substantial. 
The bag is also beautiful because it is connected to a bold metallic chain with a sturdy chain to sustain the bag's complete structure. This loosely structured cloud bag with larger chains and more room makes it look appealing.
This bag is ideal for semi-formal occasions, as it can accommodate a compact diary, a makeup purse, wallets, and most basics.
Bubble bags will make you nostalgic(yet again)
source: shopify.com
Quilting elements into a bubble effect seems to be another vintage style from the 2000s that will provide a playful twist to your favorite "comfy" items in 2022. Maison Margiela and Bottega Veneta have polished these cushioned items with puffed, tufted bags and inflated, woven heels. 
Choose a gear bag with a sophisticated texture and a luxurious material to distinguish and make a statement in such bubble bags.
Color popped bags
From the previous year onwards, colors have become quite popular. People are drawn to brightly coloured items. From shoes to lipsticks to handbags, there's something for everyone. 
This season, brightly coloured bags are also in high demand. These bags are available in practically every brand and are pretty stylish, making them ideal for setting a season's trend. 
You can purchase one that meets your needs and then pair it with clothing and shoes that contrast. Color-popped bags bring a feeling of fun and individuality to your look.
Tote bags 
source: pinterest.com
There are purpose tote bags that keep showing up in the best accessory season after season: they're reliable, fashionable, and large enough to hold both your favorite eyeliner and blush.
Designers have substantially increased their tote bag varieties to cope with the popularity of the latter items since the launching of the first tote bag. In addition, brands have started putting distinguishing features into their traditional bags, no longer content with simply monochrome styles.
Our top styling recommendation is to match it with monochrome, minimalist outfits, which will give the new-age bags the spotlight they deserve.
Pillow bags 
According to a bit of birdie, Pillow bags may be the comfiest bag trend for 2022. Pillow-style handbags, which were soft and airy, were all over the runway. Whether as everyday totes like those seen at Balmain or as small handbags like those shown at Chanel. 
Whichever route you go, it is the clearest and most straightforward bag trend for 2022.
Pillow bags are indeed the one fashion trend that really can help you reach your goals in 2022 if your New Year's resolution is to have more sleep while still looking trendy.
Wrapping up! 
Here's a complete roundup of top trendy handbags that you must have in your wardrobe to nail it in 2022. Bags are among the most stylish accessory that helps you elevate your overall look.