Cuckoo clocks often bring to mind that cuckoo sounds. The childhood memories may evoke a touch of the cuckoo clock. The modern cuckoo clock is more art-decorated, minimalistic. It is inspired by Japanese arts. There are many panes of the white gorgeous wood house with the art of birds and popping out the side or stylish front. Check the new age of cuckoo clocks with these well-designed homes at Live Enhanced. 
Like pyramid-shaped clocks – Stylized birdhouses, grandfather clocks, Instead of a closed clock case, two-dimensional facades, different versions of a cube – the designs achieve a maximum effect with refined minimalism. This type of collection includes natural wood with the grain, just as it includes cuckoo clocks in white, black or pink. 
What is the best brand of Cuckoo Clock?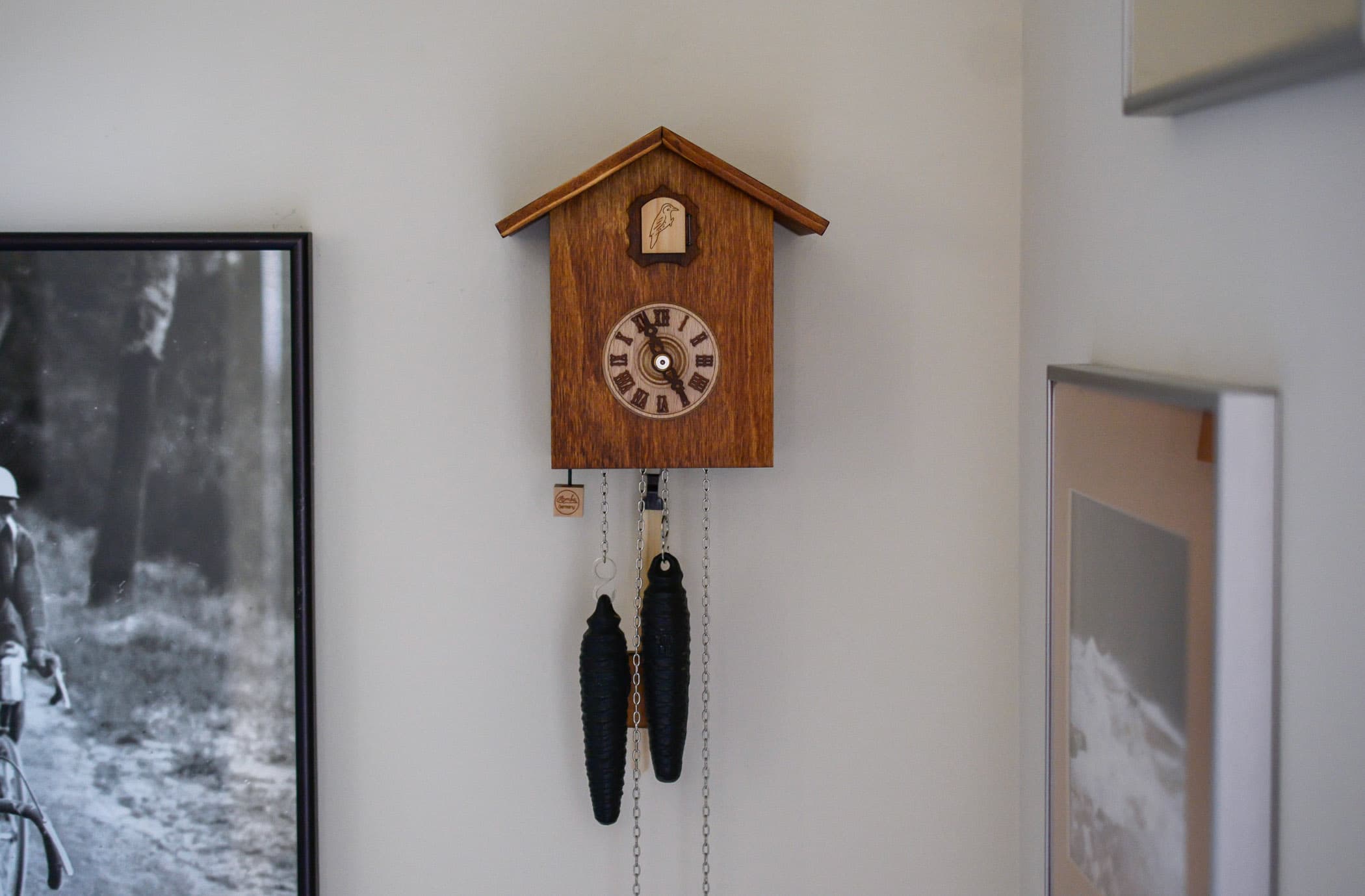 source: stackpathcdn.com
Adolf Herr -When it comes to the word that what is the best cuckoo clock, the answer should be just Adolf Herr.  This cuckoo clock has a traditional and chalet style. And it is the sixth-generation clockmaker. 
Why are cuckoo clocks so expensive? 
The contemporary Cuckoo clock is made by German master carvers. This cuckoo clock has a feature of complex carving work, which makes the clock a piece of art rather than a piece of time. 
 Unfortunately, as the U. S Dollar decline the value of the cuckoo clock, the price of the clock expanded day by day. So it is partially responsible for high prices. 
Different types of cuckoo clocks:-
Haoshi X Cuckoo Clock: It looks like a cuckoo flew in the white clock. It is perfect for the front of a room that has a simplistic mailbox design and quirky bird feature. 
Modern Muji Cuckoo Clock:  Modern Muji cuckoo clock is basically silent in the dark or white-colored. This cuckoo clock design is the best example of a kitchen.
Muji White Cuckoo Clock: In your minimalist living room these cuckoo crows are on the hour and peeping out of a white House. 
source:flymee.jp
Modern Minimalist Cuckoo Clock: Minimalist cuckoo clock formed in a light-wooden, simple frame. This clock made minimal with painted numbers over the chirping of the cuckoo. 
Lemnos Men's Pace Cuckoo Clock: A  masculine design in the cuckoo clock would suit the hippest of bachelor pads. In a silver stencil home of the imagination, the Silver painted numbers meet silver steel hands. 
Minimalist Cuckoo Clock: This cuckoo clock has a perfect partner for the Scandinavian interior. This is a unique white-and-wood creation mix of the kitsch and the cuckoo in two simple shapes.
Station Cuckoo Clock: This clock adds color in numbers in that art decoration. Like a modern cuckoo clock on amazon, Its large-format digits and cuckoo at 12 suit in the kitchen area. 
Minimalist Turquoise Cuckoo Clock With Pendulum: Turquoise with cuckoo and pendulum in the same hue turns your bedroom so unique.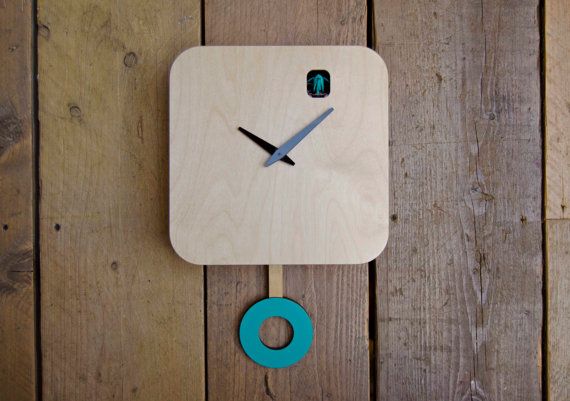 source: pinterest.com
Modern Birch Plywood Cuckoo Clock: With this antique mid-wooden clock swing into the '70s for your living room or kitchen. It seems a hollow pendulum and a waiting cuckoo from the plywood clock. If you prefer to have a wooden clock don't forget about the Modern Birch plywood cuckoo clock. 
Light-Wood Walkabout Cuckoo Clock: A oblong that gives way to a bird just waiting to circle.  Hang this quirky cuckoo on your kid's bedroom wall and them the time with fun. 
Meridiana Cuckoo Clock: With this ruby red cuckoo make the room more dramatic. It is a simple monochrome house shape that could treat your front entrance more delightful. 
Portobello Clock: Portobello clocks are the slickest interiors, inspired by the cuckoo clock. This marble frontage would sit best atop a chimneypiece. 
Minimalist Glossy Cuckoo Clock: You need a Fancy clock that looks more like a mirror? This kind of simple mirror clock makes the cuckoo minimalist.
Ettore Cucù Clock: This square clock with this modern design with a house on top. There is three different colour matches and its palette adds the chirp back for any bedroom.
source: etsystatic.com
Colorful Cuckoo Clock: This colorful rainbow cuckoo clock drape a shape and a fitting find for a white wall. The pendulum swings silently behind a cuckoo, that sits above simple black hands. 
Mondrian-Style Cuckoo Clock: Take a style prompt from the power system, with this clock named Mondrian. While a black pendant adds subtle sway the cuckoo chirps in blue. This piece of contemporary cuckoo wall clock plays a mid-century modern clock with convenience. 
Modern Geometric Cuckoo Clock: Add the modern geometric cuckoo clock, the colorful creation to your study or library if you want a preference for the geometric. 
Modern Colorful and Playful Jellies Cuckoo Clock: With this fun, clock add some pops of colors to clean the white kitchen. A cuckoo pops many times, out of its center. Keep following Live enhanced for more such types.
Monochrome Dual-Time Cuckoo Clock: This cuckoo clock showing two time zones. In a monochrome living room, simple white detailing and two cute cuckoos find friends. 
source: teknodate.com
Volume Adjustable Modern Cuckoo Clock: This is a personalized clock that is hand-crafted with adjustable volume. This clock is wood finished. Its politeness broadens to silence from 10 pm–6 am, more than a pretty face. 
Cuckoo Clock With Lights, Sound & Motion: Want a clock with whistles and bells? This clock lights up the whole house and rings the chimes twice when the clock turns twelve and six. 
Diamond Shaped Modern Cuckoo Clock: Black and white modern draped chain, is anything but a chip off the block. A diamond-shaped cuckoo clock announces its time in an artistic boudoir.
These modern cuckoo wall clocks designed to put through the sleekness. At the same time, they draw on the richness of tradition in a stylistic manner. The modern cuckoo clocks can be combined with different types of decoration and it provides a unique focus in the house. The people who prefer something special, these are just the right thing for them.