As it is considered one of the most gorgeous cities in the world, Barcelona can offer people who visit it, plenty of entertainment and joy. It is a dream of many to live in the capital of Catalonia. Agency Spain-Real.Estate can help you find the developers in Spain who will help you create the perfect house for you and your family. But if at some point you will be tired of the hectic life in megapolis, you can always come to one of the little towns, which are scattered along the coast near the city. Here are some of the most interesting ideas for you.
Sitges
source: pinterest.com
Located in thirty minutes drive from Barcelona, there is a unique town called Sitges. Once it was a little fishermen's village, now it is a picturesque haven. Sitges hosts a carnival in February-March and a film festival in October. It is considered to be a center of culture for Catalonia. Some people refer to it as Saint-Tropez of Spain and Ibiza in miniature. The beaches of Sitges received blue flags awarded by the EU, meaning that they have in fact really clear water. A couple of these beaches:
La Playa de Sitges

Playa Balmins

Playa de Sant Sebastia

Playa del Hombre Muerto

Sausalito Beach
Blanes
source: pinterest.com
Blanes is one more place worth-visiting quite close to Barcelona. The town is antique and you can visit a couple of ancient cites there, like castles, basilicas and abbeys. Firework festival that takes place in Blanes is also an event that you can enjoy while staying there. There is the Festa menor which is a family celebration in mid-August. People walk an eight-mile trek with family, children and even pets. The reward is a memento and a slice of watermelon. If you want to enjoy the nature even more, than you definitely should visit Botanical Gardens there.
Lloret de Mar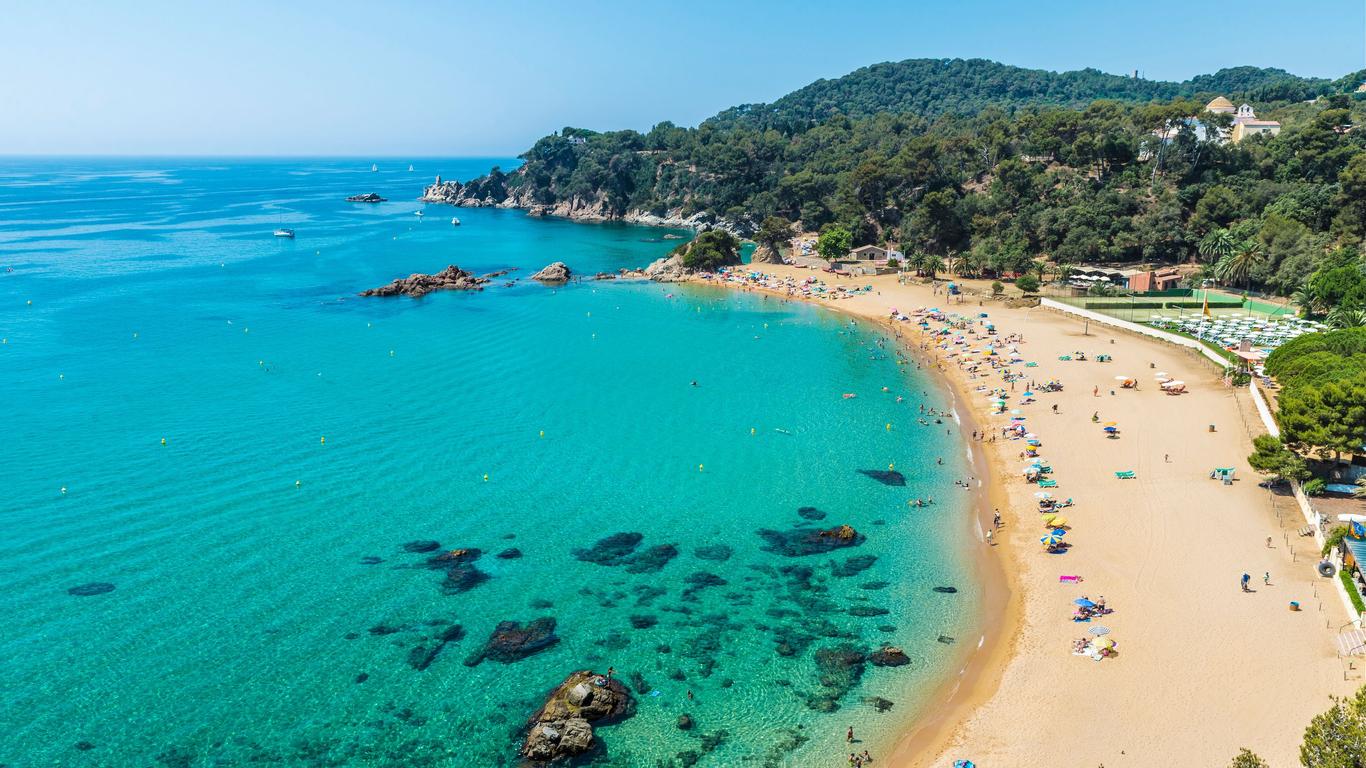 source: pinterest.com
Fancy observing ancient chapels and sanctuaries? Maybe you want to dive into the history of sailing across the Atlantic or learn about fish-trading? Or is it the Rally Costa Brava that you want to attend? Your town of choice is Lloret de Mar. A combination of narrow streets with shops selling antique and wide beaches with sand as white as snow – Lloret de Mar has something to offer to every picky traveler. Here we will mention just a couple of events that take place in Lloret de Mar and we highly recommend visiting:
The Mediterranean International Football Cup

The Medieval Fair

Tirada a l'Art
Tarragona
source: pinterest.com
Tarragona is a town that has long history and thus has preserved plenty of ancient monuments, specifically of the Roman times including walls, the citadel, the Amphitheatre and the Necropolis. This town is also famous for being close to the PortAventura World, the most visited theme park in Spain. Some people decide to come to Tarragona when there is a Touristic Festival of national interest also known as the Santa Tecla Festival.
Salou
source: pinterest.com
Salou is a town which is mostly famous for being the place where PortAventura World is situated. It is a theme park resort that includes a luxury hotel, PortAventura Park and Ferrari Land, which are the theme parks, PortAventura Caribe Aquatic Park, a convention centre and a RV park. If you are up to a more calm vacation, then you should visit Torre Vella, the 16th century tower, church of Santa Maria del Mar or enjoy the view of the Font Illuminosa fontain.
Buying Property in Barcelona
Barcelona and its surroundings is a perfect place to invest your money and buy some property. Spain-Real.Estate agency can help you move to this marvellous place. Visit the website and have a look at some of the options that the agency offers.