Retirement is the goal of most exhausted working-class professionals. However, when the time finally arrives, you will find several challenges lay ahead.
Many seniors would agree that old age is not for the faint of the heart; aging comes with a lot of frustrating aches and pains, mobility restrictions, and health concerns. In addition, retirement is also pretty expensive; managing finances as a senior and keeping your costs low is almost always essential, even if you have been saving for retirement since the start of your career. 
But now, it's possible to give comprehensive care for elder inorder to live a high quality of life. Thanks to various advancements in medical and tech industries. Nowadays, various medical centres offers in home care facilities for elders that include qualified clinical staff specialize in providing round-the-clock elder care services. Giving medicines on time. Feeding and bathroom assistance.In today's modern world, aging in place is a popular option for senior care. Not only is aging in place affordable, but the risk of depression also decreases substantially. 
Nevertheless, if you are thinking about growing old at home instead of moving to a retirement facility, we've listed a few ways you'll need to prepare your home for aging in place. 
These minor adjustments to your home environment will make it possible to age at home safely.
Get A Medical Alert System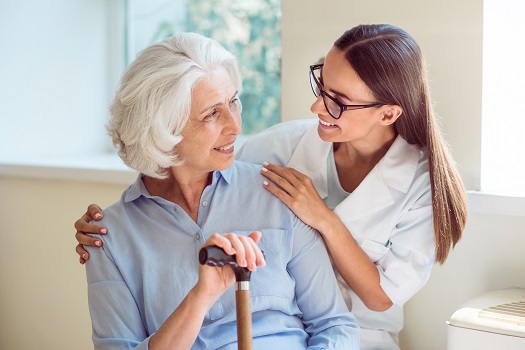 source: homecareassistancetampabay.com
A medical alert system is a valuable innovation that allows seniors to age in place safely. This technology acts as a guardian angel and alerts relevant services when they're needed the most. These wearable devices can alert ambulance services the second an emergency arises. As a result, even if you can get to the phone or a nearby wall-mounted panic button, relevant help will be on the way immediately.  
This alert system is designed to recognize emergency situations by monitoring health. With fall detection tech and other features, a medical alert system can detect falls, heart attacks, seizures, and several other emergency situations. What's more, medical alert systems are also pretty affordable. 
Invest In Relevant Home Medical Devices
source: homecareassistancecolumbus.com
Medical alert systems are not the only innovations that make aging in place a much safer option in the modern era; there are tons of home health gadgets that are valuable to keep at home. 
These devices include monitoring devices like glucose monitors, wearable health monitoring, heart rate monitors, and much more. 
In addition to medical devices, it's also fundamental to keep a fully stocked first aid kit at home. Seniors typically need more from first aid kits as well, so it's wise to customize your stock accordingly and consider pharmaceutical delivery services to keep your kit stocked all the time. 
Secure The Property With Home Security
Home security is essential for everyone, but it's even more important for seniors who are choosing to age in place. Home security often includes monitoring systems and sensors that can identify emergencies. 
The more secure you can make your home, the better. So, invest in a custom home security system with emergency response benefits. 
Install Grab Bars 
source: dailycaring.com
Seniors are prone to slip and fall injuries, so it's essential to plan ahead and reduce the risk. A practical way to do this is to enhance your environment by making it more accessible. 
Grab bars and railing can make a home significantly more accessible. With this, you should install grab bars and railings at key points in your home. The bathroom, kitchen, and near stairs and slopes are critical areas where slips and falls are more of a risk. 
Upgrade The Bathroom
The bathroom can be a substantially dangerous place for a fragile senior. Fortunately, there are ways to improve this area of your home. You can install a walk-in bath or shower and install grab bars near the toilet. 
These upgrades are a bit more costly than other home adjustments on this list, although an accessible bathroom can uphold independence as you age. Therefore, these are worthwhile home improvements. 
Add Non-Slip Flooring
Non-slip flooring pads are fairly cheap and straightforward to fit where needed. It's best to place these in the bathroom, kitchen, and near stairs. 
There are different designs on the market, so be sure to look for quality non-slip flooring pads that can reduce fall risks. 
Invest In Home Automation
source: sunriseseniorliving.com
Home automation systems genuinely can enhance everyday convenience for anyone. But when it comes to aging in place, home automation can make a quality life possible. 
These systems include things like automatic doors, windows, lights, and so much more. With this, mobility concerns won't impact your daily routine as much, thanks to heightened convenience. Moreover, you can also consider home assistance gadgets like the iconic Roomba vacuum. These gadgets will ensure you can stay on top of some household chores while maintaining independence. 
Rearrange The Kitchen
Most kitchens aren't built with consideration for things like wheelchair or walker accessibility. And these items can become essential as you age. 
It's wise to rethink your kitchen layout to make necessary adjustments; investing in a dishwasher and moving your microwave to a lower shelf can make a massive difference to your kitchen's accessibility. 
Consider Live-In Care
source: sunriseseniorliving.com
Regardless of how much you prepare your home for aging in place, there may still come a time when you need live-in care. Furthermore, a CDPAP Agency can help recipients of the program with an alternative way to receive home care. You can choose the right home health aide when the time is right. If the idea of a retirement facility does not appeal to you, live-in care is an affordable alternative.
With this, you will receive the care and assistance you need 24/7 without having to uproot your life and move to a retirement village or any other type of frail care facility. The benefits of live-in care for seniors include maintaining independence, one-on-one attention for seniors, companionship, family involvement, and ultimately, peace of mind. 
Growing old at home is an appealing choice for many retirees. But even so, it's crucial to prepare your home for your health needs as you age. But with that said, to further enhance convenience when choosing aging in place, you can also consider delivery services for household essentials, virtual doctors appointments for medical checkups, and medical delivery services for medication needs. With so much added convenience in the 21st century, aging in place is now a safe option for seniors, even when mobility issues and age-related conditions become a concern.