A vacation is a time to reconnect with yourself and your loved ones, and there's no better place to achieve this than Myrtle Beach, South Carolina's vibrant coastal paradise. This city has upheld its stellar reputation as a top tourist destination for as long as we can remember. With a wide range of activities catering to all interests, you are bound to have a once-in-a-lifetime experience there.
Given Myrtle Beach's abundance of options, it's understandable to feel overwhelmed. For this purpose, we have compiled a list of fun things to do in Myrtle Beach, ensuring you make the most of your time there. Keep reading to discover the best activities and attractions to enjoy your stay to the fullest:
Play Miniature Golf
source: pinterest.com
Miniature golf is an absolute must-try during a stay in Myrtle Beach. The city hosts an array of themed miniature golf courses that are suitable for both novices and experts. For example, at Captain Hook's Adventure Golf, you can play golf amidst pirate ships and hidden treasures. For families with young kids, this is the perfect choice.
However, if you are in the mood for a tropical getaway, Paradise Adventure Golf is the place to go. Upon arrival, you will feel as though you have been whisked away to a remote island. This course provides a relaxing and visually stunning experience for players of all ages.
Enjoy Live Shows
Entertainment venues have always been plentiful in Myrtle Beach. Many of the live shows in Myrtle Beach feature family-friendly content. The Pirates Voyage Dinner & Show is often singled out as the best of the live shows in the city. 
As you step into the theater, this pirate show in Myrtle Beach will greet you with a stunningly recreated pirate ship set. Throughout the show, you will be on the edge of your seat, watching the amazing cast perform acrobatics and aerial stunts. The narrative progresses with a variety of exciting battles, live animal tricks, and action-packed moments that come together to take you on an exciting pirate journey filled with high-seas escapades and romance.
Go On a Dolphin-Watching Tour
source: pinterest.com
The coastal waters of Myrtle Beach are home to dolphins. Witnessing these magnificent creatures in their natural habitat is truly awe-inspiring and results in a deeper appreciation for the beauty of marine life. The feeling of excitement on the boat is contagious. You might spot sea turtles, pelicans, and even the occasional whale, depending on the time of year.
Myrtle Beach's dolphin tours are led by knowledgeable captains and marine experts. These professionals also share lesser-known facts about the dolphins' habits and routines. Among other things, you will get insights into their elaborate social systems, modes of interaction, and how they thrive in the ocean.
For many, the highlight of the tour is capturing that perfect photo or video of the dolphins in action. The memory of these dolphins will stay with you long after the tour.
Visit Myrtle Beach Boardwalk And Promenade
The Myrtle Beach Boardwalk and Promenade is a great place to soak in the coastal charm of South Carolina. Stretching 1.2 miles along the oceanfront, it is the perfect spot to take a leisurely stroll and enjoy the breathtaking views of the Atlantic Ocean.
There is no shortage of things to do along the boardwalk. You may stop by souvenir shops and boutiques to buy amazing mementos or savor some classic beach treats like ice cream and cotton candy. And if you are in the mood for a proper sit-down meal, the place also features a host of popular restaurants.
Arguably, one of the best ways to experience the boardwalk is by catching the sunset. Depending on your choice, you could sit on one of the many benches that line the boardwalk or walk along the beach. The rhythmic sound of waves crashing against the shore adds to the overall sensory experience.
Shop At Tanger Outlets
source: pinterest.com
Shopping at the Tanger Outlets should be at the top of your to-do list whenever you visit Myrtle Beach. Located in the heart of Myrtle Beach, Tanger Outlets provides an unparalleled shopping experience. Whether you are searching for the latest fashion trends, stylish accessories, or even home decor, you will be spoiled for choice at this retail mecca.
The best part? Tanger Outlets are known for hefty discounts. So you will be scoring your favorite designer items at a fraction of the original price. No matter the time of year, you can revamp your wardrobe or find that perfect gift without breaking the bank at Tanger Outlets.
Plus, the shopping environment itself is nothing short of delightful. There are plenty of dining options and comfortable seating areas where you can take a break and refuel for more shopping adventures.
Head To Hollywood Wax Museum
If you are a fan of Hollywood celebrities, movie stars, iconic musicians, and historical figures, then the Hollywood Wax Museum in Myrtle Beach is the perfect destination for you. 
The attention to detail in each wax figure is remarkable. You will feel as if you have stepped onto the red carpet and are meeting your favorite stars in person. From classic Hollywood legends to contemporary actors, the Hollywood Wax Museum boasts several famous faces. 
Unlike traditional museums, the Hollywood Wax Museum encourages interaction with the exhibits. You may pose arm in arm with your favorite actor, stand behind a podium giving a speech alongside a historical figure, or even recreate famous movie scenes with your friends and family. 
The location of the Hollywood Wax Museum provides unparalleled convenience. For tourists who might not have access to a vehicle, the Hollywood Wax Museum is a breeze to reach by public transportation or even on foot. Many hotels and resorts offer shuttle services to popular attractions, and the museum is often on the list of destinations. Alternatively, if you are staying along the beachfront or nearby, you can take a leisurely stroll to the museum and enjoy the scenic views of the Myrtle Beach Boardwalk along the way. 
Conclusion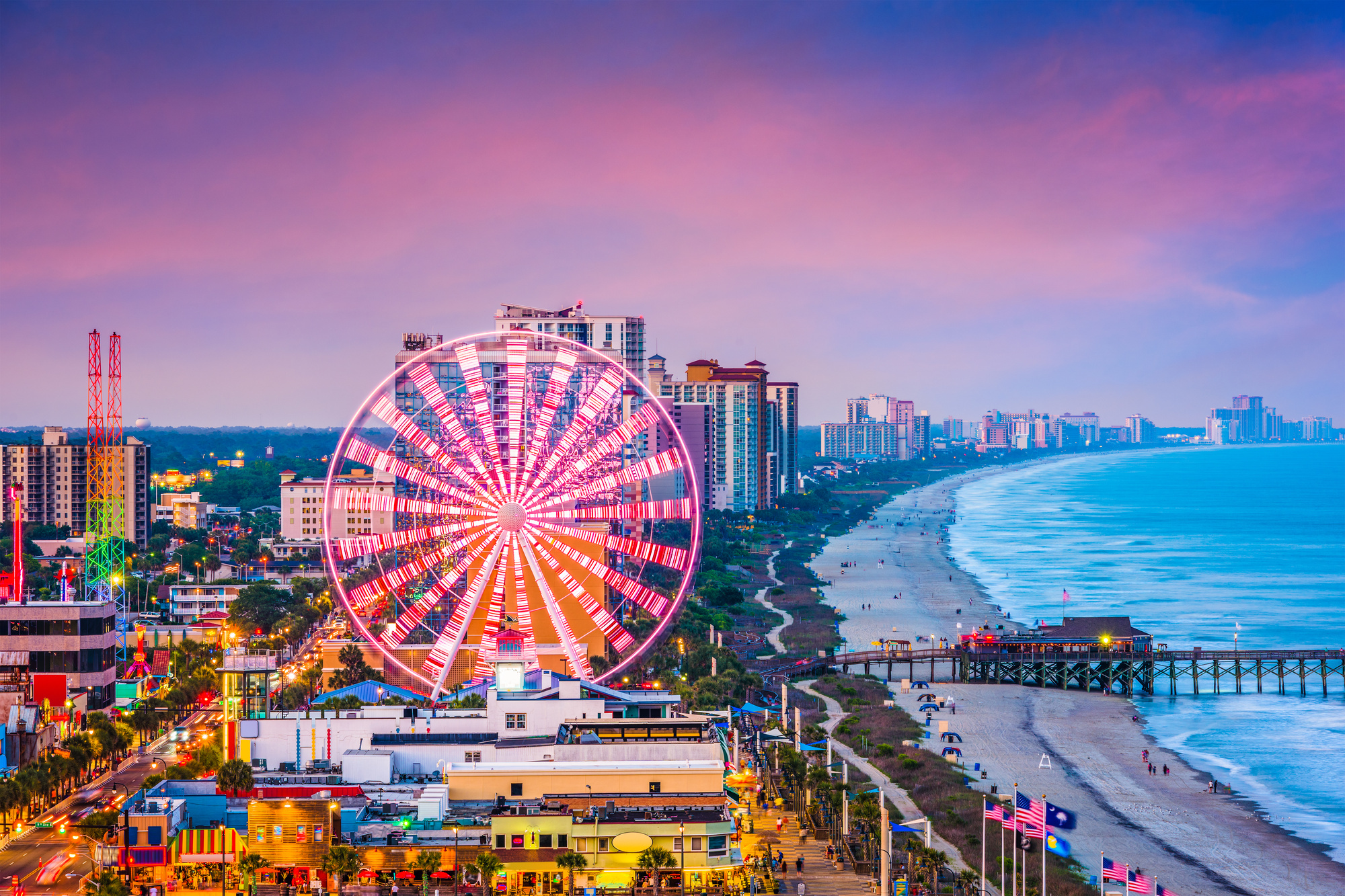 source: pinterest.com
Discover the perfect escape at Myrtle Beach, a popular destination among travelers. This coastal paradise offers a mesmerizing coastline and lush green spaces. If you're planning a getaway to Myrtle Beach and want to ensure an unforgettable experience, look no further than the activities and attractions listed above. These exciting options will help you embrace the beauty of the city and make the most of your vacation!