You may have your reasons why you want to track someone's cell phone location. In the list, one thing is clear, you want to follow a cell phone, but the user is unwilling. Now, modern technology has enabled a lot of people to track cell phones without notifying the target. We will look at the best five ways that apply to both Android and iOS devices. In the end, you will have the best apps in mind to get what you need.
Track a Cell Phone Location without Them Knowing with Spyier
One of the best apps that will hide your intentions is the Spyier monitoring solution. This is an app with more than 30 tracking features on it. It achieves tracking large chunks of data without being detected through the stealth mode feature.
That is why millions of people have chosen it as their favorite tracking app in more than 190 countries. What stealth mode does is that it hides the icon after setting it up. That way, Spyier works in the background while delivering the data in a secure cloud online.
One of the features of this software is location tracking ability. It tracks a phone, whether Android or iOS, in real-time. You also get to see all the other previously visited places. Spyier also allows you to set up restricted zones using the Geofencing option.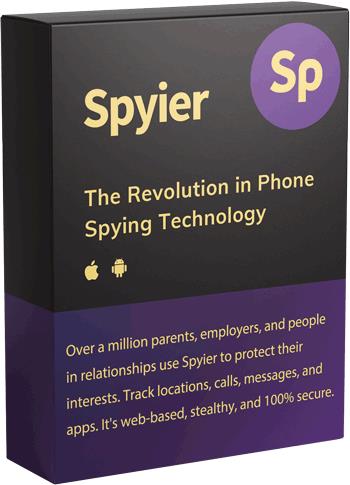 Later, you can get alerts whenever the targeted user goes to the marked zones in your email. In Android, you can also track the cell phone using the SIM Card. Spyier has this feature, which tells you all about the SIM Card and its location too.
To use all of these and more in Android, you have to install it once from Spyier website. The location information will then appear in your account, which you can access online. Before tracking, make sure that the device has OS version 4.0 and above.
In iOS, everything from registration to tracking is done online via Spyier's website. You don't need to download or install anything when tracking an iPhone. It uses the iCloud login details to follow it. It's compatible with all devices supporting iOS 7.0 or later.
The online dashboard in your account works with all browsers. That means you can view the tracking updates using any smartphone, tablet, or computer. Working with Spyier is very simple since it does not demand to root or jailbreak.
So, the targeted phone remains as it was even after the setup. Next, it does not store the tracking data and other information in its cloud. It only uses it as a syncing medium. Therefore, you are the only one who can access it when you log in to your account.
Here is how you can use Spyier to track a cell phone location without having it.
How to Start Tracking a Cell Phone using Spyier Application
Step 1: Visit the Spyier website and sign up for an account. Next, select the targeted phone's OS to continue.
Step 2: Choose the best plan for your tracking needs and go ahead to make a purchase. You will then get a confirmation email immediately after the transaction. It will have a receipt and other essential details. If you chose Android in step 1, you will also get a download link.
Step 3: For iOS, once you see the email, login to your account, and verify the targeted phone's iCloud ID. Next, select the device you want to track and wait for the synchronization.
Step 4: For Android, use the sent link in the email to install Spyier on the targeted phone. Make sure you activate stealth mode to hide the app's icon. After that, finish installing and login to your account using another device.
Step 5: Once you re-access your account, you will see the dashboard with the phone's summary, which contains the phone's real-time location.
To view the full map, use the 'Location' feature on the left menu.
Track a Cell Phone Location with Spyic
Another tracking application that your target will not know about is Spyic. It can track both Android and iOS devices in real-time without rooting or jailbreaking them. You also get to see where else your target has been to.
Spyic also includes the Geofencing option that allows you to set up the restricted zones. It will notify you via email once the target visits those areas. There are other features on Spyic as well that are quite useful in addition to your tracking information.
You get the whole package the moment you register and set it up on the targeted phone. Androids need a one-time installation before seeing the results remotely. In iPhones, Spyic will use the iCloud credentials to track.
You only need to verify them on the website after registration. The tracking information is shown to you via the web-based dashboard in your account. It's fully compatible with all browsers.
Track a Cell Phone Location with Cocospy
Cocospy is another application that can help you track a cell phone without notifying the user. Millions of people have already used it in more than 190 countries. It has a lot of features on it, and that includes the ability to track.
Cocospy has the location feature, which shows you the real-time location of the phone and the previously visited places. There is also the Geofencing option if you want to impose any movement restrictions.
You get all of these and more via a dashboard in your account that works with all browsers. In Android, you have to install Cocospy once before getting the results online. For iOS, you only need the target's iCloud login details to proceed.
For more information about tracking, check out Cocospy's website.
Track Cell Phone with Minspy
TheMinspy application also uses stealth mode to hide as it tracks a phone. After that, it will reveal the details in your online account. You have to register, though, to get started. This tracker can track both Android and iOS devices.
In Android, Minspy works with all devices with OS version 4.0 and above. Once you install it once on the targeted phone, you will not need the phone anymore.
For iOS, it's compatible with all iDevices with version 7.0 or later. Here, you only need the target's iCloud ID to track the phone.
The control panel hosting the location details is compatible with all browsers. So, you can log in anywhere, at any time, to check on the proceedings. You also get the Geofencing specification here without any rooting or jailbreaking.
Track a Cell Phone with Spyine
The last one on the list goes to Spyine application, which also includes a location tracker and the Geofencing option.  Both features apply to Android and iOS devices. You don't need any rooting or jailbreaking tricks to use it.
In Android, you have to install the application once before getting the tracking information remotely. In iOS, it tracks using the iCloud credentials only. After the setup, you can log in anywhere to get the updates as long as you have an internet connection.
Conclusion
Many apps can aid you in tracking phones. However, not all of them will give you an undetected tracking session all through. That is why we gave our opinion about the five apps above at live enhanced.
If you are in doubt, you can try one of them. Spyier is one of the best examples to try out here. Once you see how it works, the next thing will be using it where you need it most.