In order to provide homeowners with great options, flooring manufacturers have innovated and upgraded the materials they use over the years. If you're looking for flooring that's both durable and affordable, laminate or vinyl are great choices. As well as mimicking authentic wood, tile, and stone, both are available in a variety of styles. So how do you determine which would be best for your home?
There is some significant difference between vinyl flooring and laminate flooring. The best way to decide which to install in your house is to take into account the needs of your house and the room you're re-doing. It's important to consider factors such as whether the surface is waterproof or comfortable to stand on when you make a purchase.
To make your right purchase, get an overview of the differences between vinyl flooring and laminate flooring, as well as the pros and cons of each type.
The Vinyl Flooring: What Is It?
source: pinterest.com
Vinyl flooring is composed of several layers that work together to create a long-lasting, waterproof surface. It has a solid vinyl core with a patterned vinyl layer and a wear layer on top. These synthetic materials improve your floor's moisture resistance by allowing water to rest for extended periods of time without posing a threat. 
Vinyl flooring used to be limited in terms of design options, but vinyl has been improved to various designs and patterns for a more modern and appealing appearance. When compared to laminate flooring, vinyl gives a bit more design diversity; vinyl floors may imitate not just wood but also stone and ceramic floors.
Types of Vinyl Flooring:
Here are the following types of vinyl flooring:
Plank flooring: This type of flooring is rich, textured, and looks like hardwood flooring without the high price tag. 

Tile flooring:  Vinyl tile flooring has the appearance of marble or another classically tiled floor.

Sheet flooring: Vinyl sheets are easy to maintain and are well suited for large spaces.
Benefits of Vinyl Flooring: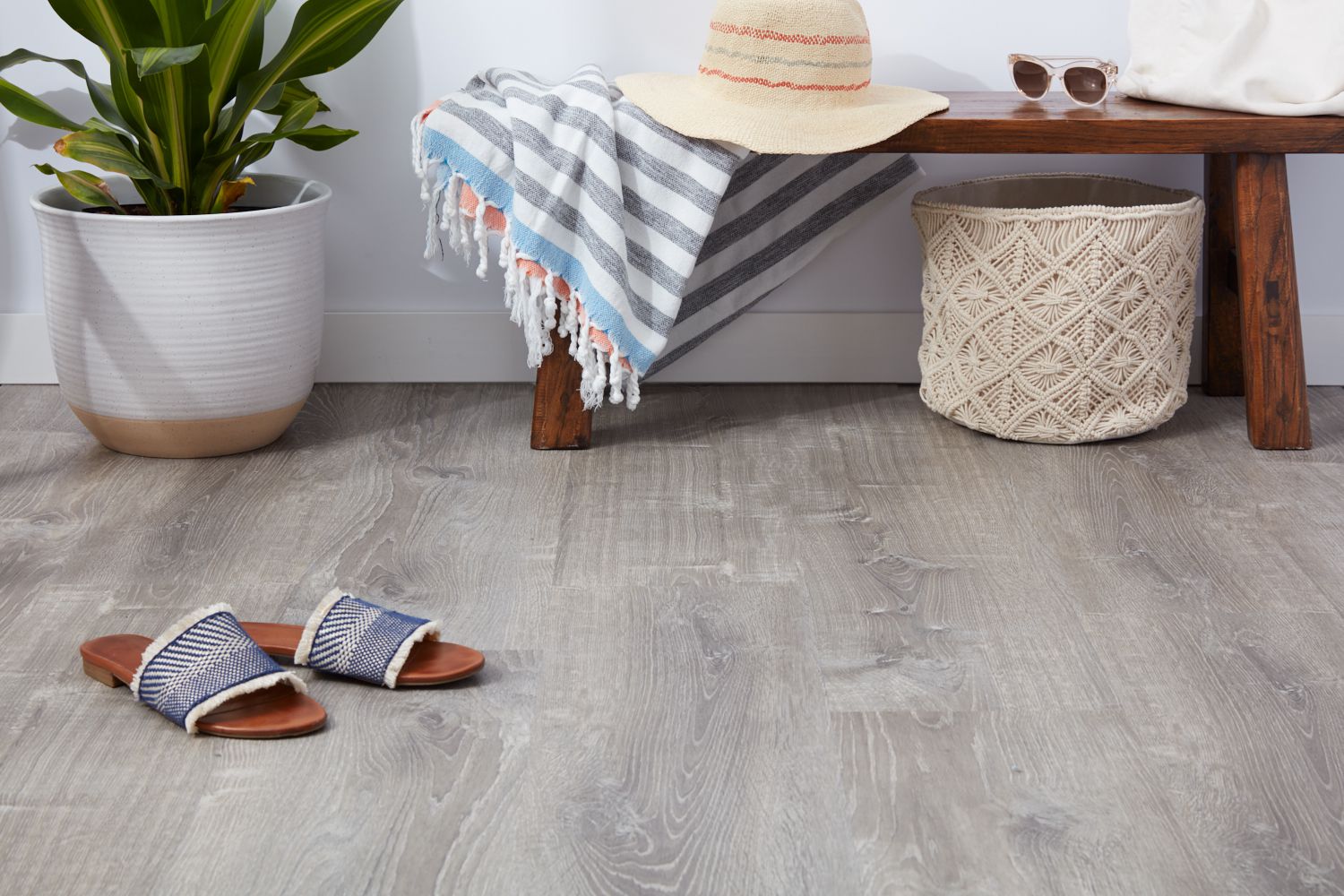 source: thespruce.com
Here are the following benefits of vinyl flooring:
Easy to install 

Water & Stain Resistant

Durable & Low Maintenance

Budget-friendly

Comfortable Underfoot
Drawbacks of Vinyl Flooring:
Here are the following drawbacks of vinyl flooring:
May off-gas (VOCs)

Not Biodegradable

Hard to repair

Sub-floor damage

Susceptible to chemical strains
The Laminate Flooring: What Is It?
Laminate flooring was among the first man-made substitutes to hardwood floors, having been introduced in the 1970s. It's an excellent option for homeowners who desire the look of hardwood floors but don't want to spend a fortune on flooring. Its thick structure makes it rather pleasant to walk on, making it suitable for use in living rooms and corridors.
Similar to vinyl, laminate is a synthetic material that mimics the look of real hardwood. Laminate layers are comparable to vinyl flooring, but they are built of different materials. Laminate flooring contains an inner core board that is overlaid with a beautiful picture image and overlaid with a wear layer or "overlay" to safeguard your floors.
The downside of laminate flooring is that it does not resist moisture as well as vinyl. Despite being water-resistant, some laminate flooring options can still become damaged by prolonged exposure to water.
Types of Laminate Flooring: 
source: pinterest.com
Here are the following types of laminate flooring:
Wooden flooring

Floor plank

Floor tiles
Benefits of Laminate Flooring:
Here are the following benefits of laminate flooring:
Classy appearance

Simple maintenance

Affordable

Resistance quality

Easy to install
Drawbacks of Laminate Flooring: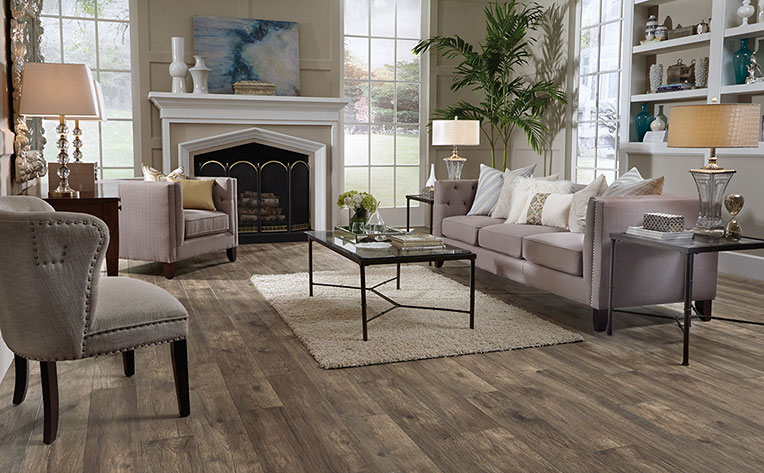 source: flooringamerica.com
Here are the following drawbacks of laminate flooring:
Not natural

Noisy underfoot

Can be slippy

Contain some chemicals
Vinyl vs Laminate Flooring: What's the Difference?
Vinyl and laminate flooring have many similarities, including low cost and ease of installation. Both of these synthetic flooring materials are available in a range of colors, patterns, and designs to complement your home's current decor. Although the two types of flooring are extremely similar, there are a few key distinctions between them. Examine them out:
Appearance: 
When it comes to aesthetics and elegance, laminate flooring is somewhat superior in quality. It has more convincing emboss that replicates the look of hand-scraped hardwood. Vinyl embossing processes may make it appear like wood, however, it looks best and most authentic on thicker core vinyl flooring.
Water Resistance:
The main difference between laminate and vinyl flooring is water resistant, with vinyl coming out on top. Most current vinyl floorings are constructed entirely of polymer materials, which means they can handle high levels of moisture. It may be submerged in water, dried, and reused normally. Furthermore, vinyl sheets allow the user to access a single sheet for an entire room, eliminating the need for water to infiltrate through seams. On the other hand, laminate has poor moisture resistance.
Installation:
If you decide to install vinyl sheeting or foam underlayment for laminate, you may need the help of professionals. Both laminate and vinyl flooring come in planks that can be installed over almost any subfloor, so you can install them yourself.
Maintenance: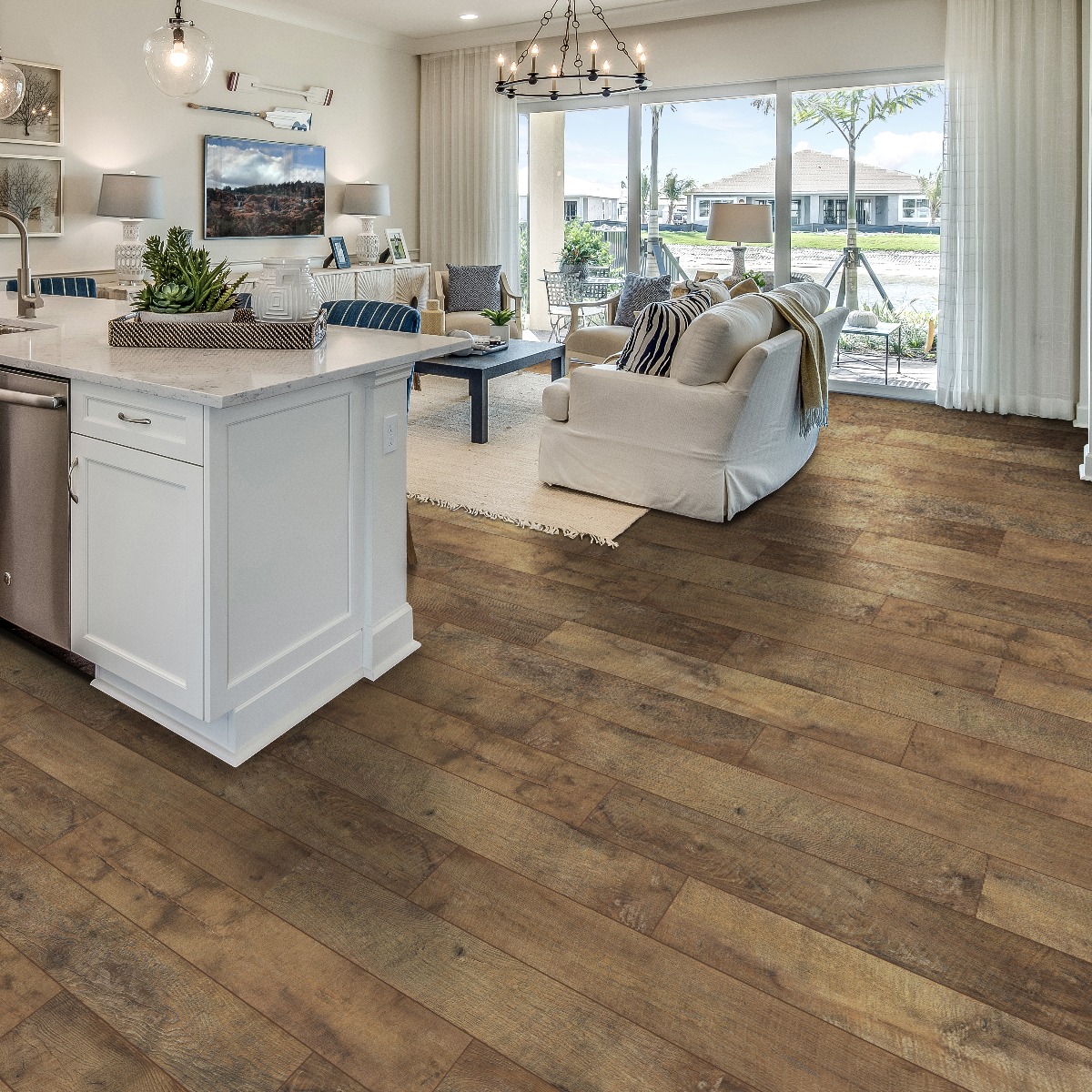 source: goldenselect.ca
There is no need to spend a lot of time cleaning vinyl or laminate. The floor can be mopped, vacuumed, or swept as needed. In order to keep these floors in good shape, you do not need special cleaning products or machinery.
Cost: 
When compared to vinyl, laminate can occasionally be available at a lesser price. This is determined by the style and characteristics you seek. The cost of vinyl vs laminate is comparable. Both are regarded as two of the most cost-effective flooring solutions.
Best Flooring for Your Room: Vinyl or Laminate?
Are laminate floors or vinyl floors best for every room? It may be necessary to choose a certain flooring material depending on the room's function and traffic. 
Kitchen: Vinyl & Laminate flooring
Bathrooms: Vinyl Flooring
Bedrooms: Vinyl & Laminate Flooring
Dining rooms: Vinyl & Laminate Flooring
Living rooms: Vinyl & Laminate Flooring
Laundry room/Mud room: Vinyl Flooring
Note: 
source: armstrongflooring.com
If moisture isn't a problem, laminate is a good choice.

When it comes to spills and splashes in rooms, vinyl is a better choice.

As many underground spaces are prone to moisture, vinyl may also be a good choice for basement flooring.
Let's Conclude: Which Floor Should You Choose?
When looking for affordable, durable flooring for a DIY project, laminate flooring and vinyl flooring are great options. Make sure your budget, design preferences, and functionality are taken into consideration when buying new flooring.
The most durable and affordable flooring choice is vinyl, which stands up to spills and moisture better than laminate. Laminate, on the other hand, gives your home a more realistic appearance by giving it a more realistic wood grain look.