Not everyone needs wall paintings or typical curtains or lights some need their bedroom to be more authentic and artistic and traditional. For this, we have come up with an alternative décor – Tapestry. Tapestry a textile fabric consisting of a warp in which colored threads are woven by hand to produce a design and can vary in pattern, color, and texture.
source: pinterest.com
Tapestries are not just a fabric to cover the wall with but it shows various aspects. Hang a tapestry at the side of the bed covering the whole wall and hang some lights and Polaroid on the tapestry. Hang a string of lights on it to make it more beautiful. Hang a cute dream catcher on the corner beside the window and match the pillows with the tapestry design.
source: pinterest.com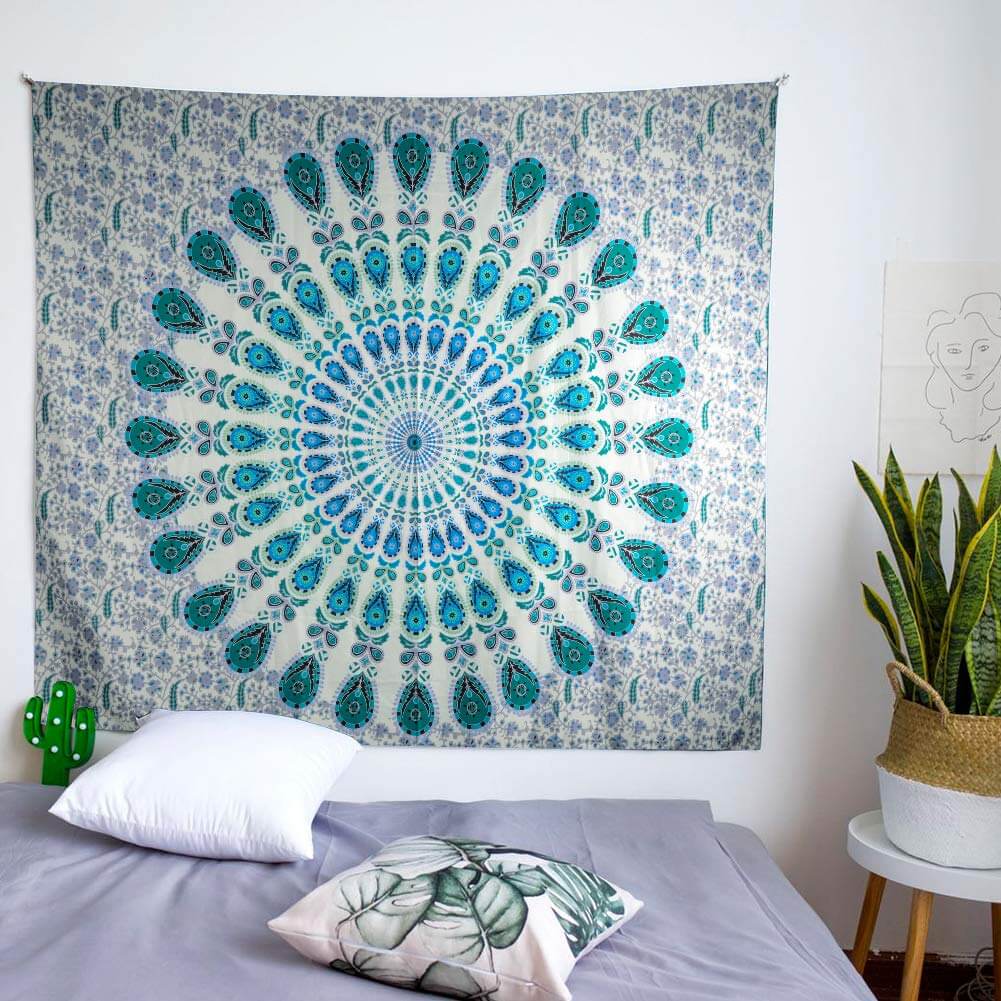 source: amazon.com
Give your room a cool and calm look with this elegant light colored tapestry. Try to have the tapestry with an ombre effect and you are sure to get all the positive vibes and get things right. If you are a lover of light and calm environment, then give your room a monochromatic look by painting it all white and adding a tapestry featuring mountains in a snowy way with a pop of light blue and light orange color.
source: ebay.com
source: amazon.com
Glow up the room with shiny lights backed with beautiful tapestry. You can also use these to cover a portion of your room or any corner that you don't want to bother your eyes. Cover the part of the wall with tapestry and match it with lights, showpiece, and bookshelf and add things showing your love for music.
source: bajty.com
source: ecoamazonico.org
To give a mystic look to the room, decorate your bedroom aesthetically with a giant tapestry featuring a star look. Glow up your room with the white and blue tapestry featuring ancient designs and don't forget to add a dream catcher for good night sleep and wait for your sweet dreams to come true! Also, if you want to follow some traditional features in your tapestry, use one with elephant print. These bedsheets also you can be used. 
source: pinterest.com
source: ebay.com
Go for a magical tapestry; take the help of Mother Nature by decorating your room with a tapestry that looks nothing less than a magical place between a lush green forest. Go for an all-white décor with and add a small plant to make the place lively. Environment and its beauty are very Loving to Choose the tapestry that makes you feel rejuvenated and keep the mind full of healthy thoughts. The lush green environment will help you get the advantage of the cleanliness factor. 
source: ebay.com
source: happymelvin.com
With this tapestry filled with natural elements, try to complement the color of your bedroom. Go for a simple blue colored wall decor and keep it ultra-clean with shiny white bedsheets and lamps. Go all modern with colors like white, grey and neon to decorate the whole room and keep it modern and minimal.
source: pinterest.com
source: amazon.com
Why limit the room decoration to tapestry when you can decorate the room which complements the tapestry. Go for tapestry displaying greenery and trees and forests and add the same kind of vibes by decorating the room with flowers, a small plant, and bedsheets showing having green leaves all over.
source: happymelvin.com
source: happymelvin.com
We have tapestry ideas for all kinds of people and that is why here is the tapestry for the ones who love the future. This tapestry has a small display featuring Hamsa hand for the horoscopes and palmistry lovers that makes the room antique and artistic in its own ways by blending modern and traditional elements in its design.
source: happymelvin.com
You may also like to know about 5 Elegant Bedroom Designs You Will Fall in Love With
source: happymelvin.com
source: pinterestw.com
Include the beauty of ocean and water and the universe to your tapestry to have a minimal but appealing design. These designs work wonders and are soothing to the eyes and give satisfaction. Adding a bit of design having the universe and its elements will make the place look more heavenly and dramatic.
source: blog.royalfurnish.com