Woods in Architecture
Woods have been used in architectural for thousands of years. Wood is not only a construction building material but also a decorative material. More than 1000 different woods can be chosen to suit construction or design desire. Each tree has its wood grain, and there're different colors from light to dark after painting. It is possible to find a unique wooden material according to the architect's preference on wood color and design. The woodgrain on a piece of wood is fantastic because there is no same texture in another. 
Different characters of strength, texture and color, acoustics makes some suit for structural frame, some suitable for decoration and furniture and some suitable for ceiling and wall. 
The woods come from nature. It has a kind of affinity with nature and brings people psychological peace. This benefit brings the unique charm of woodgrain in architecture.
Aluminum in Architecture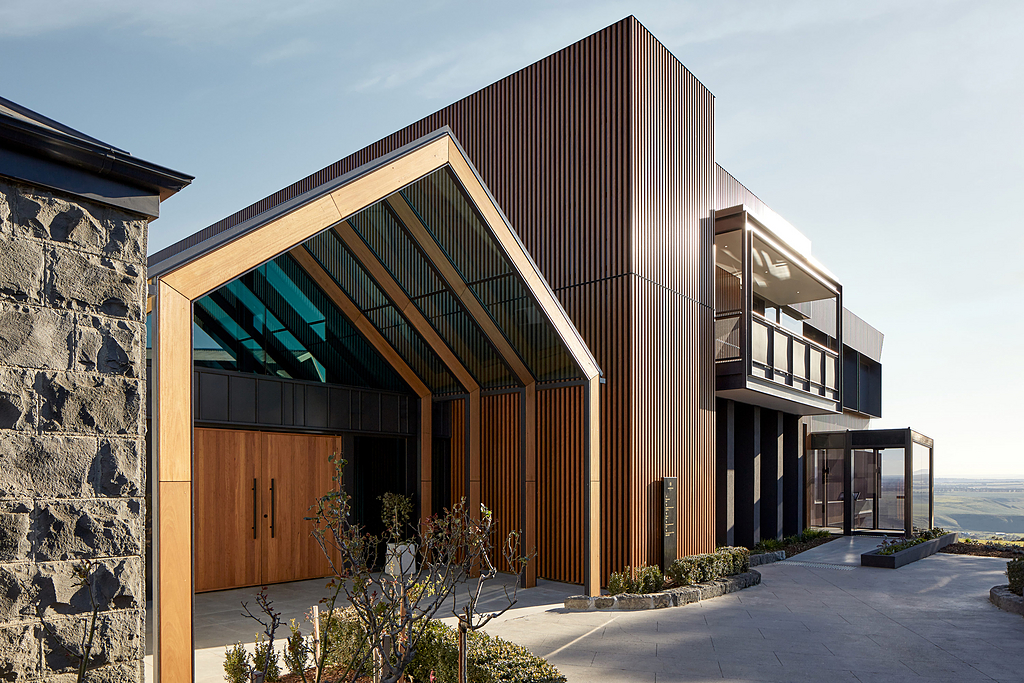 source: pinterest.com
With industry development, the disadvantages of using wood in construction have become evident—high maintenance costs, susceptibility to moths, not easy to fabricate. A kind of new building material was needed, which can be produced quickly, formed to any shapes, strong enough, low cost on maintenance, recycled, and coated with more colors. All the requests made aluminum the best choice as a popular material in architecture. 
Kinds of surface treatment can be used on aluminum, creating a wide range of different appearances. These finishes make Architects more easily choose the most suitable texture and color for their design. The building material of aluminum nearly can be called the architect's palette. Powder coating provides the aluminum surface any colors refer to RAL or Pantone. Anodizing provides a bright metallic appearance. The sublimation process provides kinds of woodgrain or stone texture.
Woodgrain on Aluminum for Architecture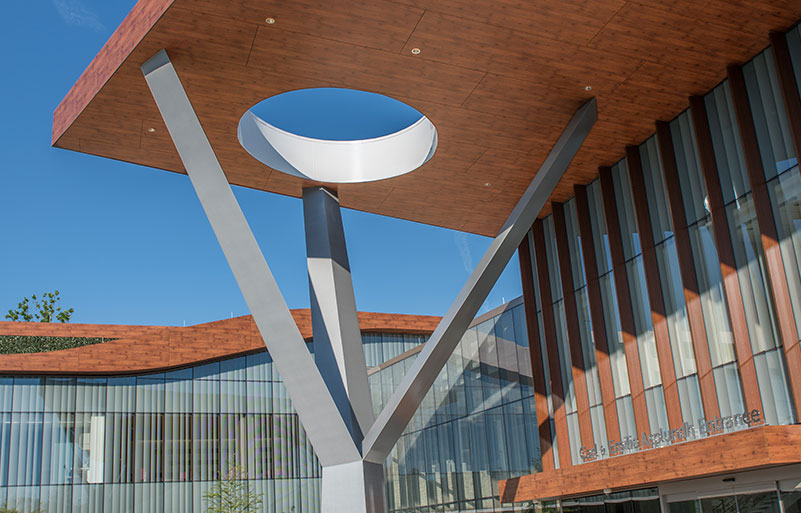 source: linetec.com
Architects love woodgrain in building design. Woodgrain provides the warmth of wood. A connection with nature help improve creativity and happiness and reduce stress. The woodgrain appearance on aluminum is so close to the texture of natural wood, which provides a peaceful environment in interior and exterior design. There are a variety of wood grain textures and colors to choose from—Oak, teak, walnut, cherry, etc. You can get excellent results from the ceiling, wall, screening, and fence made of woodgrain aluminum. This woodgrain finish is ideal for various building components: canopies, trellis systems, handrails, fences, doors, interior wall panels, exterior wall batten systems, garage doors, shutters, door and window frames, mullions and decorations. 
This woodgrain aluminum building material is easy to fabricate for installation onsite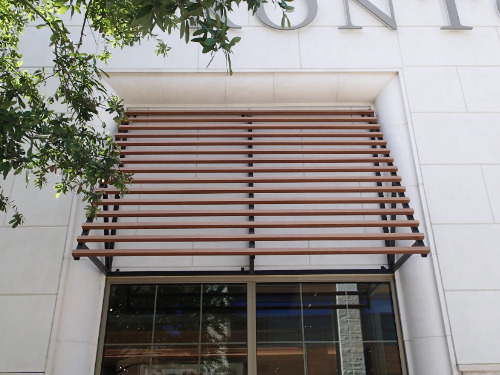 source: arch-fab.com
This wood-look aluminum will not swell, rot or warp. The finish is corrosion-resistant, provides long-lasting UV protection, and is immune to moisture and insects. No need for maintenance after installation. The wood-look aluminum can be recycled at the end of life as a building product. Visit Live Enhanced for more ideas.