With two equally impressive options, the question becomes ''Which Chicago observatory deck should you explore?'' 360 Chicago and Skydeck Chicago are arguably Chicago's two most popular attractions. These observation decks provide guests with a breathtaking perspective of the Chicago skyline and city from more than 1,000 feet in the air.
The "Skydeck Chicago" on the 103rd floor of the Willis Tower attracts approximately 1.3 million people every year with its 360-degree views of the city. 
However, while the Skydeck is quite popular, there is some competition a mile and a half away at the 100-story structure located at 875 North Michigan Avenue*. On its 94th story, this building has an observatory comparable to the Skydeck, known as 360 Chicago, offering views of Lake Michigan and the city of Chicago.
So, which skyscraper is truly superior? Which is more valuable in terms of time (and money)? Get all information at Live Enhanced.
Location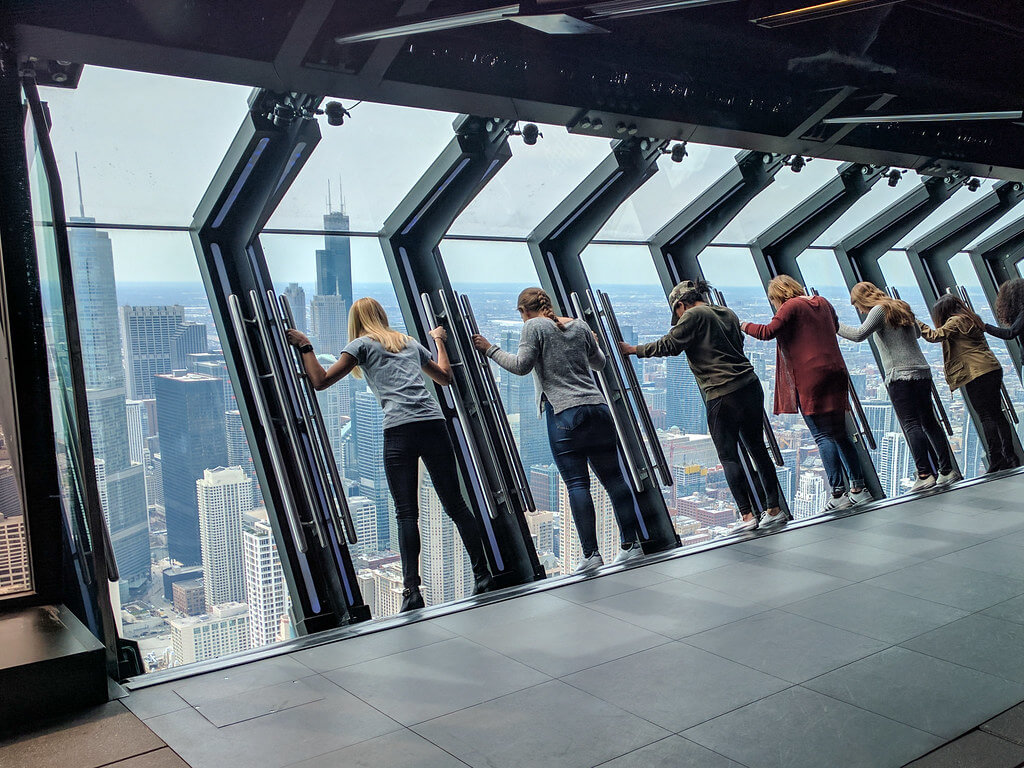 source: pinterest.com
The Willis Tower is on Wacker Avenue, while the Skydeck is on Jackson Boulevard. The tower is located in the middle of downtown Chicago, surrounded by buildings and busy Chicago streets. The 360 Chicago is situated on renowned Michigan Avenue, directly across from Lake Michigan. Water surrounds you on two faces and Chicago on the other.
Time Period
source: tripster.com
The Skydeck is open 24 hours a day, 7 days a week. The Skydeck is open from 9 a.m. to 10 p.m. from March to September. It's open from 10 a.m. to 8 p.m. from October to February, with the final admittance 30 minutes before closure.
360 Chicago is also open 24 hours a day, 7 days a week. It is open from 9 a.m. to 9 p.m. Year-round, 9 a.m.-11 p.m. Sunday-Thursday, and 9 a.m.-11 p.m. Friday and Saturday. One hour before closing, the last admission is allowed.
Charges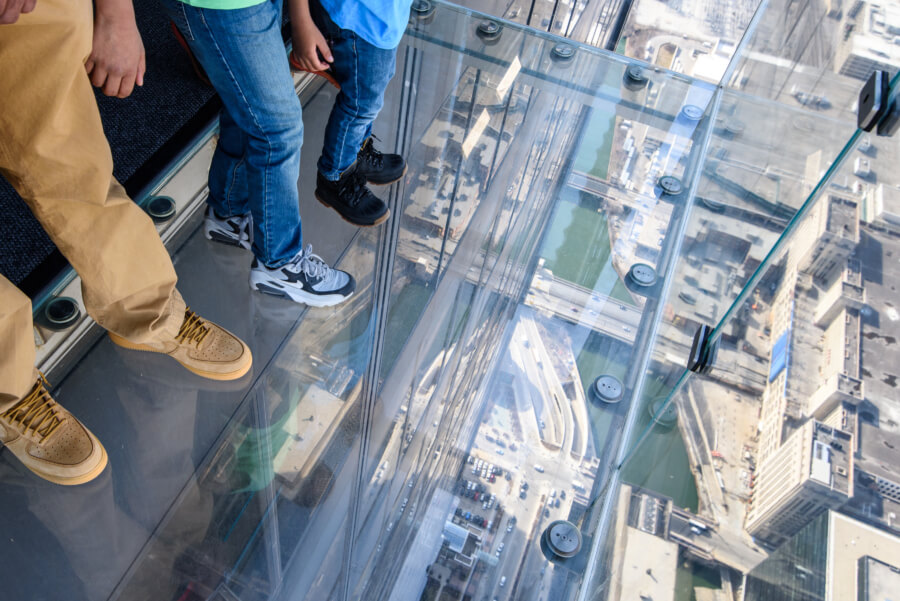 source: choosechicago.com
The cost of visiting the Skydeck varies based on the day and time of your visit. Adult general entrance is $28-$35 and $22-$26 for juniors. 
You can apply for a VIP booking for $55, which allows you to skip some lines. On weekends, they also sell $65 Early Bird Admission tickets, which allow you to come before the Skydeck opens to the general public.
Adult basic entry to 360 Chicago is $30 and $20 for kids, with people 21 and up have the option to upgrade to a beer or cocktail at Bar 94 for an extra $5. They also sell tickets that include the TILT experience $35 for adults and $25 for toddlers. As well as an All-Access Pass $40 for adults & $30 for juniors that includes entry, TILT, and a beverage or gelato from Bar 94 – a great deal!
Breathtaking View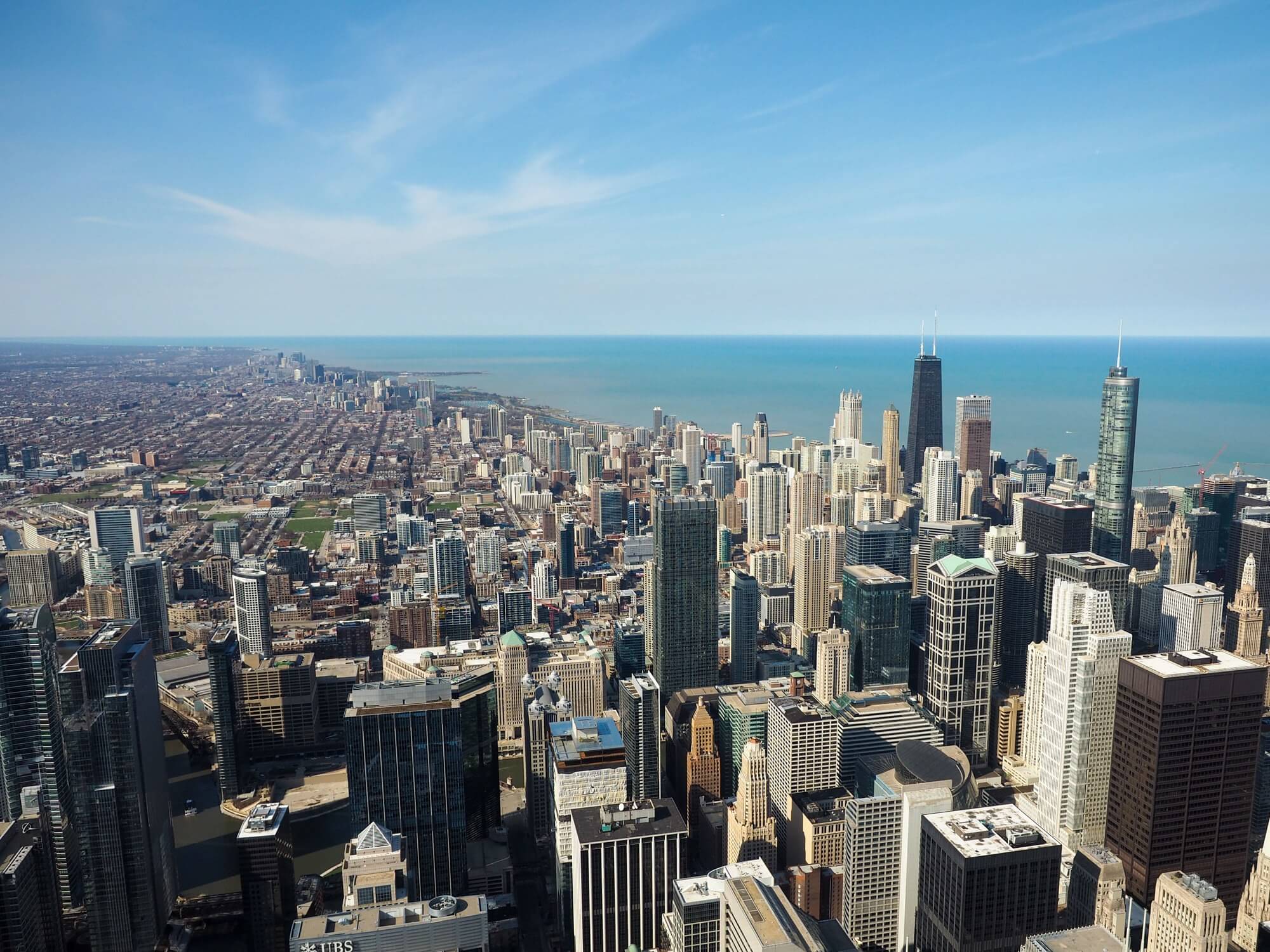 source: pinterest.com
Which Chicago skyscraper has the greatest view? This is arguably the section that everyone is most curious about. Well, the answer is entirely subjective and based on personal preference. But I'll offer you my opinion on the subject.
On all four sides of the structure, the Skydeck offers spectacular vistas. You can view all the way to Navy Pier and Lake Michigan from this vantage point, which looks out over downtown Chicago, down the Chicago River, and all the way to the Chicago River. Nothing can block your view because the Willis Tower is the city's highest skyscraper. On a clear day, you might see miles away.
On a clear day, the 360 Chicago offers spectacular vistas. It is located directly on Lake Michigan, and on clear days, you can see across the lake to other states. You can also gaze out over downtown Chicago from the top of Navy Pier. Although you can't see the river from here, you can view the Chicago skyline, which is really impressive.
Worth To Wait
source: purewander.com
Those traveling with impatient children (or adults) may, on the other hand, choose which observation deck to explore based on wait times. Please be aware that both observation decks will have long lines. The duration for each destination is determined by the following factors:
Day & Time

Events or Festival

Seasonal 

Weather 

Other Outdoor Factors
However, because of its prominent downtown location and popularity, Skydeck Chicago has long lines. Visit 360 Chicago for slightly shorter lines.
What's More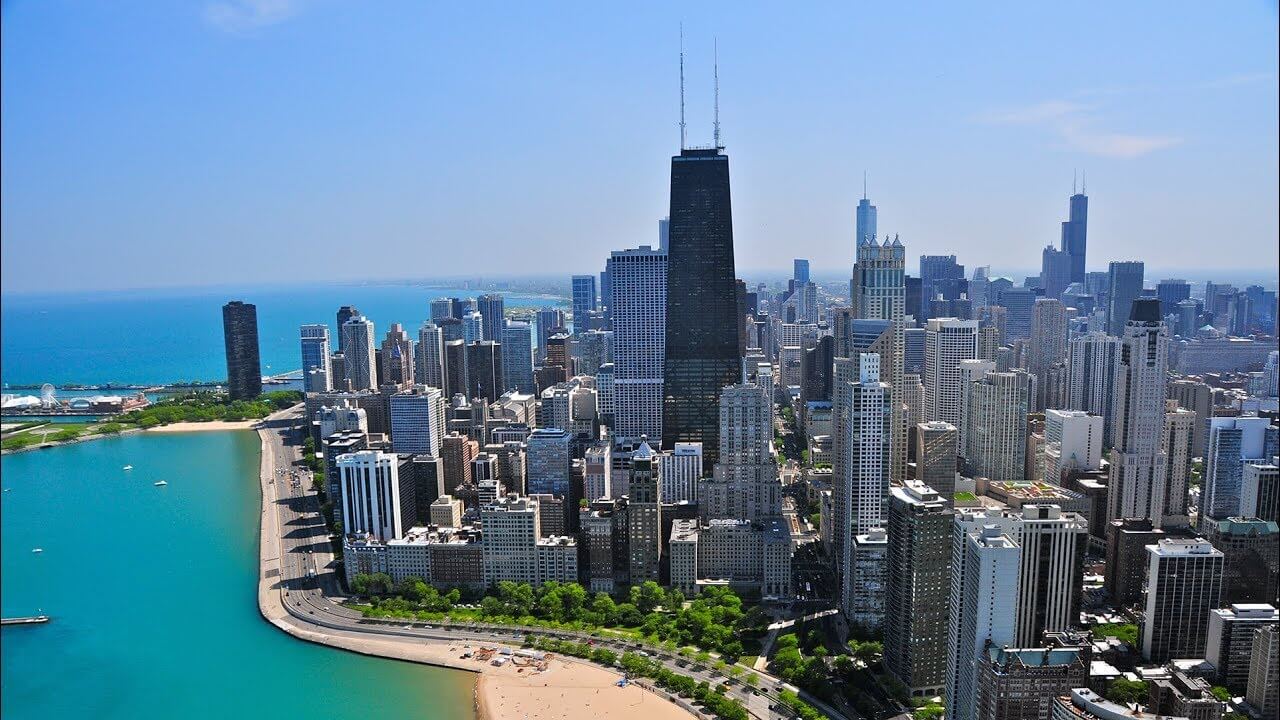 source: pinterest.com
The added conveniences and services at each observation deck will be the deciding factor for some guests.
360 Chicago also has a flea market, cafe, and bars, as well as chairs and tables, in addition to the views and TILT. Additionally, families with young children can access online activities prior to, during, and then after their visit.
After experiencing The Ledge, tourists can interact with multimedia exhibits, see a theatre show, and explore the souvenir shop at Skydeck.
360 Chicago Vs Skydeck: 360 Chicago Win!
The Willis Tower Skydeck is a Chicago landmark, which means it'll be more pricey and have long queues. So, if you want a spectacular view without having to wait, just go to 360 Chicago. You can also do what I did and go to both! Decide your own fav.