In a world where self-expression knows no bounds, men's hairstyles have become a captivating canvas for creative exploration. From daring fades to intricate braid lock hairstyles, we delve into a realm where individuality takes center stage.
Join us on a journey through a myriad of unique and eye-catching hairstyles that push the boundaries of conventional grooming. Brace yourself for a wave of inspiration as we uncover the extraordinary world of dreadlocks styles for men.
Types of Dreadlocks styles for Men
1. Dreadlock Rows (cornrows)
Convenient and stylish, dreadlocks styles for men, such as dreadlocked rows, effortlessly blend trendy and classic elements. Moreover, this versatile look suits any size, length, or texture of dreads, making it a popular choice for those seeking a low-maintenance yet fashionable hairstyle.
2. Freedom Dreads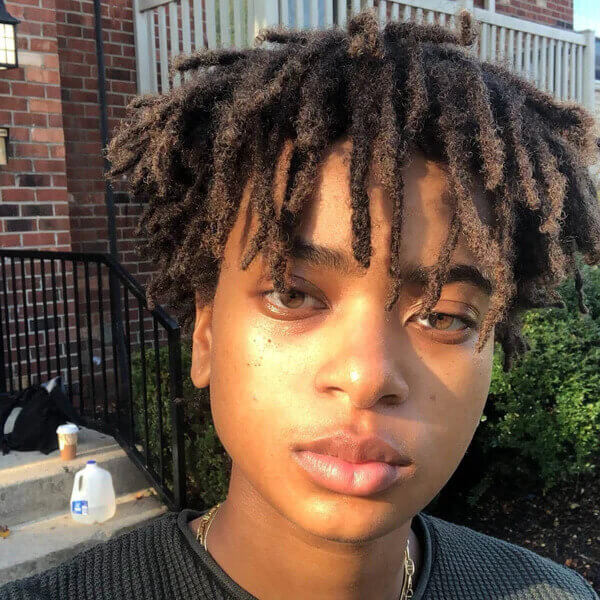 For men with thick, tight curls, achieving free-form dreadlocks couldn't be simpler. Just let your hair grow out naturally, and you'll soon have a unique array of dreadlocks adorning your entire head. This effortless style captures the essence of dread styles for men.
3. Labyrinth Dreadlock Hairstyles for Men:
A unique variation of traditional dreadlock hairstyles for men, Labyrinth dreads are characterized by spacing the locks slightly apart on the scalp. These long and chunky dreadlocks are an excellent choice for men who have invested considerable time in growing out their hair.
4. Comeback Dreadlocks
In many situations, the primary concern is keeping the hair away from your face. If your dreadlocks are sufficiently long, you can easily pull them back. Otherwise, you can use a hairband to secure them, ensuring convenience and comfort.
5. Basket Weave Dreadlocks
The basket weaving technique is highly popular among men's hairstyles braids and dreadlocks. While it may demand a considerable time investment, the finished product is a beautifully intricate and neatly crafted style that complements male locks perfectly.
6. Dreadlocks With Pigtails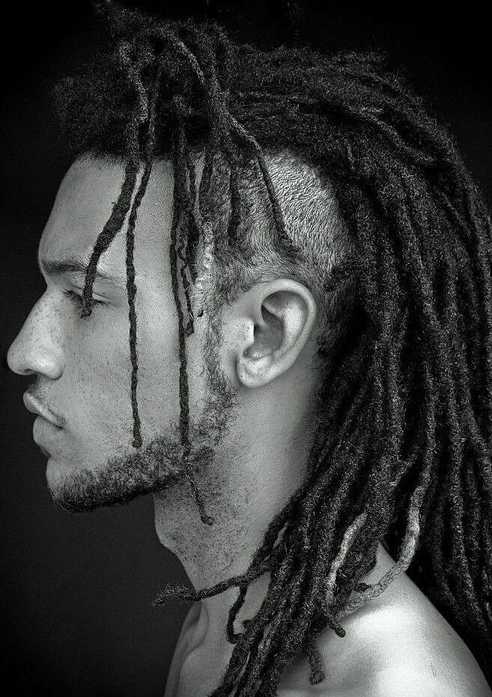 If you want to stand out and make a unique hairstyle statement, a basic ponytail or man bun won't cut it. To truly set yourself apart, consider embracing the combination of dreadlocks with pigtails, which offers a double dose of fun and individuality.
7. Dreadlocks With Taper Fade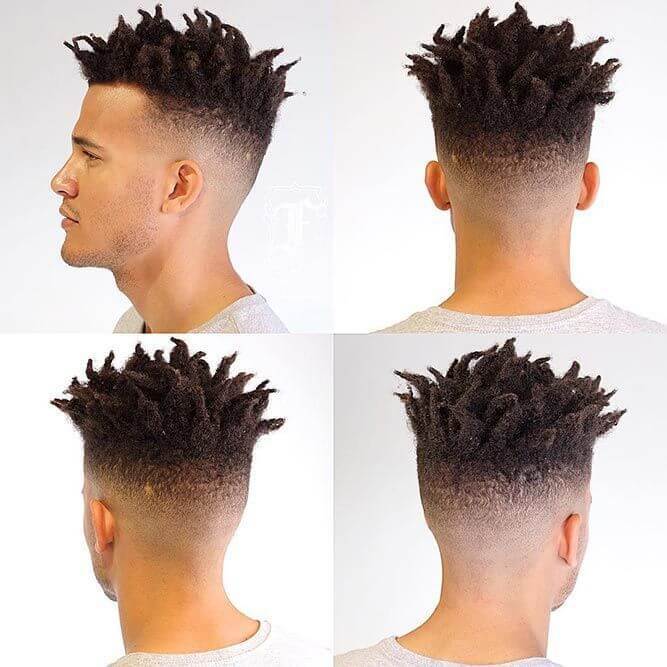 The taper fade is an excellent way to add personality and style to your dreadlocks. When it comes to dreadlocks styles for men's hairstyles, consider sacrificing a small portion of hair around the temples for a tapered effect. The final result will undoubtedly be worth it, enhancing your overall look and showcasing your confident dreadlocks.
8. Short Ombre Locks
The ombré hair-dying technique continues to gain popularity among men, showcasing their willingness to embrace vibrant colors. In this style, dreads feature a captivating ombré effect, transitioning from black roots to honey-blonde ends. Adding some color to dread hairstyles for men can truly enhance their overall look and make a stylish statement.
9. Braided Dreads with Exposed Sides
Achieve a quick and effortless low-key mohawk with a centered, pulled-back ponytail. The shaved sides provide a glimpse of the tattooed masterpiece, blending fine art with street style in a unique package. Embrace this special design that combines artistic expression and urban fashion.
10. Classic Dreadlocks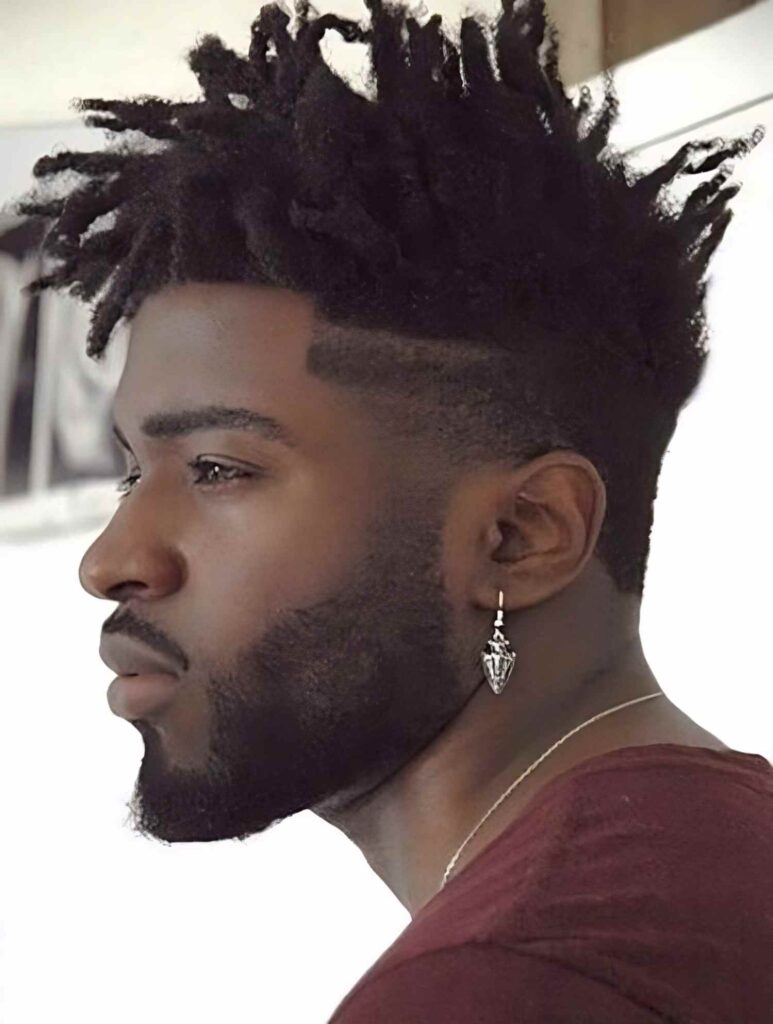 Achieve a timeless and effortlessly chic look with classic dreadlocks. Let your luscious locks hang free, requiring minimal effort. Embrace the natural beauty of your dreadlocks and exude confidence with one of the simple yet stylish dreadlocks styles for men.
11. Dreadlocks With Low Ponytail
Black men showcase their creative flair when styling dreads, but opting for a professional look is common. If you are looking for short hairstyles for men, this understated styling approach is ideal. Strike the perfect balance by exuding confidence and professionalism with your locks.
12. Curly Dreadlock Style for men
Surprisingly, you can curl your dreadlocks for a fresh and fashionable look. Embrace a unique approach with these medium dreadlocks men. It is gently curled to introduce an enticing texture. Experiment, redefine, and add a touch of personal flair to your dreadlock style.
13. Twist Dreadlocks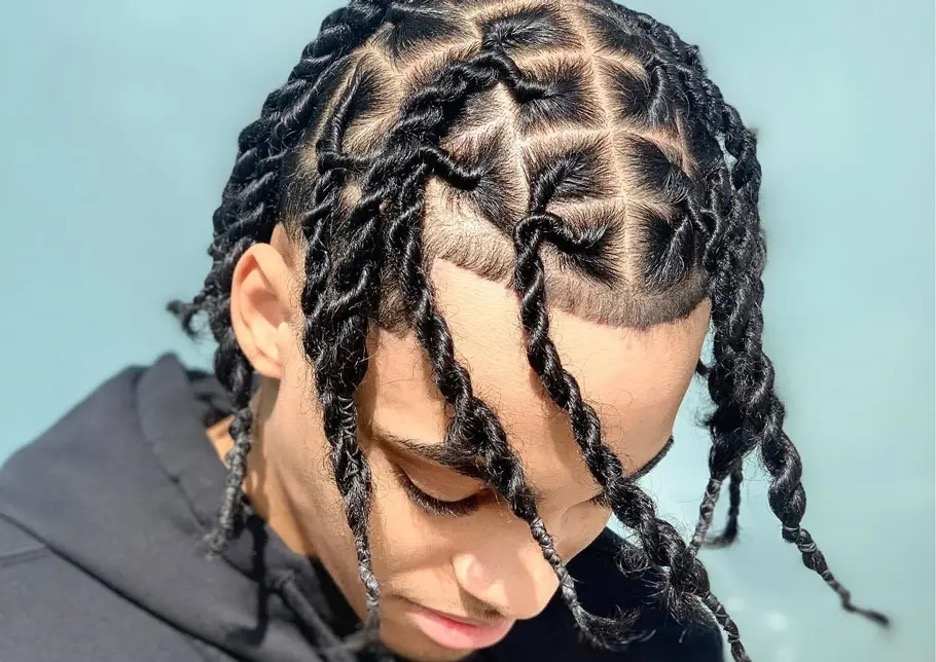 Distinguished from traditional dreadlocks hairstyles, twists involve two strands of dreads twisted together, creating a distinct look. While both styles embody roped aesthetics, twists offer a unique and refined appearance. Opt for twists to infuse your dreadlocks with an individualistic touch and stand out from the crowd.
14. Criss-cross Dreadlocks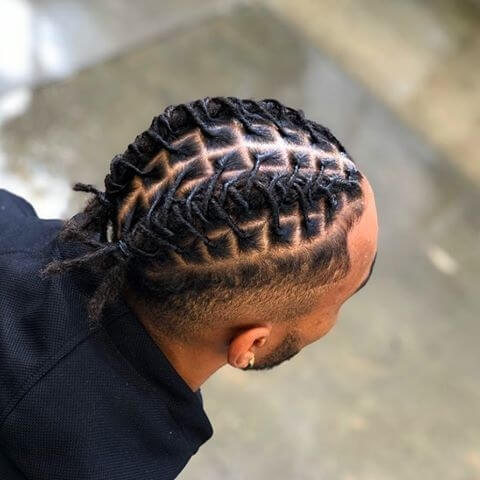 Embrace the artistry of crisscross dreadlocks, where strands intertwine to form a captivating pattern. This technique, akin to basketweave dreadlocks, adds a unique touch to your classic style. Elevate your hairstyle with the textured allure of crisscross dreadlocks, showcasing your creativity and individuality.
15. Dreadlocks With Undercut
Undoubtedly, undercuts are a popular men's haircut right now, and sporting dreadlocks with an undercut is no exception. Your dreadlocks may be styled into a high bun or half-top knot to elevate this appearance.
16. Bun With A Man In Dreadlocks
Dreadlocks are one example of a hairdo that makes a man bun tough to pull off. It's a creative method to keep your hair out of your face when working out in the gym or to liven up your appearance for a formal occasion, whether you want to wear it higher on your head or tie a low bun.
17. Chunky Dreadlocks style for men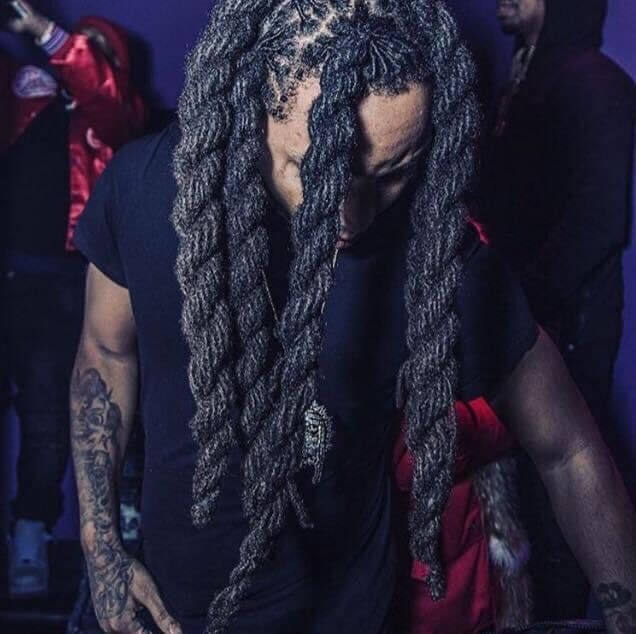 When your dreads are more developed, you may encourage thicker, "chunkier" dreadlocks. This appearance may be created using a variety of various styling techniques, notably by mixing thick and thin dreadlocks. One of the best dreadlocks styles for men if you have thicker hair.
18. Half Up And Half Down Dreadlocks
If you need to get some hair out of your face but still want to wear your dreadlocks down, this style is for you. A fairly basic everyday appearance for men with dreadlocks is to pull back as much hair as you'd like off their face and tie it up.
19. DREADLOCKS WITH TOP KNOTS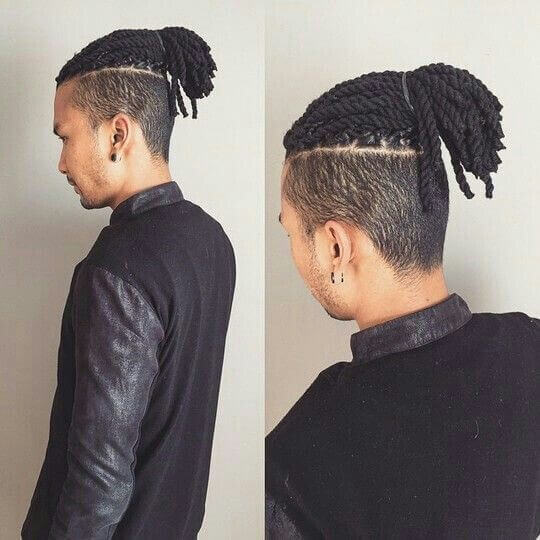 Pulling all of your hair back into a bun or knot at the top of your head is another easy dreadlock's hairstyle. It's easy to do, comfy, and stylish. Ideal for any situation.
20. KNOTTED DREADLOCKS IN SHORT RUNS
The Bantu knot, a tiny, short knot, can be created with men hairstyles braids. The Zulu tribe of South Africa is credited with creating this haircut. These knots stand for strength, majesty, and beauty. Bantu knots are made by sectioning off a strand of hair, twisting it, and stacking it until a little knot is formed.
21. HAIR THAT IS HALF SHAVED AND DREADLOCKS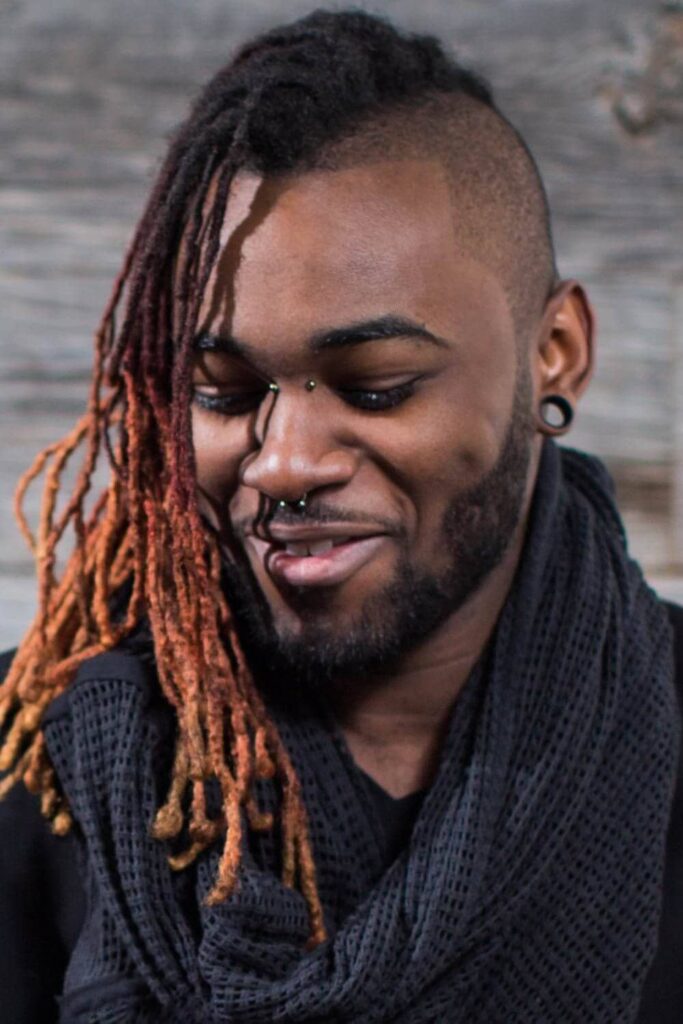 The half-shaved head is the best look for dreadlocks men. Shave one side of your hair to change up your look. This is an excellent option to maintain length and update your look because it is easy and requires little maintenance.
22. BACK DREADLOCKS COMBINED
In a lot of circumstances, getting the hair out of your face is the top priority. You're good to go if your dreadlocks are long enough to draw back; if not, use a hairband. It is one of the trendy loc styles for men, it is a good choice.
23. Tramlines With Short Dreadlocks
For the sporty man, high dreads are perfect since they barely get in the way. This haircut can also be given a little edge. Tramlines work well at the base of dreadlocks with a taper or skin fade. Cool and tidy.
24. Exposed sides to braided dreadlocks
A subtle mohawk may be quickly created with a centered, pulled-back ponytail. The tattooed masterwork is also visible due to the shaved sides. With this unique design, street flair and fine art are combined.
25. Hippie Dreadlocks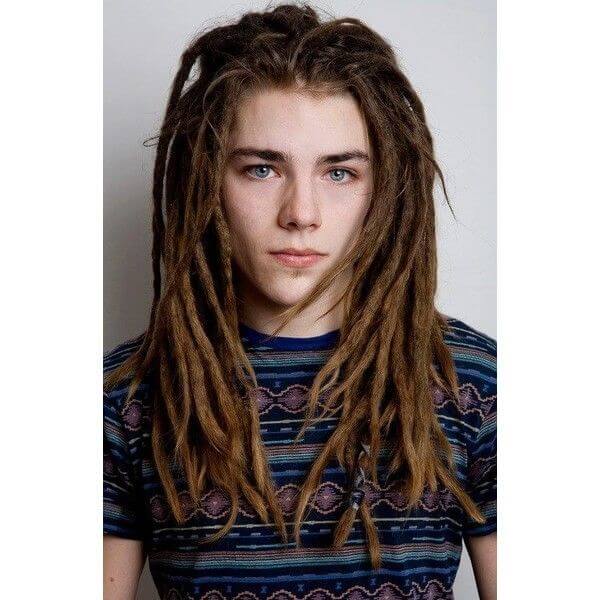 If you have it, show it out, right? This is the standard dreadlock style. Your extra-long locs will look amazing if you let them flow freely or put them up in a low ponytail.
One of the coolest and hottest hairstyles for black males is dreadlocks. Dreadlocks can be styled free and flowy or tight and on top, and they can be carried short or long, with a taper fade or undercut on the sides and back. There are numerous dreadlock hairstyles for males to pick from, including faded, mohawk, braided, and high-top dreads. Check out the trendiest dread hairstyles for men right now to gain ideas for your next haircut!
26. Faded Dreads
Take your hairdo game to another level, collage your dreads with a fade. A taper fade with loc styles for man including the sort of fade they want and how short or long they want their locs to be.
A high fade on the sides with dreads on top can seem edgy and contemporary. For professional black males, a low fade might be a more clean-cut haircut. A temp fade or mid taper may be the ideal balance of bold and sophisticated. For a one-of-a-kind look, request a bald or drop fade from your barber.
27. Mohawk Dreadlocks for Mens
The dread mohawk is a more modern and edgier take on the trend. The latest trendy hairstyle for guys is the fresh dread mohawk fade, which combines cool dreadlocks with a mohawk fade to create a one-of-a-kind look. A taper fade, undercut, or shaved sides is required for a dreadlock mohawk. While the style is most usually associated with a short side, long top haircut, it may also accommodate short, moderate, and long dreads.
Short hair dread hairstyles for boys begin with a side undercutting or taper mid fade. Allow your short hair loose and disheveled on top, or put your long hated hair into a ponytail. Mohawk dread styles will never go out of vogue since they are versatile and refreshing.
28. Long Dread Style
Long dreads are the most traditional styles. The current version, on the other hand, is very different from the classic flowing long dreadlocks. Nowadays, most males sport lengthy dreadlocks with faded sides. The long dread style also gives for styling versatility. Guys can adopt a high top with long dreads based on how long they wish to retain their locs.
29. Short Dread Style
The most common variant of appearance is short dreadlocks. While most men envision short and long loc styles for men are more versatile and elegant to wear on a daily basis.
Short hair dread hairstyles for men begin with a taper fade or side undercut haircut. A short hairstyle makes the look low-maintenance and simple to style. Simply leave your locks untidy and spiked, or use a product and tug strands into place for a more polished look.
If you maintain your dreads tight, your look will appear more groomed and sleek, however, keeping your locs loose will give you a more relaxed appearance. Short dreads complement heavy stubble or a groomed, thick beard.
30. Braid Dreads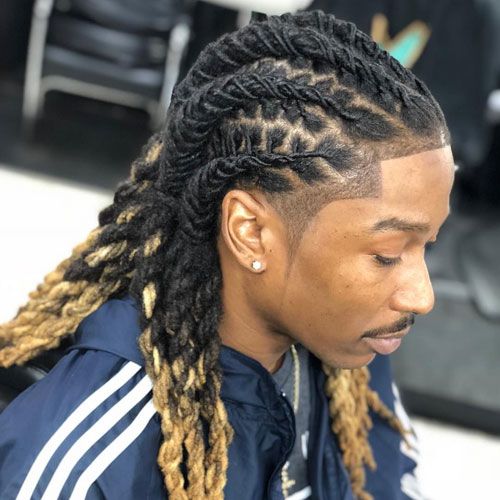 The braided dreadlock styles have remained popular in men's hairstyles. Dreaded braids add character and edge to an already fashionable style.
To begin, you must decide on the type of braids you desire. There are numerous options available, ranging from cornrows to box braids. Guys can also get a fade on the sides and back of their hair and simply braid the top.
You can also opt for a semi-formal look by leaving your hair long and braiding only half of your head. Talk to your barber about the coolest men's hairstyles that might look excellent on you.
31. Dyed Dreadlocks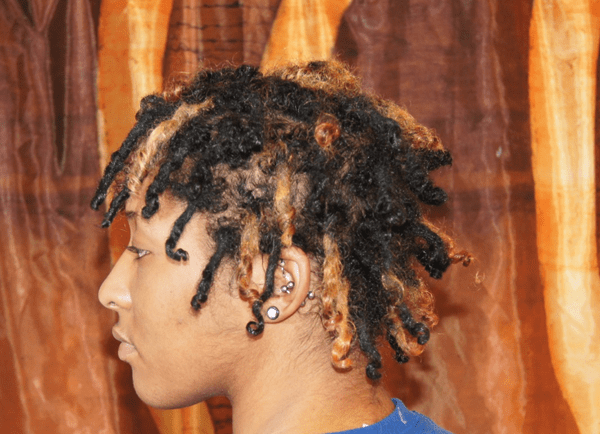 Dyed dreads provide an opportunity for men to capitalize on color trends. The best hair color options for men are determined by your individual style. Fortunately, dyed dreadlocks styles appear very fashionable in blonde, white, red, and a variety of other hair colors.
When exploring with dyed hair dreads, take precautions to protect your scalp and strands. Without a good hair care program, bleaching might be hazardous. Use oils, excellent shampoos, and powerful conditioners when coloring your dreadlocks to maintain the hair hydrated and healthy.
32. Side Parted Dreads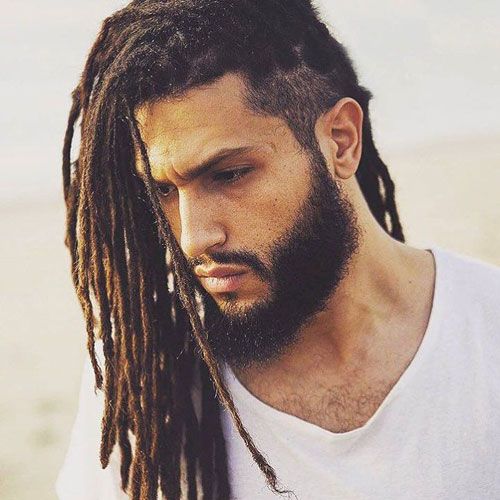 Side dreads are another cool method for guys to wear this hairdo. Dreads to the side can be daring and cool if you want to alter your look.
Tapered hair on the sides and back can be worn by guys to match the style. Then, push your locs or just tie up your ponytail on one side to achieve the desired dread style.
33. Grey Dreadlocks
Grey dreadlocks show how this distinctive hairstyle may be worn by men of all ages. Silver foxes can wear masculine grey hairstyles and still look fantastic as they age, which is a developing trend.
This look is all about enjoying your age and avoiding hair coloring by letting your natural color come through. Grey dreads can be worn long or short, but the most important thing is to allow your hair to be natural. For a more macho look, match the style with a well-groomed beard.
Need More Dreadlock Hairstyles for Men Check this out   
Learn more about the History of Dreadlocks, also known as locs or dreads
Conclusion
Men may embrace their personality and cultural heritage in a variety of expressive ways thanks to the wide variety of dreadlocks styles for men.  These haircuts encourage a sense of confidence and individuality in guys who prefer to wear their locks while celebrating personal flair.
With so many different varieties of dreadlocks available for men, the type you choose is determined by the style you wish to attain. Dreads can be little or big, short and long, natural or synthetic, braided or twisted, or any combination of the above. The dreadlock styles you can wear will be determined by the size, length, and haircut you choose.
Finally, how guys style their dreads is a matter of personal preference. To keep your long dreadlocks in place, all you need is a hairband or knot. If you like to wear your dreads with fading sides, you'll need to go to the barbershop on a regular basis to get your haircut.