If you are staging your home for sale, you know that one of the things that many homes lack is wall art, especially if you focused on family photos or other mementos. When depersonalizing a home but also making it ready for a buyer to 'envision' themselves inside, you want something on the walls, so what should you do? If you don't have much budgeted for art, consider these options to save a little money and add a pop of color to your home for the sale.
Borrow, Buy Local, or Purchase Art Secondhand
source: pinterest.com
You'd be surprised how many people in your life have art on the walls that they would be willing to live without for the weeks of your home's real estate market. Obviously, if your home is on the market for a long time, they may want that art back, but for a few days or weeks, friends and family might be willing to loan a couple key pieces or a beautiful mirror to add a little personality to the walls.
On the other hand, thrift stores and yard sales have an abundance of wall art, though whether it is usually a high-quality investment will vary. However, abstract paintings or impersonal photographs can make for a nice addition without cluttering up the walls, and if your treasure hunt yields something, it's often quite inexpensive. 
If you're willing to up your price point a smidge, visit a high school art department or college art sale; up-and-coming artists often create beautiful art that works well for staging but is a fraction of what the same piece would cost from a well-known painter.
DIY At a Paint Class or With Geometric/Gradient Art at Home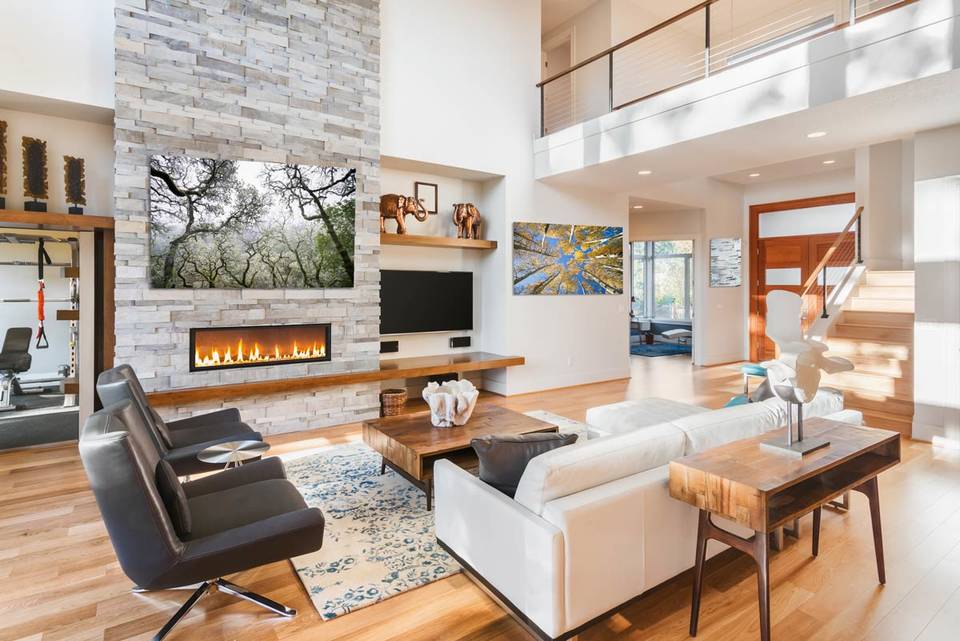 source: rwongphoto.com
If you have a creative twist to you, DIY is often the cheapest way to create some simple, fun wall art that is aligned with the color schemes of the rooms you are staging. Paint classes are offered through Paint-and-Sip studios as well as local arts centers, usually provide all materials, and are an affordable way to get some basic technique down. You can even buy the materials and use Youtube for a variety of painting tutorials.
If you want to go even more basic, it's possible to create a blue-to-green or red-to-orange shading effect on a canvas or another simple shift in color, such as from purple to white by adding more and more white paint to your purple hue as you go. Look for popular abstract designs online and do a basic style that fits the colors you want in the staged area.
Make Photo Canvases For Future Gifts or Your Future Home
source: yourobserver.com
Another great option is to order photos that are blown up for framing or printed on canvas. You can use impersonal photos or photos of the town where your home is located. If you choose items that are both somehow personally significant and impersonal enough for a home staging, they can then become gifts to friends or family for holidays or can find a place in your future home. 
The key through it all is to not get caught up in a lot of time and money but to also really boost the look of your space to draw more buyers in, since more buyer attention can help you hit your price goals.