Nassau, the capital of the Bahamas, is one of the most incredible Caribbean cities. Several beaches surround it, and it seems that every other is better than the last. The Bahamas is known to have some of the best beaches in the world, and it also has several amazing resorts and hotels that rival the best places like Tahiti and Hawaii at a much more affordable price.
If you want to have a relaxing and soothing vacation soaking in the ocean and getting a tan on the beach, or you are in the mood of some exciting and adventurous water sports, head out to Nassau, and don't miss out on these six breathtaking beaches while you are there.
Cable Beach
source: kingleopoldair.com.au
No conversation about Bahman beaches is complete without mentioning Cable beach. This is one of the loveliest and most crowded beaches in the Bahamas, and it is a must-visit beach for every traveler.
You can meet many new people from all over the world at cable beach, participate in some super exciting water sports, and enjoy a drink or snack at one of the many beachfront bars and food stands.
Though Cable beach is free and open to the public, you can buy a day pass to one of the resorts located on Cable Beach and enjoy its pools and restaurants. You aren't going to find suitable changing areas or public restrooms on Cabe beach, so buying a day pass to one of the resorts is a great idea.
However, some might say that cable beach is a little overcrowded, especially during spring break, therefore if you want someplace more private, check out the many private islands in the Bahamas. If you have the budget, you can buy a private island in the Bahamas, so check out Exuma island for sale.
Junkanoo Beach
source: pinterest.com
Junkanoo beach might not be one of the most beautiful beaches in Nassau, but it is closest to downtown, and it is usually significantly less crowded than Cable Beach and Cabbage beach. However, on spring break, this beach becomes a favorite spot for college students, since it is so close to the city.
Junkanoo Beach is also one of the few beaches in the Bahamas with proper public restrooms and changing areas. You can also find a decent number of food vendors where you can buy cocktails and snacks.
Jaws beach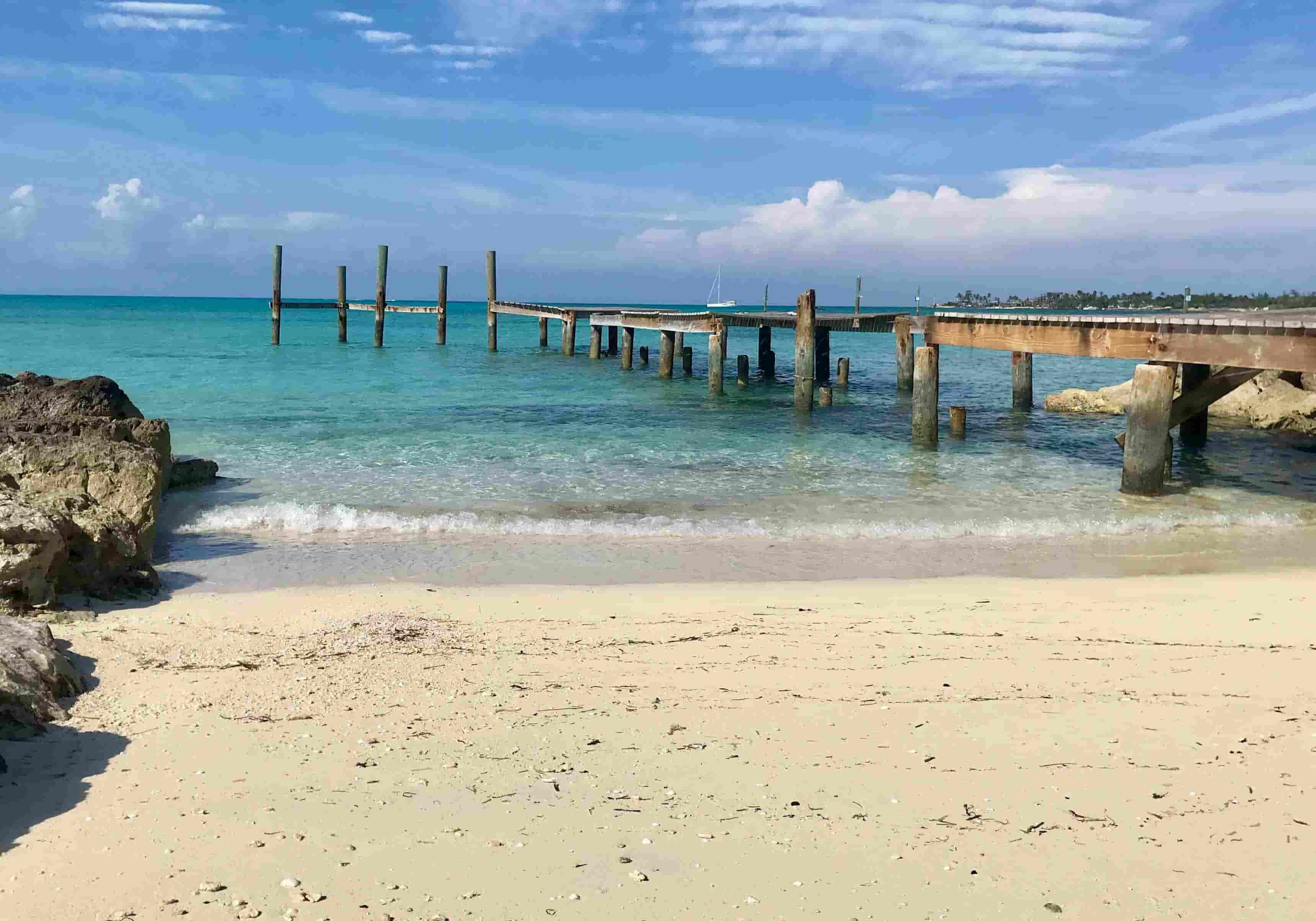 family-holiday-ideas.com
Don't let the name of this beach scare you off; you aren't going to find any sharks this close to shore on Jaws beach. The beach is called so because it was the filming location for the final installment of Jaws.
Therefore, this beach has a special meaning, and if you are a fan of the film franchise, you need to check out this beach.
Furthermore, this is a great beach if you are looking for a private place. During the week, the beach is practically deserted; however, that means there aren't any options for buying food or drinks on the beach.
Therefore, if you are planning to visit Jaws beach, make sure to pack your snacks and drinks. Apart from being a fascinating filming location, jaws beach is also a decent place to lay back, relax, and get a nice tan without worrying about the crowd.
Saunders Beach
source: safarinow.com
If you are traveling to the Bahamas with your kids, you need to know about Saunders beach. It is one of the most kid-friendly beaches in Nassau, and it isn't overcrowded either. The beach has a dedicated safe area for kids to swim in the ocean, and there are always lifeguards on duty.
Furthermore, there are very few beaches to have a proper parking area, public restrooms, showers, and changing areas. There is also a separate playing area for the kids.
As far as food is concerned, you can find vendors on Saunders peach, but it is better to pack your food if you are planning to visit with your kids. Saunders Beach is also a great place to relax while the kids have fun building sandcastles and digging holes. You can also have a fun family picnic at Saunders beach.
Cabbage beach
source: pinterest.com
Cabbage Beach is another super popular beach in Nassau, and it is, in fact, one of the longest beaches in the region. The 2 mile stretch of white sand and picture-perfect turquoise waters, with just the right amount of palm trees, make Cabbage beach one of the more breathtaking beaches in Nassau.
Cabbage beach is home to several resorts, including the famous Atlantis and the Breezes resort. Like Cable beach, there are also many exciting water sports to participate in on Cabbage beach. You can rent jet skis, go kayaking, paddleboarding, and kite surfing as well. Furthermore, there are several adventurous activities like snorkeling and diving that you can take part in.
Though the beach is quite crowded most of the time, you can find some more secluded spots between the resort fronts on the east side of this long beach.
There are loads of food vendors and beachfront bars to enjoy, and for a small fee, you can also enjoy the pools and restaurants of the resorts on Cabbage beach. Therefore, if you are visiting Nassau, don't forget to check out Cabbage beach.
Coral harbor beach
source: coralbeachvillage.com
Coral harbor beach is located on the South end of the new province island, mostly covered by Nassau. This is one of the most beautiful beaches in Nassau, and it is the perfect place for relaxation and rest. This lovely stretch of white sand and crystal-clear waters is lined with palm trees and Australian Pine trees.
You can take a horseback tour of the beach to experience its breathtaking natural scenery, or you can also go for a nice swim in the amazing water. This beach is a great spot for a family picnic for a nice and relaxing evening with your partner.
Therefore, if you are traveling to the Bahamas, don't forget to check out Coral harbor beach. Check Live Enhanced for more information