Do you now put in a few hours a week to maintain the pool? In that case, you are not alone. Most homeowners dedicate about three hours each week to pool maintenance. Consider getting the form of robotic pool cleaners if you're searching for an easy, affordable, and effective approach to complete the task without discomfort.
While selecting pool cleaners you should consider some technicalities. Buy it according to your pool size and needs. Evaluate the effectiveness and maintenance it requires. Moreover, you should also check the ease of use and the cost of a pool robot.
Your budget also plays an important role in purchasing the best robotic pool cleaners available in the market. With no skimmer blockages or filtration system burnout, a robotic pool cleaner maintains your pool clean. Here Live Enhanced listed the best robotic pool cleaners of 2022 according to various needs and categories.
Best Pool Robot For Overall Performance In-ground – Dolphin Nautilus Pool Cleaner
source: bollyinside.com
This pool vacuum robot offers functionality and convenience at a reasonable price. On Amazon, it is available for 879 dollars. It is a model which works for in-ground swimming pools 50 feet in height. It has a cleaning cycle of 2 hours.
With dual scrubbing brushes, it can clean the floor and the walls of a pool smoothly. It has a twin cartridge as a filter. Moreover, it has a smart navigation system. Its tangle-free cables don't stick unnecessarily during the cleaning process.
Best Pool Robot For Above Ground Pools – Dolphin Escape Pool Cleaner
This automatic pool vacuum cleaner is made for above-ground pools. It works on the majority of surfaces, including vinyl, fiberglass, plaster, and gunite. It can only clean above-ground pools that are up to 30 feet in length because of its 40-foot cord. It features 24 DC motors which is the reason why it is an energy-efficient pool vacuum robot.
The innovative, patented Hyperbrush, which spins twice as quickly as traditional revolving brushes, is a feature of the Dolphin Escape pool cleaner. This increases its cleaning strength by double to get rid of stubborn dirt and persistent algae. It has 1.5 hours cleaning cycle. It will cost you around 700 dollars. Additionally, it has 2 year the warranty period.
Best Splurge Pool Robot – Dolphin Premier Robotic Pool Cleaner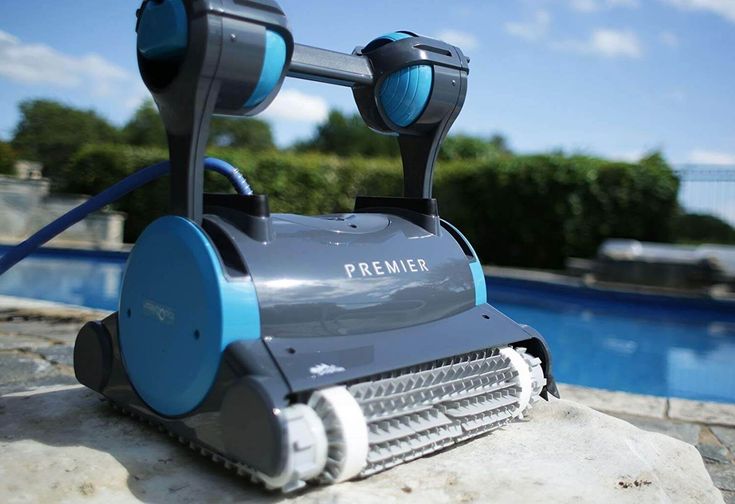 source: pinterest.com
It has a 60-foot cord for in-ground pools up to 50 feet. This product comes with 3 years of warranty. It has 3 hours of cleaning cycle time. Moreover, it has a multimedia filtration system. 3 filter options are available. It has 24-volt, 180-watt DC motors.
The smart thing in this pool robot that adds to its functionality is its SmartNav mapping. Additionally, it has smart control weekly timer. Some basic functions include an LED display signal for debris bag empty indication. You can have a separate remote control too. It will cost you around 1400 dollars on Amazon. It is expensive compared to other pool cleaners.
Best Pool Robot In Budget – Qomotop Rechargeable Robotic Pool Cleaner
The Tomato is an excellent choice if you want the ease of a robotic pool cleaner without the high cost. All pool varieties, including concrete, fiberglass, and vinyl, can use this versatile cleaner. This model is lightweight. It is an automatic pool vacuum suitable for all pool types.
The Qomotop's battery isn't the most potent on our list, though. It is not recommended for larger pools because it can only operate underwater for 60 to 90 minutes. Additionally, this robot is not intended to clean stairs or walls. It is a cordless product with a 60 to 90 minutes cleaning cycle. You will find it online at 240 dollars only.
Smartest Pool Robot – Polaris 9650IQ Sport Robotic Pool Cleaner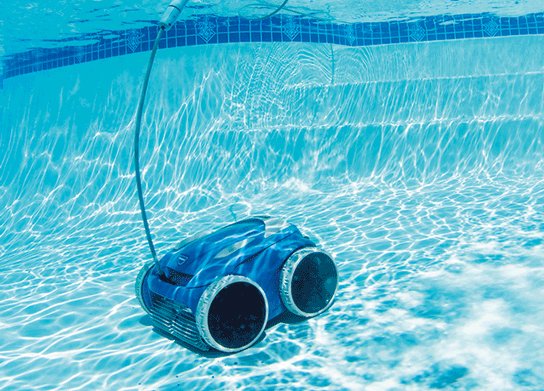 source: pinterest.com
Polaris 9650Iq is a highly advanced pool robot. It operates with the iAqualink app on your mobile device. It is convenient for utmost cleaning with simplicity. You can start or stop the cleaner using your smartphone, make individualized schedules, and even check when the filter needs cleaning. Due to its 70-foot tangle-free cable, this high-end robot can clean even the largest in-ground pool.
Its back water-cleaning system blasts debris off steps and out of tight corners so the machine can suck it up. Its four-wheel drive aids in cleaning the walls, floor, and waterline. Although this model is more expensive, it is good among all other pool cleaners because of its cutting-edge features including a handy storage caddy and the unique Easy Lift removal system, which propels the robot up the wall to be removed simply. How wonderful is it that it even has Alexa support so you can just tell your voice assistant to start cleaning the pool?
Best Pool Robot For Small Pools – AIPER Smart  Cordless Pool Cleaner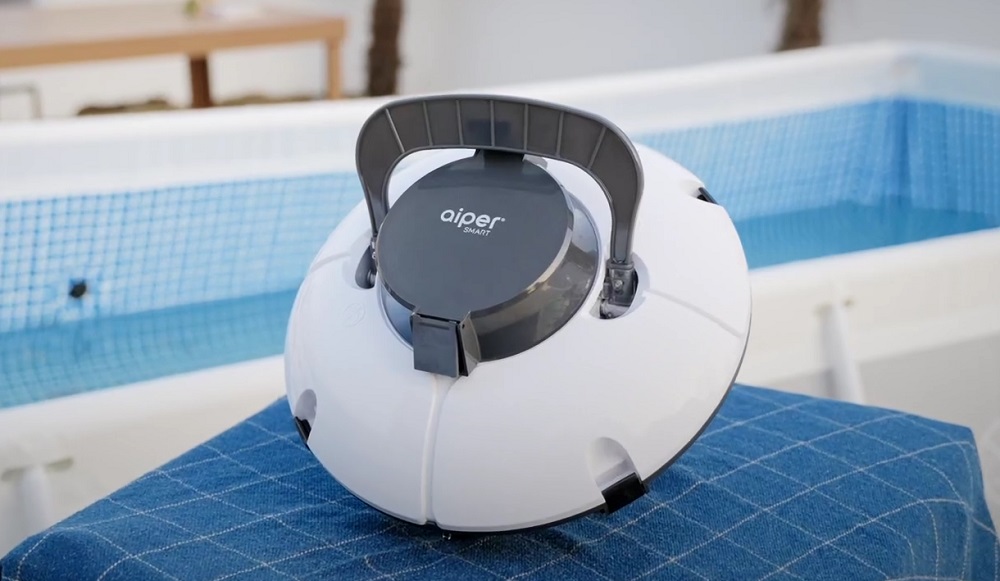 source: smartsmartersmartest.com
A 5000mAh strong lithium battery inside of this device allows it to clean continuously for 60 to 90 minutes. Its cordless cleaner guarantees hassle-free pool cleaning. Additionally, two powerful suction doors and a brush that captures all the dust are built-in. A portable yet powerful, the ultra-efficient pool cleaner is the AIPER SMART HJ1103J. For pool cleaning, the cordless automatic pool vacuum is incredibly dependable and safe. With every pool cleaning, energy is saved because no hoses or booster pumps are needed.
The automatic cleaner is made to take care of all the labor and worries so you can spend more time with your family in the pool. It has a 5000mAh battery that can run for up to 90 minutes before needing to be recharged. Additionally, the pool cleaner has a floating handle that makes it simple to remove it from the water and eliminates clutter and cord tangling concerns. The filter is large enough to accommodate routine cleaning; it holds all kinds of dirt and debris in place. very simple to remove and clean. It will cost you around 320 dollars.
Best Pool Robot For Large Pools – Aquabot X4 Pool Cleaner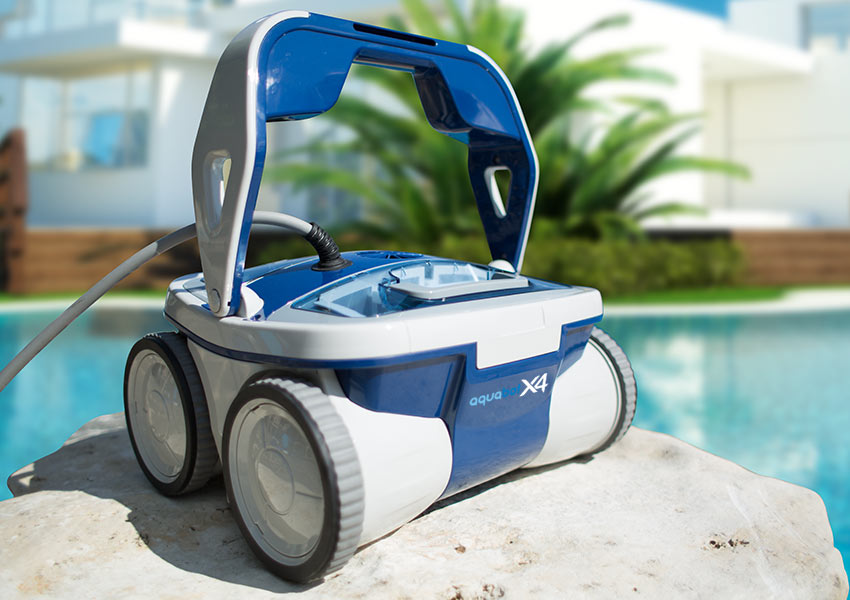 source: poolbots.com
The Aquabot X4 offers robotic pool cleaning quality and affordability. It can circulate 85 GPM while filtering out anything larger than 2 microns, making it excellent at picking up and cleaning up the little particles. It can go across any surface, including tile, because it has real four-wheel drive mobility. It offers a tonne of functionality for the price. 
It also has a convenient caddy that you can use to move it about your patio and into the desired location. However, be careful when removing it because it is twice as hefty as many rival robotic pool cleaners. When it comes to robotic pool cleaning, the Aquabot X4 is just as comfortable scaling the walls of your aboveground pool as it is your inground one. It offers this quality to pool owners who are unfortunately without other options. It will cost you around 800 dollars.
Conclusion
A backyard pool is a wonderful place to spend time with loved ones, whether you're swimming around with the family or sipping cocktails poolside with friends. While maintaining a clean, debris-free pool may seem like a difficult undertaking, a robotic pool cleaner will handle your routine pool maintenance so you can stop worrying about it. You may choose the best pool robot for your outdoor haven from the list of pool cleaners above.