Cooking over a campfire offers a unique flavor experience. Unlike a bbq or oven, a wood fire requires constant attention. However, if you enjoy cooking, it can be more fun. 
Like any holiday meal, cooking meals for a large group can be a challenge. With camping, there are also certain limitations because of less cooking surface and equipment available. But the most joyful memory is cooking itself, the final result is not important. You'll be working together with the family in the open wilderness, the whole process is already worth the try.
It would be great if you can make delicious food and share it with family members, that is why we are here to help. Below are 8 fantastic camping meal ideas prepared for you, enjoy!
1) Pork Tenderloin with Potatoes and Salad
Pork tenderloin is a great piece of meat. It's easy to season and cook and inexpensive. Pairing this cut with potatoes and salad makes it a quick and easy meal choice for your family. Depending on the size of your group, you can easily cook 2 or 3 tenderloins at once.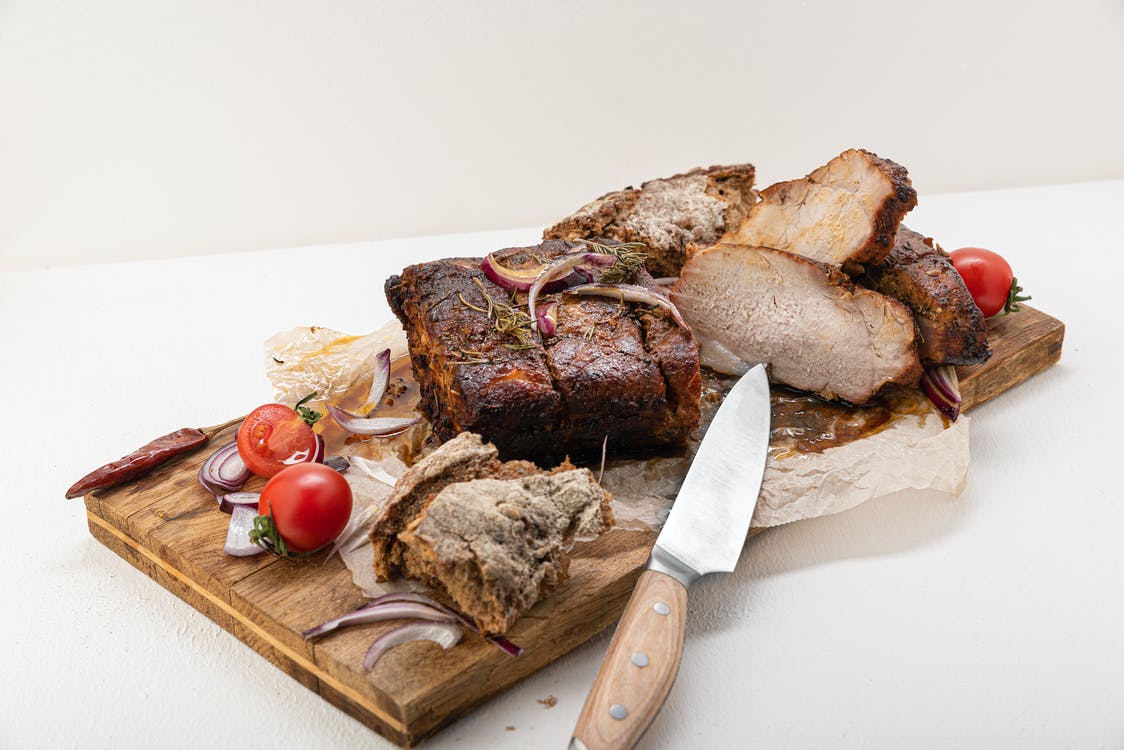 source: pexels.com
2) Burgers
Let's be honest, there's nothing more classic than burgers for bbq. When cooking for a large crowd, burgers can be an obvious choice. Not only are they easy to make, but they are versatile. Everyone can dress them how they like. You don't have to feel limited to beef for your burgers either, pork, poultry and even wild game like venison or bison make a great base for your burgers. It's easy to cook as many burgers as you need over the fire. Make sure you put a dimple in the center of the patty so it doesn't shrink too much while it cooks.
source: pexels.com
3) Sausages
Whenever we talk about burgers, hot dogs almost always join the conversation. But let's leave those cheap imitations at home and bring sausages on our camping trip. Like burgers, we can find sausages in a wide variety of styles and flavors. When cooked over an open fire, they become crispy and delicious. You can put them in a hot dog bun and top them with mustard and sauerkraut for a tasty meal. Like hot dogs, they are easy to cook. Just put them on a grill and roll them as they cook. Pairing them with grilled veggies, like zucchini or peppers, makes an excellent complete meal.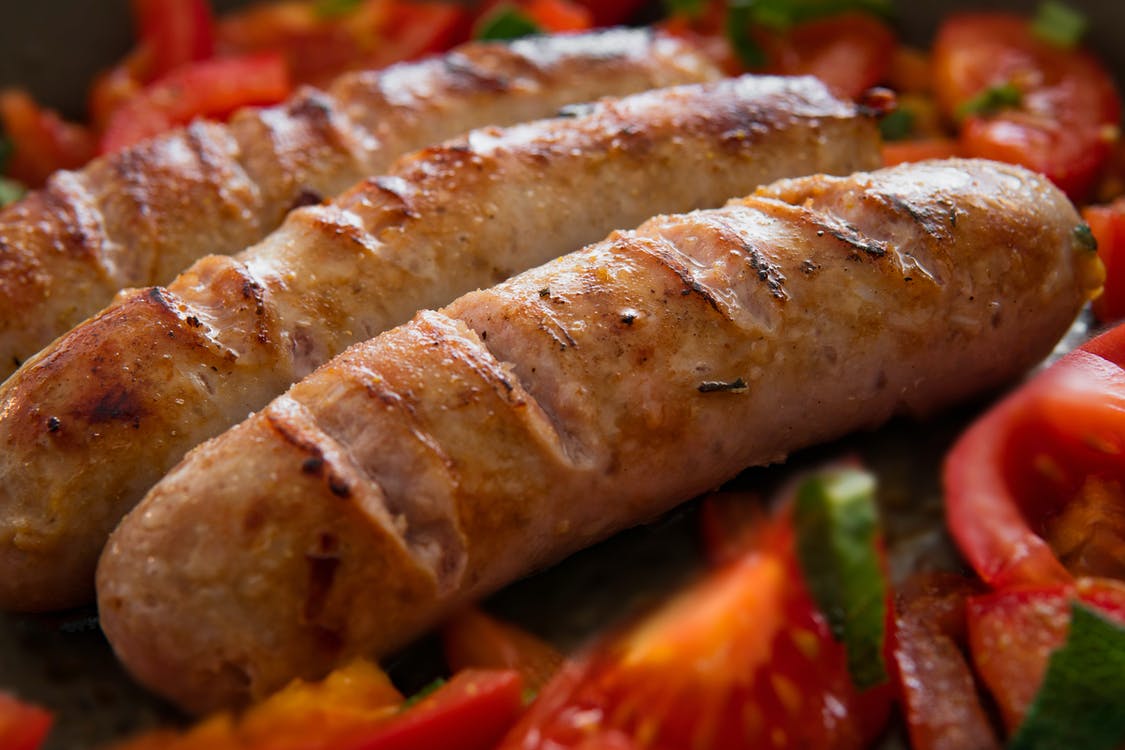 source: pexels.com
4) Whole Chicken
A whole chicken usually costs less than buying just breast or legs or wings. For cooking for a family a whole chicken or two over a fire can provide enough meat for everyone. You can even find pre-seasoned Portuguese style chicken that you can throw on the grill and allow to cook slowly. Served with grilled corn and baked potatoes, or even potato salad, it can become a fan favorite among your friends. 
source: pexels.com
5) Chili
Something like chili might not seem like a camping meal, but it's easy to make in one pot and can feed many people while using a few ingredients. Mixing the ground protein of your choice, some veggies, red kidney beans and a can or two of crushed tomatoes will create a delicious filling meal that can be enjoyed around the campfire on a cool evening. Season it with chili powder, cayenne and garlic, and spice it up with your favorite hot peppers. Serve it with bread or even hamburger buns for a sloppy joe style sandwich. Nothing feels as rustic as having a pot of chili bubbling over an open flame. 
source: pexels.com
6) Shrimp and Corn 
This is a take on a Cajun tradition. Break up corn cobs into 2-3 pieces and place in foil with the shrimp, peppers, onions, and butter. Add hot peppers if you want some kick. Wrap it closed and place on the grill. This is perfect for making individual servings. You can put several on the grill or even over hot coals. Putting them in directly near the flame could burn the foil and your food, so keep an eye on it. You just have to open the foil and start eating. No dishes to clean.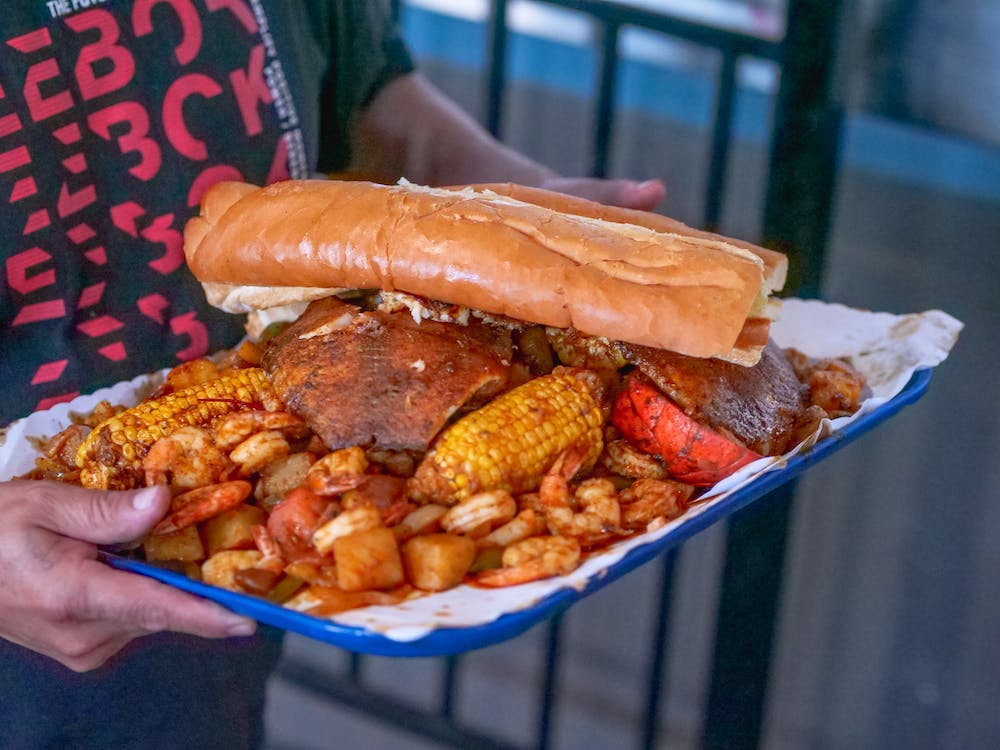 source: pexels.com
7) Chicken or Beef Kebabs
Skewers with beef cubes or chicken and veggies are another great way to create a meal with very little mess. Season the protein with bbq sauce or dry rub and alternate the veggies like mushrooms, onions, sweet pepper and zucchini on the skewer. Metal skewers will help you avoid burning them as the meal cooks. Couple this with corn or potatoes and a coleslaw and you have a great summer meal.
source: pexels.com
8) Pork Chops
Pork chops aren't fancy, but they are easy to cook and inexpensive. Whether on the bone or boneless, you can quickly serve your large group a delicious protein infused with smoke flavor. There are so many ways to season pork chops for the grill it's impossible to list them all. Everything from bbq sauce to a spicy rub works well. Grilled eggplant and sweet potatoes go very well with this classic.
source: pexels.com
Final thoughts
Cooking a fantastic camping meal for your family or a large group doesn't have to be as daunting as it might seem. Use the wood to add flavor to your protein and enjoy the experience of creating delicious meals over a fire. Most meals you might make at home can be recreated on the grill at a campsite with a little imagination. When you think of the campfire grill like a BBQ anything is possible. 
Veggies grill just as well as meats or fish. Using a tinfoil tray, you can roast them or fry them in a cast-iron skillet. A great meal always incorporates protein, veggies and a starch. Get creative with your pairings and your group will compliment how delicious the meal is.