A wide range of analytical methods is available due to the study of chemistry, which helps us comprehend various molecules' properties, composition, and behaviour. When it comes to research liquids, precision analytical procedures are crucial. Carefully considering where to buy research liquids is important for those seeking to maintain the highest quality and purity in their studies. 
High-Performance Liquid Chromatography (HPLC)
HPLC is one of the most popular methods for assessing blends of soluble chemicals. It entails the separation of the compounds in a sample due to differences in the relative affinities of the compounds to a stationary phase and a mobile phase. HPLC, particularly for research liquids, can deliver accurate results that let researchers determine the concentration and purity of a sample.
Mass Spectrometry (MS)
source: pinterest.com
The chemical structure of a substance can be determined using the mass spectrometry method by generating spectra from the molecules and molecular fragments. It assesses the ratios of charged molecules or molecule fragments created by ionising chemical compounds in terms of their mass to charge. MS is very useful when combined with HPLC for research liquids, sometimes called LC-MS, since it adds a layer of compound identification and quantification.
Nuclear Magnetic Resonance (NMR) Spectroscopy
NMR spectroscopy is a powerful technology that can be used to determine the structure of organic molecules. This method generates precise information about the arrangement of atoms in a molecule via the resonance of atom nuclei in a magnetic field. Research liquids, especially organic compounds, can benefit from NMR's structural insights.
Gas Chromatography (GC)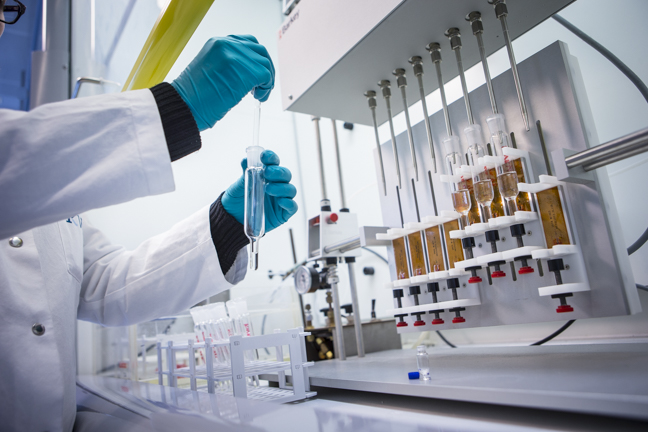 source: pinterest.com
Even though it is frequently used for volatile substances, GC can sometimes be useful for studying liquids, especially when paired with MS (GC-MS). The process involves vaporising the compound and passing it through a column to separate the components. The data then gathered identifies the compounds and their concentration.
Ultraviolet-visible (UV-Vis) Spectroscopy
A sample's light absorption in the visible and ultraviolet ranges of the electromagnetic spectrum is measured using UV-Vis spectroscopy. This method is crucial for determining the concentration of a certain molecule in a solution, especially if that molecule has conjugated double bonds that absorb UV or visible light. 
Infrared (IR) Spectroscopy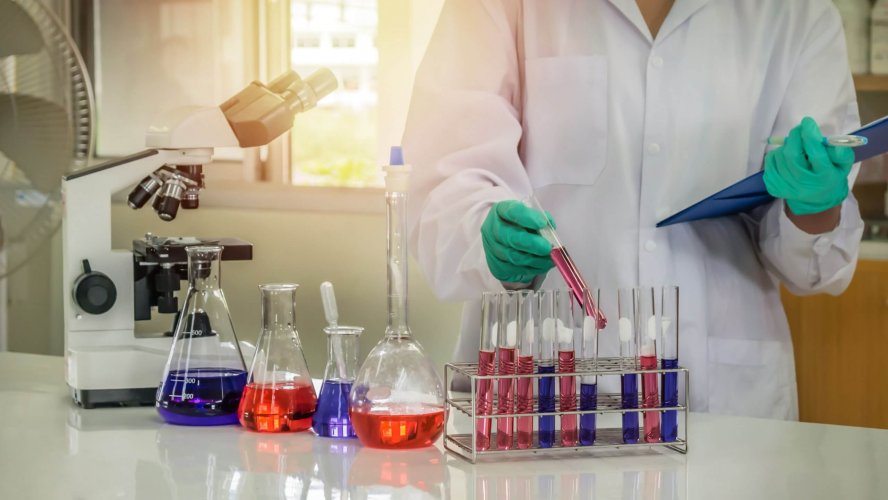 source: pinterest.com
IR Spectroscopy identifies the functional groups of molecules by generating an infrared absorption spectrum. Because of the vibrational transitions that result from IR absorption, each functional group of molecules displays a unique spectral fingerprint. This provides information about the types of bonds and functional groups present in research liquids.
Capillary Electrophoresis (CE)
Capillary electrophoresis separates ions according to their charge and the frictional forces they encounter in a narrow capillary filled with an electrolyte. Research liquid chemical separation and analysis, especially for those containing charged particles, can be completed fast and with excellent resolution utilising CE.
End Remarks
In the ever-evolving field of chemical research, precise analytical techniques remain essential. Since scientists are constantly trying to advance, the calibre of the materials they employ is essential. The purchase of top-notch research liquids ensures the accuracy of their testing and study. Businesses like Lotilabs and others aim to provide the research community with high-quality products because they understand accuracy is important to scientific activities.