Condos come in all different sizes, shapes, and designs. However, whatever the dimensions and size of the condo be, there is always room for a great transformation during interior design. You can choose any design style such as minimal, Scandinavian, retro, traditional, or whatever you wish for. But there are always some hacks and tricks which you can employ in your condo interior design to transform it and give it a Wow factor.
You can hire a professional interior design company that will help you transform our condo into a beautiful and heavenly abode. But hiring an interior design service does not limit you to give your own ideas and preferences according to your own needs. 
Here, we will discuss some of the condo interior design ideas and tips through which you can create a comfortable, elegant, beautiful, and sophisticated home for yourself. Through these ideas, you can not only create a visually appealing space but also one that is functional.
A rose-gold coloured condo interior design by AC Vision
Using The Right Colors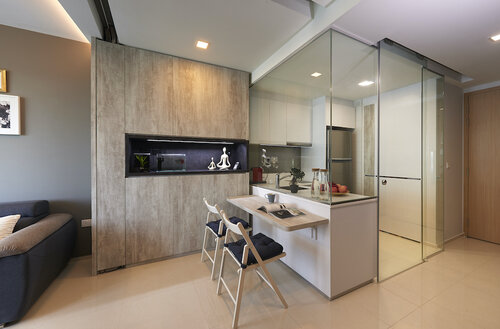 The choice of colors can be a personal preference but there are certain colors and shades that go well with condo interior design. You can choose some of these colors for certain elements of the design while keeping the remaining stuff neutral so that the colors do not become a sore for the eyes. In case your condo has large windows that bring in lots of light, you can choose dark blue in the interior to bring about character in the room, especially in a bedroom. In case of a small room, you can opt for a white or pastel color that will help increase the visual space of the area. Grey is also a beautiful color that can be used in a contemporary condo interior design as it helps create a luxurious backdrop for other elements in the room. Similarly, sage or bottle green also works really well with warm or cool color tones and is a good choice for a living room.
Define Zones In Rooms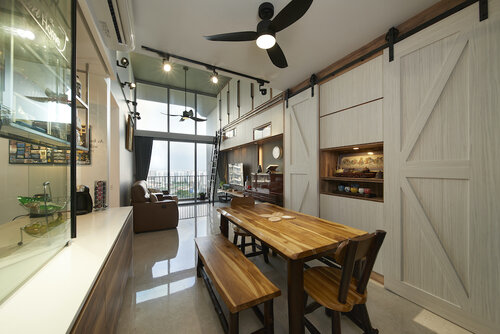 One very simple yet effective way to create an attractive design in a condo is to define smaller areas and zones in a bigger room. For example, in a living room, you can define a small zone by placing a particular rug in that area along with two sitting chairs that complement the design of the rug. A lamp can be placed between the chairs along with a small coffee table. This will create a small reading nook in one corner of the living room. You can use different types of colors, furniture, and rugs to define smaller zones. 
Create Illusions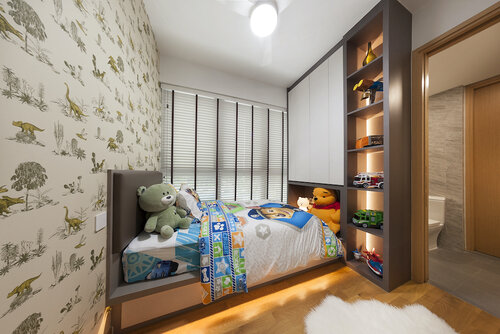 Another way to transform a condo is to create illusions through several tips and tricks. One such trick is to use mirrors on various walls of the room. Mirrors help to enhance the visual depth of a room and create a beautiful illusion. When light reflects from these mirrors, it not only results in more light for the whole room but also adds elegance and character to the design. Similarly, you can install ceiling to floor length curtains to give the illusion of higher walls. 
Choose Multifunctional Furniture
If you have a small condo, you may be in a fix as to which furniture should you choose so that it doesn't cramp up the space and still fulfills all your needs. The solution to such a problem is to use multifunctional furniture. This is that type of furniture that can be transformed in some way to create some other function. For example, opt for a sofa cum bed which can easily be transformed into a bed whenever you need. Similarly, there could be different stools and chairs that have hidden storage space in them, thus serving two important purposes. You can install a tabletop on one wall of a room that can be folded away. Whenever the need arises, you can unfold the tabletop and make it a dining table. Otherwise, keep it folded away to increase the space and keep the area decluttered.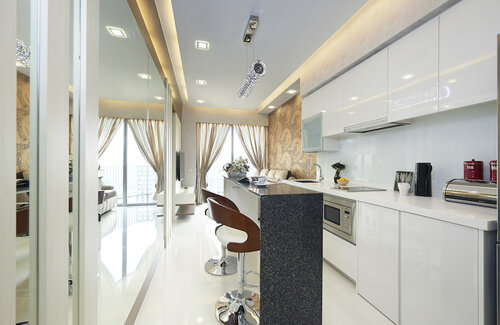 If your home is crammed with many things or there is clutter everywhere, then no matter what interior design styles you adopt, the place will not look good. Therefore, decluttering the house is one of the most important ways that you can increase its attractiveness. Decluttering also allows you to create negative space for other elements of the room. Increasing negative space enhances the beauty of other decorative items. On the contrary, if a decorative piece is surrounded with other things, no one would be able to admire its beauty. Therefore, maximizing negative space is pivotal in a good condo interior design.