Although each room of a households a special value and significance, a bedroom can be considered the most important one among all of them. It is a secluded and private space where you retire after a long day at work. It is where you seek comfort, calm, relaxation, and serenity. It is therefore imperative that it should be designed in a similar fashion where it is able to meet all of these mentioned properties. 
Many different aspects of interior design play their roles in achieving these expectations with one of them being the door of the bedroom. It may seem trivial at first when you consider how a door can be important in the interior design of the room but when you think about it, you will see that a bedroom door can make or break a good interior design. It is the first thing that one sees before entering the bedroom and therefore creates the first impression.
Choosing the right door for your bedroom is a very significant task. In Singapore, Gate Door Window will help to create the best possible door for your bedroom that not only matches the aesthetics of the room but also falls within your requirements and budget. But before that, you should get inspiration from the trending HDB bedroom door designs so you know what you are looking for.
Paneled Wood Bedroom Door
source: pinterest.com
This is a simpler wood door that has rectangular or square panels within its design. You have the option of keeping flat panels or raised ones to add character to the interior. This type of bedroom door works well with a traditional and Scandinavian interior design.
A Glass Paneled Wood Door
Adding glass in a paneled wood door immediately adds a touch of elegance and class to the room's design. If you have a luxurious interior design for the bedroom, then this door is a good option. This design also works really well for a double door design as it further enhances the grandeur of the double door. However, it does compromise on privacy if you use clear glass, you can replace it with tinted glass or even mirrors.
Fiberglass Paneled Wood Door
source: pinterest.com
A similar option to a glass paneled wooden door is one with fiberglass panels in a wooden frame. This is a trending design where you have the option of choosing the patterns and colors of the fiberglass you wish to use. It comes in a variety of designs and patterns which makes it a good choice for a bedroom door since you could try to match it with the bedroo's interior. 
A Modern Slab Door
A modern slab door is a perfect option for the bedroom if you want to achieve a modern and elegant interior. With its frameless, seamless and smooth finish, a slab door can add elegance to any room. They come in many different materials and feature clean, elegant lines which makes it a good choice for any modern interior.
French Bedroom Door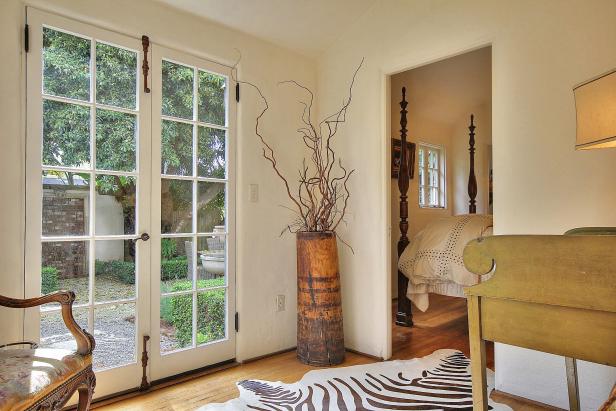 source: hgtv.com
If your bedroom has an adjoining balcony or terrace, then choosing a french door is the perfect option. A french door is a type of double door with glass windows that create a whole frame thus giving you the perfect panoramic view of the outdoors. It allows for a lot of natural light to flow through and also gives you an uninterrupted access to the outside view. You can also choose this door as the main door of your bedroom. 
Sliding Bedroom Doors
A sliding bedroom door is a good option for a small room where you want to save the space used by a door during its swing motion. As the name suggests, a sliding door is a type of double door with one door fixed and the other door slides over it when it needs to be opened. This door design saves valuable space and makes the area look spacious.
Pocket Sliding Bedroom Door
source: raydoor.com
A pocket sliding door is similar to a simple sliding door but it has a modern touch to it. In this design, there is a pocket inside the wall which serves as the area where the door slides into when it is opened. This design creates a much cleaner, spacious, and modern outlook.
Louvred Bedroom Door
A louvred door has louvred blades that are placed horizontally across a frame and are angled against each other. This type of door brings about a beautiful character to any room. These doors usually come in double door or bi-folding door styles. You can choose any color for this door but they look best in white and oakwood colors.