When it comes to fashion, a trend refers to the styling, colors, fabrics, and designs that are popular during a certain season and may have a long-term impact on the market. Interior design trends are comparable to fashion trends in that they are both influenced by current events and society. Trying to predict where the latest trends will go and which styles, materials, and colors will appeal to customers the most in the following season is a difficult task for designers and architects, and it necessitates a lot of research and observation.
 We've identified all of the major interior design trends for 2021. We met with trend experts and high-profile designers to acquire their trend guesses and insights, then we researched and analyzed the previous year's interior patterns and compared them to current search trends on Google, Pinterest, Instagram, and more.
Warm Up Colours Are Popping Up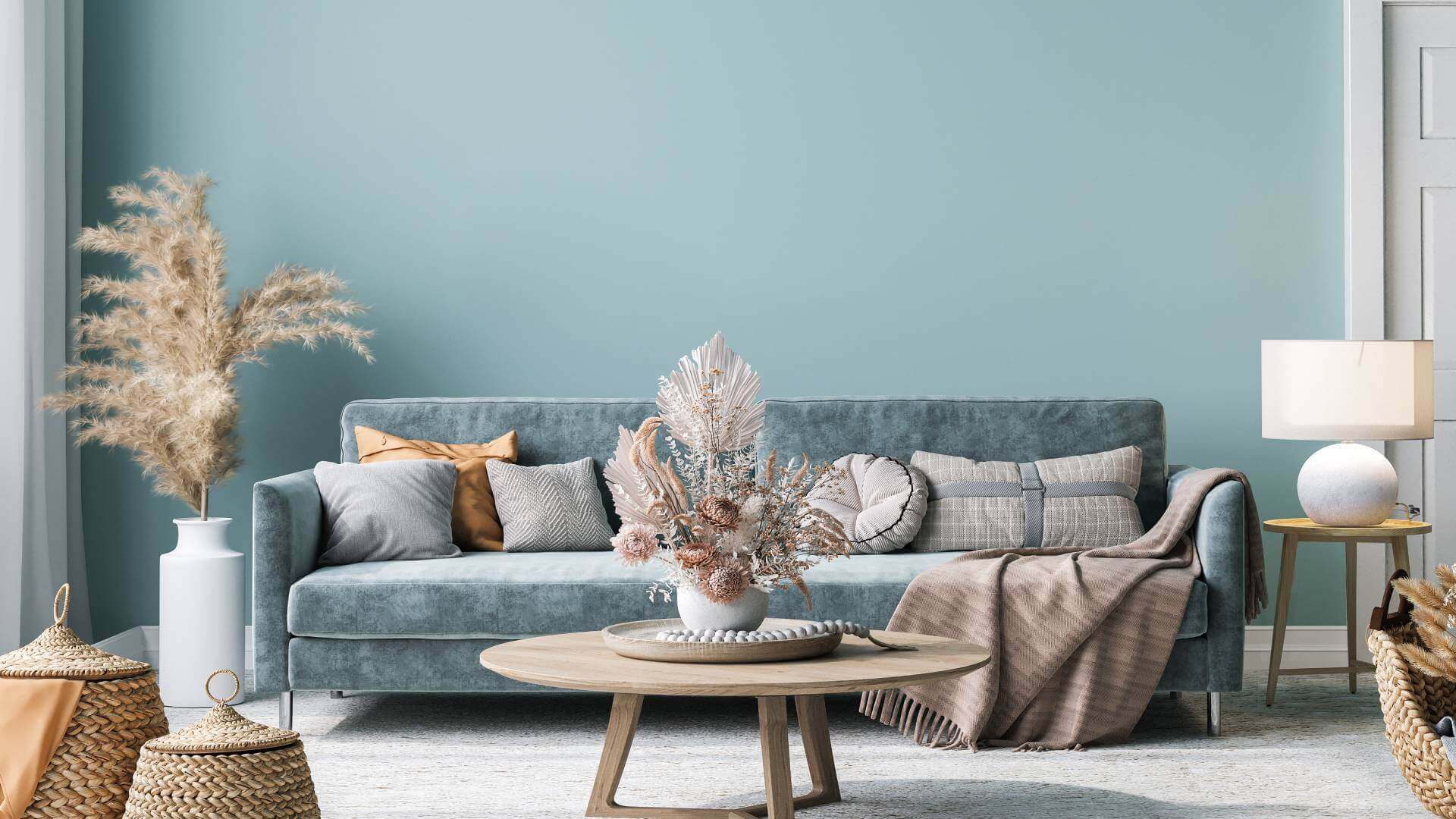 source: build-review.com
Colors are important in interior design and are always relevant to current interior design ideas. Colors evoke feelings from the person who will enter your place, thus they can make or break your ideas. Hues should fit the style, design, and feel of the house in order to create in accordance with the newest trends. Warm tones had been exchanged for colder tones such as purple in previous seasons.
 Warm colors, on the other hand, are making a major comeback in 2021. While red is the color of the season, all colors of red, orange, and tangerine will dominate 2021 fashion trends. Browns and beige are the most popular earthy tones in houses this year. Despite the fact that grey was mostly utilized as a neutral color last year, beige and the warm color palette are replacing the cold hues this season.
Wallpaper That Stands Out From The Crowd
Bold wallpaper is striking the walls all around us, whether it's in the living room, the bedroom, or even the conference room. Previously, this feature was just utilized as an unusual variation, but it is now bolder and more ornamental. Wallpaper is becoming viewed as a form of art for your surroundings in the newest interior design trends. Geometric patterns, panoramic sceneries, abstract shapes, animal and human characters – many different types of wallpaper prints can let you embrace the 2021 interior design trends.
Outdoor Becomes Indoor
source: foyr.com
People are gravitating toward warm tones and natural materials in interior design trends, which appear to be more eco-friendly. Decor pieces created from natural materials, whether real or imitation, are in great demand since they offer a natural and authentic aspect to your area.
Natural wood is being used in a variety of ways in designs, including flooring, countertops, accent décor, and cabinetry. Stones such as marble, granite, and pebble, as well as materials that look like these stones. Which tackle these modern interior design ideas. Consumers and designers alike are appreciating recycled and handcrafted artifacts not just for their aesthetic value. But also as a reflection of their eco-friendly design. Inviting nature indoors is one of the biggest interior design trends for 2021. Whether you use a sustainable wood floor or a flower bed of indoor plants.
Curves Take The Role Of Straight Lines
Curves and smooth edges give a home a relaxed and pleasant feel. Boxy edges and clear lines, which were formerly hallmarks in the latest interior design trends, are being replaced by these organic, appealing designs. In 2021, puffy sofas and soft seats, as well as circular furniture, mirrors, artwork, and more, will define the trends.
Ceiling Theme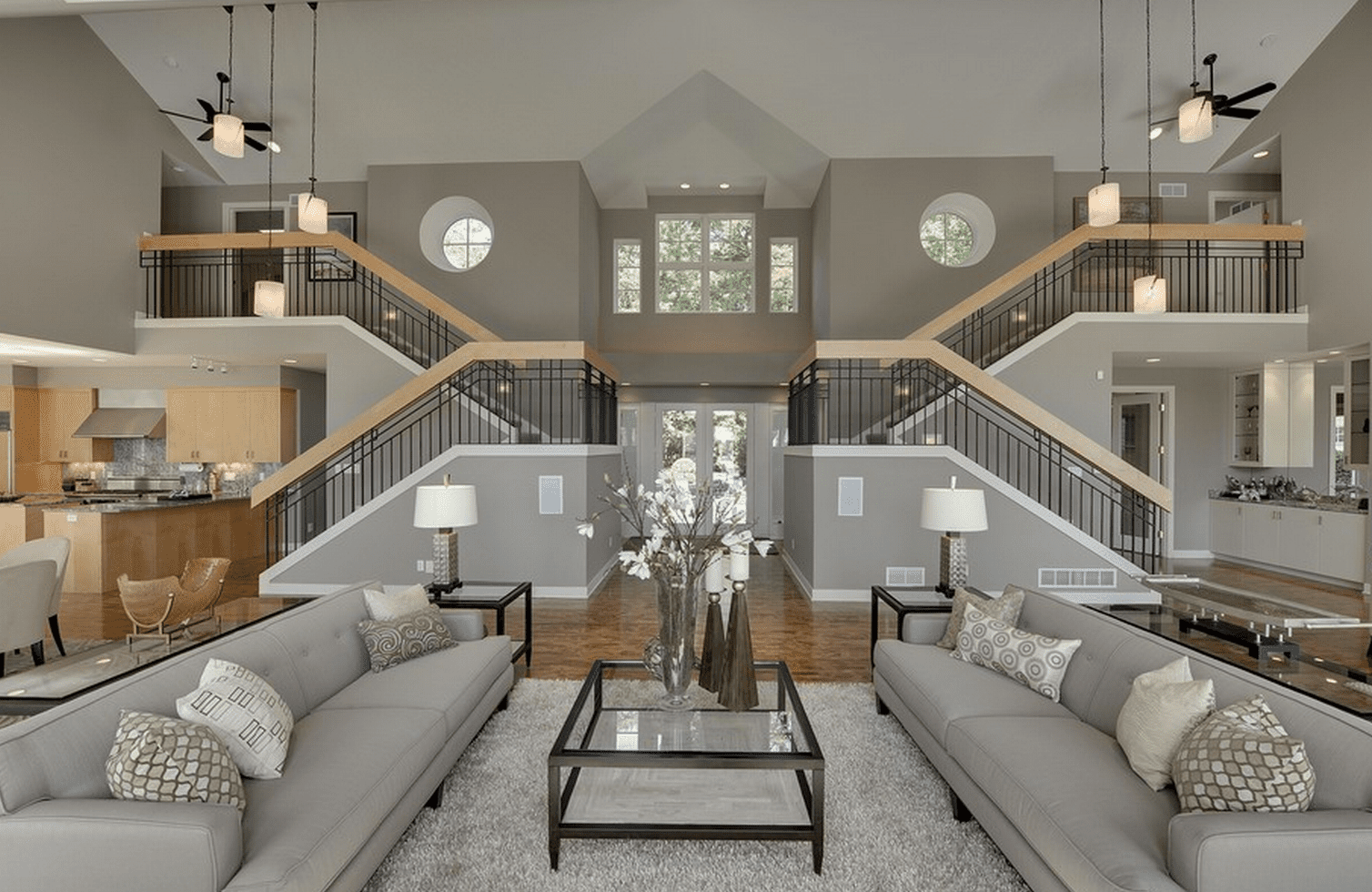 source: trendir.com
Ceilings that make a statement have made their way into current interior design trends. Both residential and commercial spaces can benefit from bold colors and patterns, mirror fixtures, and ceiling-mounted painted art. Despite its eccentricity, this latest interior design style creates an intriguing aesthetic and adds a fun and unique element to the space.
Monochrome Palette
The timeless elegance of black and white finishes is being embraced by the current interior design trends. This season's trends include black lighting fixtures, window frames, furniture details, and finishes. Scandinavian design styles may have been the first to introduce black and white patterns, prints, decorative objects, and accessories, but they are here to stay.
 Painting walls black, for example, has become a popular interior design trend, and contrasting the dark colour with brilliant white furnishings may produce a trendy look. These monotone components can be used in any sort of decor because of their bold and minimalistic vibe.
Concrete Elements
source: wsj.com
While concrete has long been used for floors and countertops. It is currently used in more fascinating and surprising ways, including home décors such as pendant lighting and furniture. Concrete is being used in more imaginative ways than merely as a surface material in 2021 interior design ideas.
 However, while designing with concrete, make sure your room doesn't become too grey – pair concrete accents with bright, warm hues like reds or yellows to keep your space up to date with current interior design trends.
Versatile Space
In the past, spaces were generally labeled according to their intended use like sitting areas, dining areas, meeting rooms, and etc. People today prefer multi-functional environments that allow them to make the most of their available space. Utility and functionality are especially important for those who live in tiny spaces, this adaptability is a contemporary interior design trend.
Fold-out tables and chairs, for example, allow a space to be transformed from a living room to a dining room depending on the occasion. It's also easy to move the area if you choose furniture with subtle wheels.
Advance Tech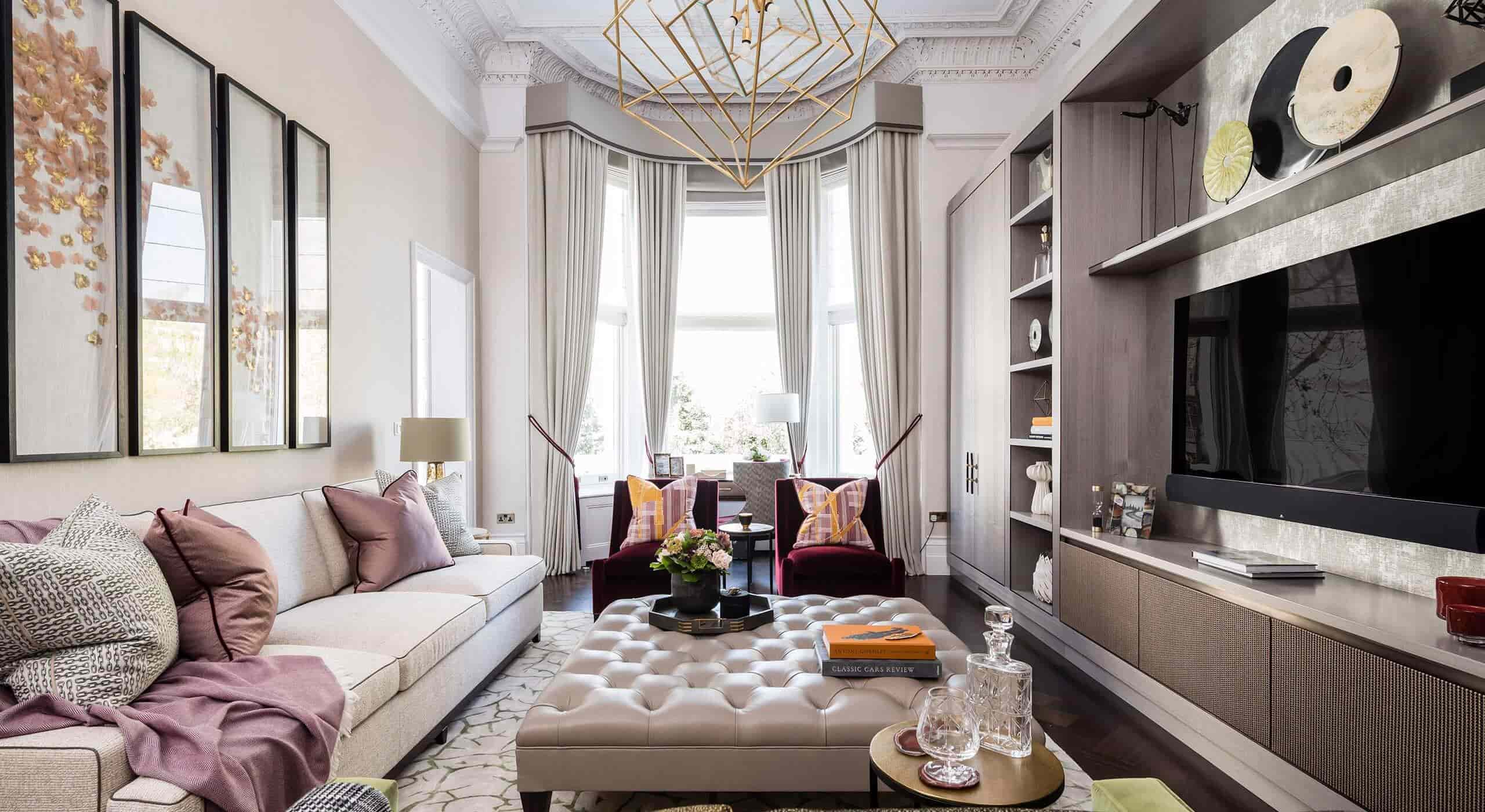 source: mansionglobal.com
Because technology and interior design have always been intertwined. The most recent interior design trends for 2021 will surely mirror technical breakthroughs. To turn on the television, we no longer need to reach for the remote. The current trends favor simplified devices that are well-suited to the next generation of home assistant technology.
Pick Maximalist 
Mix contrast patterns boldly throughout a scheme. By balancing the eclectic mix with varying print scales and one or two grounding common tones to hold everything together. The Bloomsbury painters not only painted their walls but also their furniture. To create amusing layers, combine large-scale wall artwork with small-scale ornamental details.
Traditional Nouveau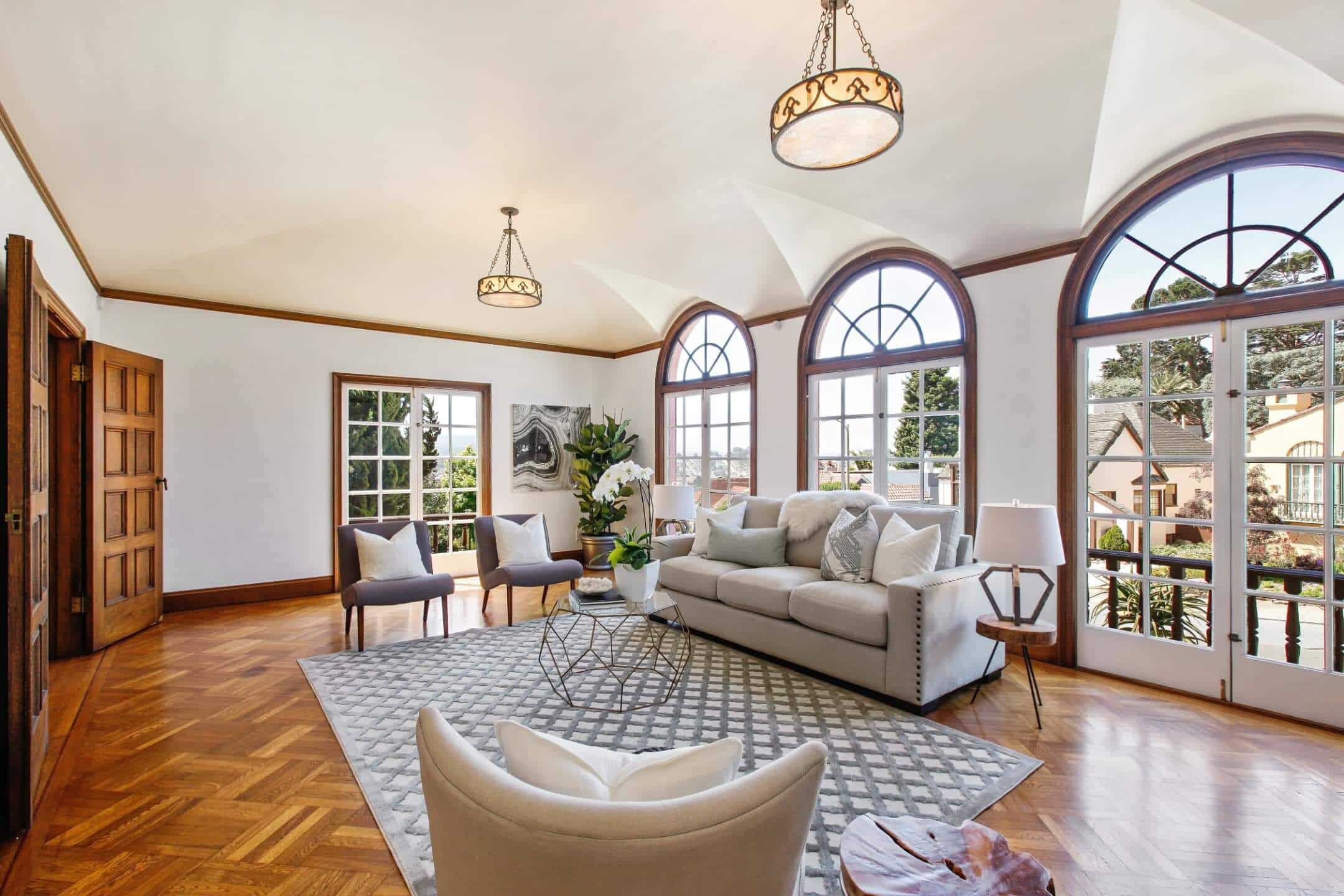 source: redfin.com
The eclectic current interior design trend of traditional nouveau design is influenced by past interior design trends. Which has largely supplanted mid-century modern design. This current interior design style combines ancient furniture with a contemporary touch. Consider an ornate, royal piece of furniture. That combines current interior design trends such as warm-colored accents and monochromatic color palettes.m
Japanese Inspired Marbling
What is it about marbling that makes it so appealing? The most recent approaches toward the craft are pushing it to its limits. We're crazy about wallpaper designed using the Japanese Suminagashi method.
The Suminagashi technique, which translates as "floating ink," entails floating special sumi ink on the surface of water. It is then handled with sumi brushes, which are comparable to Japanese calligraphy brushes. What are the results? Almost unexplainable.