Step into a world where kitchen organization becomes an art form – welcome to the enchanting realm of crockery unit design. These delightful storage companions, known as china cabinets or buffets, hold more than dishes; they are the storytellers of your culinary journey.
In this captivating guide, we'll unveil the secrets of crafting a crockery unit design that transcends mere functionality, becoming a mesmerizing centerpiece of your kitchen or dining area. From chic contemporary styles to rustic chic, we offer a myriad of inspirations to match your unique taste.
Prepare to discover space-saving wizardry and expert tips that will elevate your home with an exquisite blend of functionality and style. Let the adventure of expression begin – embrace the artistry of crockery display unit designs.
Basics Of Crockery Unit Designs
Functionality at Its Finest: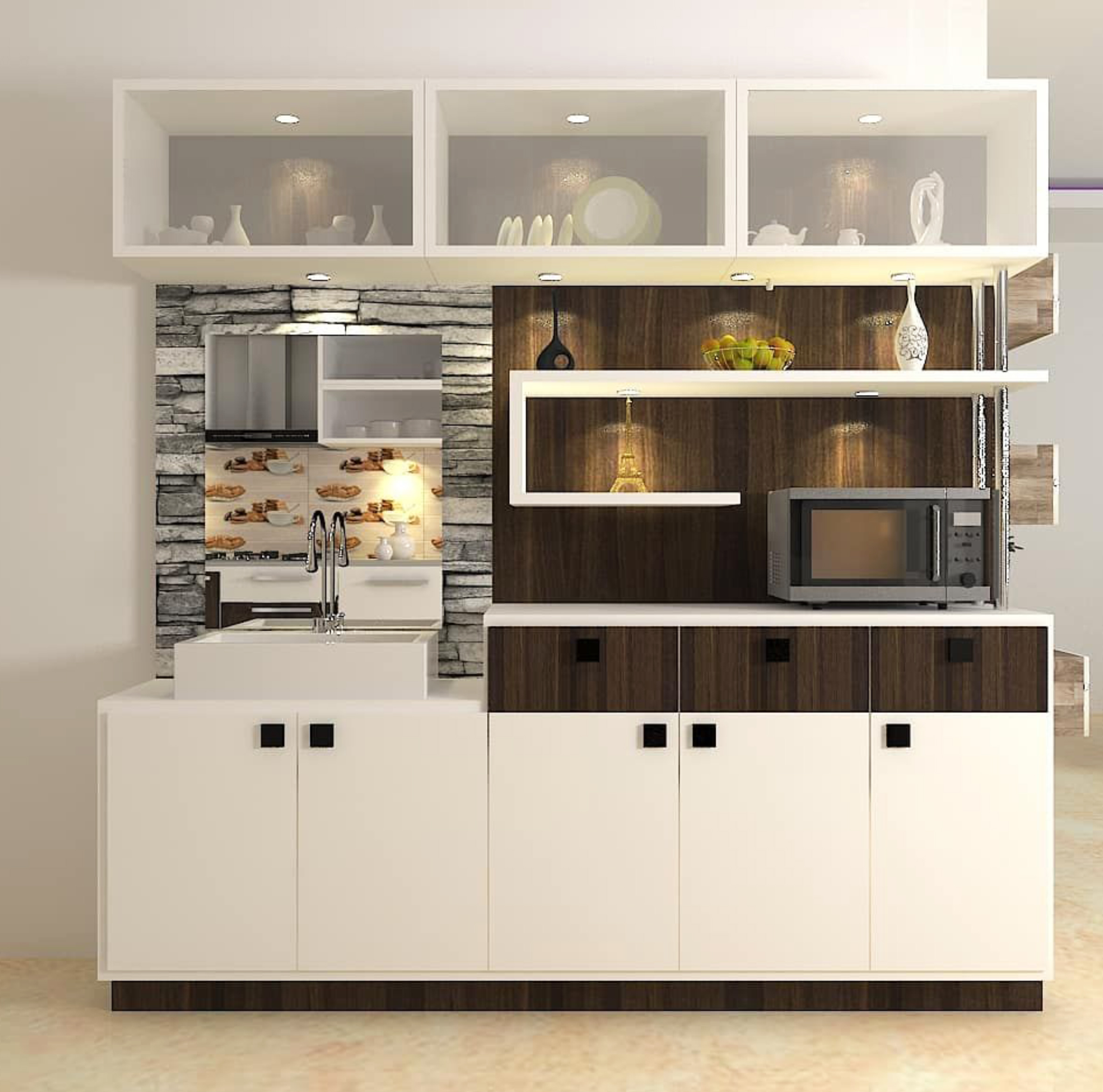 source: pinterest.com
A well-designed crockery unit combines form and function seamlessly. It should offer ample storage space with adjustable shelves, drawers, and compartments for different crockery and dining essentials. The unit's layout should ensure easy access and efficient organization, making meal preparation and dining a breeze.
Aesthetic Appeal: 
Crockery unit designs are not just storage solutions; they are an opportunity to enhance the overall aesthetics of your kitchen or dining area. Choose a design that complements your interior style, whether it's a classic wooden unit for a rustic touch or a modern, sleek design for a contemporary look.
Material Matters: 
The choice of material significantly impacts the unit's durability and visual appeal. Common materials include wood, glass, metal, and even a combination of these elements. Consider maintenance, longevity, and how well it aligns with your home's decor.
Placement and Space Optimization: 
Finding the perfect location for your crockery display unit designs is crucial. It should be easily accessible, preferably close to the dining area or kitchen, depending on its intended use. Additionally, consider the available space and dimensions, ensuring the unit fits harmoniously without overwhelming the room.
Designing Crockery Units: Key Considerations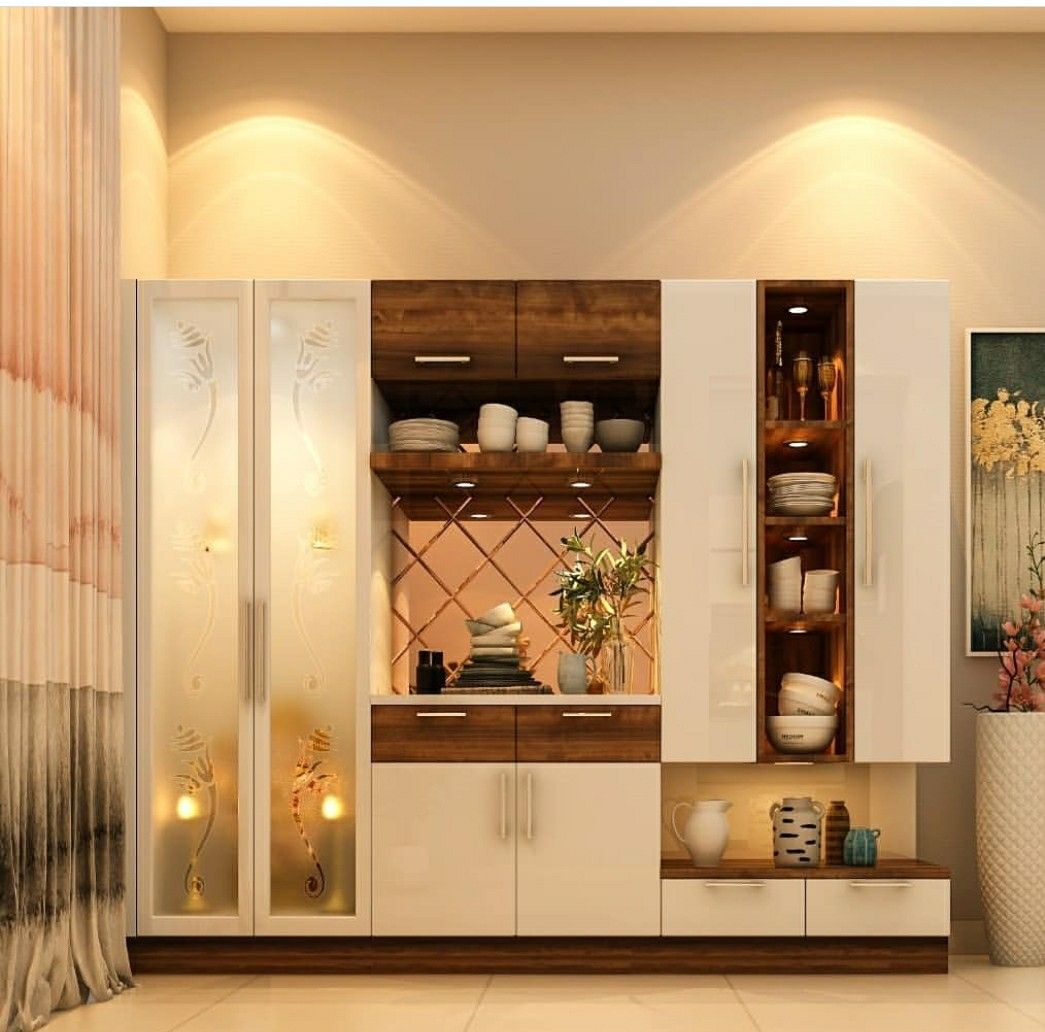 source: pinterest.com
Understand Your Needs: 
Take a moment to assess what you truly need from your crockery unit design. Think about the types of crockery and dining essentials you use regularly. Do you love showcasing your collection, or do you prefer to keep things neatly tucked away? Knowing your specific needs will help you find the perfect design.
Measure with Care: 
Before falling in love with a crockery unit, grab that measuring tape! Measure the space where you plan to place the unit. Make sure it fits comfortably without crowding the area. Trust me; you don't want any surprises when it arrives at your doorstep!
Style and Function in Harmony: 
Yes, it's essential to find a unit that looks great but remember, functionality is equally vital. Seek a design that not only matches your home's vibe but also serves its purpose. A well-balanced blend of style and function will keep you satisfied in the long run.
Customize for You: 
Don't be afraid to add your personal touch! Look for crockery display unit designs that offer customization options, like adjustable shelves or versatile storage layouts. Make it your own by adding decorative touches or lighting that brings out the best in your crockery and your home.
Remember, quality matters, so invest in a crockery unit made of durable materials. With this friendly advice in mind, you'll be well on your way to designing a crockery unit that fits your lifestyle like a glove. 
Different Types Of Crockery Unit Designs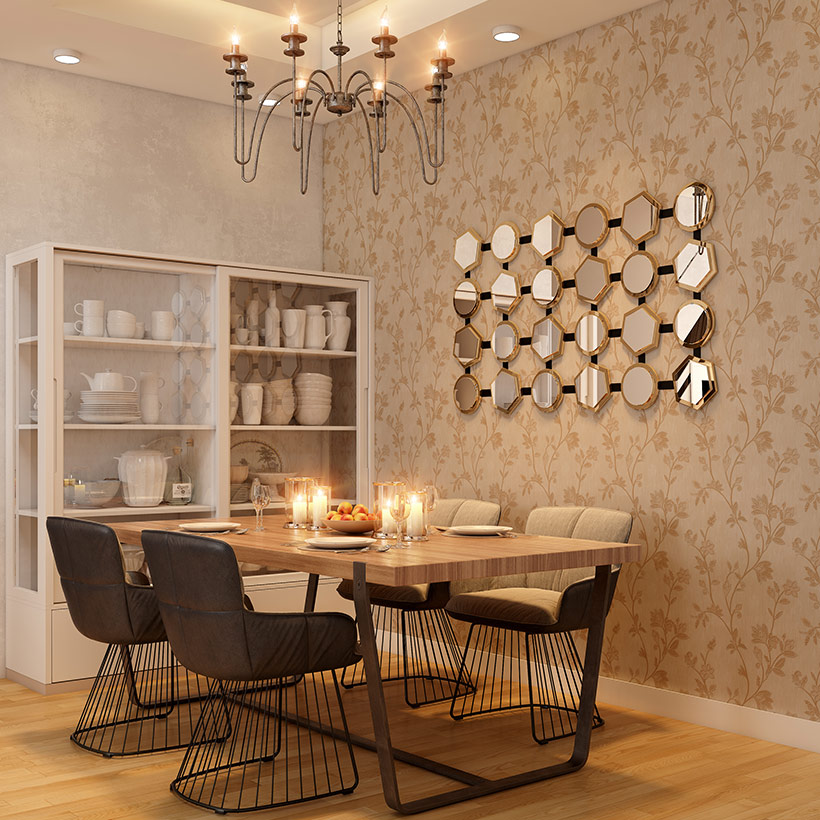 source: pinterest.com
Wooden Crockery Unit Designs
Elevate your space with the timeless charm of wooden crockery unit designs. Crafted from natural wood, these units exude warmth and sophistication, adding a touch of rustic elegance to any interior.
Experience the joy of displaying your cherished crockery in a beautifully curated space that reflects your taste and style. With the right care and occasional touch-ups, a wooden crockery unit design can stand the test of time and become a cherished focal point in your home.
Pros: Classic and timeless appeal, enhances the aesthetic of the space, customizable designs, and a connection to nature. 
Cons: Higher initial cost, susceptible to humidity and moisture, may require occasional refinishing.
Wall Mounted Crockery Unit Designs
Maximize your space with the sleek and space-saving charm of wall-mounted crockery units. These innovative designs effortlessly transform empty walls into functional and eye-catching display areas. 
Embrace the allure of wall-mounted crockery units, where style meets practicality. Showcase your exquisite crockery collection with a touch of artistic flair, elevating the ambiance of your dining area or kitchen.
Pros: Versatile design options, highlight your crockery as decorative pieces, complement small living spaces, and offers a chic and clutter-free look. 
Cons: Limited weight capacity, not suitable for heavy or oversized items, requires proper wall anchoring for stability.
Dining Crockery Unit Designs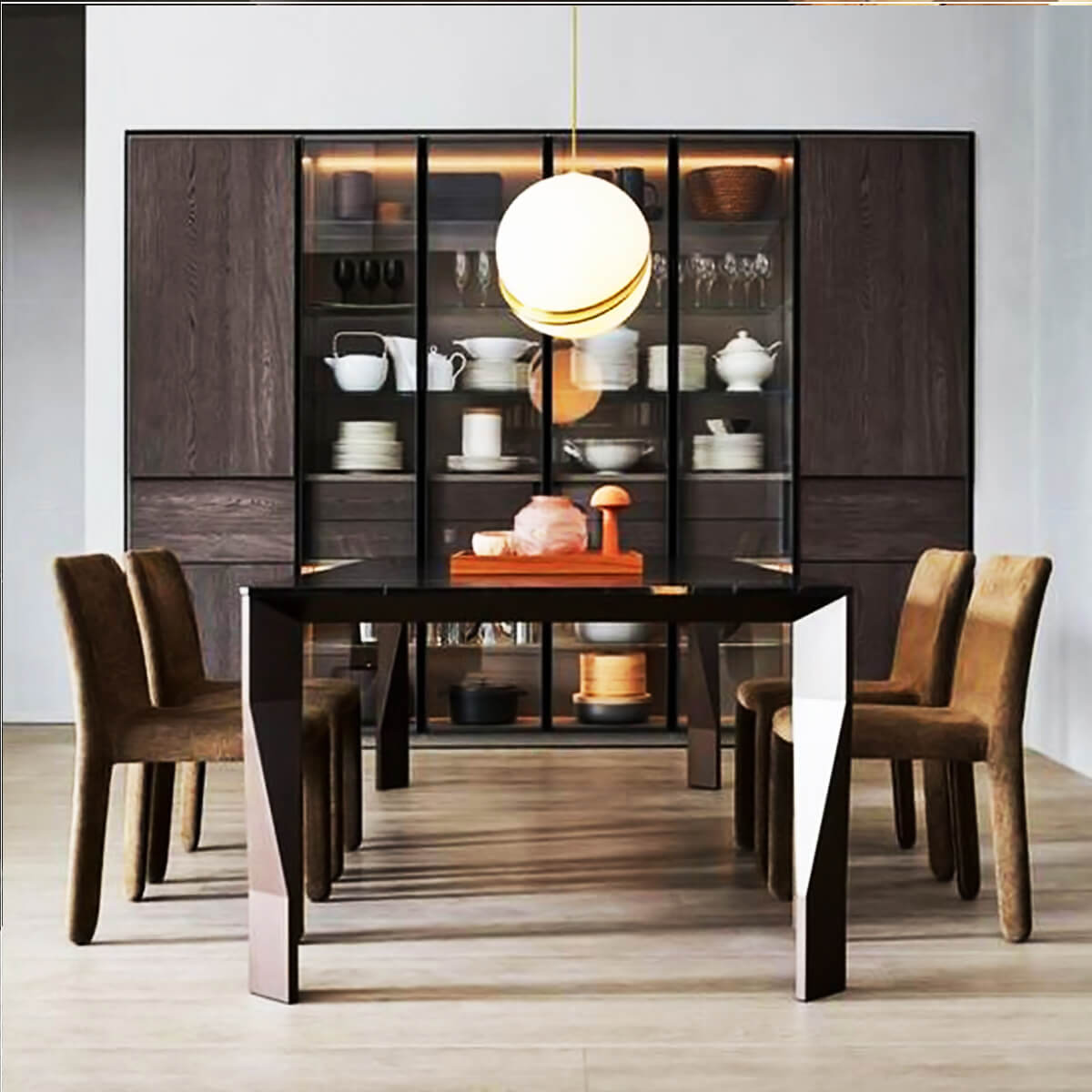 source: pinterest.com
Indulge in the allure of dining crockery unit designs, where the art of entertaining converges with the practical organization. These exquisite designs gracefully accommodate your dinnerware and serving essentials, becoming a focal point that exudes elegance and sophistication.
Embrace the charm of dining crockery units, where functionality meets refined aesthetics. Curate a captivating display of your finest dinnerware and cherished serving pieces, elevating the ambiance of every dining occasion. 
Pros: Ample storage for dining essentials, optional wine racks or glassware holders, perfect for avid entertainers, and complements your dining room with timeless beauty. 
Cons: Larger units may overpower small dining areas, consider assembly or professional installation.
Contemporary Crockery Unit Designs
Contemporary crockery unit designs are all about modern style and smart organization. They have sleek lines and use cool materials to look cool! They are like magic storage boxes that keep your dishes safe and make your home look super fancy. 
Contemporary crockery unit designs feature a mix of materials like glass, metal, and engineered wood, exuding modern style and sophistication. Glass elements add elegance and enable captivating displays, while metal accents provide refinement. Engineered wood ensures durability and a smooth finish, making these designs a perfect fusion of aesthetics and functionality.
Conclusion
In conclusion, crockery unit designs are the perfect blend of functionality and style. These units not only keep our crockery and dining essentials organized but also add a touch of elegance and charm to our living spaces. With careful consideration of our needs, space, and personal preferences, we can create a crockery unit that becomes a captivating centerpiece in our homes. So, let's embrace the art of crockery unit design and elevate our living spaces with these delightful storage companions.