If you own a deck or plan on having one built soon, you'll know just how life-changing it can be. To spice up a deck and make it stand out, however, you need to consider some fun, rewarding DIY projects. With the right DIY project, you can make your deck look like something no one has seen before. To kick things off, consider these eight amazing DIY deck add-on ideas for your home's deck: 
1. Unique Lighting 
To perfect your home deck, you need the proper lighting setup. If you want to maximize your lighting capabilities, you need to invest in smart tech-infused LED lights. These lights can have their warmth, brightness, color, and more customized at any time. This allows you to make your lighting fit your mood at all times. For those who desire unique lighting on their decks, building your deck using a custom deck builder will give you even more control. 
2. Adding Shade or a Cover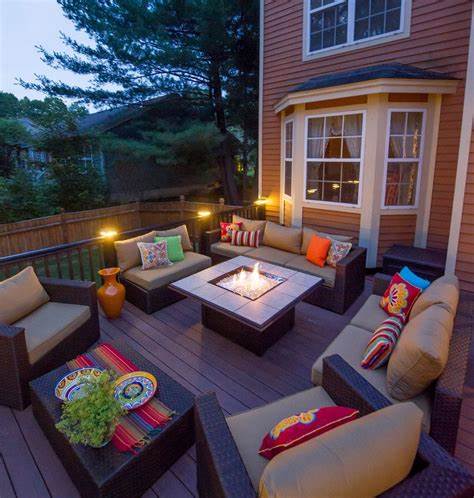 source: pinterest.com
If you want to keep yourself from being burnt to a crisp in the sunny weather or want a way to protect yourself from the rain while you're enjoying your deck, you need to install a shade or cover. Because you can use a massive variety of materials and DIY objects to craft a cover or shade for your deck, this deck addition is a prime opportunity to showcase your creativity and ingenuity to the world. 
3. DIY Planters
A deck simply does not feel complete unless it's surrounded by amazing plants, and the cool planters that container them. Especially if you love to grow smaller plants, having DIY planters surrounding your deck can become one of your favorite hobbies. The variety this can unlock for the look, scent, and aesthetic of the deck is hard to overstate. Even if you're just using store-bought planters, you'll be DIYing the planting and upkeep part of this creative equation. 
4. Privacy Fences
source: pinterest.com
Especially if you live in a large city or crowded neighborhood, you'll want to retain your privacy while enjoying your deck. By building a privacy fence around your deck, you'll ensure that you can enjoy private, intimate moments on your brand-new custom deck. If you have the spare wood for the project, building your privacy fence can be thrilling. The money you'll save by doing this fun project yourself is just a bonus. 
5. DIY Storage and Chairs
Storing chairs, appliances, outdoor shoes, and other deck-focused items can quickly clutter your deck if you do not have a solid storage setup. Especially for those who love to cook outdoors on their deck, having ample storage and guest chairs is a must. If you enjoy DIY projects, you'll know how many amazing projects you can do to create DIY storage spaces and setups for your deck. Just make sure that this DIY storage matches the deck's larger aesthetic. 
6. Firepits 
source: pinterest.com
As winter approaches us, our minds remember the feeling of a chilly, winter night. To ensure you can still enjoy your deck during the harsher winter months, you should consider making a DIY firepit on (if it's safe) or nearby your deck. Doing so will become a key attraction of using your deck during the winter months, and even during summer cookouts! This awesome DIY project allows you to enjoy hot dogs, smores, and other amazing campfire treats as often as you'd like.
7. String Lights 
Whether you're using LED lights, or another type of lighting, buying string lights is a wonderful idea. Not only are they incredibly fashionable, but the lighter, higher-up lighting it provides can create a magical, comfortable environment on your deck. If you love to stay trendy and enjoy lights that can be adjusted with ease at a moment's notice, you should invest in string lights for your deck. For inspiration on how you should hang your string lights for maximum aesthetic and lighting effect, you should check out cool examples people have posted online. 
8. Custom Art
source: pinterest.com
Lastly, you should consider bringing your artistic masterpieces to life within your deck space. No matter what art you add to the equation, if it's made by your own hands, it will enliven the environment, and make your deck feel unique. Guests, friends, and family members you host will be thrilled to see your DIY artwork on display while they're enjoying your brand-new custom-made deck. 
Make Your Deck Fit You
With these eight DIY projects, you can easily make your deck feel like it was truly designed by you. If you have any questions about what is and isn't possible when making a custom deck, you should brainstorm with your deck builder to ensure you can achieve the deck design you've been dreaming of.