Your restaurant's design is important for creating the perfect ambiance and experience for your guests. Every element, from the furniture to the lighting, contributes to the overall atmosphere. And one of the most important design elements are accessories. The right accessories can help tie together your entire design and really make a statement. Here are some stunning accessory ideas that will take your restaurant's design to the next level.
Chandeliers – A classic way to add a touch of elegance to any restaurant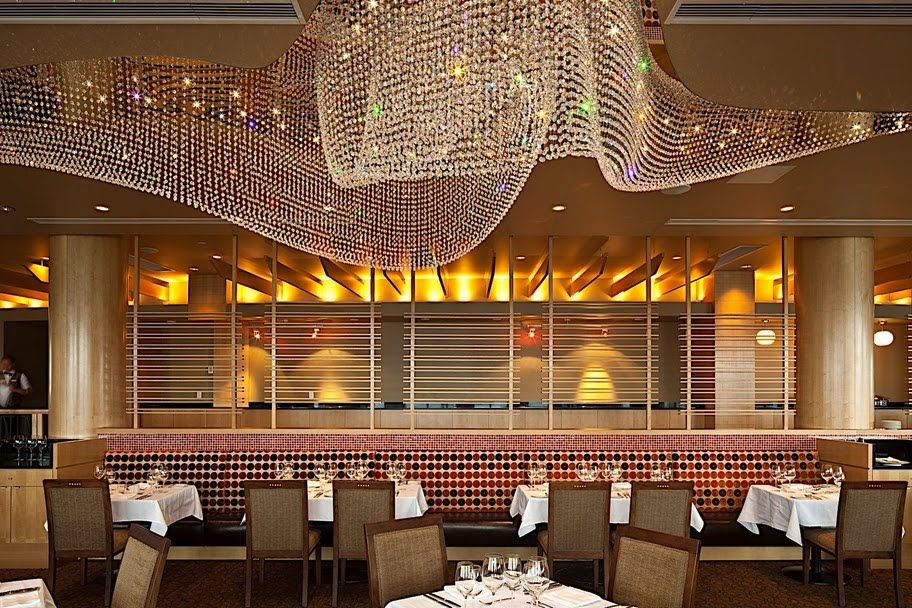 source: pinterest.com
Chandeliers are a timeless way to add a touch of class and elegance to any restaurant. Not only do they have a classic appeal, but chandeliers can be chosen specifically to fit with the style of the establishment – from traditional, vintage-inspired designs, to more sophisticated contemporary finishes. With a carefully selected chandelier, you can create an inviting atmosphere where your customers will not just enjoy their meal but also the exquisite decor you have set up around them.
Decorate the chairs with flowers
When it comes to decorating a top-tier restaurant, there's no better option than decking out the chairs with intricately arranged flower bouquets. This traditional technique can instantly add intimacy and coziness to the atmosphere, creating an inviting and romantic space for partners or family events – perfect for special occasions or holidays. Decorated luxurious restaurant chairs will create a vivid visual impact on your customers, evoking an essence of splendor that cannot be found anywhere else. It's truly a luxurious addition to any restaurant, making it possible to stand out from competitors and make a name for yourself in the industry!
Wall sconces – Add interest and depth to your restaurant's design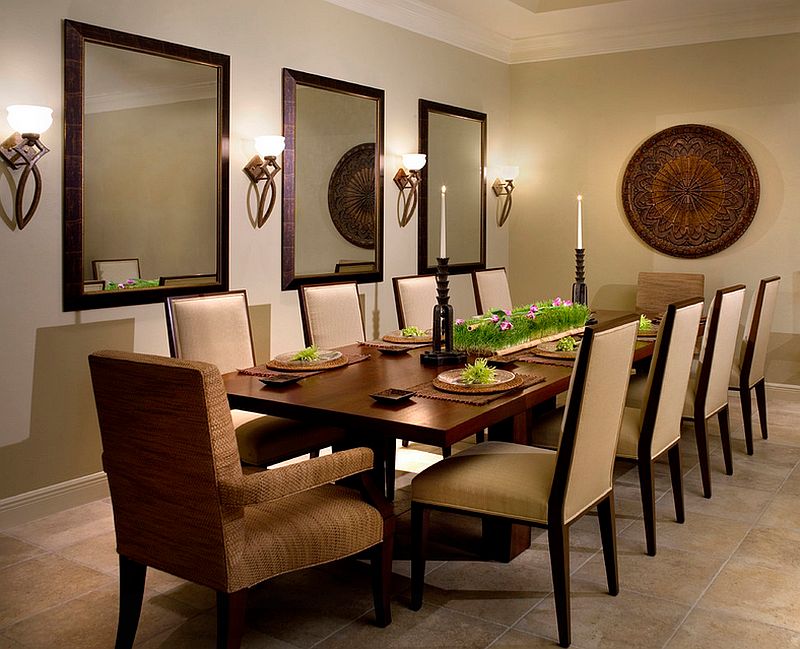 source: pinterest.com
Wall sconces can be a great way to add interest and depth to your restaurant's design. With the right selection of sconces, you can create sparkling, unique effects that will draw the eye and help break up otherwise plain walls. Not only are sconces aesthetically pleasing, but they can also provide lighting that is both flexible and efficient – helping you achieve a well-lit environment without having to rely on artificially bright overhead lights. Additionally, some wall sconces come with stylish finishes that match your restaurant's decor; adding an extra layer of sophistication and allowing you to easily customize your space according to your own creative vision
Pendant lights – A great way to add style and personality to your space
Pendant lights are an excellent way to inject personality and style into any restaurant space. Not only do they provide functional lighting, but they can also act as a stunning centerpiece. They come in various sizes and designs, ranging from traditional lanterns to modern, geometric shapes. They also come in an array of finishes, so you can easily find pendant lights to suit your restaurant's theme and color palette. Whether you're looking for something subtle, or a dramatic show-stopper, pendant lights offer the perfect solution for adding sophisticated ambiance to your restaurant's design.
Table lamps – The perfect way to add ambiance to your dining room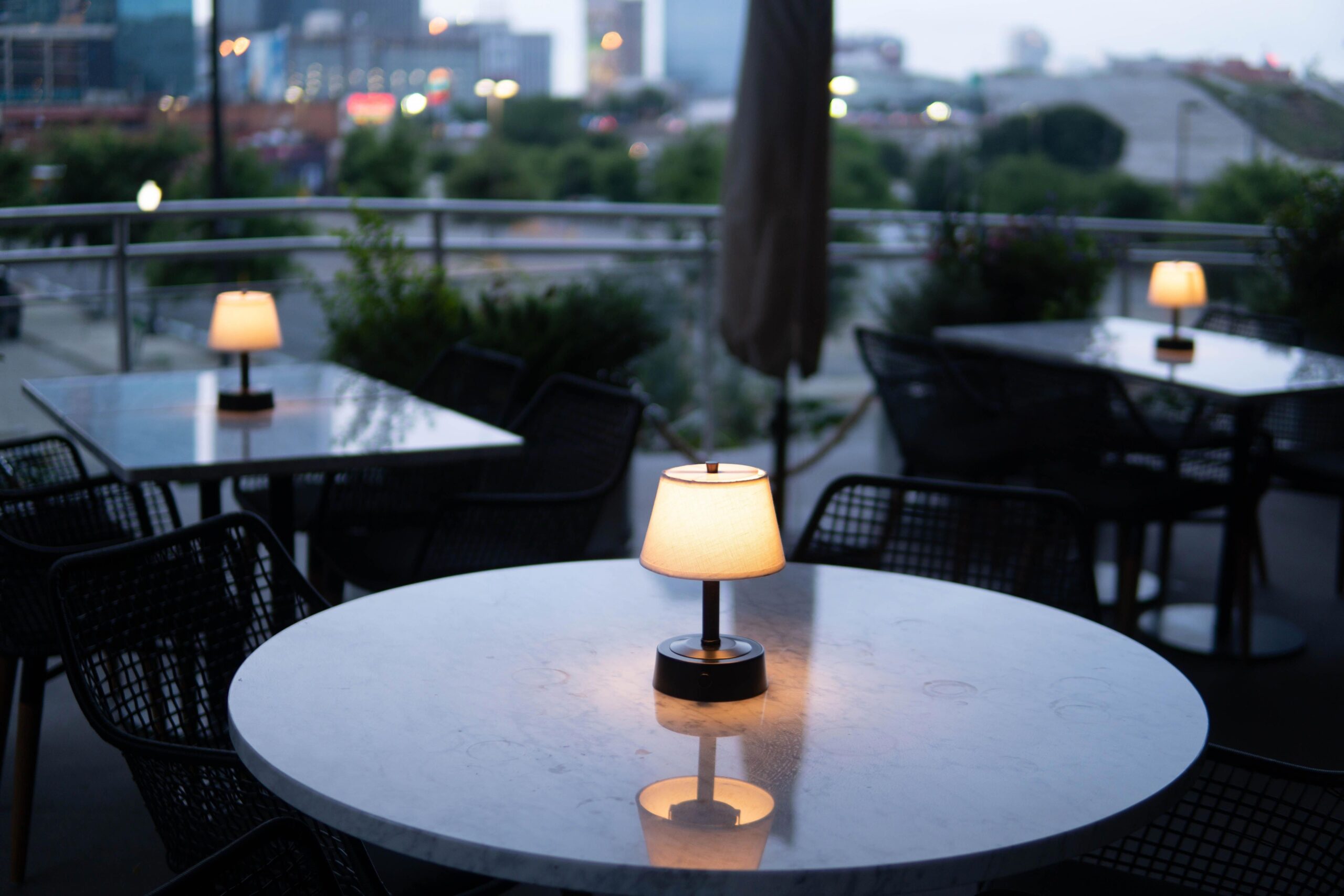 source: pinterest.com
Table lamps are an excellent way to add a touch of refinement and elegance to any restaurant, amplifying the atmosphere and setting the tone for a memorable experience. Whether they're adding subtle illuminations in muted colors or going bold with vintage-inspired accents, table lamps can instantly bring your restaurant's design to life. Whether it be modern chic, cozy vibes, or something entirely unique and distinctive, table lamps are the perfect accessory for creating a stunning and inviting restaurant that stands out from all the rest.
Floor lamps – A great way to make a statement in your restaurant's design
Floor lamps are a great way to bring a statement of style and sophistication to your restaurant design. Their versatility in size, shape, color, and texture is what makes them a valuable tool for adding an extra touch of distinction that guests won't soon forget. Whether you prefer modern or rustic style pieces, they can be used to draw the eye's attention and create an intimate atmosphere that customers will love. Floor lamps are easily adjustable too, allowing you to brighten or darken the room depending on the desired mood without having to change your other decorations. Plus, their classic look will remain fashionable for years and you can find beautiful designs that fit both traditional and contemporary restaurant styles.
Outdoor lighting – The perfect way to create an inviting atmosphere for your guests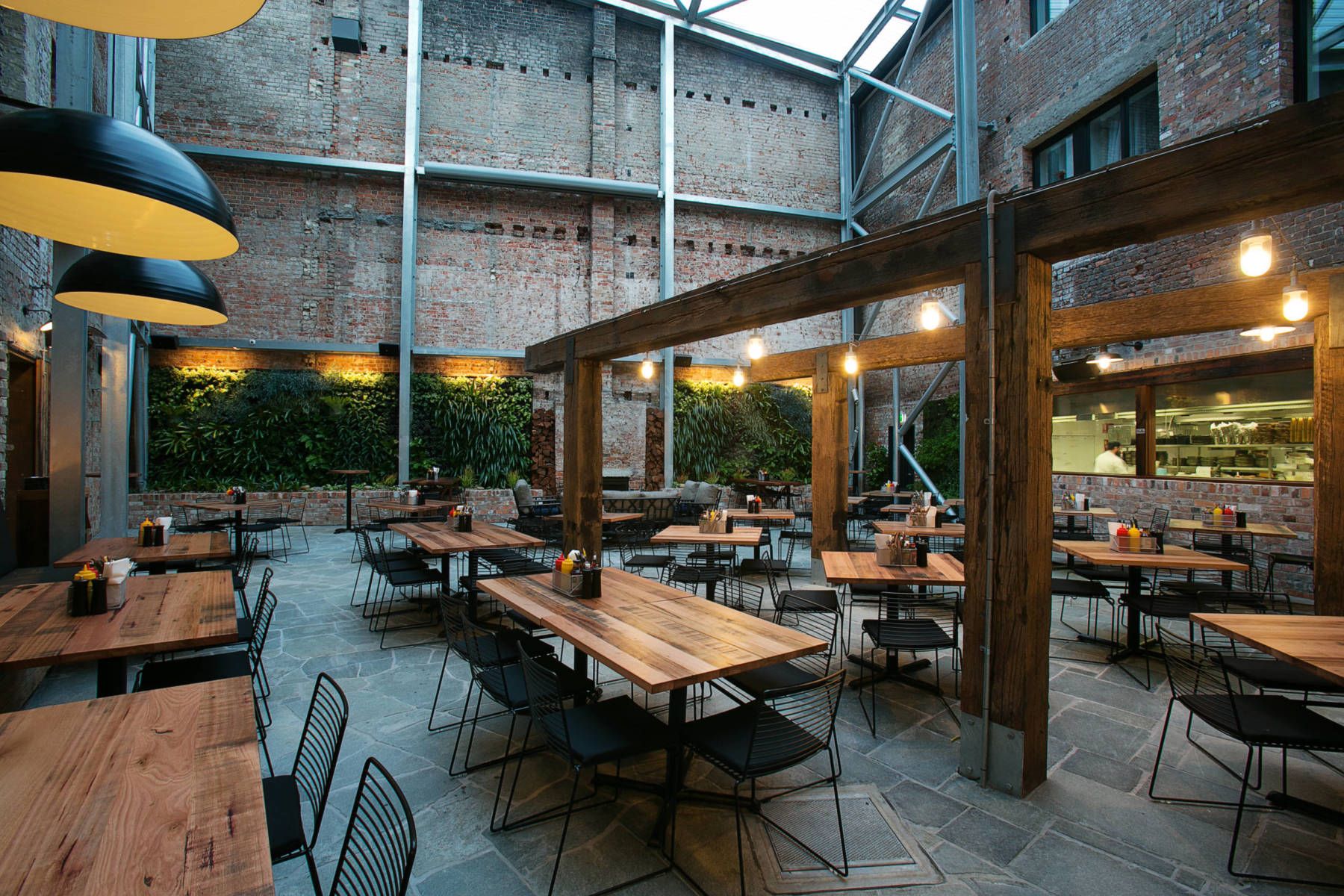 source: pinterest.com
Outdoor lighting is one of the most appealing ways to create an inviting atmosphere for your restaurant's guests. By utilizing the right combination of light and darkness, you can draw attention to key features in your restaurant, such as stunning accessories like furniture and decorations. Not only does it bring out the beauty of your restaurant design, but it also helps establish a sense of comfort that will keep people coming back and make them feel at home, knowing they can count on quality all around. With outdoor lighting, you can take any ordinary space and transform it into a place where people truly want to keep exploring.
Chandeliers, wall sconces, pendant lights, table lamps, floor lamps, and outdoor lighting are all great ways to add style and personality to your restaurant's design. The perfect accessory can make all the difference in creating the perfect ambiance for your guests. When choosing accessories for your restaurant's design, be sure to consider the overall theme and feel of your space. With so many options available, you're sure to find the perfect way to light up your restaurant.