Noticing water puddles, shrinkage, cracks or massive fractures on your flat roof surface? Don't panic and don't worry. All these problems including most leaks and damages can be promptly repaired.
According to experienced roofers, roofs with flat (or almost flat) surfaces can be more affordable to install than any other types of same area roofs. Nevertheless, flat roofs have their weaknesses, and that is why they must be properly and timely inspected. For example, they are more prone to mentioned puddles and leaks.
To add, different weather conditions (mostly in all climate zones in the US) can also cause both mechanical damage and premature wear-and-tear of the roof.
Flat roof repair may be a tricky and specific task. That is why, in some cases it would be really wise to leave this task to a well-trained local roofer.
The contractor must be skilled in inspection, troubleshooting and renovation of the rooftop to its original condition or better.
Let us tell you more about various flat and low-slope roof repairing approaches as well as how to notice the first signs that your roof could become a source of problems for the foreseeable future.
Check Roof Materials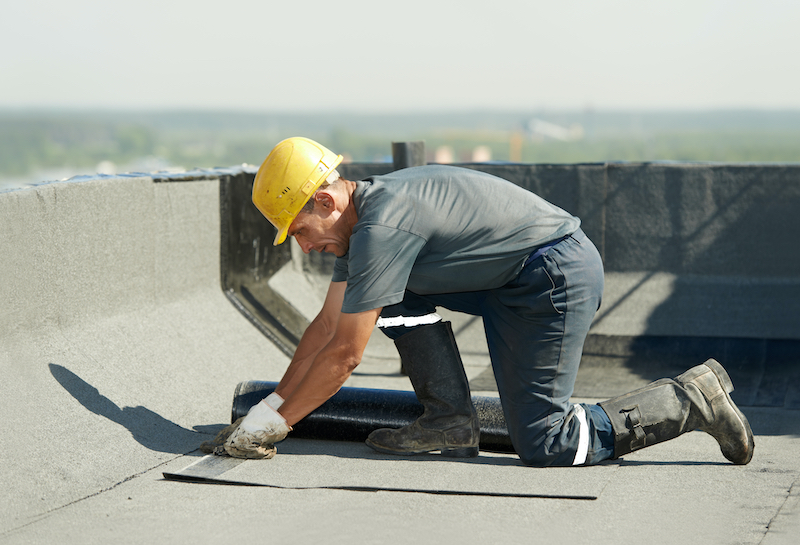 source: pinterest.com
To start with, you need to inspect, compare and choose appropriate material to fix the damaged rooftop surface considering the type and area of the damaged covering.
Rubber material (also called EPDM) is a resilient and long-lived elastic roof covering composed of ethylene and propylene.

Modified bitumen (mod-bit) is formed of asphalt fused with rubbers and solvents in order to construct an asphalt roof covering.

BUR (Built up roofing) is made up of bitumen and fabrics in order to form an impenetrable multilayer covering.
Take into consideration the damaged area, present condition and type of old material and your budget.
To maintain good condition any residential and commercial roofs require seasonal maintenance and promptly fixing. That is why you should compare different solutions (including innovative and trending) and choose the most appropriate for your roof project.
It is highly recommended to consult with an experienced roofer in your city in order to select the right material and what is even more important – repair approach.
Flat roof leaks: Why My Roof is Leaking?
Flat roofs can be long-lived and almost problem-free choices for real estate as well as industrial facilities, offices, warehouses and other commercial property.
However, you should take into account that this type of construction is vulnerable to leaks. Especially if they are not installed properly, the material is damaged. The list of potential causes of leakage is really wide: natural disasters, inadequate drainage, or even mechanical damage such as holes and cracks.
Such disasters as hail, cyclones, typhoons, lightning flashes, water inflows, and windstorms can also impair your roof structure or surface and make it leaking. Inspect your roof after heavy rains and hurricanes in order to find and repair even minor damages.
Even small and barely noticeable leaks can lead to serious problems and total replacement with really costly repairs in future.
What are the common reasons for leaks?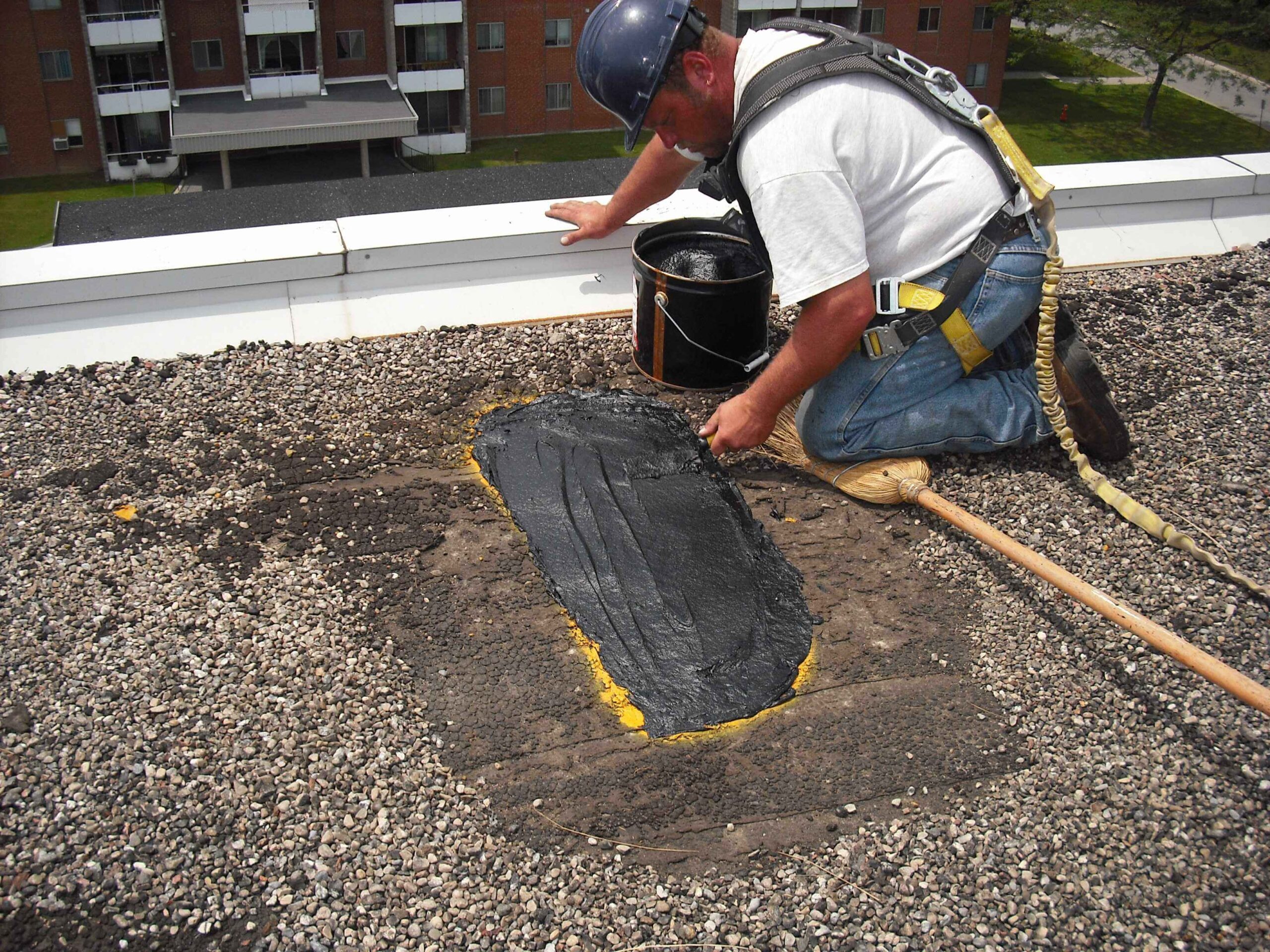 source: pinterest.com
A flat roof can start to leak if its covering material is extremely old

Leaks can be caused by poorly installed water drainage, clogged gutters and flashing that are not professionally sealed.

Leaks can also be caused by damaged seals, cracks or holes.
Flat Roof Repair Approaches
Flat roof is a widespread practical solution for thousands of residential and commercial buildings across the US.
They have a lot of advantages indeed. However, if you want your flat roof to protect your house for at least a few decades, you need to check and repair it periodically. To add, there are symptoms that your roof is in need of urgent repair.
If you notice drops or water spots inside your attic or on the ceiling in living rooms, it is time to grab a repair kit or call professionals. If you have an active guarantee, the top approach is to get in touch with the roofers that installed a roof.
If roof warranty has expired, you can do some minor repairs on your own or contact the local roofing team. To find a list of flat roof fixing experts which are able to come to you ASAP, search "flat roof repair near me".
Remember that properly done installation (with guarantee) and maintenance (at least once a year) can extend the life of a flat roof to 10 to 15 years.
Note that flat roofs are still susceptible to common 'roof' issues such as cracked shingles, small cracks and holes, damaged insulation and waterproof membrane and so on. All these problems can lead to massive leaks and unsightly brown stains on the ceiling.
Small Cracks and Minor Holes
It's important for homeowners not to delay minor repairs and act quickly in sealing any gaps and cracks. Not only on the roof surface, but also on walls, doors and windows
These small defects negatively affect the comfort of life inside your home. If left unchecked they can lead to damage to your property and costly repairs. Sealing of damaged areas around your house (including roof, wall, door surface and surroundings) can prevent moisture inside your house.
Check the Area of Potential Damage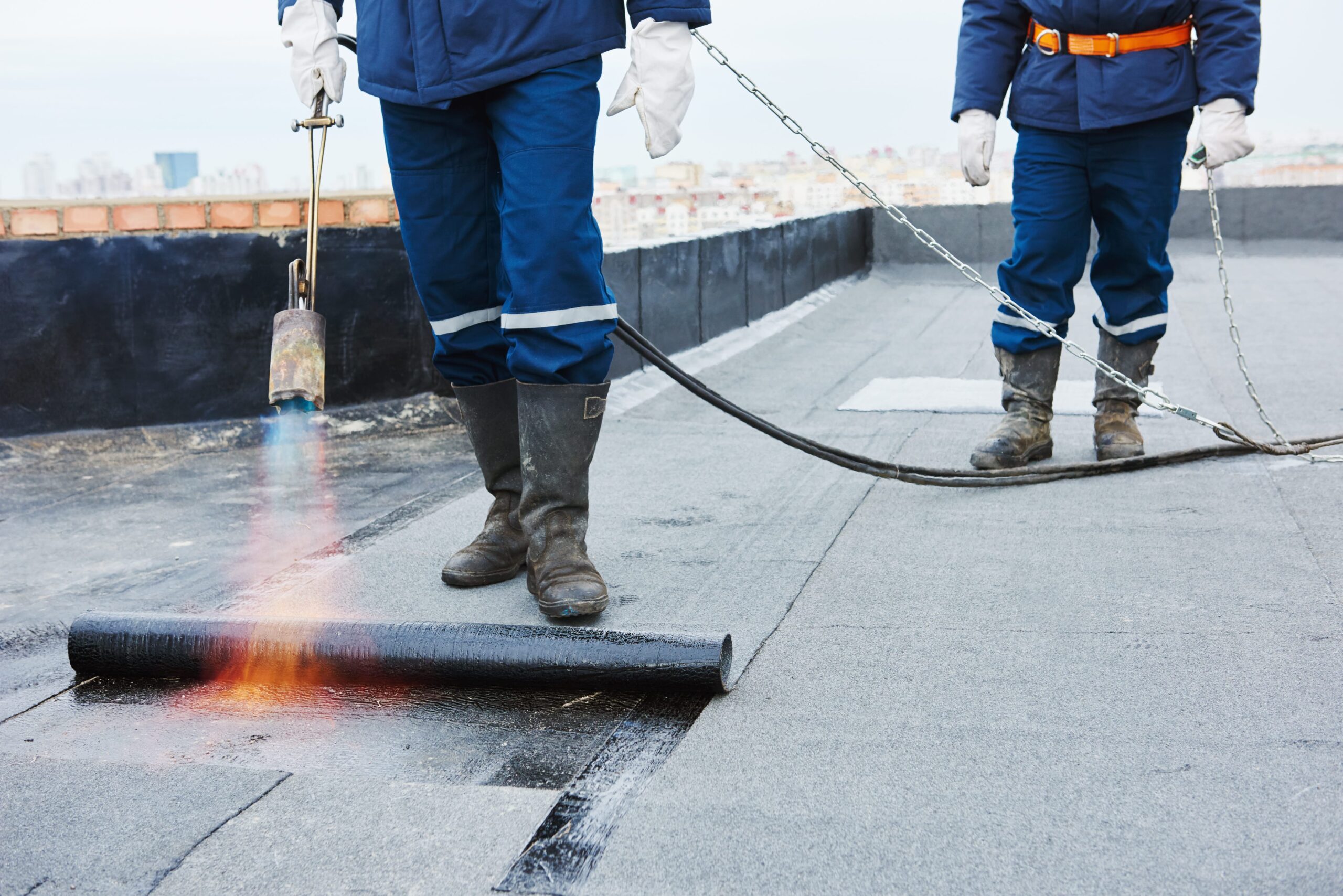 source: pinterest.com
For proper completion of the project, it is important to inspect the area where work should be done. Take a close look at the joints near window frames and other sections near them. Spot any chipped or cracked material that must be replaced or repaired.
Clean & Prep The Area
Before applying sealant to the damaged area, make sure everything is clean and prepped properly. Start with sandpaper or a wire brush attachment on the drill to remove old paint scraps and corrosion. Once that's complete, wipe down the entire surface with an all-purpose cleaner then let it dry before proceeding with the repair work.
Fill Cracks With Luting or Mortar
When filling in small cracks, choose an appropriate luting compound that's designed for outdoor use like silicone caulk.
Choose appropriate hydrated lime-based mortar for large joints between brick layers. It can handle weather conditions better than regular cement mortar mixes. Fill the material into each crack until it's flush with its surrounding surfaces. Make sure there are no gaps left in between them.
Apply Sealant To Create A Smooth Finish
source: pinterest.com
Once you've filled all cracks with caulk or mortar finish up by applying painting caulk over top of them as well as any exterior wall surfaces near them. It will help to protect all repaired surfaces from water damage and weather conditions like rain or snowfall in colder climates during winter months. Once everything is completely dried out, lay on several layers of high quality exterior paint on the surface.
Adding Roof Patches
There are dozens of flat roof materials available on the US market today. Some are easier to repair with patches and some can not be repaired at all.  
EPDM is an elastomer made from ethylene and propylene

Modified bitumen is one more common material

BUR (Built up roofing)

TPO Roofing, and PVC Roofing are more modern single-ply rooftop coverings.
Flat rooftop repair, seasonal inspection and maintenance are a major aspect of ownership, so ensure you pay enough attention to it.
All the materials reviewed in this article have been chosen according to their ratings and prices, and they are all readily available. However, they have their own pros and cons you should compare individually.
Resealing
source: pinterest.com
Maintaining the roof in excellent condition is a guarantee of the safety of the entire building. Resealing is one more approach or flat roof repair.
Different roofing materials can be used for resealing synthetic EPDM, modified bitumen, cumulative BUR. Some of the materials are suitable for TPO roofing, and PVC roofing.
Before you apply sealant to a flat roof, make sure the surface is properly prepared. It includes clearing off dirt, debris or any old sealant, and filling in all cracks and holes. Once the surface is clean and dry, you can begin to seal it.
You should check the condition of the roof before executing any renovation. If there are any problems in locating the leaking area or repairing the roof, it is advised to find an expert roof contractor.
The Average Cost of Flat Roof Repairs
Numerous homeowners choose flat roofing due to its affordability and easy installation. But don't forget that any roof needs to be fixed sooner or later.
The cost of flat roofing depends on the kind of material, the roof area and installation method. The final estimate of the repair and/or replacement project depends on a variety of different factors. Here are the average prices for common materials:
EPDM is supposed to be one of the most low-priced options for flat roofs (6 to for every square foot).
Modified bitumen flat roofing materials are affordable as well, costing from to .
So called GRP and fiberglass flat roofing materials have a slightly lower cost range from to .
Material type is only one of the pricing factors. What is even more important is the task and the reason why your roof needs fixing in the first place. 
Depending on individual factors (like materials mentioned above), an average drip edge repair in the US could cost between something 0 and 0. EPDM or modified bitumen repair projects of different complexity could range from 0 up to ,650.
When calculating a repair or installation budget, make sure you calculate not only average material prices and the roof area but also any additional costs which could be individual for your roofing project.
DIY projects: from 0 to 0 on average
source: pinterest.com
The repair estimate for EPDM or modified bitumen roofs typically ranges from 0 to ,650. However, full-roof tear-off and complex replacement can cost up to ,500. Do your own research comparing prices and estimates provided by local roofing contractors.
When it comes to flat roof repairs, you usually have two options: do the entire job by yourself or hire a professional.
If the repair area is quite small, the task looks simple enough, you have all the equipment and materials for the DIY task, you can try to fix your roof on your own. Observe safety precautions!
However, for complex tasks it would be better to call a professional roofer. Although DIY might be more cost-effective, it's worth checking all the pros and cons before making a final decision.
It is critical to find a trusted roofing professional to inspect the condition of your roof including insulation, roof frame and covering material.
Experts will check the condition of your roof and offer a reasonable solution to the problem. You may need temporary local repairs. Perhaps the solution to the problem will be a partial or complete replacement of the roof structure.
One of the possible pros of calling to professionals is the exact determination of the source of specific roofing problems. You may not be able to determine the cause of the problem on your own.
How to Find a Contractor: Tips and Recommendations
Whether your house, office or shed needs a small roofing patch or a complete roof renovation, special attention must be paid to material selection and professional installation. This is why the best solution is to find a reliable local flat roofing contractor.
Highly experienced installers will suggest appropriate product solutions based on climate conditions, construction characteristics of the roof and your budget. While comparing offers, don't forget to ask contractors about labor and materials guarantees.
Check Reviews and Licenses
source: pinterest.com
Before you hire a flat roof contractor, make sure to read online customer reviews. Check testimonials to know more about customer service and the company's reputation.
Additionally, make sure that chosen roofers are properly licensed and insured. To add, check if their work complies with the local building and safety codes. Only after that you may be sure that the job will be done correctly.
Ask for Estimates Before Selecting a Contractor
If you ask different local companies to send you estimates, you will be able to analyze costs and select the finest offer.
It is advisable to ask for recommendations from every contractor so that you can check their reputation.
Make sure in advance that the company you choose uses proven and certified roofing materials. In addition, find out the terms of service and post-warranty maintenance of roofs.
Specialized Services May Be the Right Solution
What is more, skilled roofing contractors can provide specialized and specific solutions such as copper flashing for metal roofs, coatings specifically designed for asphalt roofs, or the installation of single-ply patches to repair existing membranes. While roofing companies typically use time-tested approaches and tactics to roof repairs, your project may require custom solutions.
Check materials and equipment
source: pinterest.com
Before starting any roofing works, it's really important to check material compatibility. Some materials, membranes, adhesives and glues are not compatible with each other.  
When deciding what to do with a flat roof, it's important to review the options carefully. There are various materials available, each with their own advantages and disadvantages. Be aware that some may have lower installation prices but will not last as long as other materials.
Conclusion
Repair, regardless the type and area of the roof, is a task that does not have a single correct solution. The cost and complexity of the repair, as well as the choice of the appropriate approach and materials, depend on a dozen factors.
Although you can do some minor repairs yourself, it is recommended to contact a professional 'near me' company for complex roofing problems.
Look at the reviews, compare estimates, let the experts come and check your roof. Perhaps the specialists will solve the problem with the roof faster or provide more suitable solutions with a guaranteed result.